Located 35 miles south of Los Angeles, Huntington Beach is one of the seaside cities that make up Orange County, California.
Also known as Surf City USA, Huntington Beach is a popular destination for beachgoers and surfers alike. But that's not all this vibrant city has to offer.
From art galleries and museums to wildlife sanctuaries and hiking trails, you'll never get bored during your visit.
And in this post, I'm going to list the 15 unmissable places and fun things to do in Huntington Beach.
I will also give you some tips to make the most of your trip there. So get ready because the list of the best things to do in Huntington Beach, California, is long.
Things To Do In Huntington Beach
1. Embrace The Beach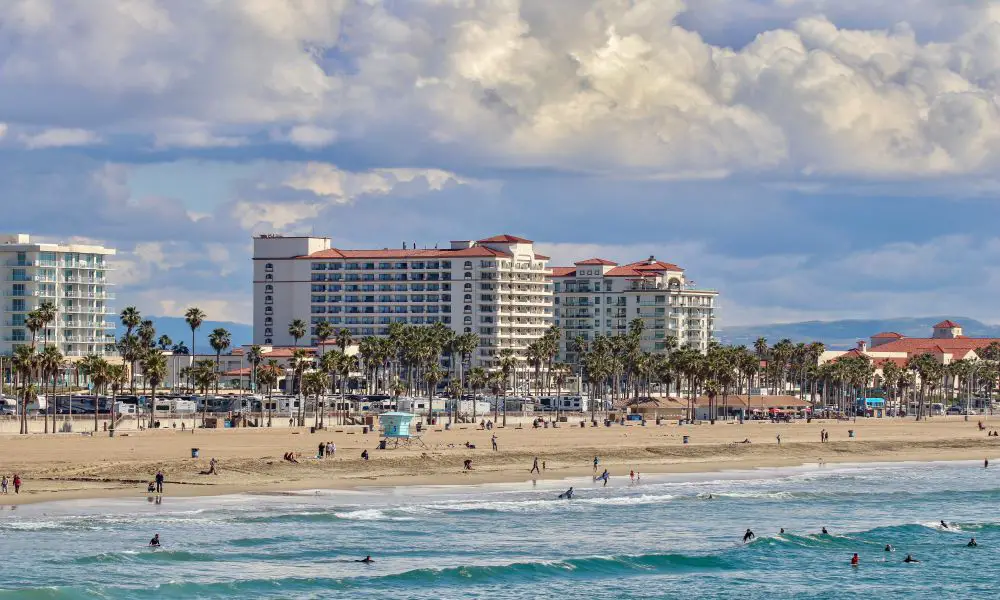 I start my list of tips on what to do in Huntington Beach with the beautiful beach, the city's main attraction.
Huntington Beach is home to 8.5 miles of uninterrupted sandy shoreline, making it one of the longest beaches in California.
However, Huntington Beach is made up of four beaches. They are Huntington City Beach, Sunset Beach, Huntington State Beach, and Bolsa Chica State Beach.
The beach where the Pier is located, Huntington City Beach, is the most famous in the city and daily receives many tourists and locals who enjoy its sands. It stretches for 3.5 miles and is closest to shopping centers and restaurants.
The beach also has several volleyball nets for those who want to play a game with friends.
Also, this is the beach that stands out for its waves that attract many surfers. That's right; if you have adrenaline and energy, you can take a risk and also take a surf lesson there.
Now, if you're already a surfer, right in front of the Pier is Jack's Surfboards store, which rents boards and clothes suitable for the sport.
Best spots to catch good wave's 17th street, HB Pier Northside, and HB Pier Southside.
And if your visit to Huntington Beach is between the end of July and the beginning of August, be sure to check out the Van's U.S. Open Of Surfing.
This is the biggest surfing tournament in the world, which also takes place on this beach.
In addition to enjoying the tournament, be sure to follow one of the days of this magnificent event. It's an incredible experience.
I wasn't lucky enough to experience the tournament, but I was lucky enough to take a long walk along the beach and enjoy its beautiful landscape.
Without a doubt, it is one of the best things to do in Huntington Beach.
2. Take A Stroll On The Pier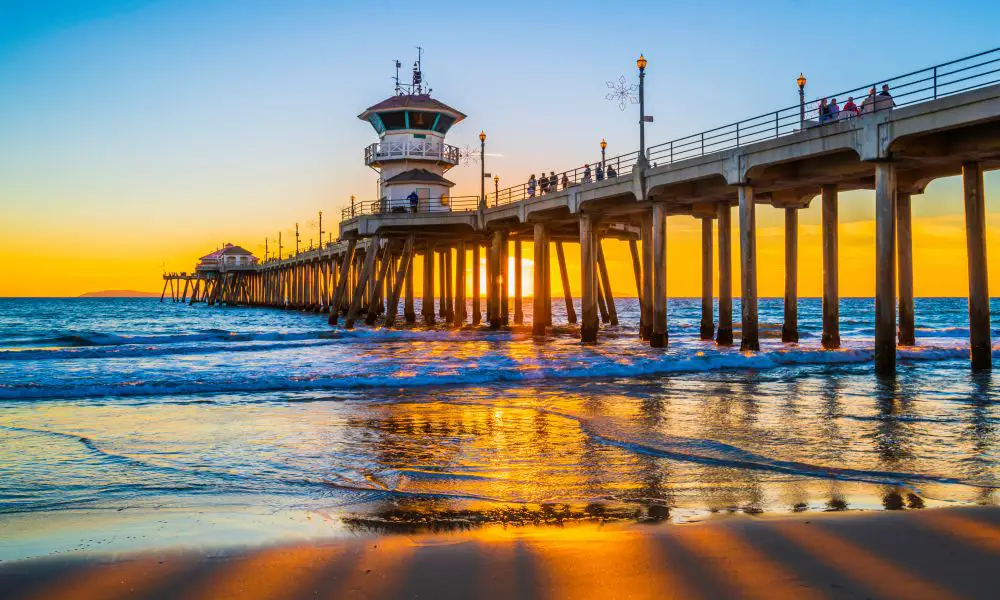 And since we're talking about the beach, the Pier located on Huntington Beach deserves its own space.
This is because it is one of the most popular attractions in the city, extending over 1,850 feet over the Pacific Ocean. 
This makes it one of the longest recreational piers in the world.
Fishing poles line the Pier, and anglers often catch jacksmelt, sardine, mackerel, and other fish that can be found in the ocean.
At the end of it is Ruby's Dinner restaurant and having a meal there can be very special, what a view!
In addition to its enormous extension, there are many attractions that make your day even more fun.
Not to mention that it is the perfect place to contemplate the sunset. So it's really worth it.
And if you're lucky, you'll even enjoy the day to the sound of live music, as many artists perform there.
So, it's worth at least one tour of the Pier to get to know this Huntington Beach charm.
I spent a whole day on the Pier, watching people in their activities and enjoying the sights.
There were also people fishing and some joggers doing their exercises.
Undoubtedly, a very nice place to visit in Huntington Beach.
Location: Main St. and Pacific Coast Highway, Huntington Beach, California.
3. Discover The International Surfing Museum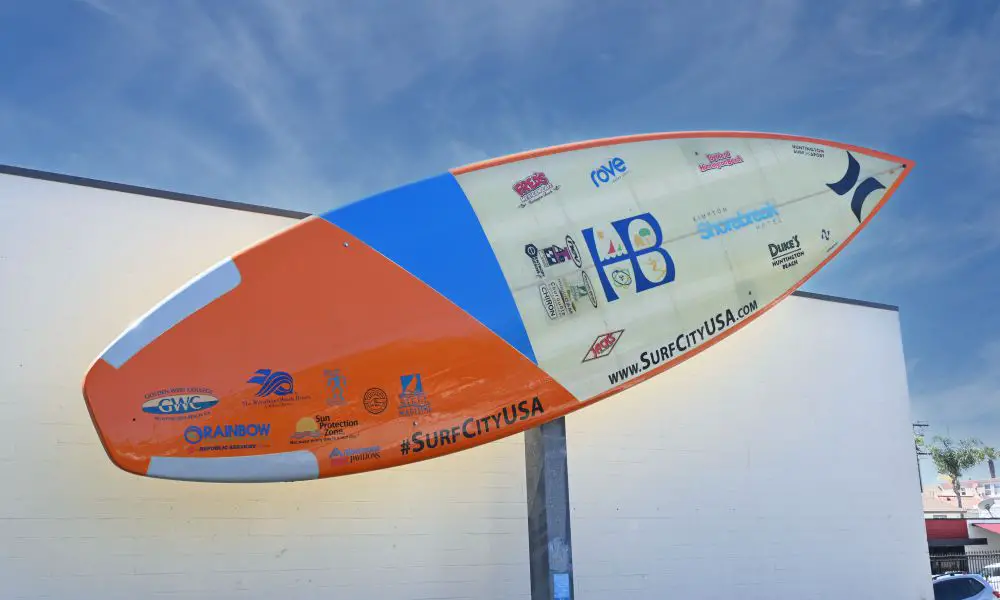 And when visiting Surf City, of course, the surf museum couldn't be left out of our list of fun things to do in Huntington Beach. 
This incredible museum opened in 1987 and has since become a symbol.
The museum is small, but it retells the whole history of surfing and contains an incredible collection.
There you will see the evolution of boards, wooden boards, samples of sand from different beaches around the world, and much, much more.
Most of these items come from donations made by professional surfers, making the museum a great record of surfing legends.
You can also find some of the trophies and medals won by these champions in various championships.
I took a guided tour through the museum and learned a lot about the great sport of surfing.
I also ended up admiring the cool vintage posters that decorate the walls of this unique building.
So if you're a surfer or someone who loves learning about the culture of a city, visit this museum.
And did I mention entry to this museum is free? Yes, no money is charged. This now makes it one of the most popular things to do in Huntington Beach for free.
Although I recommend, you leave a donation to help the valuable work they are doing.
Address: 411 Olive Ave, Huntington Beach, CA 92648, USA.
4. Take A Stroll In Downtown Huntington Beach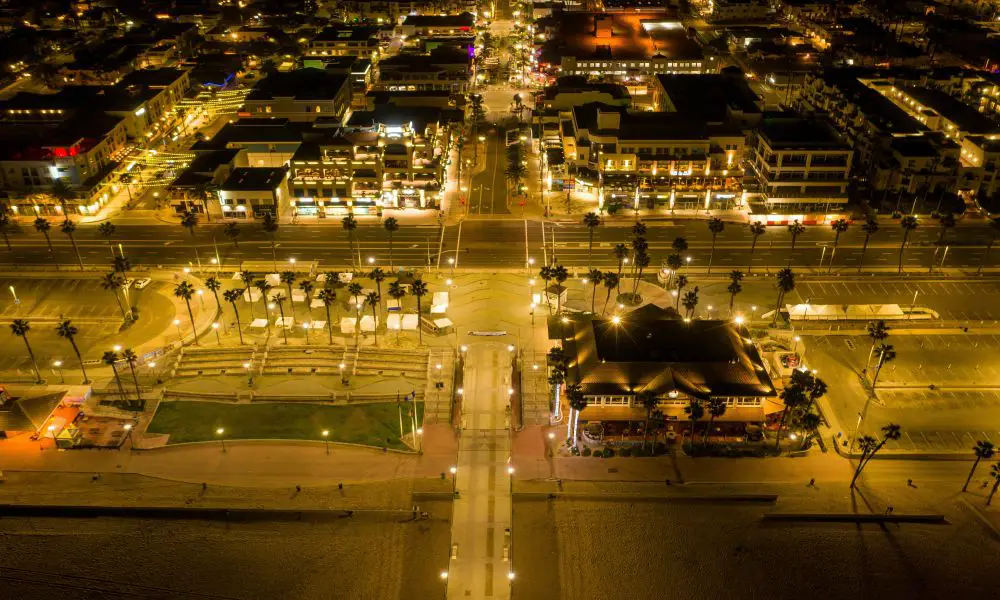 Wondering what to do in Huntington Beach? The best way to enjoy the city is to take a stroll through its vibrant downtown.
With its nostalgic atmosphere, Downtown Huntington Beach has been the main commercial area in the city since its foundation more than a century ago.
And while it is true that its historic buildings have been preserved, the truth is that now this area of the city is more modern and digital.
The downtown area has become the perfect destination for a pleasant and entertaining walk. 
Main Street is lined with palm trees which lend a tropical aspect to the area. And on this street, you will have no trouble finding incredible restaurants or stores from different sectors.
There are restaurants, pubs, cafes, surf and brand stores, art galleries, live music, and much more.
You can even enjoy the day at the beach and finish it with dinner at one of these restaurants.
Or, you can take a break from the beach and spend the day shopping at the stores in Downtown Huntington Beach.
This is an amazing tour to do with friends or alone as a way to relax on the beach.
I did the tour alone, and I can't deny that I loved it. The restaurants were amazing, and the stores had great things to offer.
I made new friends in the pubs, listened to live music, and enjoyed some of the art galleries.
Overall, it was an unforgettable experience, and I recommend this place to anyone looking for fun places to visit in Huntington Beach.
5. Shop On The Pacific Coast Highway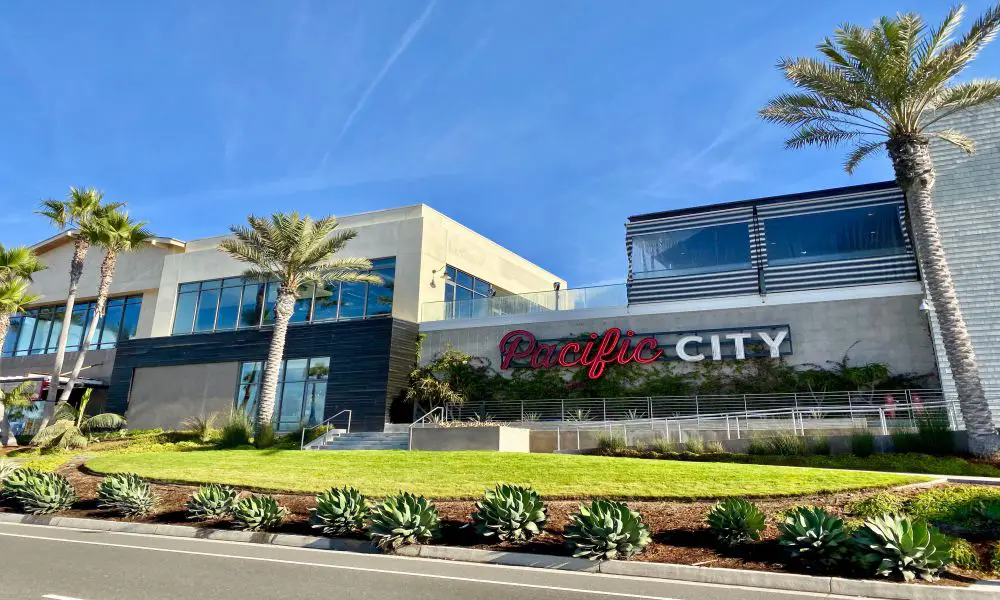 One of the best places in Huntington Beach to shop is the Pacific Coast Highway.
Considered one of the most beautiful and longest roads, it is home to the best shops in Huntington Beach.
It is also where the Pacific City is located, where there are stores of different sectors, national and international, restaurants, outdoor cinema, and much more.
This is the most modern mall in the city and a great place to spend a day.
In addition to finding the best stores for your purchases, you can also enjoy open-air cinemas or other attractions aimed at entertainment and leisure.
There are always new events and places to check out, so make sure you head there for a day of shopping and fun.
I spent a few hours in the Pacific City shopping and enjoying the atmosphere. I had my lunch at Ola Mexican Kitchen, a delicious Mexican restaurant located inside the mall.
There is also a game arcade and several bars where you can have a drink after your shopping.
Pacific Coast Highway is so large that you can easily spend a whole day there and still not see everything.
So don't spend more than two hours at Pacific City. I spotted some amazing stores outside the mall that sell some of the best souvenirs, so make sure to check these out as well. 
6. Enjoy The Afternoon In Huntington Central Park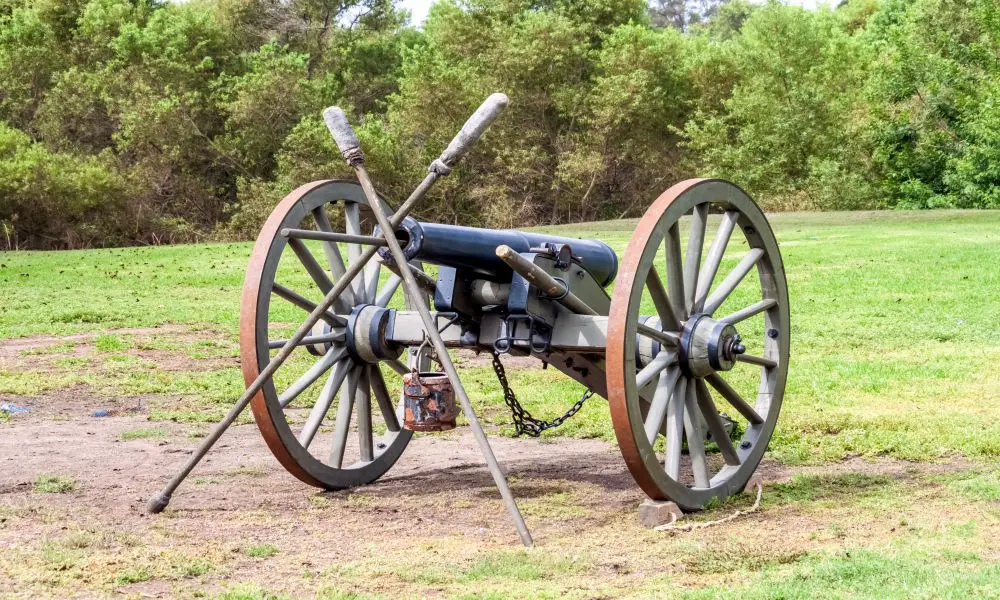 One of the most beautiful places in Huntington Beach to enjoy nature and relax is Huntington Central Park.
This is one of the largest parks in Orange County, with a total of 356 acres. And for the convenience of visitors, it is divided into two sections; east and west. 
On the east side, you'll find the Huntington Beach Central Library and the Secret Garden, a beautiful sanctuary full of colorful plants and flowers.
The east side also has Adventure Playground (open during summer only), an outdoor amphitheater, Sports Park, a fitness trail, ponds and lakes, one playground, and a walking trail. There is also a dog-friendly cafe along the trail.
The park's western side has a large nature reserve where you can observe some native plants and animals.
There are also several gardens and a mobile pro shop selling Frisbees and snacks. However, the main attraction is the disc golf course, where you can play a game of golf with discs instead of clubs.
They say this is one of the most incredible golf courses in the city. So, be sure to give it a try.
I explored the park's eastern side with a friend, and we had a great time. We strolled through the Secret Garden, stopped for lunch at Park Bench Cafe (the dog-friendly cafe), and even watched a show at the outdoor amphitheater.
It was a perfect afternoon in the park and one of the best things to do in Huntington Beach.
Therefore, enjoy the day at the park, and take the opportunity to go horseback riding, hiking, walking, or playing sports at the on-site sports complex.
Address: 18381 Goldenwest Street, Huntington Beach, California
7. Take A Cruise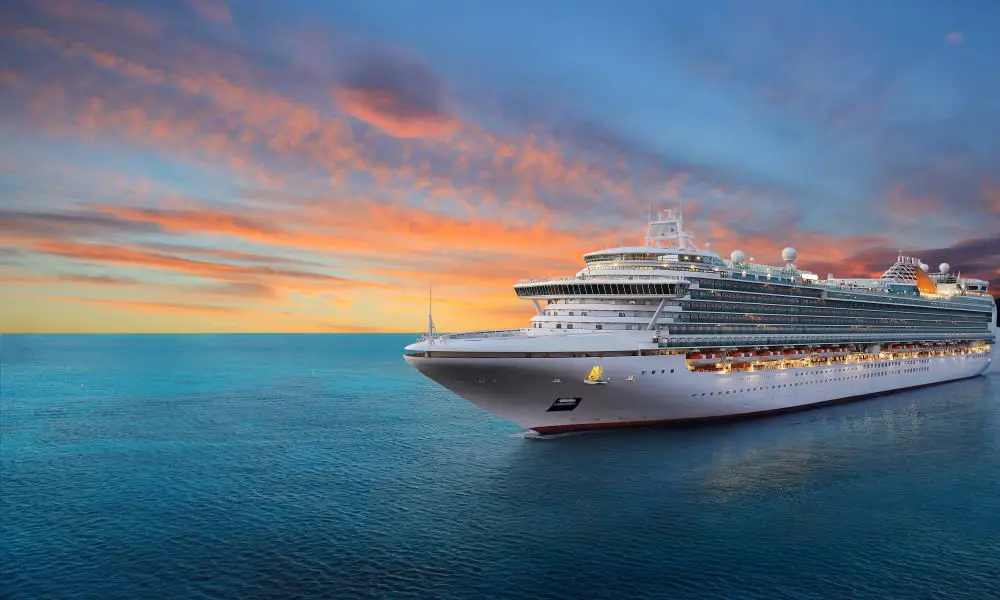 For couples and lovers of traveling, the unmissable ride is taking a cruise on the Pacific Ocean.
So, if you're traveling on your honeymoon to Huntington Beach or looking for a romantic getaway, what better way to spend a day than sailing along the Pacific?
This option is ideal for travelers who want to admire the beauty of Huntington Beach from the sea.
You can sail on cruises of up to two hours, which will take you through some of the most beautiful points in Huntington Beach.
And if you don't mind spending a little more, you can even organize a private cruise for a romantic dinner.
The best thing is that you can select different packages with various features, such as live music, snacks, and drinks.
So it doesn't matter what your budget is; you will be able to enjoy a great experience.
My friend and I decided to go for a fishing tour with Wagner Charters and Tours Huntington Beach.
The captain was very professional and treated us like family. The boat looked well-maintained, and he provided us with all the fishing gear we needed.
We were lucky enough to catch two striped basses in just an hour, which was a great experience for both of us.
The company also offers tours to explore the surrounding areas. Want to know the best part?
They pick you up from the hotel and also drop you off at the same place. So, it's an excellent choice for travelers who want a hassle-free and enjoyable experience.
8. Get A Taste Of Local Culture At The Huntington Beach Art Center
When it comes to culture, Huntington Beach is not short on it. The Huntington Beach Art Center is a great place to get a glimpse of the local culture and art.
Located on Main Street, the Huntington Beach Art Center opened its doors in 1978.
It is an exhibition space that presents the works of artists producing in all media.
Therefore, you'll find a variety of artworks, from paintings to sculptures and even photographic works.
In addition to this, the center also organizes family art days and monthly meet-ups for local artists. In these events, the visitors can be part of some workshops or even see a play.
So if you are an artist or someone who just loves art, this is a great opportunity to mix up with the locals and learn something new.
I'm a lover of arts, so during my visit to Huntington Beach, I made sure to add this place to the list of places to go.
It was great for me because I had a chance to meet some local artists and even listen to some conversations about their works.
All this in a very inviting environment that makes you feel at home.
Overall, visiting this art center is a great idea if you love art and are looking for cool things to do in Huntington Beach.
It's a great way to spend an afternoon in the city, learning more about its culture and enjoying some of the best works of art.
Address: 538 Main Street, Huntington Beach, California.
9. Explore The Huntington Harbor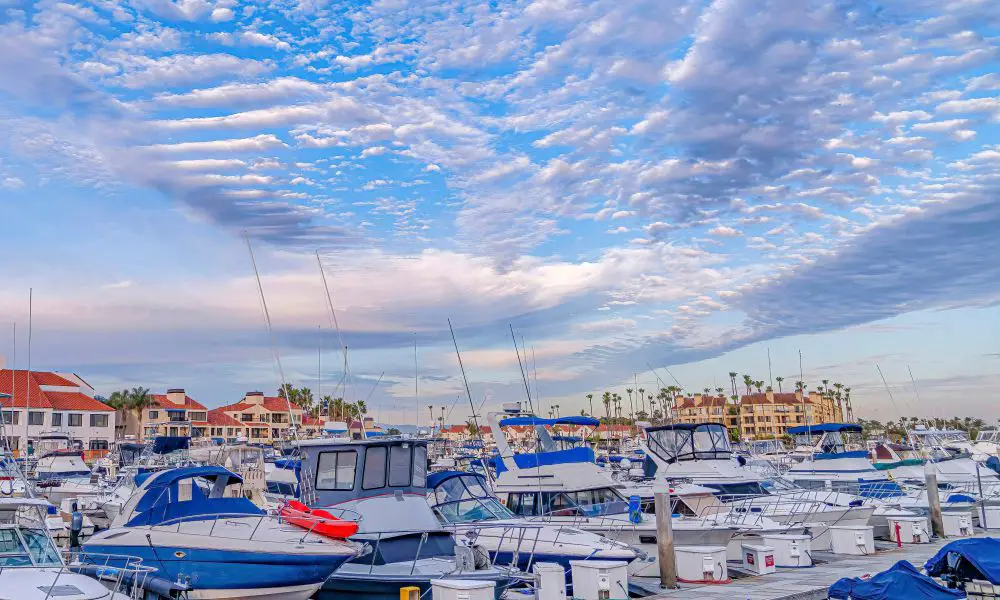 Huntington Harbor is one place you must visit while in Huntington Beach. This is a group of man-made islands where vessels and houseboats are parked.
The harbor is located at the northwest tip of the city near Seal and Sunset Beach. It is a calm setting with lots of peace and quiet.
You can take long walks along the harbor and enjoy the beautiful scenery. This is also the place to get on a boat tour and explore the islands that make up the harbor.
Additionally, you can rent a boat and explore the harbor by yourself. This is the best way to enjoy the serene atmosphere and take photos of the incredible sights.
If you're interested in renting a boat, I suggest you head to Huntington Harbor Boat Rental.
Here, you can rent a boat for a couple of hours and explore the harbor as much as you want. Their boats are comfortable and have all the necessary safety features.
Although I didn't rent a boat, I was lucky enough to enjoy the harbor by taking walks along its shore.
There are also many restaurants and stores nearby, so you can enjoy a delicious meal or do some shopping.
Or, you can simply enjoy the views of boats and houseboats parked in the harbor.
In the evening, you can enjoy the spectacular sunsets. The light reflecting off the water gives the harbor an ethereal atmosphere that is simply breathtaking.
So, be sure to spend at least a few hours in the evening as you explore the harbor.
10. Explore The Bolsa Chica Ecological Reserve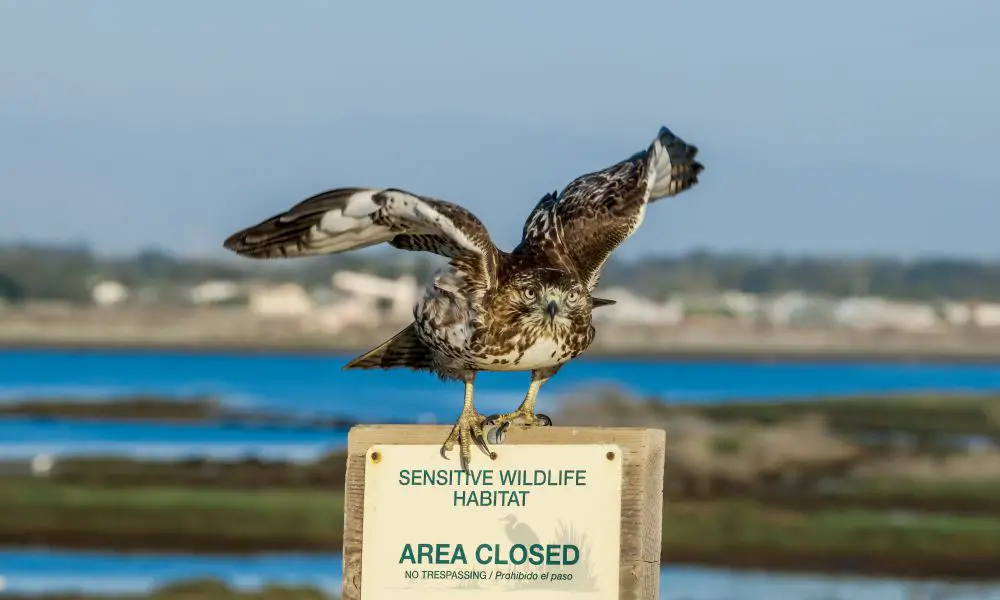 When you're in Huntington Beach, be sure to visit the Bolsa Chica Ecological Reserve.
This 13,000-acre reserve is located north of downtown and focuses on recovering and preserving the environment, especially the swamp.
But that's not all. This reserve is also home to many migrating and resident birds.
There are More than 200 avian species have been identified here, including snowy plovers and many species of owls.
So if you're a bird lover, this reserve will be a great place to observe and take pictures.
Also, the reserve has four miles of trails that you can explore to admire the nature around you.
The trail links several scenic viewpoints, which provide great views of the wetlands, coastal dunes, salt marsh, and mudflats.
The reserve also offers several educational programs for schools, families, and field trips, as well as bird viewing tours and other activities.
This makes it a great way to learn about the local wildlife and environment.
I love nature. And this reserve is perfect for exploring and admiring the beauty of nature. I hiked the trails, took a bird-watching tour, and enjoyed the vast views of the wetlands.
I wasn't in a hurry and took my time. In the end, it was a great experience that I highly recommend if you are looking for one of the best things to do in Huntington Beach.
Address: 18000 CA-1, Huntington Beach, California
11. Take A Stroll Through Old World Village
For the best entertainment in Huntington Beach, you can't go wrong with a visit to Old World Village.
This is the only authentic Bavarian entertainment district in California where you can find traditional German music, food, and drinks.
The area is decorated in a typical Bavarian style with colorful buildings and murals.
As you enter the village, you will find cobblestone streets, restaurants offering German cuisine, and shops filled with traditional products.
It's a great place to take a break from the beach and indulge in some delicious German food, beer, and wine.
I suggest you try the schnitzel, pretzels and bratwurst at Biergarten @ Old World HB. This is the main restaurant in the village, where you can also enjoy live music and dancing.
Other places to enjoy food in Old World Village include Gourmet Strudel and Cafe, which serves up delicious pastries, and The Coffee Table Cafe, where you can relax with a cup of coffee and other snacks.
I loved the feeling of being in this unique village. It was like a little piece of Germany in the U.S.
This is one of the most interesting and fun places to visit in Huntington Beach. And the food… oh, the food is amazing!
Don't forget to take a stroll through the village and immerse yourself in its Bavarian atmosphere.
Address: 7561 Center Ave, Huntington Beach, CA 92647-2532.
12. Visit Huntington Beach Central Library
How about enriching your vacation with a visit to the Huntington Beach Central Library? Let it not sound so boring.
Reading books, magazines and newspapers can be an interesting experience, especially if you haven't done it in a while.
But even if you're not a ​​bookworm, the library is still worth visiting to soak up some of the history and culture ingrained in Huntington Beach.
Established in 1975, the two stories library building has modern architecture and contains several books about history, science, art, and literature. It also offers several thousand simultaneous-use e-books from leading publishers and many other digital resources.
What attracts people to the library is its location in the eastern part of Huntington Beach Central Park.
It is set among acres of riparian woodland, perfect for a walk or picnic.
The atmosphere is quiet and pleasant, thus making it a perfect spot to take some time off from the beach and downtown city.
The interior of the library is also worth mentioning. Its air-conditioned rooms and several archways give it a classic look that is quite inviting for visitors.
There is enough space for you to browse the collection of books, magazines, and newspapers in peace.
The indoor fountains, cozy seating, and friendly staff make reading a pleasant experience.
And the outdoor courtyard adds to the serenity of the atmosphere, making it a great spot for reading or reflective contemplation.
And, if you have children with you on vacation, then take them to the children's section, where they can enjoy reading books and magazines.
Most of the books here will cost you less than $5. In fact, this is the price of the most recent bestsellers and classic novels released. 
99% of the books in the library will cost you $1 or less. So, even if you're on a tight budget, you'll always have something to read. I found an old Clive Cussler novel for which I paid only $1.
Address: 7111 Talbert Avenue, Huntington Beach, California.
13. Enjoy Surf City Nights
My next tip is one of the most popular in Huntington Beach; Surf City Nights. For those who're in the city on Tuesdays, attending this event is a must.
Well, during this time, there are several concerts with Californian musicians on the lawns of Huntington Beach. Here you can enjoy everything from classical music to new hits.
The events start at 5 pm, when you can see hundreds of people dancing, singing, and having fun. Food trucks also sell different snacks, such as hamburgers, hot dogs, tacos, and much more.
The event usually lasts until 9 pm, so you can enjoy a good evening in the company of Californians.
But the party is not over yet. Locals and tourists converge at various bars in the city to continue their fun. It is an incredible experience that can only be lived on Sundays at Huntington Beach.
The best part of this tour is that it is free, so you don't have to worry about spending much money.
The only expenses you can incur are snacks and drinks, which you can find for a reasonable price.
I had an opportunity to attend Surf Nights, and I can definitely recommend it. I saw different bands, tasted great food, and met many locals who showed me the beauty of the city.
It was an incredible experience that you can also live in Huntington Beach. So be sure to include it on your list of things to do and see in Huntington Beach.
Address: 315 3rd St suite e, Huntington Beach, CA 92648, United States.
14. Relax At The Best Hotels In Huntington Beach
To enjoy a pleasant stay in Huntington Beach, look for the best hotels in the city. In my opinion, two of the best options are Hyatt Regency Huntington Beach Resort & Spa and The Waterfront Beach Resort, A Hilton Hotel.
Hyatt Regency Huntington Beach is one of the best 4-star resorts in the city and offers guests a luxurious stay.
It is located just steps away from the beach, making it a great place to relax after a long day in the sun.
It also offers guests access to two outdoor pools and a spa center for those looking for relaxation.
The Waterfront Beach Resort is a great option for those looking for luxury on the beach. It is located right by the sea and has recently renovated its facilities, making it one of the best options in Huntington Beach.
It also has an outdoor pool and a restaurant for those looking for something to eat after a day at the beach.
There are also many other options in the city, so be sure to look around and find the best one for you. I suggest using the rating filter to only see hotels that have ratings greater than 8.
That way, you will only see hotels that are really well-located and well-rated. It's the best way to guarantee excellent accommodation close to the best tourist spots in Huntington Beach and California.
15. Take Your Furry Friend To The Dog Beach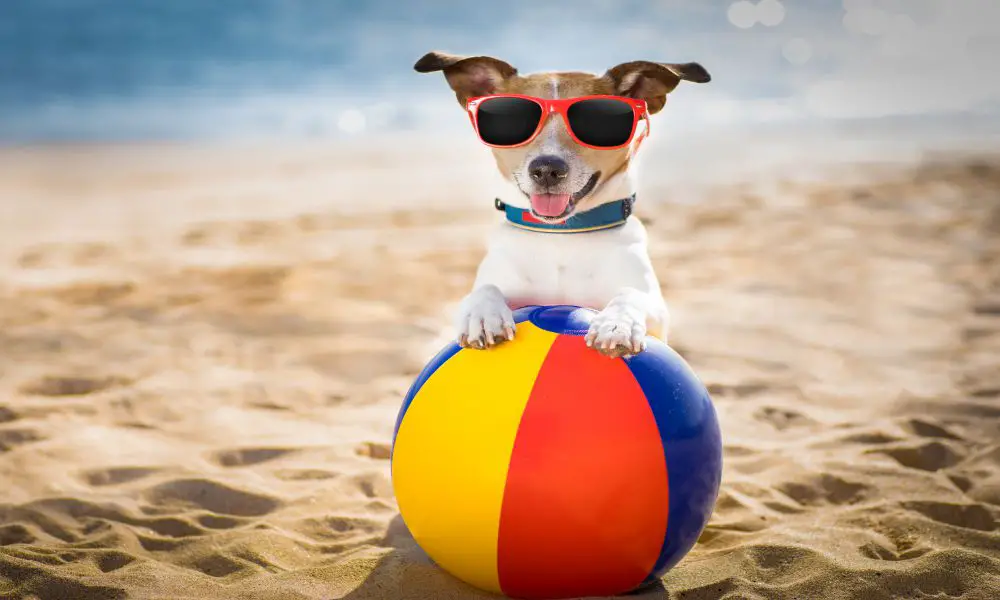 We always have to remember our four-legged friends when traveling! Although there are some destinations in the U.S. that are not dog-friendly, this is not the case with Huntington Beach.
Here, you can find a large and wonderful dog beach that is open to the public. In fact, people say that this is the happiest place in Huntington Beach!
The beach is located between Goldenwest Street and Seapoint Street and stretches for 1.5 miles.
It is the ultimate destination for canine lovers and their furry friends, with access to an ample off-leash area, an incredible beach, and a lovely atmosphere.
It is worth noting that there are certain rules to follow when visiting Dog Beach. First, your dog must always have its leash on, except when it is inside the off-leash area.
Second, you must clean up after your dog, and lastly, your pet must always be under control and supervised. This is for the safety of your pet and other beachgoers.
There is enough space for your furry friend to play, take a dip and enjoy the sun, but always remember its safety is in your hands.
The best part is that your dog can make new friends and get the chance to socialize with other pets.
The beach is always open, so you can visit it anytime. The only exception is during the summer when the area might be crowded with people and other dogs.
But if you come early in the morning or late afternoon, I'm sure it will be more comfortable for both you and your pet.
I didn't bring my furry friend, but I observed many happy people and dogs. It was nice to see them enjoying their time, making it one of the most exciting things to do in Huntington Beach if you are a pet owner.