Are you ready to discover one of the most beautiful places on earth? Lake Tahoe is that destination that does not leave your memory!
With lush landscapes, lots of trees, and crystal-clear blue water, I am sure you will be enchanted.
This city has everything for all tastes, from freshwater beaches to snow skiing, casinos, and much more.
So if you're planning a trip here, come with me, and I will tell you here the 23 best and most fun things to do in Lake Tahoe and many tips to make your trip even more perfect.
As I always say, the secret of a good trip is good planning. So come on, follow me here, and I'm sure you won't regret it.
Things To Do In Lake Tahoe
1. Take a Scenic Tour Around Lake Tahoe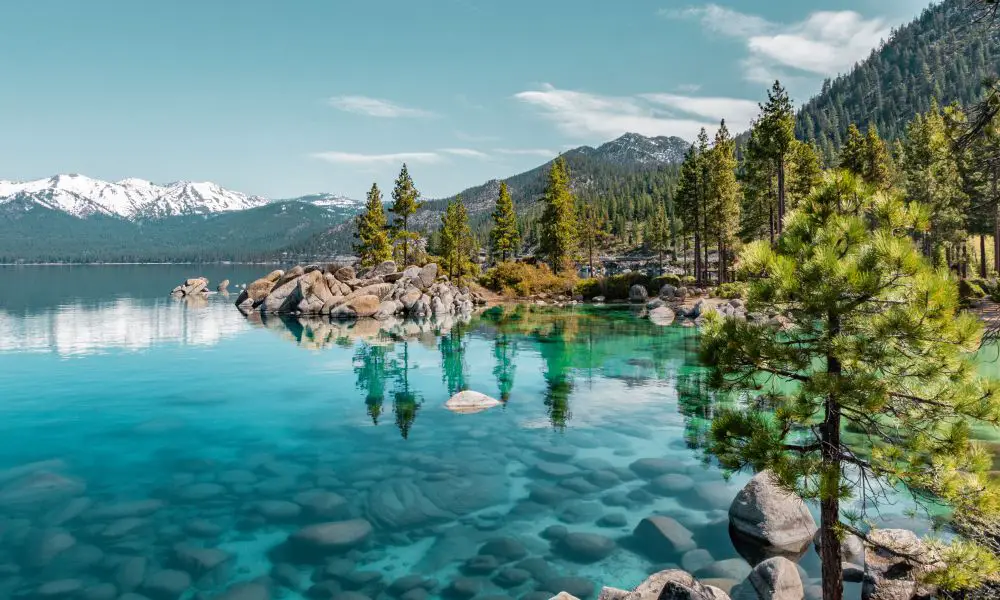 A very common tour that is super worth doing is to go around Lake Tahoe by car.
You will find a huge wealth of fauna and flora and breathtaking landscapes.
The direct and non-stop route takes 2 hours, but obviously, you will want to stop at the various viewpoints that are scattered around.
You will be able to see some of the most iconic places, such as Emerald Bay, Sand Harbor, Kings Beach, and more.
The best way to do this tour is to go at your own pace and take the time to appreciate all the beauty.
So it's better if you rent a car and drive around Lake Tahoe to make the most of it.
My advice is: Enjoy a lot, take pictures, and fall in love! After all, this is one of the best exciting things to do in Lake Tahoe. In addition, this is also a nice moment for you to define which places enchanted you the most and to go back there to get to know them better.
2. Explore Emerald Bay State Park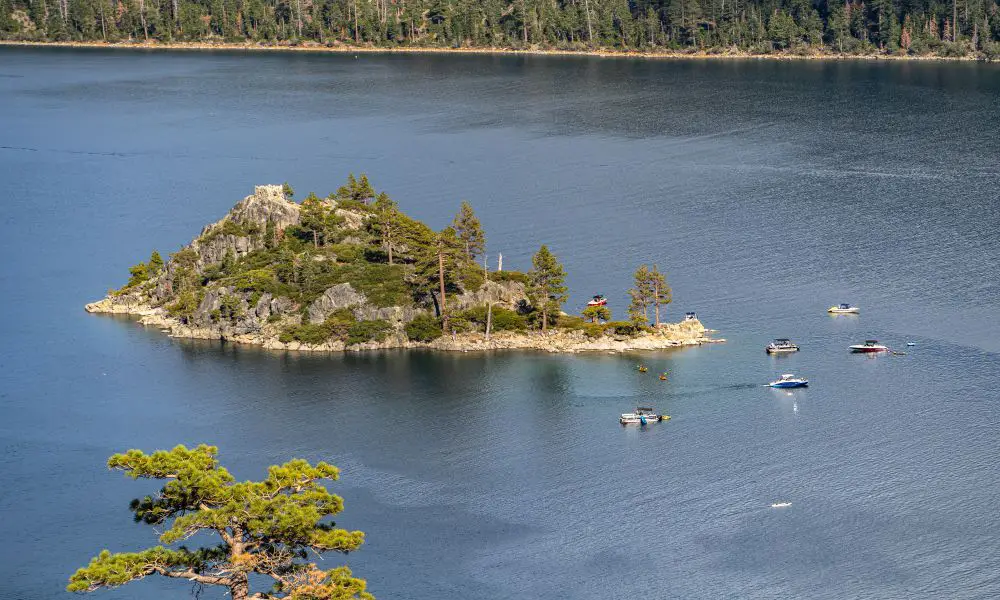 Located on the west shore of Lake Tahoe, Emerald Bay State Park is an absolute gem.
With dazzling blue waters, rocky cliffs, and lush forests, the park provides a picturesque setting for all kinds of outdoor activities.
In addition, this park serves as home to one of Lake Tahoe's most photographed landmarks; Vikingsholm Castle. This Scandinavian-style villa was built in 1929 by Mrs. Lora Josephine Knight as her summer residence.
You can take a guided tour of the castle (during summer) or simply admire it from afar.
The park also features numerous hiking trails that offer spectacular views of the lake and its surrounding areas.
If you're feeling adventurous, maybe try hiking the Rubicon Trail and marvel at Lake Tahoe's beauty from different angles.
Or, take a hike to the Inspiration Point, located 600 feet above, and enjoy a truly breathtaking view.
And if you'd like a more leisurely activity, explore the lake's serene coves by boat.
Several tour companies offer private and group boat tours that take you through Emerald Bay and its fascinating sights.
There are also two campsites at Emerald Bay State Park; Eagle Point Campground and Boat-In Camp. 
So you don't have to worry about finding accommodation if you're planning an overnight stay.
Overall, Emerald Bay State Park is one of the best places in Lake Tahoe to soak in its beauty and explore its wonders.
It's definitely one of the things that you don't want to miss when visiting Lake Tahoe.
3. Have Fun At Sand Harbor Beach
One of the most beautiful beaches I've ever stepped on in my life is Sand Harbor Beach, a type of beach to relax with an incredible view.
This beach is located on Lake Tahoe's east shore and is a popular destination for swimming, kayaking, stand-up paddling, and other things.
However, the water at Sand Harbor Beach is quite cold. But you can take a dip and get used to it after a few minutes, but it takes courage.
If you don't want to swim, you can just sit back and enjoy the view of the gorgeous blue lake, take a stroll along the beach, admire the colorful pebbles and take some photos of the spectacular views.
In addition to the beach, Sand Harbor Beach also offers great hiking trails. You can take a nature walk along the Sand Point Nature Trail and enjoy the stunning views of the lake.
The trail is relatively easy, but you should be careful when walking on the rocks.
If you're visiting Lake Tahoe with family and friends, there is a picnic area near the beach where you can enjoy a meal with a magnificent view.
You can also find a casual restaurant at Sand Harbor Visitor Center, which offers excellent cuisine.
Another super important tip is, it's very difficult to park nearby. Parking on the highway is not allowed (and not safe).
But they have their own parking lot, which costs $10. But arrive early because they have a limitation.
After they close, it is no longer possible to enter, and access is impossible.
The parking lot opens at 8:00 am, and many people line up before that time. I arrived at 9:00 am on the first day, and it was already full.
I had to go back the next day. But all things considered, Sand Harbor Beach is one of the must-see attractions in Lake Tahoe.
4. Go Alpine Skiing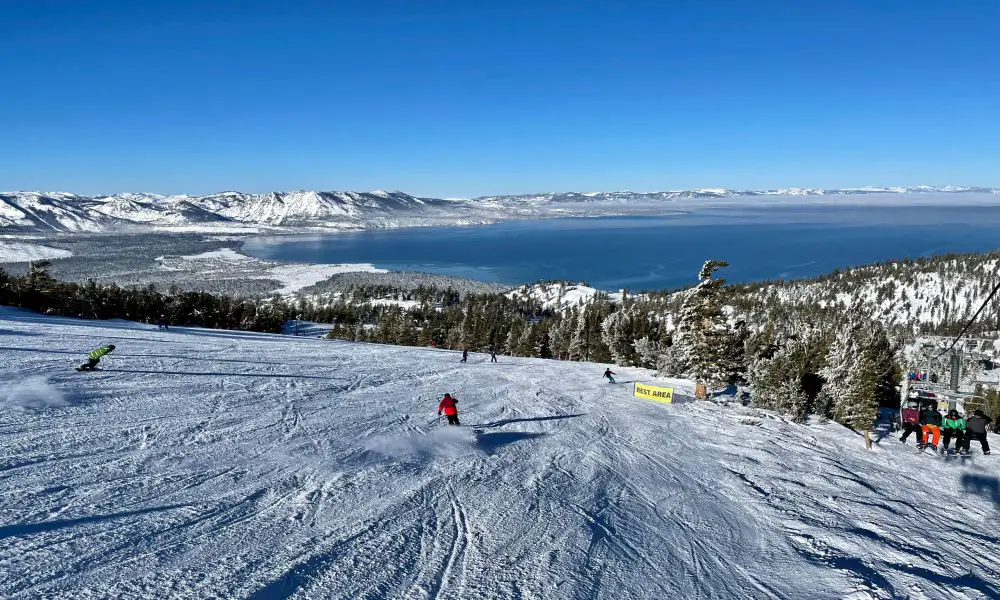 Looking for things to do in Lake Tahoe that'll give you a serious adrenaline rush? Skiing and snowboarding are obvious choices.
With its high elevations, Lake Tahoe offers some of the best skiing and snowboarding in the world!
Palisades Tahoe is one of the most famous places for skiing. It comprises both Alpine Meadows and Olympic Valley and is one of the largest ski resorts in the world.
With nearly 6,000 acres of skiable terrain, more than 400 inches of snow falls annually, over 44 lifts, and 270+ trails, this is the ideal destination for skilled skiers and snowboarders.
This famous complex also hosted the 1960 Winter Olympics and now houses an Olympic Museum.
Another favorite is the renowned Heavenly Ski Resort, home to the highest peak in Lake Tahoe.
It features over 4,800 acres of skiable terrain and 28+ ski lifts. Visitors can also enjoy other winter activities, such as snowshoeing, tubing, and ice skating.
And if you're not interested in skiing or snowboarding, you can take a scenic ride on the Heavenly Gondola and take in the views of Lake Tahoe from up high.
So for those seeking fun things to do in Lake Tahoe during winter, skiing and snowboarding should be on your list! It's the perfect way to experience Lake Tahoe's winter wonderland.
5. Try Your Luck At The Casinos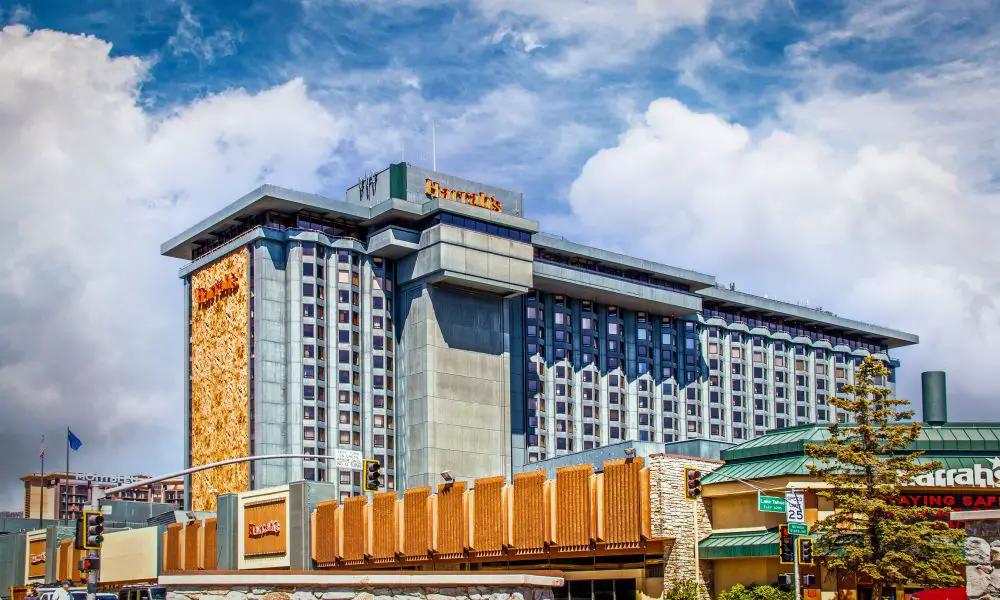 If gambling is your business, why not try your luck at some of the casinos located in Lake Tahoe?
Stateline Area is home to some of the best casinos in Lake Tahoe, such as Hard Rock, Harrah's, Harvey's, and Montbleu. 
They are very similar to Vegas casinos but only smaller in size.
The casinos offer a variety of activities, such as blackjack tables, slot machines, poker rooms, and more. You can also enjoy a show or two at the casinos.
Hard Rock, for example, hosts live music events featuring popular acts from across the country.
In addition, the casinos offer a variety of tasty dining options. Whether you're in the mood for Italian, Mexican, American, or Asian cuisine, you can find something to satisfy your taste buds.
During my last visit, I tried my luck at the slot machines in Harrah's. Fortunately (for me), during the morning hours, the casinos weren't as crowded as they usually are in Vegas, which gave it a different feel.
However, I wasn't as lucky as I thought I'd be, but the experience still was a lot of fun.
Some people also enjoy shopping in casinos. Harrah's, for example, has a variety of stores featuring things from designer clothing to souvenirs.
This gives you an opportunity to pick up some things for yourself as you enjoy your visit to Lake Tahoe.
6. Have Fun At D.L. Bliss State Park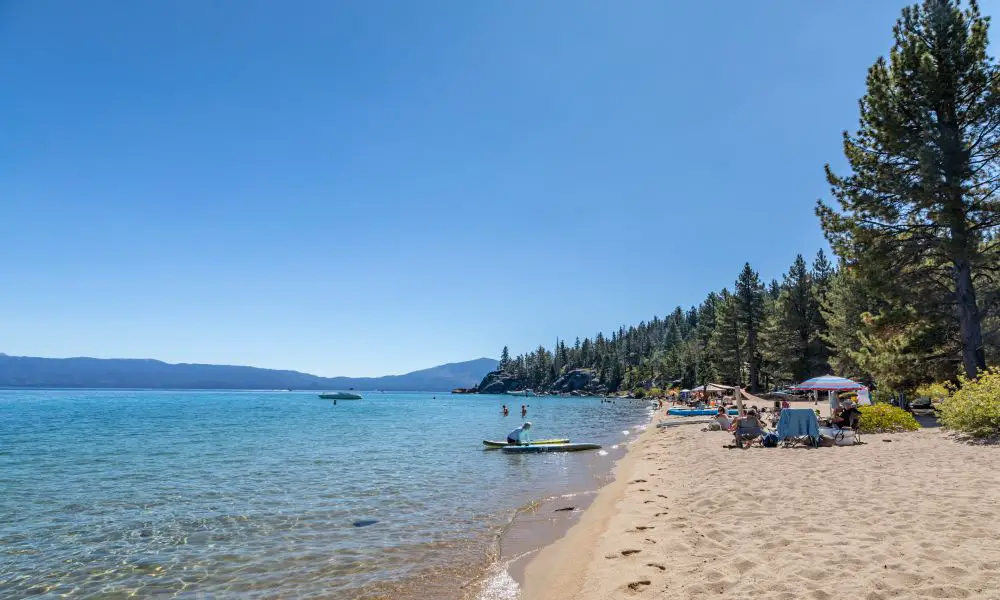 Located 17 miles south of Tahoe City, D.L. Bliss State Park is one of the lake's most visited parks.
The park is named after its benefactor, Duane L. Bliss, a well-known businessman who donated much of the park's land in 1929.
Today, this park is a popular destination for anyone looking to relax and enjoy the stunning nature of Lake Tahoe. 
Spread across 744 acres of protected land, D.L. Bliss State Park is home to many of Lake Tahoe's attractions.
The park features two beaches (Lester Beach and Calawee Cove) along with several picnic areas.
There are also plenty of hiking trails, including the popular Rubicon Trail that winds around the park and leads to the famous Vikingsholm Castle.
In addition, the park also features the Balancing Rock, which is one of the most photographed tourist spots in Lake Tahoe.
It is an amazing natural wonder, where a boulder precariously sits atop a stone column.
And if you wish to spend a night in the park, there are over 150 campsites available.
The family-friendly campground is very well-maintained, with fire pits, picnic tables, and restroom facilities. Reservations are recommended and can be made online.
7. Explore The Tallac Historic Site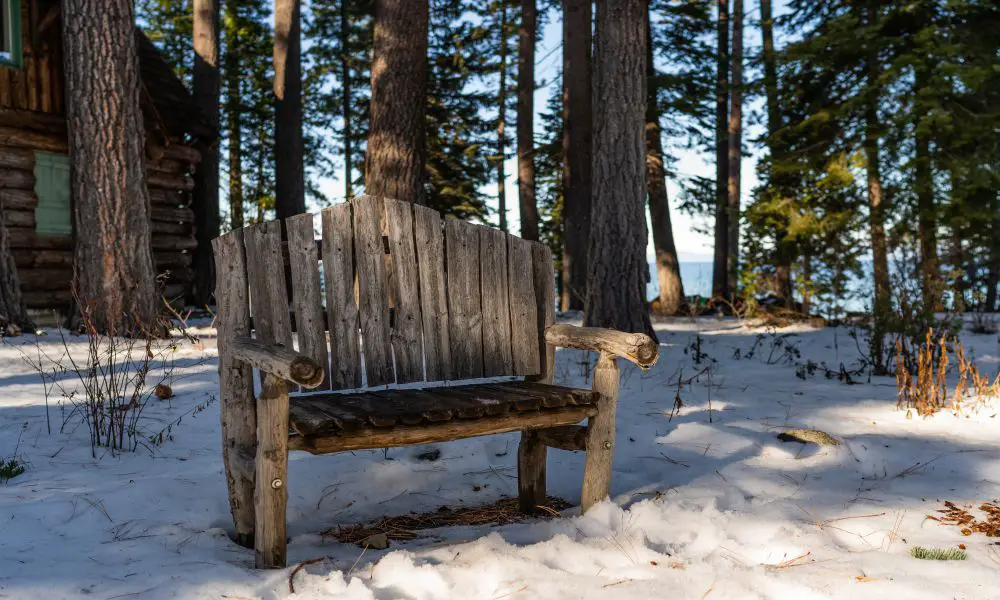 For those who love exploring things history, the Tallac Historic Site is a great destination for things to do in Lake Tahoe. 
Located about three miles north of South Lake Tahoe on Highway 89, this 74-acre complex contains three Estates built between 1894 and 1930. 
They include The Pope, Valhalla Grand, and Baldwin Estate.
You can tour these historic homes and grounds for free from Memorial Day through September. 
The Baldwin Estate now houses Tallac Museum and showcases several artifacts and photographs of the Washoe people and the local logging industry. 
The Pope estate also features changing art exhibits, and visitors can see the original furnishings and tour the lovely grounds.
And lastly, the Valhalla Grand Estate is a magnificent castle-like structure with a beautiful wood beam ceiling, wood floors, 20 foot high stone fireplace, and a balcony of lodge pole construction.
The Tallac Historic Site also organizes several events throughout the year, including the Gatsby Festival, which takes place every August.
This two days event draws thousands of attendees who come to dance and listen to 1920s jazz.
You can also spend a night here at Camp Richardson Resort, which is now a part of this historical site.
With its rustic cabins, campsites, marina, and picturesque views, this resort offers an experience like no other.
Therefore, spending a day at this historical site is an absolute must if you're looking for cool things to do in Lake Tahoe.
It's a great way to gain insight into this area's rich history and culture. Plus, it's absolutely stunning!
8. Take a Guided Snowmobile Tour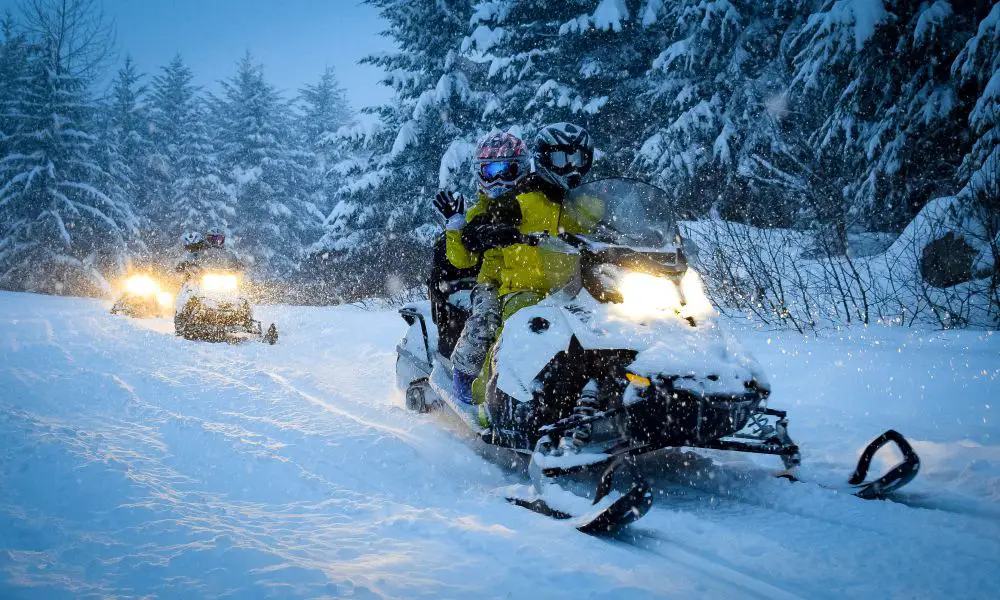 There's nothing quite like the excitement of a snowmobile tour! Lake Tahoe offers plenty of options, with guided tours across the slopes and backcountry.
Whether you're a beginner or an experienced snowmobiler, these tours will take you to some of the most breathtaking spots around Lake Tahoe.
The friendly guides will give you all the information needed to explore the area with confidence while sharing the fascinating history of the region.
There are several tour companies offering custom and group tours. Some popular destinations include the Sierra Nevada Mountains, Donner Lake, and Alpine Meadows.
I went on a snowmobile tour with Lake Tahoe Adventure Company in the Sierra Nevada Mountains.
The tour took an hour and a half, with an experienced guide teaching us how to operate the snowmobile safely.
We stopped along the way to take pictures and appreciate the amazing views of Lake Tahoe.
The company also offers a two hours summit tour, taking you to the highest point of the Sierra Nevada Mountains.
This is the most popular tour and worth the experience.
9. Unwind at Secret Cove (Nudist Beach)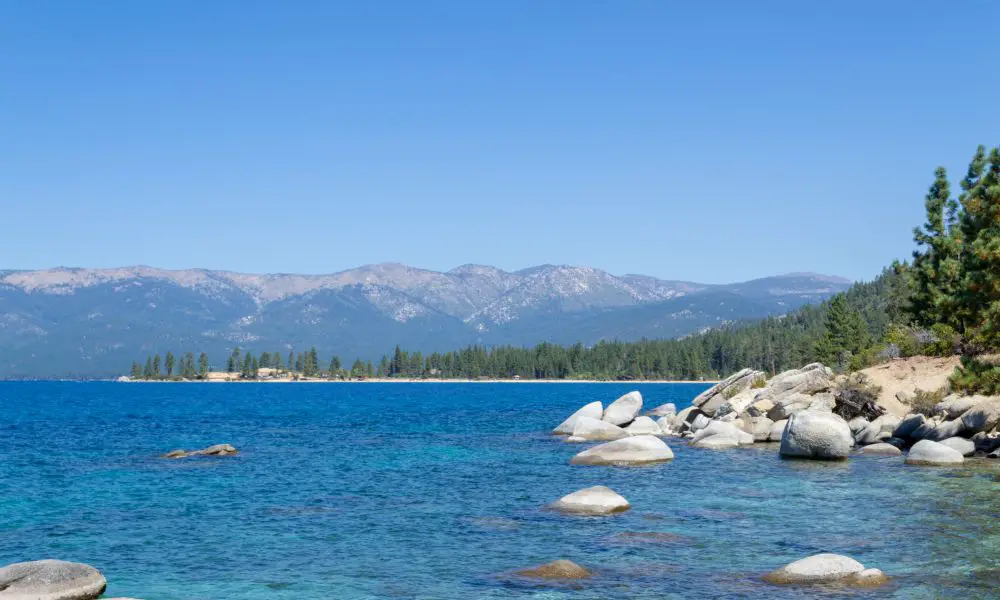 I don't know about you, but personally, I love discovering things that aren't in the guidebooks.
Lake Tahoe has a few of these off-the-beaten-path hidden gems, and Secret Cove is the most popular.
Secret Cove, also known as Tahoe's Nudist Beach, is a clothing-optional beach tucked far away at the east shore of Lake Tahoe.
To get to this beach, you need to hike for approximately 30 minutes. The hike is very steep and sandy, so be careful.
And once you arrive, you'll be rewarded with a stunning view of the beach with a lot of trees around and clear blue water.
The beach itself is very small and has nothing to structure, so I recommend taking a snack and water.
The water is very cold, but the heat outside makes you forget the chilly sensation.
During my visit here, I did not see any nude people, but it is known to be a popular spot for nudists.
So if you're into that kind of thing, then why not add this to your list of things to do in Lake Tahoe?
And after a long and tiring day at Secret Cove, you can go back to your hotel and enjoy a dip in the hot tub. It will be the perfect way to end your day!
10. Test Your Skills in Golfing at the Tahoe Edgewood Golf Course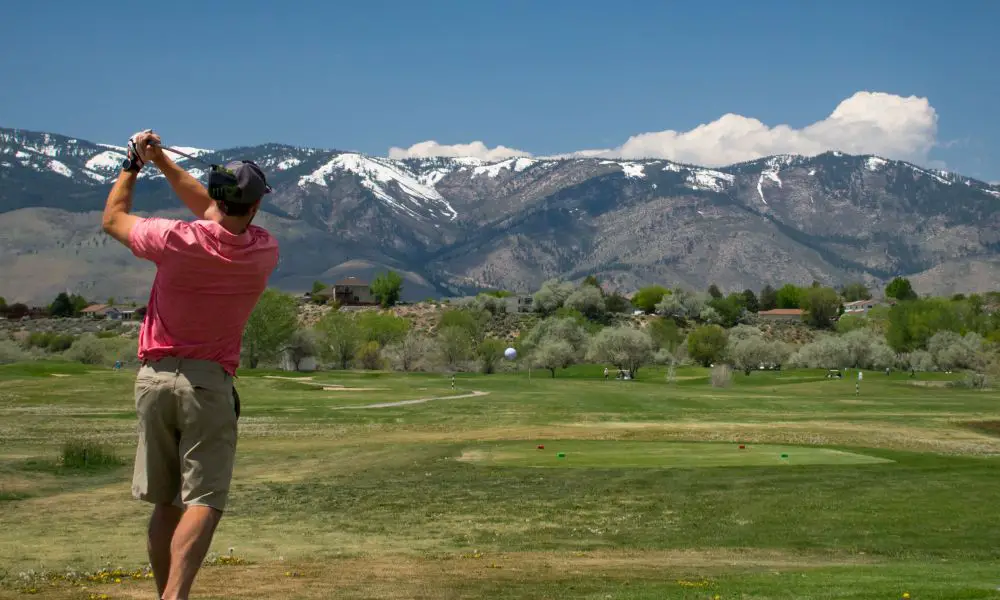 How good are your golfing skills? Put them to the test at the Tahoe Edgewood Golf Course! In addition to being one of Lake Tahoe's most popular things to do, it's also the area's premier golf course.
In fact, it's the only golf course in Lake Tahoe that exists on the shores of the lake.
And with its sweeping views and diverse landscape, this world-class golf course has been featured in many golf magazines.
The 18-hole championship golf course has hosted the American Century Golf Championship for more than three decades.
The course features a driving range, practice green, and chipping areas, so you can work on your swing and technique.
To play a round here will cost you a bit more than on the average golf course.
Depending on the season, expect to pay between $225 and $300 per round. You'll agree it's expensive, however, that this is a small price for the breathtaking views and challenging holes!
So if you've got a few hours to kill and are looking for fun activities to do in Lake Tahoe, golfing at the Tahoe Edgewood Golf Course is a great way to spend the day.
Not to mention, it's a great way to exercise and have some outdoor fun in the sun!
11. Take a Cruise on the MS Dixie II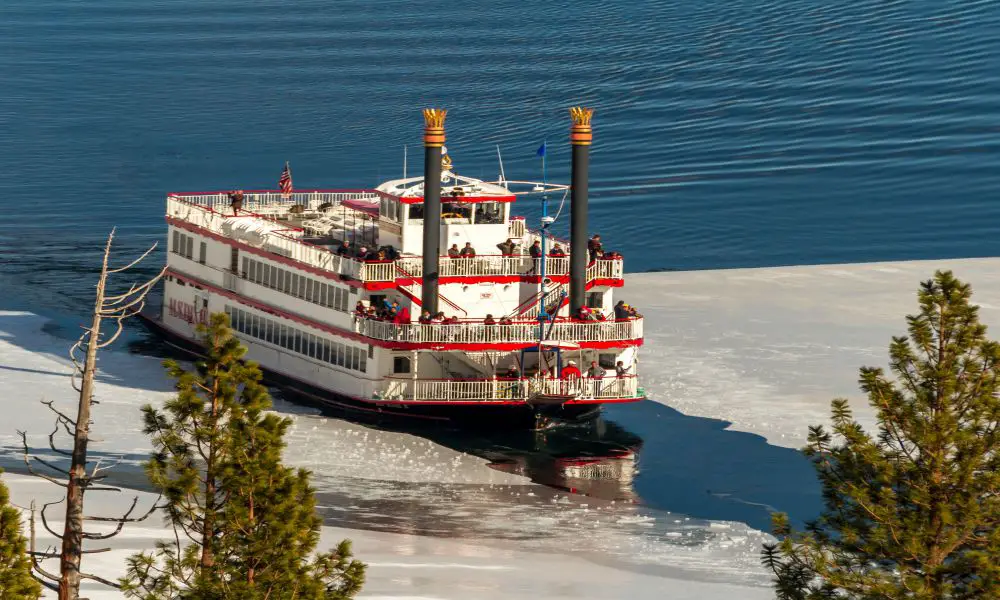 Don't miss out on the opportunity to explore Lake Tahoe from a unique perspective – take a cruise on MS Dixie II!
MS Dixie II is the largest passenger vessel on the lake. Boasting two decks, full-service bars, an open sundeck, and delicious food served in an elegant window-lined dining room, it's the perfect way to spend a leisurely day.
The cruise offers two different tour packages, each lasting a little over two hours. The "Daytime Sightseeing Cruises" take visitors around the lake while they enjoy the captivating surroundings and active wildlife.
The "Sunset Dinner Cruises" offer a full-course meal with a variety of entrees, desserts, and beverages. It also includes live entertainment and dancing.
There are also several other cruise lines that offer similar tours on every side of the lake. 
MS Dixie II departs from Zephyr Cove Marina in Emerald Bay, but you can always find other tour operators on North Shore, West Shore, and South Shore.
No matter which option you choose, taking a cruise is one of the cool things to do in Lake Tahoe and should not be missed.
12. Tour the Vikingsholm Castle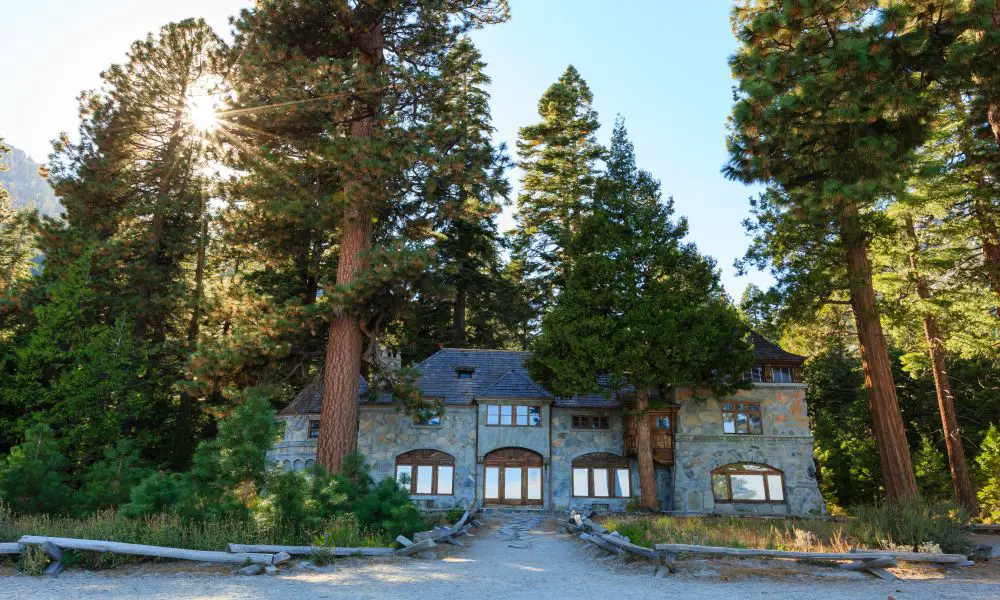 I did mention this earlier, but it's worth mentioning again. And if you like history, especially for empowered women, you need to visit this castle.
This castle was built in 1929 and was the summer home of Mrs. Lora Knight – one of the earliest female entrepreneurs in America.
The castle is designed to resemble a Scandinavian castle and is situated on the shores of Emerald Bay.
The mansion features 38 rooms and was built by 200 workers over a period of 9 months. 
Its architecture, interior design, and garden make it one of the best things to see in Lake Tahoe.
Guided tours are available every day between June and mid-September. I recommend taking the tour to enjoy a firsthand experience of this magnificent historical landmark.
Note that to get there, you need to take a trail of approximately 25 minutes. It's a little steep, so wear comfortable shoes.
But the views and the experience of walking along the trail are totally worth it!
13. Go Fishing at the Tahoe Trout Farm
When traveling with kids, you should consider things to do in Lake Tahoe that they can also enjoy.
But this does not mean you'll have to compromise on your own fun! The Tahoe Trout Farm is a great spot for both.
The farm offers fishing, which is a great way to introduce kids to fishing. This is because a catch is guaranteed, so there won't be any disappointment.
You also don't need a license for trout fishing at the farm, and all the necessary equipment will be provided.
The farm has two ponds stocked with golden trout, trophy trout, and steelhead rainbow trout.
Aside from fishing, visitors can also feed the fish, which is a wonderful and interactive activity for kids.
The staff is friendly and helpful, and the atmosphere of the farm is so peaceful. You can also enjoy a picnic while admiring the scenery.
14. Spend a Day at Kings Beach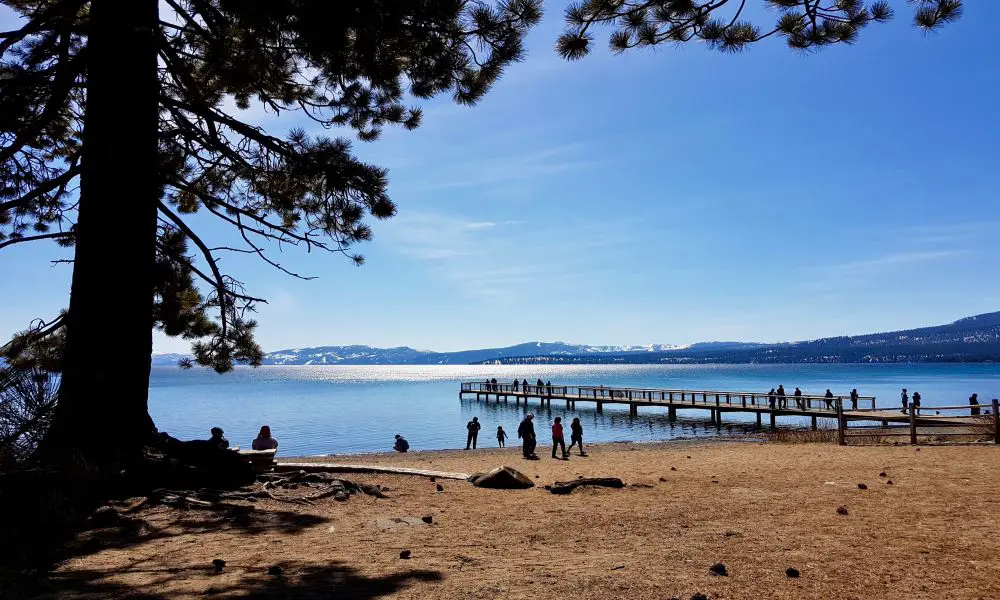 With less than 4,000 inhabitants, King's Beach is a coastal town full of old hotels, cool shops, and good dining options.
The city is very cute, perfect for a relaxing vacation.
During summertime, the beach is very popular among locals and tourists alike. It is the perfect place to go for a relaxing swim, sunbathing, or a beach picnic.
The best thing about this beach is that it is uncrowded, making it a great spot for families and those looking to escape the hustle and bustle of the city.
If you're adventurous, you can rent a kayak and explore the stunning views of the lake.
Or, if you prefer something more leisurely, you can take a boat tour and admire the beautiful shoreline from the water.
There are other water activities like paddle boarding, fishing, and jet-skiing as well.
Kings Beach is also a great spot for an evening stroll as the sun sets. The vibrant colors of the sky make for a fantastic backdrop to the lake, and you can often see families gathering around a fire or building sandcastles.
You don't have to worry about parking either. There's plenty of parking available, thus making it one of the best places to visit in Lake Tahoe.
So grab your towel and head down for a perfect beach day.
15. Catch a Performance at Lake Tahoe Shakespeare Festival
When it comes to fun things to do in Lake Tahoe, you should never miss the chance to catch a performance at one of the most iconic outdoor theatres in the world – the Lake Tahoe Shakespeare Festival.
Since its opening in 1972, the Lake Tahoe Shakespeare Festival has welcomed thousands of visitors from around the world. It takes place in Sand Harbor, an exquisite beach and park with spectacular views of Lake Tahoe.
Here, you can experience some of Shakespeare's greatest works coming to life on stage, with a backdrop of the lake and surrounding mountains.
The festival runs from mid-July through mid-August, and aside from its outdoor theatre performances, the festival also hosts educational workshops and lectures, as well as special events like yoga on the beach.
So for a unique and memorable vacation experience in Lake Tahoe, catching a spellbinding performance at the Lake Tahoe Shakespeare Festival should be on your list. It's truly magical!
16. Explore Donner Memorial State Park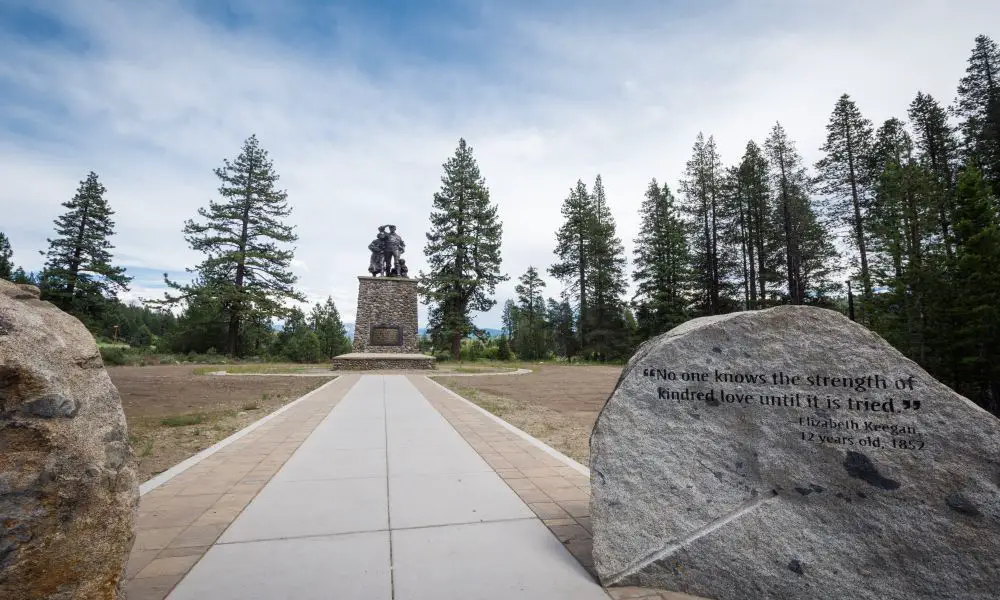 Established in 1928, Donner Monument State Park is a great destination for both nature lovers and history buffs.
This park gets its name from the ill-fated Donner Party, who tried to cross the Sierra Nevada Mountains in 1846.
They were stuck in the snow and had to resort to desperate measures such as cannibalism to survive.
Almost half of the members of the party died in the icy winter, and those who survived found their way to safety in California.
This tragic story is remembered in the Donner Party Monument, which was erected on June 6, 1918.
The monument stands on a 22-foot stone pedestal and depicts three settlers looking west as a reminder of their courage and bravery.
Apart from history, the park offers plenty of things to do and see. With its nature trails, picnic areas, and a lake, visitors can explore the park's rugged beauty or simply relax and enjoy the sights.
The Lakeside Interpretive Trail is a great way to learn about the area's geology and wildlife.
In summer, the park is popular for hiking, fishing, swimming, boating, and camping.
Guided mountain biking tours are also available. In winter, visitors can explore the snowshoe trails or go sledding down the hill.
It's easy to see why Donner Memorial State Park is one of the top attractions in Lake Tahoe! It offers endless things to do and see and is a great place to explore Lake Tahoe's natural beauty.
17. Hike the Eagle Rock Trail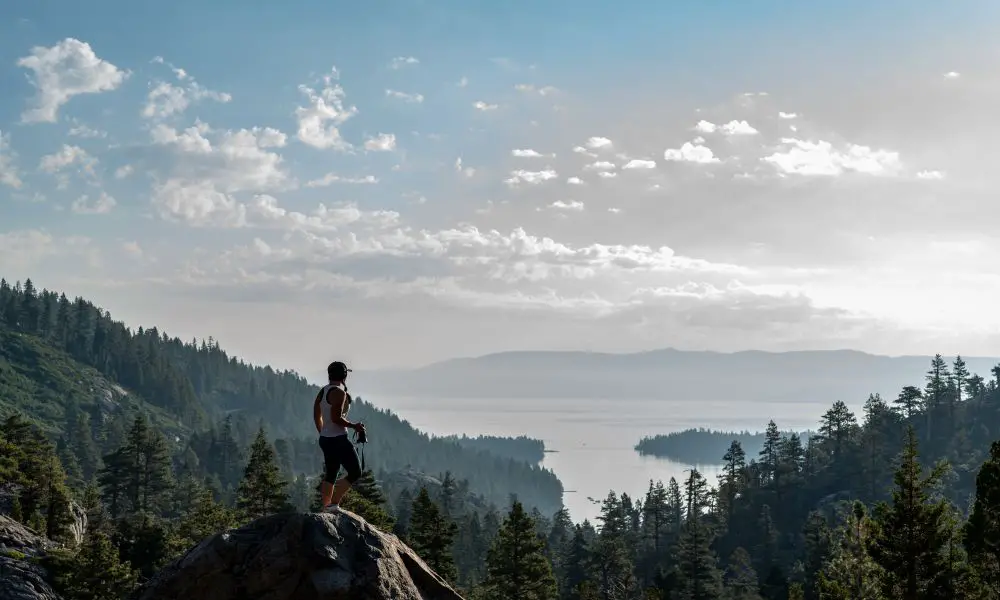 Situated on Lake Tahoe's west shore, the Eagle Rock Trail is a hidden gem for nature lovers.
Eagle Rock is a unique volcanic outcrop that stands at an elevation of 6,000 feet. It looks like an eagle spreading its wings and provides stunning views of Lake Tahoe from the summit.
This half-mile trail is considered easy in difficulty and can be done in about 30 minutes.
From the peak, you can enjoy awe-inspiring views of the lake and its surrounding area. It's a great spot to stop for lunch or a quick snack and take in the breathtaking beauty of Lake Tahoe!
In addition, this trail is also popular for birdwatching, wildflower spotting, and wildlife sightings.
So if you're looking for fun things to do in Lake Tahoe that involve nature, then you should definitely visit the Eagle Rock Trail.
And do you want to know what the best part is? Dogs are allowed and can join in the fun! So grab your furry friend and get ready to explore one of Lake Tahoe's most incredible trails.
18. Enjoy Parasailing in Lake Tahoe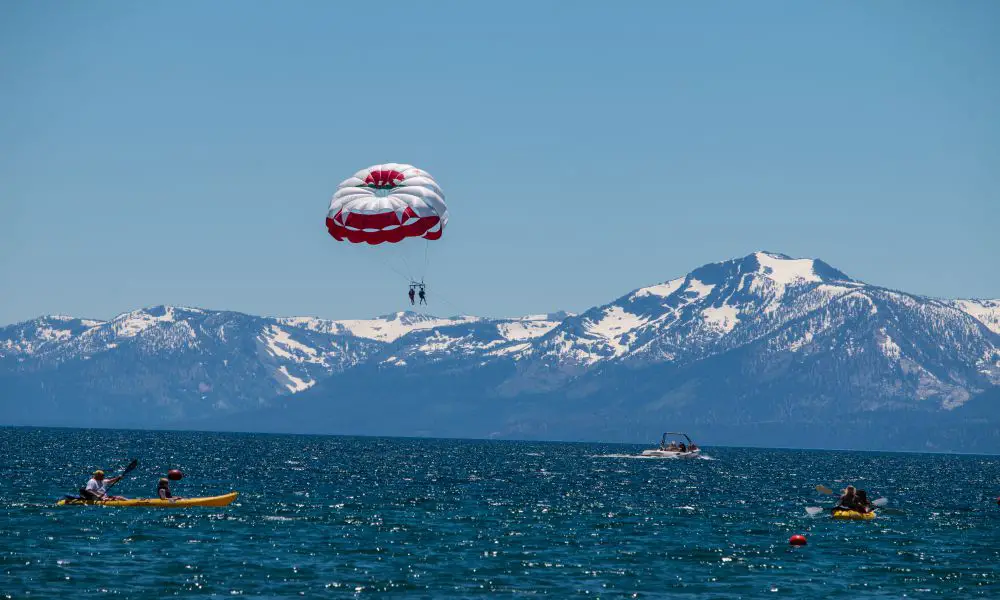 Parasailing in Lake Tahoe has become increasingly popular since its introduction to the tourist industry.
This thrilling outdoor activity gives you a chance to enjoy Lake Tahoe's extensive beauty as you soar above the tree line.
You can even spot some of the wildlife that can be found in the area.
Parasailing tours are available from various different locations, with most operators offering single, double, and even triple flights for you to choose from.
I went on a parasailing tour with Zephyr Cove on my last trip to Lake Tahoe, and I have to admit it was an incredible experience.
The team was super friendly, the views were breathtaking, and I felt like I was flying above a fairytale landscape!
The flight was around 30 minutes, and after the ride, I was served with a drink.
Therefore, if you're looking for exciting activities to do in Lake Tahoe, parasailing is one of the most exhilarating things you can do in the area.
It's a great way to get some fantastic photos and provides a fantastic view of Lake Tahoe. So don't miss out!
19. Get the Bird's Eye View of Lake Tahoe from a Hot Air Balloon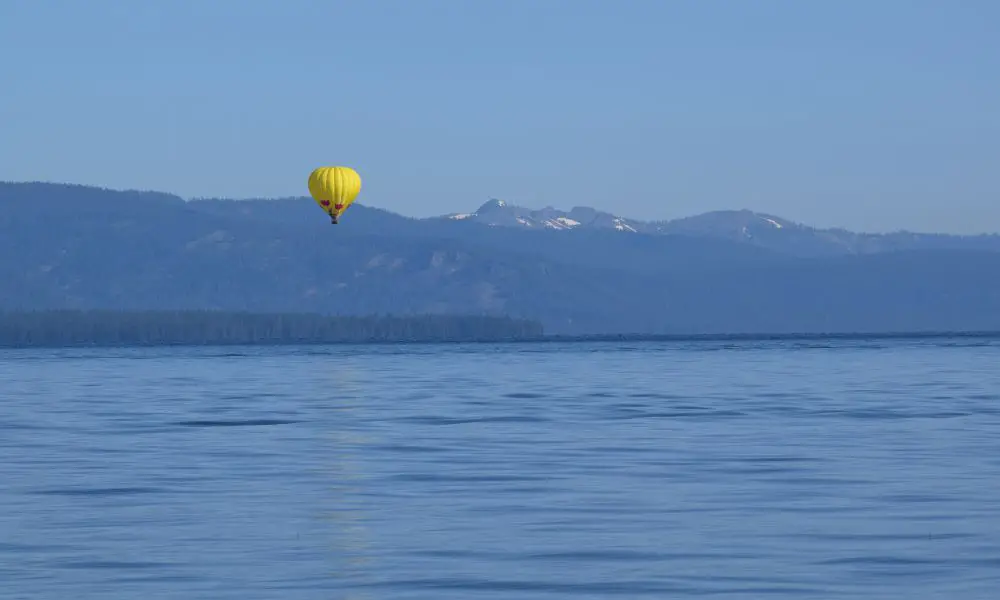 When you're done skiing and snowboarding, why not take things up a notch and enjoy a breathtaking bird's eye view of Lake Tahoe?
Hot air balloon rides are the ultimate way to get an aerial view of this majestic town.
It's the perfect way to explore the majestic mountains and alpine forests with nothing but peace and tranquility surrounding you.
And from the balloon, you can admire stunning views of Lake Tahoe and its crystal-clear waters, along with the breathtaking mountain peaks, snow-clad slopes, and stunning waterfalls.
The tour usually takes place in the early morning, as that is when the conditions are most suitable for a smooth ride.
But you don't have to worry if you're an adventurer because the aerial view of Lake Tahoe at sunrise and sunset is quite mesmerizing!
For the most beautiful experience, opt for a tour with Lake Tahoe Balloons. This tour company has the world's only U.S.C.G.-certified balloon launch and recovery vessel, Tahoe Flyer.
And as you sail to the launch spot, you'll be offered a full array of beverages and refreshments. And when the balloon is airborne, the pilot will provide a detailed narration of Lake Tahoe's sights and landmarks below.
20. Take a Scenic Hike Near South Lake Tahoe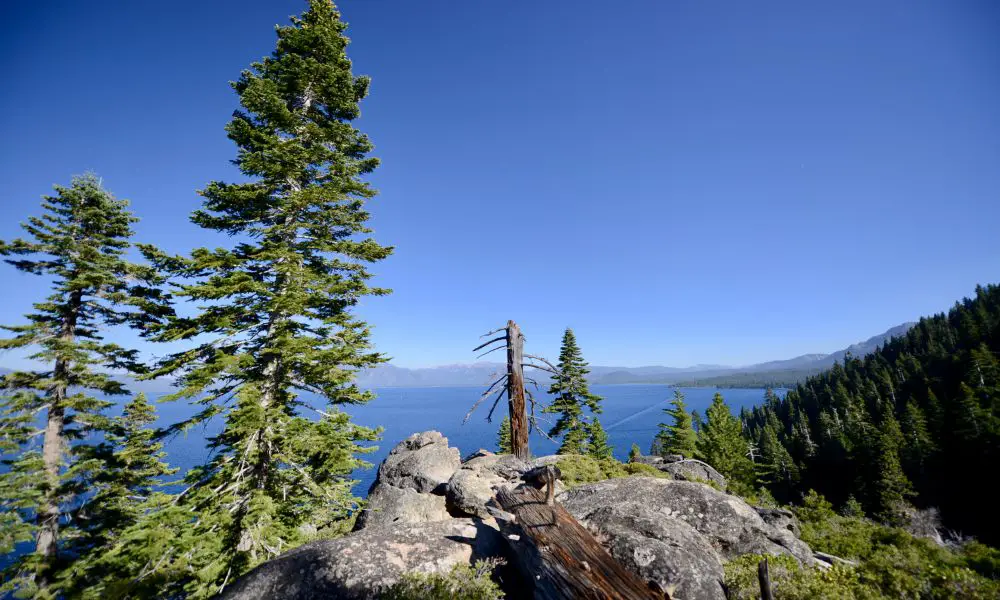 For the best trails and beautiful sights, head to the South Lake Tahoe area. This area has an abundance of stunning trails that offer sweeping views of Lake Tahoe.
One of the most popular hikes is the Rubicon Trail, which offers pretty much everything a hiker could want – spectacular views, wildflowers, and even some cool geological features. 
The 4.5-mile trail follows the shoreline of Lake Tahoe and is easily accessible from Emerald Bay State Park.
The Fallen Leaf Lake Trail is another popular hiking trail, with its 2.5 miles loop of pristine shoreline.
This area is famous for its stunning fall foliage and offers some of the best views of Fallen Leaf Lake.
You can also check out the Cascade Falls Trail, a moderate 2-mile loop that leads to the stunning Cascade Falls.
This spectacular waterfall drops more than 200 feet and is a great place to take a refreshing dip in the summertime.
All in all, hiking is one of the best things to do in Lake Tahoe if you want to take in all its natural beauty. So lace up your boots and get ready for a breathtaking adventure!
21. Enjoy Lake Tahoe's Nightlife
Depending on the mood, there's this thing about Lake Tahoe night being very young and lively.
The city of Genoa has some bars that are worth a visit, it has the Heavenly Village with some other night attractions as well, and casinos that are always pumping at night.
There is always something to do, and the audience is very young and energetic throughout the night.
Tahoe City is another great spot for nightlife, with several bars, lounges, and even nightclubs that are open late into the night.
The casinos here offer a more upscale and sophisticated atmosphere, but still with enough energy to get things going.
What about some outdoor activities? The Lake Tahoe outdoor movies are a great option for enjoying a good movie in a beautiful, cool place with lots of people and music.
The nightlife in Lake Tahoe is not only about the bars, but also about the outdoor activities, like the movie night, fireworks displays, and some other things that happen during summer.
So after a long day of exploring some of the top Lake Tahoe attractions, don't forget to add some nightlife fun to your itinerary.
The energy, the music, and the outdoor activities will make your trip even more memorable.
22. Enjoy the Culinary Delights in Lake Tahoe
You can't go to Lake Tahoe without experiencing the unique culinary delights.
Whether you're looking for a quick bite or a full-on feast, there's something to satisfy everyone's taste buds.
I'm a big fan of getting used to the place, getting to know typical foods, and visiting local restaurants.
So I'll always advise you to do that, even if it's just a few meals. I went to one of the local restaurants and chose to eat a delicious fondue.
The restaurant was super cute, with lights and a pleasant atmosphere. The fondue melted in my mouth, and I could feel the flavors.
But if you're looking for something different, you should definitely try the Tahoe Sushi Roll.
This sushi roll is a unique combination of local ingredients and flavors rolled into one delicious bite. It's truly a treat for the taste buds!
For dessert, I highly recommend trying out a slice of the famous peanut butter pie.
This delectable treat is made with a graham cracker crust and creamy peanut butter, making it a favorite among locals and visitors alike.
No matter what you choose to eat, you'll find that the Lake Tahoe culinary scene is something special.
With its array of flavors and dishes, it's no wonder why so many people flock to the area just to sample its delicious delights.
23. Hike Mt. Tallac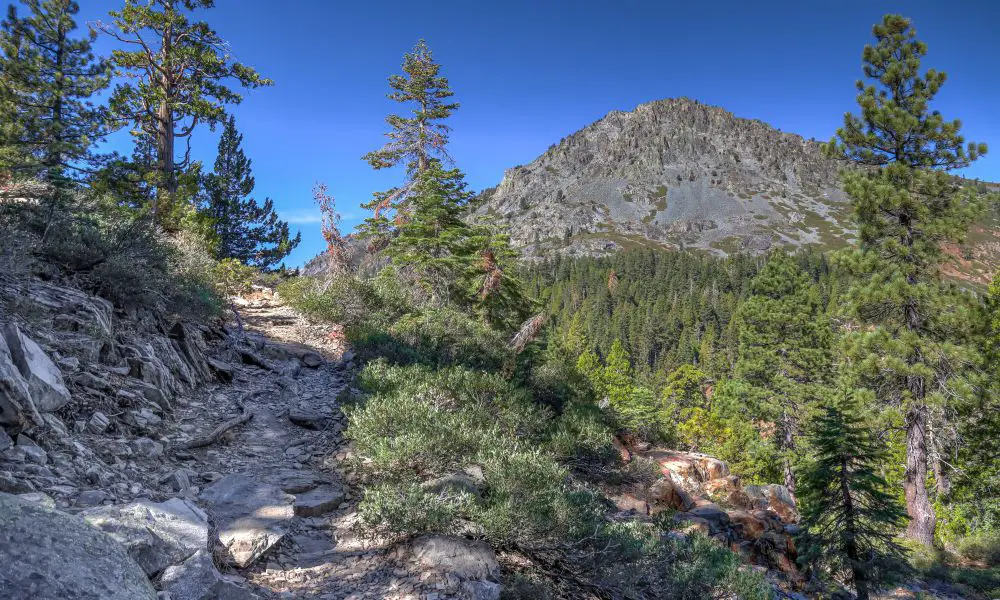 I end my list of things to do in Lake Tahoe with a hike up the majestic Mt. Tallac. At 9,735 feet above sea level, this peak is Lake Tahoe's third-highest mountain.
But this does not mean the trek up is difficult. Any hiker with a reasonable level of fitness can easily do it in about 5 to 7 hours.
The hike starts at the Tallac Trailhead parking lot, located at the end of Highway 89.
It's a 10-mile round trip with an elevation gain of about 3,300 feet. Most parts of the trail are exposed to the sun, giving you wonderful panoramic views of the surrounding area. However, remember to apply sunscreen and pack water!
Once you reach the top, you'll be rewarded with stunning views of Lake Tahoe in all its glory. It's an incredible sight! And the feeling of accomplishment you'll have at the summit is truly unbeatable.
One thing to keep in mind, Mt. Tallac is a popular destination, so arrive early to beat the crowds and avoid parking issues. In addition, the trail is steep in parts and can be strenuous, so make sure to wear proper shoes.
All in all, Mt. Tallac is the perfect way to end your adventure. It's one of the most famous attractions in Lake Tahoe, and hiking it is sure to be an unforgettable experience.