Malta is a small archipelagic country consisting of three islands that the Midettaranean sea surrounds. But even though small and explorable in days, the heavens blessed Malta with gorgeous, flamboyant, prodigal, and luxurious beaches. Take a look at the best 10 in this article.
• Pretty Bay
• St.Peter's Pool
• Zonqor Beach
• Pearl Beach
• Fond Gadir Beach
• Riviera Beach
• Golden Bay Beach
• Ghadira Bay Beach
• Qawra Point Beach
• Bugibba Perched Beach
• Gozo and Comi
If you're in Malta for the beaches, it's best to explore the country heading southern, eastern, and northeastern Malta regions. You don't want to go to the west because most beaches are guarded by a complex array of towering rock cliffs – a rocky landscape, so to speak.

In the southern region, the best Maltese beaches are the Pretty Bay – close to the Hagar Qim Temple Complex – and St. Peter's Pool – a popular recreational swimming location just between St. Thomas Bay and St. George Bay. There's also Zonqor beach that's reachable if you're headed to the eastern beaches close to Valetta.

If the beaches of the south aren't enamoring, go to Sliema on the east. There, the best beaches waiting for you are Pearl Beach and Fond Gadir Beach.

The northwestern region of Malta has the highest concentration of beaches. So please prioritize going there if you don't have the budget for traveling. The best beaches in northwest Malta are Riviera Beach, Golden Bay Beach, Ghadira Bay, Qawra Point Beach, and Bugibba Perched Beach.

If you have more time to spare, read on to the sections that provide the full details of all the beaches I mentioned here.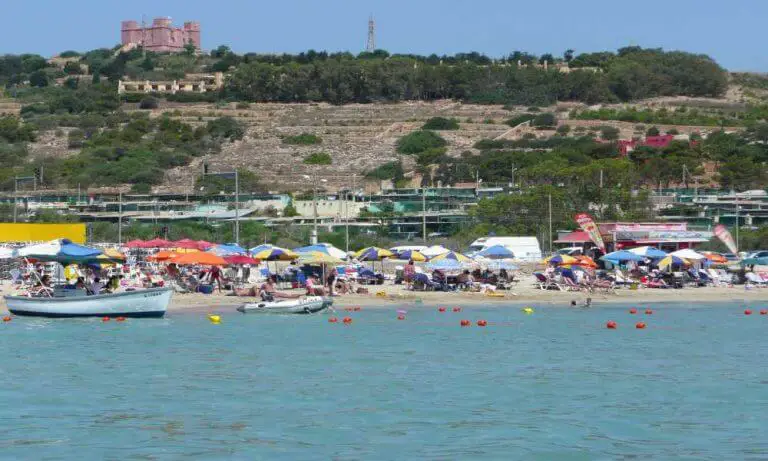 The Pretty Bay is a definite must-go if you find yourself exploring the seaside town of Birzebbuga, where attractions such as St.Lucian's Tower, Borg-in Nadur, and Ghar Dalam Cave lie waiting.

A unique trait of Pretty Bay is the heavy concentration of houses surrounding it. But despite this, it's notable that litter doesn't fill the coast and the sea. If there are any, most of the litter is on the secluded areas of the beach where watchmen don't frequent.

As for the view, you'll get to see the freeport and watch the passing of ships while sunbathing. While swimming, on the other hand, you'll see the brown silhouette of residential buildings on the back of the shore.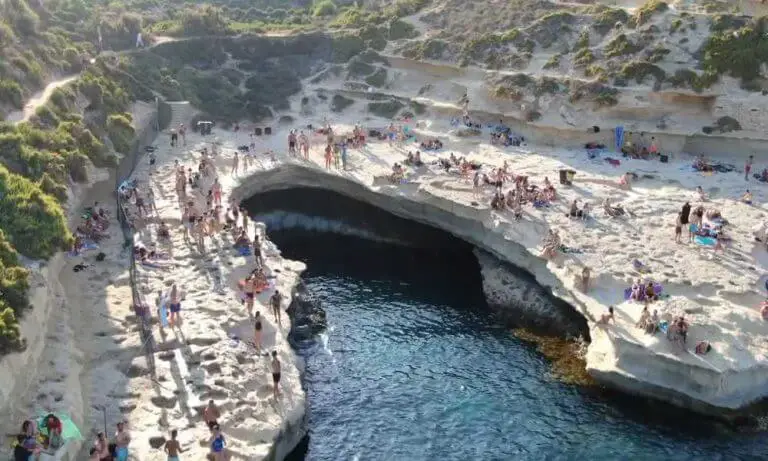 If you're a daredevil who wants to feel the full thrill of swimming by diving from a cliff several meters high, Marsaxlokk's St.Peter's Pool is the place to go. This is a great free-swimming location that's 12 minutes away from Pretty Bay and 20 minutes away from Valetta.
St.Peter's Pool is a pool that's carved inside the rocky coastal cliff of Marxaslokk. Continues slamming of waves miraculously etched an oval-shaped bluish pool on the face of the cliff. And this is where the origin of the name St. Peter's Pool comes from, at least according to those who frequent there.
Since it's deep and clear, St. Peter's Pool is where most Maltese youngsters love to spend time. You'll see them doing backflips, side flips, and other diving maneuvers. As for tourists like you, a heart-wrenching jump towards the deeps from the high edges of the pool is a great way to start the fun.
On the far side are St.Thomas Bay and St. George Bay's waters that St.Peter's Pool faces. Renting a kayak or a boat will allow you to venture out of the pool. In contrast, tourists who come from other beaches with their yachts and boats leave their rides on the sea and head to St. Peter's pool to experience the fun.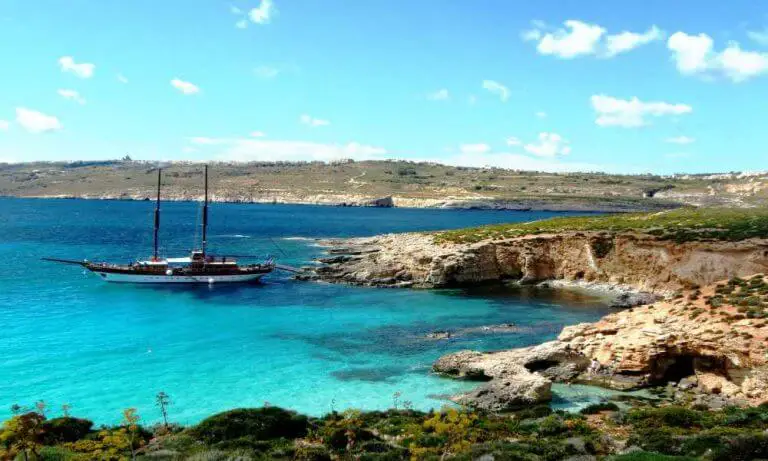 Zonqor beach has a rocky brown landscape that makes the aquamarine sea stand out. Not many visit due to its barren terrain. Nevertheless, don't follow their example, or you'll miss a lot. Though the shore of Zonqor isn't good looking, its waters serve great for swimming due to its calmness.

Swimming without any worries is why you should go to Zonqor. The beach isn't wavy. Furthermore, it has a moderate depth, so you don't have to worry about perilous accidents such as drowning.

But the highlight of the Zonqor beach is the numerous salt pans on its coast. The local saltmakers have been using these for many years. Come early and witness how humble seawater slowly transforms into lumps of salt under the heat of the sun.
Pearl Beach is where you should go if you're looking for something grand. This is a beach that tops the class of all the beaches within the coastal town of Sliema. This is where you'll find everything that defines luxury – beach boutique, private villas, open air cottages, jazz jams, rave, seaside pool, and quality food.
Fond Ghadir Beach is an undeveloped beach in Sliema. It's where you need to go if you're looking for a beach that looks natural and pristine. For this beach, expect nothing but rocks. Its shore is made out of limestone etched with natural carvings that trap some of the seawater. As for the sea that it faces, prepare to wear a shoe because you might find the seafloor sharp.

Though quite simple, I love this beach because it's one of the free attractions in Malta. Things you need to enjoy on this beach are food, a parasol, and a blanket or rubber mat. Entrance is cheap, and there's no need to pay for additional payments once you're inside the premises.
Riviera Beach is a tourist attraction in Malta that many don't know about. This might be because it's smaller and overshadowed by the Gnejna Beach and Golden Beach. Nevertheless, Riviera Beach doesn't lose its footing against the two.

Surrounding its shore is green vegetation that grows on a gradually sloping hill. And within the premises are remnants of an old bathhouse and a fort and scenic spots where you can take a look at the sunset that make the shore of the Riviera turn golden.
Golden Bay Beach is on the grayline between being a fully developed beach or a well-preserved beach location. Near its shore are trees where beach-goers can take shade. And far away from these, at the back of the shore, you can access numerous hotels and restaurants by walking.

As the most popular beach in Malta, Golden Bay boasts a wonderful view of the sunset. Going with this is the breezy stream of wind during the afternoons. And as the afternoon sun floats on the sky, the Golden Bay's expansive shore gets a coagulant hue of orange and brown, which looks very attractive.
Ghadira Bay is the widest sandy beach in Malta. And for this reason, it's the best place to go for sunbathing since you won't run out of space. Not only is the shore wide but also long, and this makes Ghadira excellent for riding an offroad bike or an electric scooter – just for a bit of an outdoor excursion if sunbathing or swimming is making you bored.

Only a few minutes away from Ghadira Beach is the infamous Popeye Village. This is a fancy theme park that offers activities which kids and adults can enjoy.
The Qawra Point Beach allures tourists with its shore that sand and rock comprise. As for me, without the sea, the shore looks strikingly similar to the landscape of Arizona. Even so, the beach looks very lively even if the shore is arid-looking due to the crystalline sea that it faces.

This beach is popular because it's near to the Malta National Aquarium. At the back of the Malta National Aquarium is a passage that's dedicated to going to Qawra Point. It even offers rental chairs and swimming equipment for beach-goers. Swimming in Qawra Point is nice because the water is calm.

A walk away from Qawra Point Beach is several cafes. These are handy if you forgot to bring snacks. Common delicacies for you to order are burgers, fries, roasted meat sandwiches, drinks, glazed hot and spicy fried chicken, etc.
Bugibba Perched Beach is a beach that you won't miss if you take the Valetta tour. Though the waves are strong and the seafloor sandy, Bugibba Beach serves well for tourists and locals due to its close distance to other tourist attractions, restaurants, and cafes.

You'll have to walk around to enjoy this beach fully. There are sandy spots, rocky spots, etc. With that being said, don't fret if one area is too crowded and keep exploring because other better areas are waiting for you to utilize.
Before finishing this article, you might also want to try Gozo and Comi. These are smaller islands near to the island of Malta. Like the main island, Gozo and Comi's minor islands have several historical spots and beach locations. If none of the beaches in my list interests you, those in Gozo and Comi surely will.