There's no question that Santorini is one of the most beautiful places in the world, and its beaches are a big part of that. This island is known for having one of the most picturesque coastlines you will find anywhere, with several beaches that are simply breathtaking. Best of all, they're all within easy reach. So no matter where you choose to stay on this island, there will always be an option for you to enjoy the beach. In this post, I will share a list of the 10 Best Beaches in Santorini.
Best Beaches In Santorini
1. Perissa Beach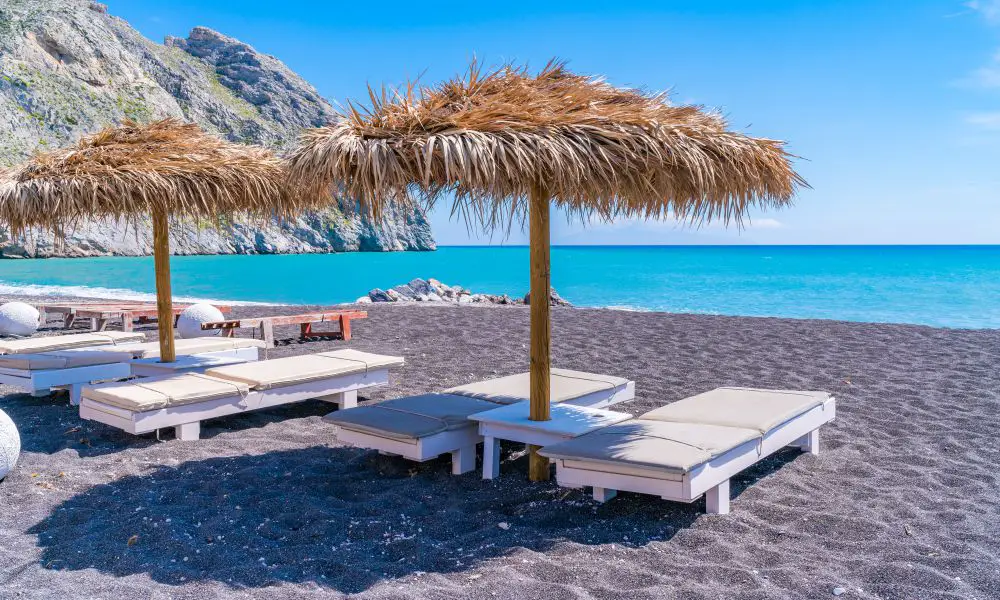 Perissa beach is perhaps the most famous black-sand beach in Santorini. The pebbled shore here is a delight to walk on, and the crystalline cobalt-hued waters are equally pleasant to swim, sunbathe, and tan. 
The beach was awarded a Blue Flag designation for its clean waters and excellent services. There are public restrooms, showers, outdoor showers, beach chairs, umbrellas, sun loungers for rent, and even lifeguards on standby.
Away from sunbathing, visitors can enjoy water sports or go on an exciting boat trip to nearby islets. There are many excursion boats that leave from the Perissa Beach pier. The journey takes about half an hour to reach uninhabited islets with white-sand beaches and rock formations.
The quiet village of Perissa is located right behind the beach. This charming little village has a mix of typical whitewashed buildings and taverns, combined with some upscale restaurants and shops. You can also find many souvenir stalls here that sell local arts, crafts, clothes, jewelry, and more.
I stayed at AquaBlue Hotel, which is situated only a few steps away from Perissa Beach. It features luxurious guest rooms, stunning views of the sea, and friendly service. I recommend it to anyone who wants a truly relaxing experience during their stay in Santorini.
In general, Perissa is the perfect beach for a fun-filled day of sea, sun, and sand. It is one of the best beaches in Santorini because of its beautiful scenery and lovely waters. I recommend it to anyone looking for a serene shoreline for water sports, sunbathing, or sightseeing.
Read More: 12 Best Things to Do on Santorini
2. Kamari Beach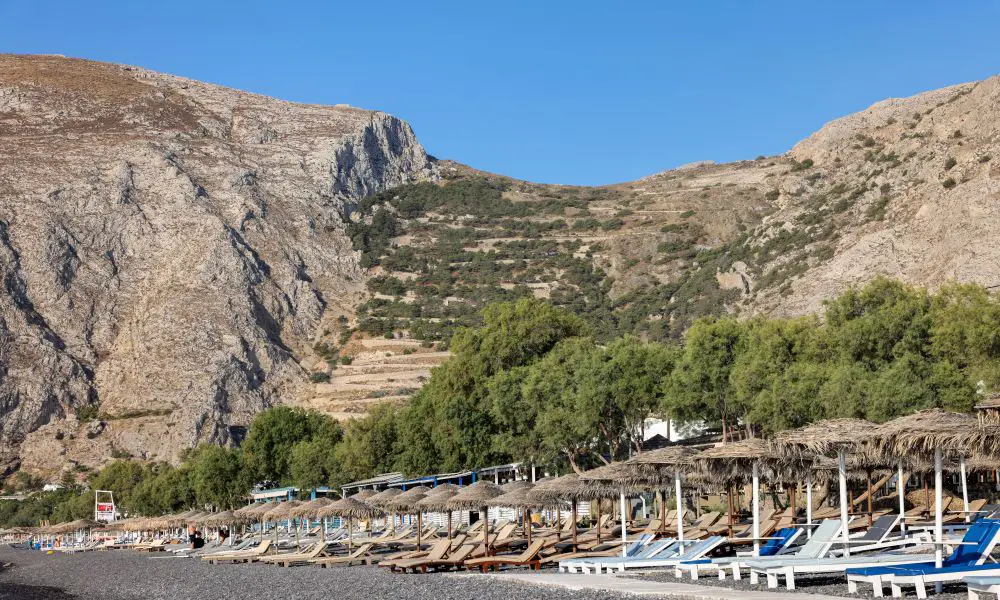 Offering another lovely stretch of sand in Santorini is the black-sand beach of Kamari. This quiet and picturesque beach is among the most popular spot on the island. The shore is largely pebbled and has turquoise waters that are excellent for swimming, snorkeling, and scuba diving.
The beach has won a Blue Flag designation for its excellent services. There are public amenities, showers, lavatories, sun loungers for rent, and lifeguards on duty. The waters are clean and safe for swimming at all times of the day. 
A selection of water sports activities can be enjoyed in Kamari Beach, like jet-skiing, snorkeling, and scuba diving. There are several boat trips available to nearby islets. If you'd rather stay onshore, there are also some restaurants, cafes, bars, and shops here.
I had the privilege to stay at Kamari Beach Hotel. It was a very relaxing place to stay in with wonderful guest rooms with great sea views. I highly recommend this hotel if you're looking for some luxury while on vacation.
3. Vlychada Beach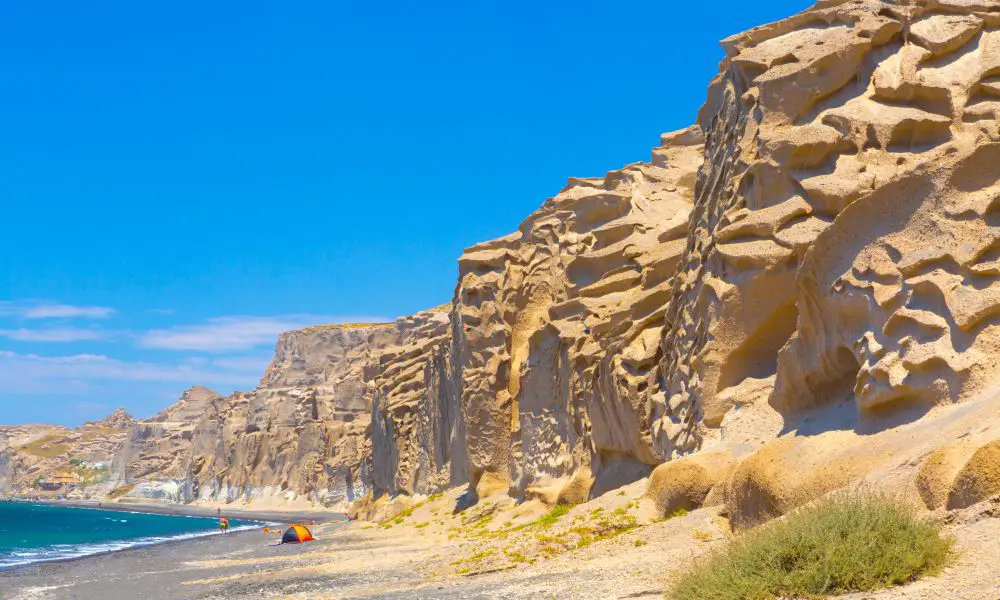 In the very southern corner of Santorini is a small secluded beach called Vlychada. This hidden gem is known for its dramatic volcanic rocks, clear turquoise waters, and gray sand. It is also one of the best beaches in Santorini for snorkeling, scuba diving, and swimming. 
This beach is quite popular among locals and foreign visitors. The scenery here makes it a favorite for photographers, and the shallow waters make it an ideal place for children. The beach itself is not that big, but there are loungers and parasols for rent. There is also a restaurant and cafe next to the beach, so you can have refreshments while spending time here.
A short walk away from Vlychada is the Industrial Tomato Museum, which is located in an old tomato factory. The museum offers a glimpse into the island's industrial past and the factory's interesting history. It also features exhibits on the history of tomato cultivation and processing and the equipment used to produce tomato products. It's an educational attraction for children and adults alike.
Vlychada is a good place to go when the tourist season is in full swing, especially with its quiet and serene atmosphere. It is one of the picturesque beaches in Santorini that will definitely leave a memorable impression on you.
Read More: 22 Best Beaches in Greece
4. Mesa Pigadia Beach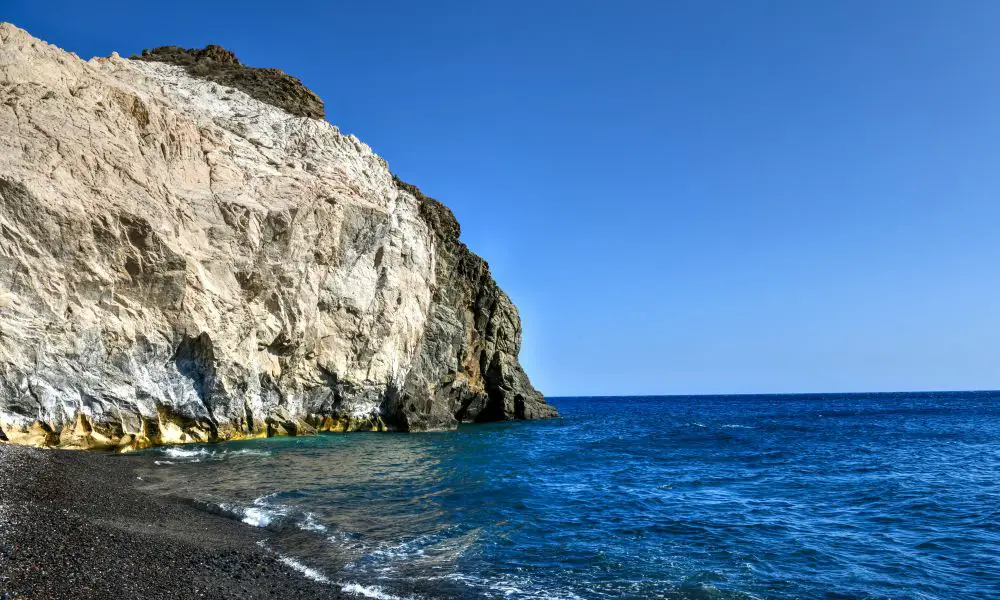 Another wonderful beach in Santorini is the black-sand beach of Mesa Pigadia. Visitors love this quiet cove located on the southwestern coast of Santorini. Its pleasant waters, pebble shoreline, and secluded setting make it the perfect place for swimming and sunbathing.
This beach is safe for families with children because there are no dangerous currents or riptides. The location also attracts locals and tourists alike because the beach is surrounded by volcanic rock formations on all sides. The cliffs provide protection from wind, creating an ideal environment for sunbathing.
This beach is an excellent place to enjoy water sports, such as snorkeling and scuba diving. There is a diving center here that offers technical diving and equipment rentals. And if you want to enjoy a peaceful day on the water, there are also speedboats for rent.
A taverna restaurant is located right on the beach, which serves traditional Greek cuisine. Visitors interested in experiencing local culture can also go to adjacent villages for shopping, dining, and sightseeing.
Overall, Mesa Pigadia is one of the best beaches in Santorini that offers a wonderful place for sunbathing, swimming, and water sports. It is an ideal spot for a relaxing day in the sun.
5. Red Beach in Santorini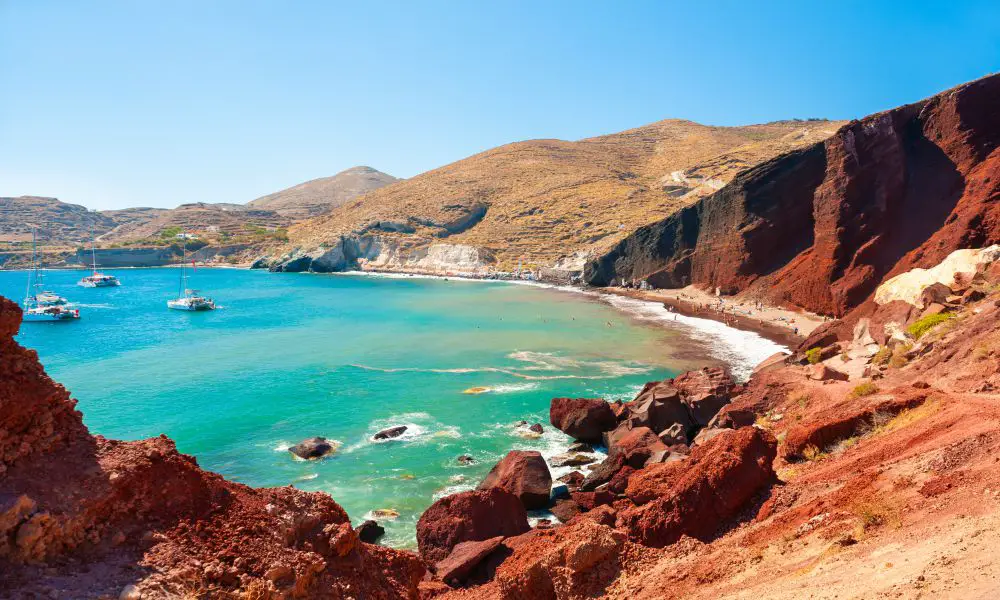 Ever heard of the iconic Red Beach in Santorini? The beach takes its name from the red-clay cliffs that loom over a stretch of shoreline. Its striking appearance makes it a popular tourist attraction, aside from its excellent sunbathing and swimming conditions.
The deep-blue waters are a trademark of Santorini beaches, and it's no different for this one. It has crystal clear waters that are safe for swimming and snorkeling. However, there are no facilities at this remote beach or lifeguards. But scores of lounge chairs and parasols dot the beach for sunbathing and relaxation. 
I found this beach to be particularly beautiful with its red volcanic sand amidst an idyllic seaside setting. The scene is particularly stunning at sunset when the sky turns a warm pink and orange hue, bathing the landscape in an ethereal glow. This is also the perfect place to the beach in peace because it is not too crowded. 
Read More: 14 Best Things to Do in Greece
6. Karterados Beach in Santorini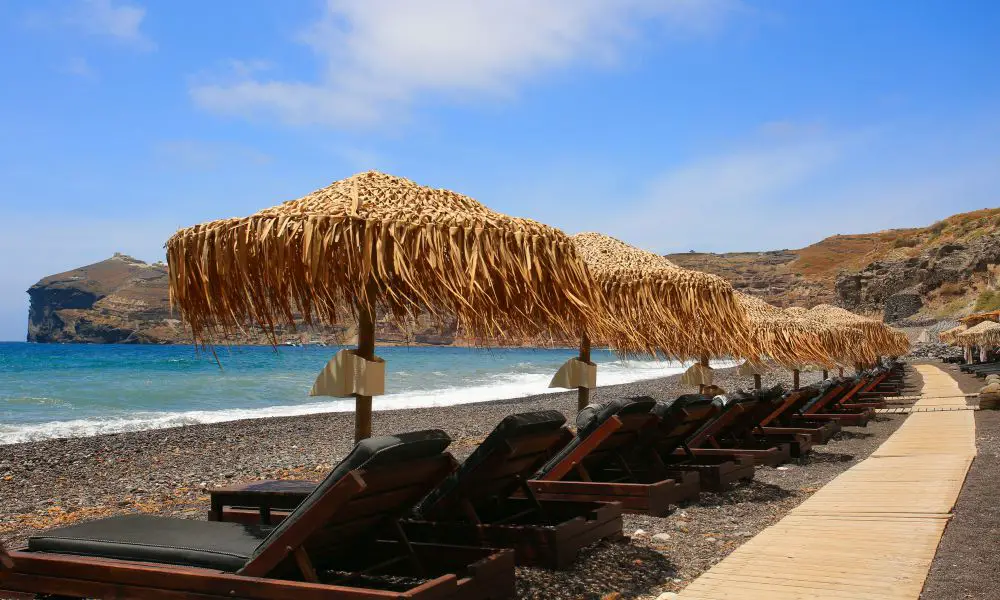 Another of the most beautiful beaches in Santorini is Karterados Beach, where you can enjoy the beautiful sight of black sand and pretty seas. This long beach has a lovely coastline with smooth, pebble sand and calm, crystal-clear waters. There are sun loungers for rent, so you can lie down in comfort while enjoying the sun.
You can find many fun water sports activities at the beach. Tour operators offer excursion boats that leave from Karterados Beach, taking passengers to secluded spots in the Aegean Sea where they can snorkel and swim. There are also small fish tavernas by the beach, where you can enjoy a freshly caught seafood meal after a day at the shore. 
The village of Karterados is located just a few distances from the beach, and it's perfect for sightseeing. It has a mix of traditional Cycladic architecture and upscale shops, restaurants, and hotels. There are several souvenir stalls around where you can find local arts, crafts, clothes, jewelry, and even pottery made in the town.
I had an amazing time at Karterados Beach during my stay in Santorini. The quiet village of Karterados is a wonderful place to stroll around and enjoy the sights, sounds, and smells of traditional Greece. 
7. Perivolos Beach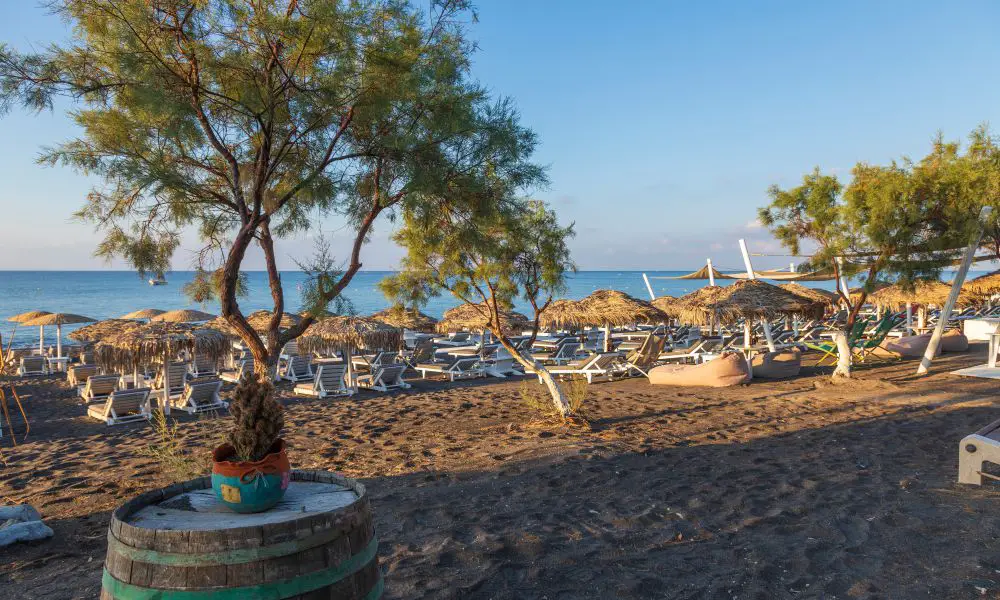 If you're looking for the best beaches in Santorini that offer more than just sand and sea, then I suggest visiting Perivolos beach. In fact, this is the longest black-sand beach on the whole island, with over seven kilometers of coastline.
The water here is calm and crystal clear, making it an ideal spot for swimming because of its shallow waters. However, the black sand absorbs heat during summer, so wearing waterproof shoes is recommended. You can also go for water sports activities such as scuba diving, snorkeling, and kayaking. A scuba diving center is also present at the beach, and it offers daily excursions as well as training courses.
The beachfront is dotted with shops and restaurants, mostly offering Greek cuisine. In terms of accommodation, there are several hotels and resorts that offer great views of the sea. Most of them also have private beaches and pools, perfect for leisure and relaxation.
The sunset here is simply magnificent. The whole skyline glows orange and red towards the end of the day, which makes this an ideal spot to enjoy sunset cocktails. If you want to watch this breathtaking scene in peace and quiet, then book a table at one of the waterfront restaurants.
I stayed at the Smaragdi hotel while in Perivolos Beach. It offers luxurious accommodation units with large windows from which to marvel at the beautiful scenery of the Aegean Sea. I enjoyed a wonderful stay here, and I would recommend it to anyone looking for a comfortable and serene getaway.
8. Eros Beach in Santorini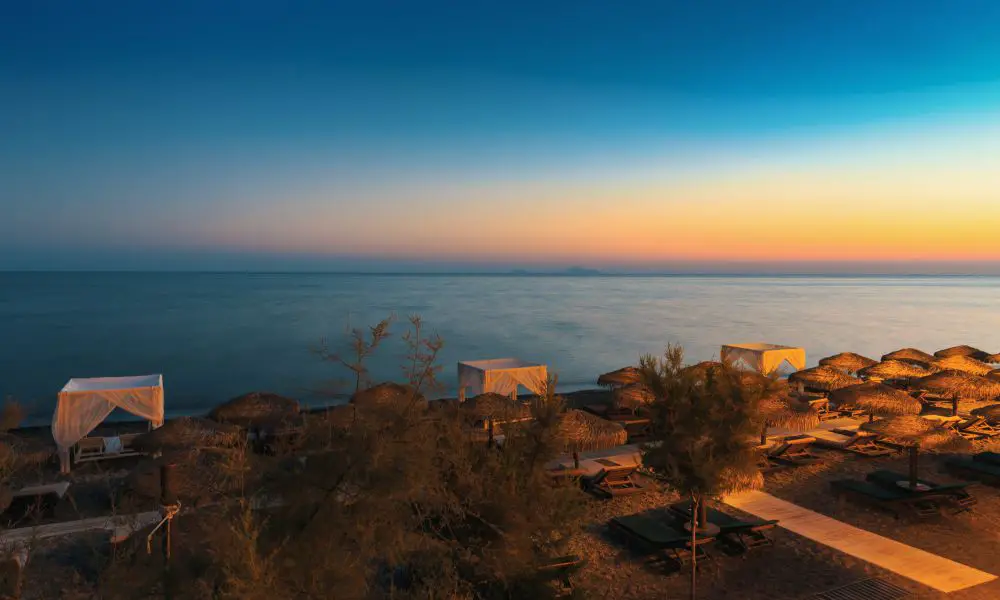 The small but picturesque Eros Beach is another Santorini beach that you should put on your bucket list. This stretch of black sand features crystal-clear turquoise waters and pebble shoreline. The beach features umbrellas and lounge chairs that overlook the sea, making it a perfect spot for sunbathing or just resting. There are no facilities on the beach aside from a small restaurant and a beach bar that sells refreshments and cold drinks.
And since there is no public transport to the beach, it means that you can enjoy its beauty in total peace. Eros Beach is very secluded, which adds to the romantic atmosphere of this beautiful place. All you can hear are the sounds of nature and birds, which makes it one of the best beaches in Santorini to enjoy a private picnic.
Overall, Eros Beach is a perfect place for relaxation and serenity. The seclusion and the stunning scenery all add up to a wonderful beach day. I would definitely recommend it to couples looking for some quiet time together. It's important to note that the sand gets pretty hot, so be sure to bring sandals or beach shoes.
9. Ag Georgios Beach in Santorini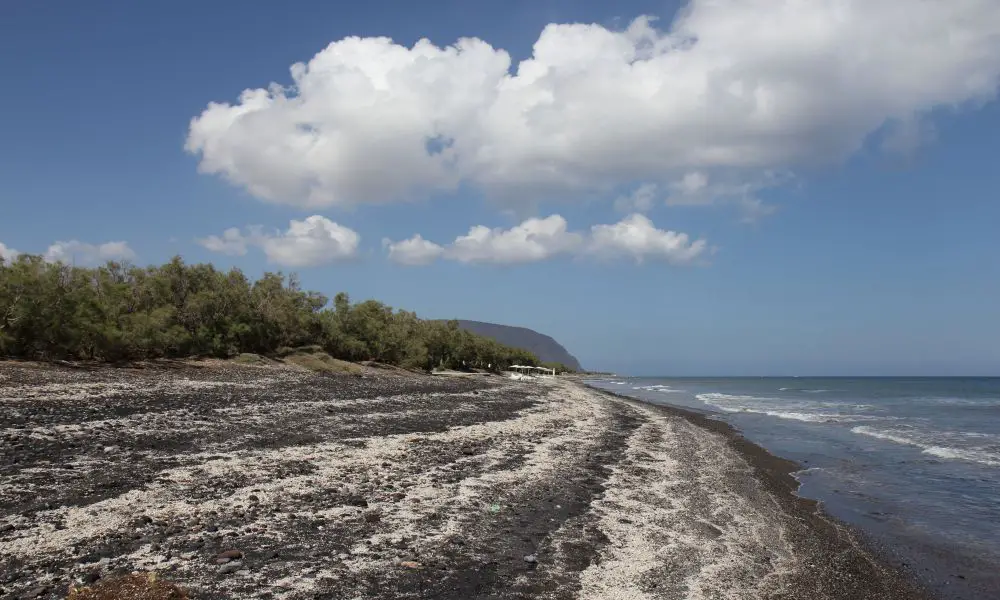 If you're looking for a tranquil corner on Santorini to get away from the hustle and bustle of tourist areas, let me introduce you to Ag Georgios Beach. The beach is located at the southern end of the island, about 3.5 km away from Perissa.
The beach is characterized by black pebbles, which contrast with the clear waters. The water is quite deep in most parts of the beach, so it's a perfect spot for swimming. The beach is also lined with sun loungers, parasols, and umbrellas for rent. All the essentials are provided, including showers and restrooms.
You can also rent water sports equipment at the beach, such as windsurfing, water skis, jet skis, and paddleboards. There are also boat trips and excursions to nearby islets for sightseeing and snorkeling.
This beach is also popular for the fantastic sunsets it offers. The orange glow of the sinking sun enhances the blue waters, creating a beautiful contrast. There are also several small cafes and restaurants in the area where you can enjoy a meal with a sunset view.
All in all, Ag Georgios is one of the best beaches in Santorini because of its serenity and scenic views. It is perfect for a quiet day out, with nothing to worry about except having a good time. I recommend it, especially to those who want a relaxing beach without throngs of tourists and loud parties.
10. Monolithos Beach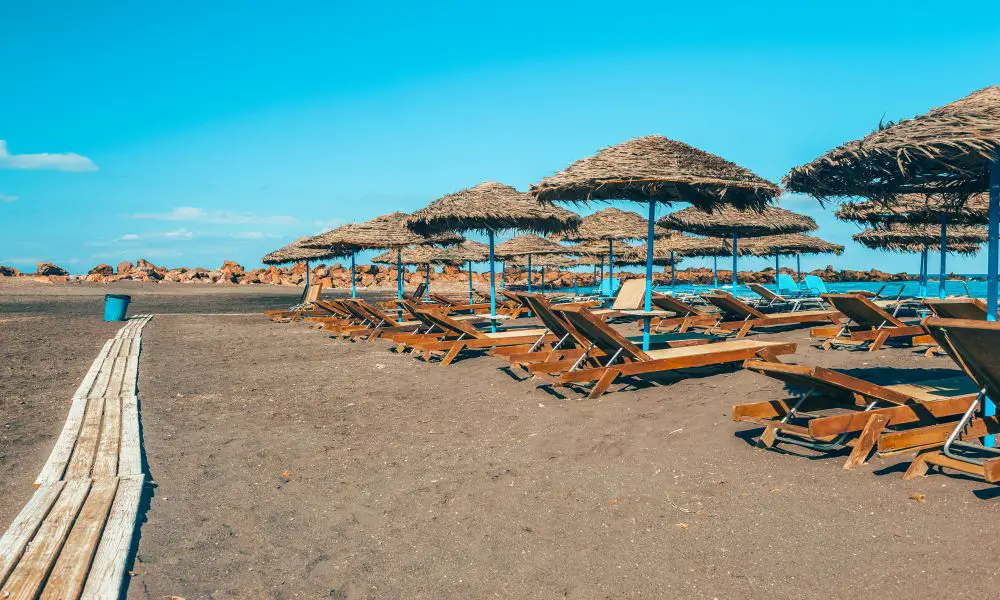 On the southeast coast of Santorini is a striking stretch of coastline called Monolithos Beach. The beach has a lovely black pebble shore that works well for sunbathing and swimming. The crystal-clear waters are great for snorkeling or scuba diving, as you can see a variety of fish and sea life.
The beach is clean and well maintained, with public restrooms, showers, outdoor showers. You can also rent sun loungers, umbrellas, and beach chairs. And if you're interested in water sports, Monolithos offers windsurfing and kayaking. There are also organized daily boat trips to nearby panoramic islets.
Families appreciate this beach for its shallow waters that are safe for children to play in. The gentle breeze and the sight of gentle waves lapping on shore are also very relaxing for anyone who would like to rest and unwind. Plus, part of the beach has lifeguards on standby for safety.
There are several restaurants within a short walk from the beach. There are also kiosks and cafés where you can get refreshing drinks and snacks, such as ice cream and ice-cold beer. Monolithos is also close to several hotels and resorts, making it easy for visitors to find accommodations nearby.
Monolithos is a wonderful beach in Santorini. It has beautiful scenery and is great for relaxing, walking, swimming, and sightseeing. I recommend it to anyone looking for a quiet place to spend their vacation.
In summary
The beaches in Santorini offer a multitude of experiences and scenery. It's not hard to see why it is such a popular destination for beach holidays. It offers beautiful sandy shores, clear waters with sea life, and intriguing rock formations. There are also many activities to enjoy at each beach, as well as dining, accommodations, and more. In general, these beaches are perfect for a relaxing day of sunbathing and swimming.