If you're looking for a charming and historic town to explore in Greece, Rhodes is the place for you. Most of these town masterpieces date from the medieval era when the Knights Hospitaller built the town's walls. And today, this city is a popular destination for tourists and boasts plenty to see and do. So if you plan on visiting this gem of the Mediterranean, I present to you a list of the top 10 things to do in Rhodes town. Read on!
Things To Do In Rhodes Town
1. Tour the Town Walls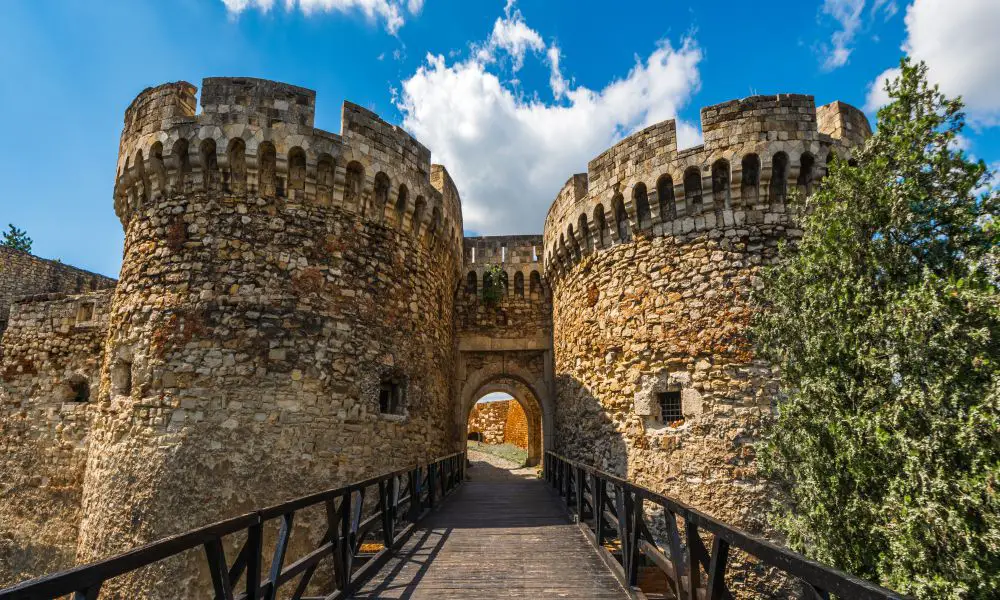 If there is one place you can't miss during your trip is the town's ancient walls. They are said to be some of the best-preserved Venetian fortifications globally, thus making them one of the top tourist attractions in Rhodes. They were originally built by the Knights of Saint John between the 14th and 16th centuries to defend the city from attacks. The walls have a perimeter of approximately 10km and 12 meters thick.
Nowadays, they are one of the most popular places for locals and tourists to walk around in order to get in touch with history. There is also an open-air theater at its highest point where you can watch concerts during summertime.
Aside from their architectural significance, they provide visitors with great views around the city. You can take a walk outside or go to one of its towers and watch the sunset.
Read More: 17 Best Things to Do in Athens
2. Discover the Acropolis of Lindos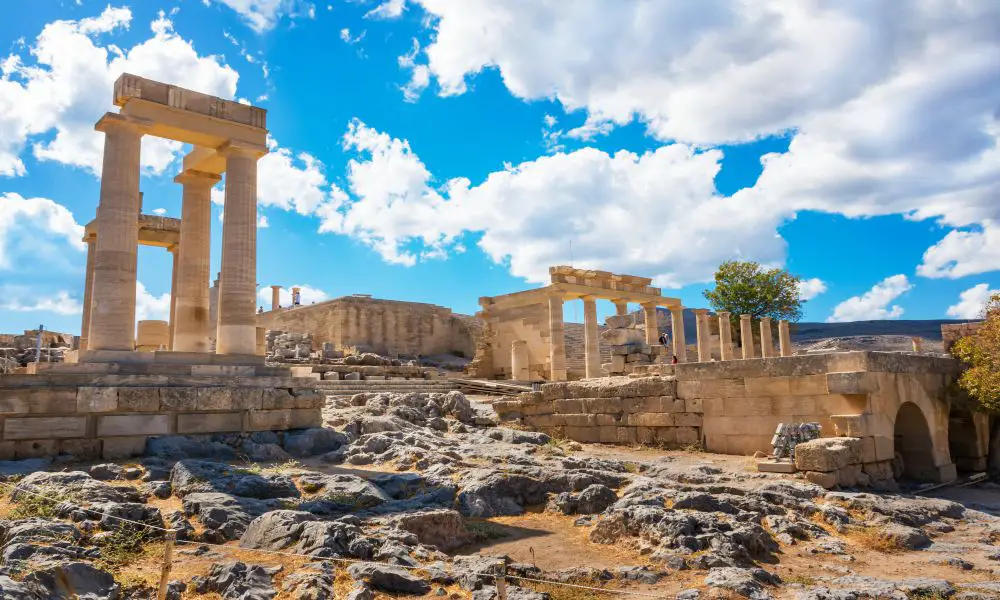 Visiting the Acropolis of Lindos is definitely one of the best things to do in Rhodes because it has both historical and cultural importance. It was built on top of a natural hill around the 9th century BC and contains some of the most beautiful examples of ancient Greek architecture. The temple at its top was dedicated to Athena Lindia, but there are other ruins from different civilizations.
Today, it is one of Rhode's top attractions due to its ancient Greek architecture and amazing views over the Aegean Sea. The 20 white Hellenistic columns and the temple at the top are simply stunning. This place has a mystical feel that will take your breath away.
Honestly speaking, I loved this place. It felt amazing being up there watching the sunset from that height. You can also enjoy the sight of nearby beaches from there as well as nearby islands. Also, this acropolis offers a great view of Lindos village, which is equally beautiful and charming to visit.
3. Explore the Palace of the Grand Masters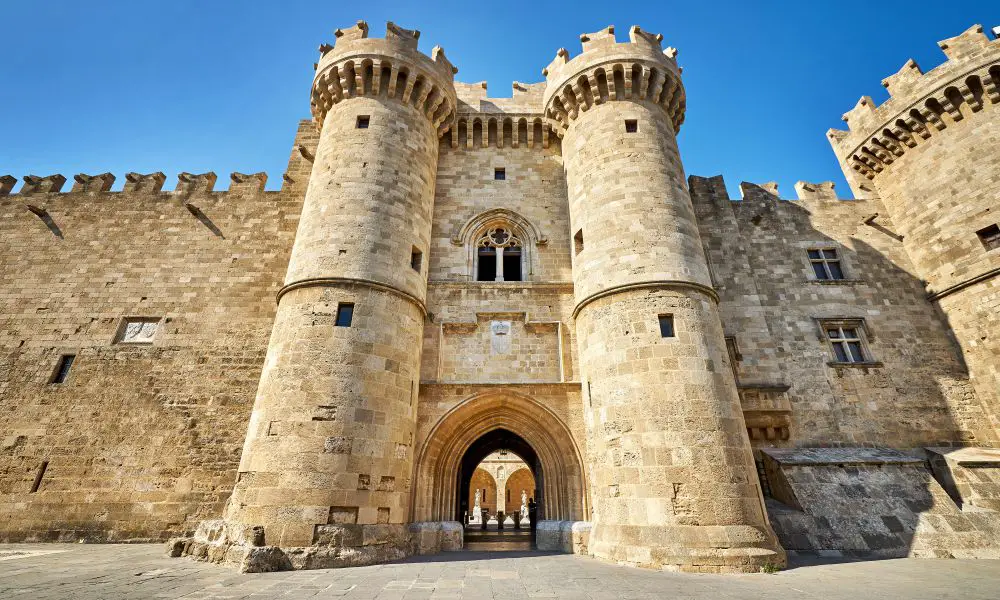 The Palace of the Grand Masters is a medieval building, which used to be the official residence of the Knights Hospitallers. Nowadays, it is one of the top tourist attractions in Rhodes and a UNESCO World Heritage Site. The Palace was built in the 14th Century on the site of an older Byzantine citadel.
It's located on top of a hill, and it's one of the most remarkable buildings in whole Europe because its architecture gives it defensive capabilities. The knights who used to live there wanted it so that they could protect the city of Rhodes from any possible enemy attacks. They built vertical, imposing walls and battlements, which allowed them to maintain a good view over the surroundings.
Today, the Palace is mostly ruined because many earthquakes damaged it throughout its history. However, enough of it is still standing to allow you to get a good idea of how it used to be. There are also many interesting artifacts that you can see if you decide to visit this place, such as Knight's hall, Knight's kitchen, and Knights' refectory.
I strongly recommend visiting this Palace when you visit Rhodes because it can teach you more about medieval times in Europe. Plus, the building is gorgeous and incredibly impressive, which makes it worth seeing.
Read More: 14 Best Things to Do in Greece
4. Tour the Mandraki Harbor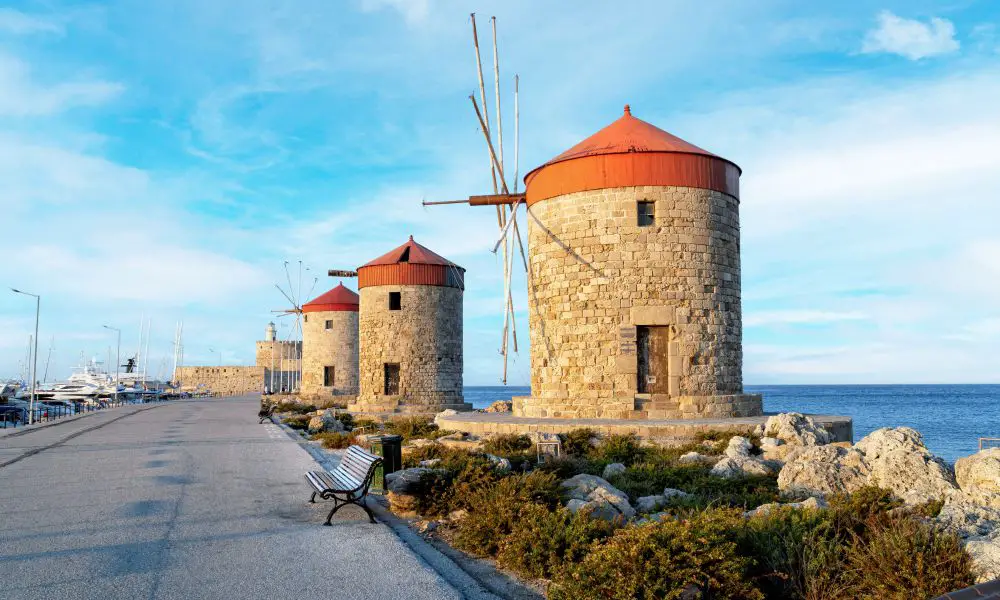 Mandraki is the main port of Rhodes, which is why it's one of the best places in Rhodes. It also has a rich history, as it was founded by Knights of Saint John way back in the 15th Century.
As you can imagine, this place was used by merchants and sailors for decades. It helped Rhodes become a famous town because it helped build its wealth through trade. Also, the history of the harbor can be found in ancient houses that are still standing, old churches, medieval windmills, the clock tower, and the picturesque fishing port.
Today, there are still many activities going on here, including fishing, boat tours, and sightseeing cruises. Additionally, you can see some of the best restaurants in town just by walking along its pier. I had dinner here during my stay, and it was truly amazing. The fish was fresh and delicious. It was definitely one of the best things in Rhodes that I enjoyed doing.
5. See the Street of the Knights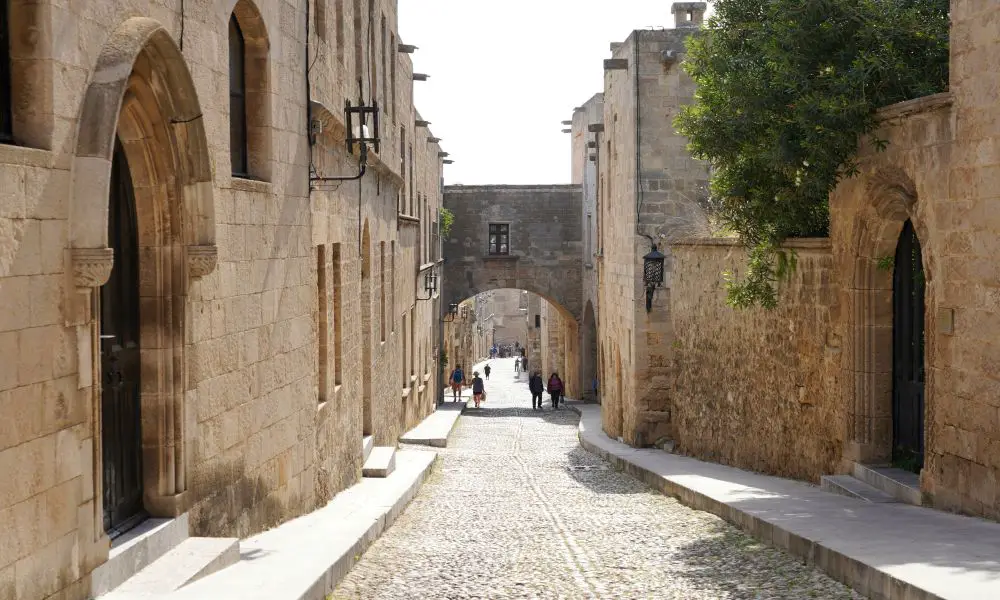 Located in the Medieval Town, Street of the Knights is one of the top attractions in Rhodes for both its historical and cultural value. This cobblestone street connects to the Palace of Grand Master and has an amazing view of the Old Town. The street was named as such because it is where the knights used to live at one time. You can still see some buildings that have been preserved from those times today.
Also, this place is filled with medieval houses, museums, restaurants, cafes, souvenir shops, bars and much more. The way this part of the city is designed makes you feel like you are walking in an open-air museum. This makes it a perfect place to relax during a hot summer day or a cold winter night.
I loved walking around this charming alley during my tour here. It has an old-fashioned feel without being too touristy or crowded. Thus, it is very relaxing and calming.
6. Relax at Elli Beach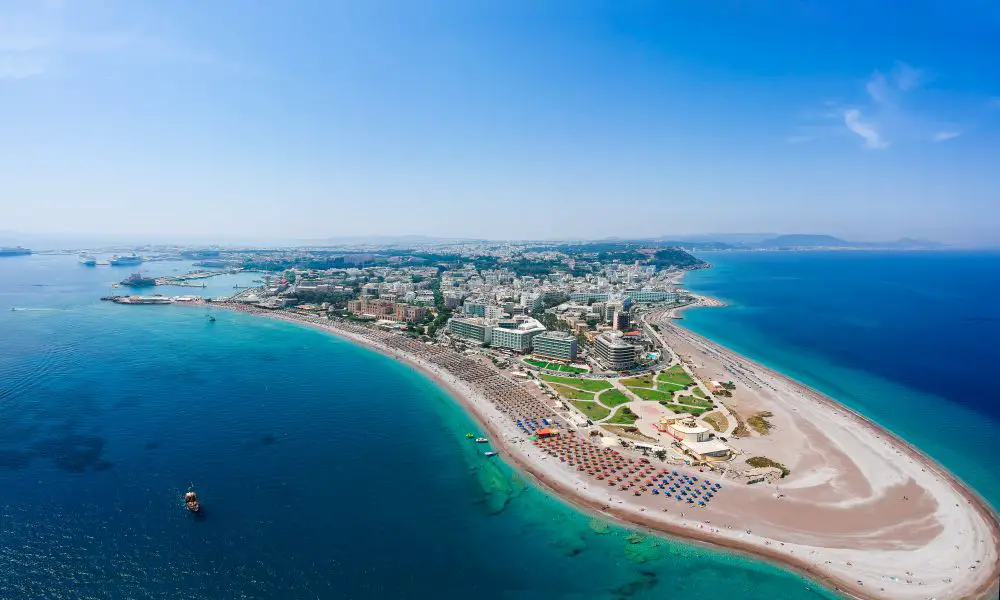 If you're looking for fun things to do in Rhodes town that can help you relax, the best choice is Elli Beach. This is the most famous beach on the island because it's simple and secluded, yet clean and easy to reach. However, the most special part about this place is its natural shade of blue, which is lighter than the colors of the sea around it. The waters are truly amazing and very inviting. And in my opinion, it has a classy and chic atmosphere.
This beach consists mainly of pebbles and rocks because it was formed by a natural process. It's also known to be one of Greece's cleanest beaches. In addition, this beach is well-known for the colorful umbrellas that make it look like an exotic location from another planet.
Elli Beach can be easily accessed by public transport or taxi due to its proximity to the city center. It usually gets really busy during the high season, but it depends on what kind of traveler are you are. You can enjoy this place at its fullest or find another lesser crowded beach if you like more peaceful areas. As you enjoy spending time at this place, you can always stop by one of the nearby cafes to enjoy a refreshing drink or taste the local cuisine.
Read More: 22 Best Beaches in Greece
7. Archaeological Museum
Archaeological Museum of Rhodes is not only one of Rhode's top attractions, but also one of the most impressive museums I have ever visited. It has an extensive collection of sculptures, marble statues, funerary steles, urns, pottery and other items.
The museum itself was built by the Knights of St. John between 1440 and 1489 in order to stop the spread of Islam in the area. Later on, they also started accepting sick people who were given shelter and medical treatment.
Also worth mentioning is the white marble figure of a naked girl called Aphrodite of Rhodes. It is considered one of the perfect statues in Greek art that dates back to the first century BC, and it can be seen here among other excellent works of art.
I was impressed by the collections here. Most of them are well-preserved, and there is a lot of information about each one to tell you more about them.
8. Explore the Monolithos Castle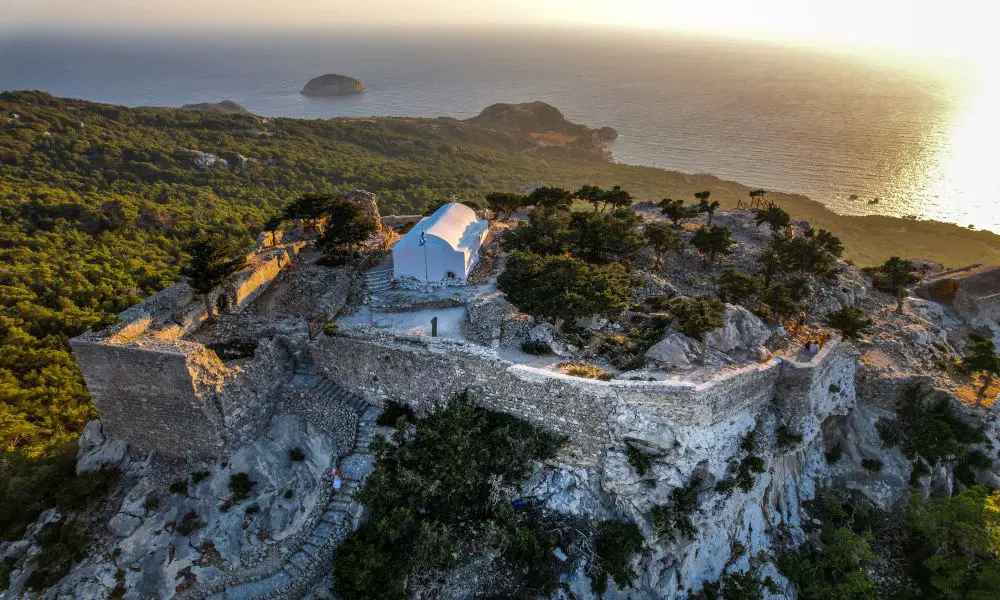 Monolithos Castle is a top sightseeing attraction in Rhodes for outdoors lovers. It is located on top of a hill and surrounded by pine trees, making it very attractive to tourists who want to enjoy nature during their trip.
The castle was built during the Knight's rule in the 15th Century as his residence and later used as a garrison for Turkish soldiers. Nowadays, it is considered one of Greece's greatest centers for archaeological finds from the late antiquity period.
Although not much remains from the original structure, visitors can still see some parts of it today. And as you walk uphill, you feel like you have been transported through time. Note that you will have to climb over 400 steep steps up to the castle. I spent at least an hour exploring all of the areas because there was so much to see.
9. Explore the Tsambika Monastery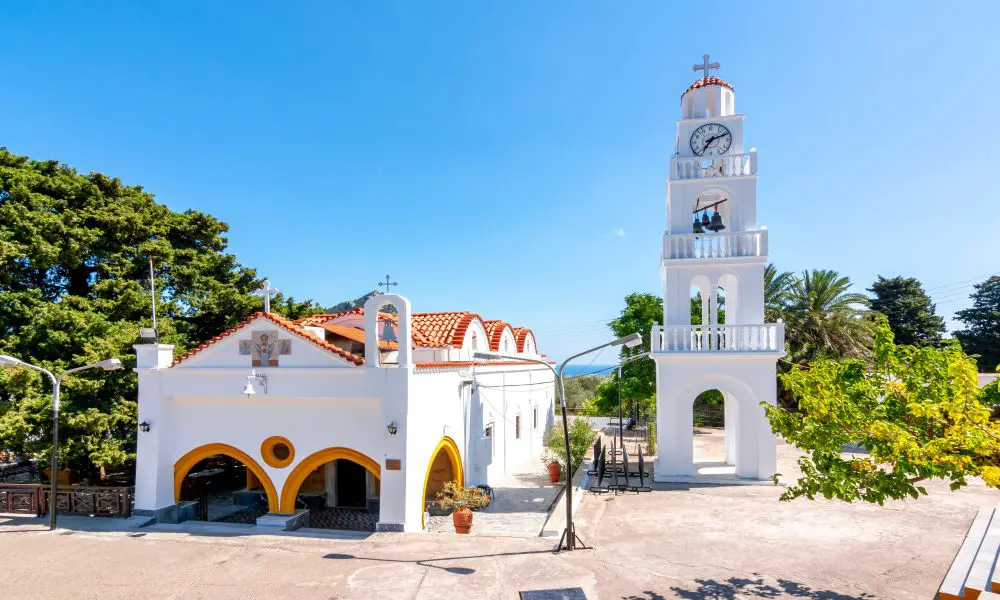 Tsambika Monastery is one of the most popular tourist attractions in Rhodes because of its unique architecture and history. It's located on the outskirts of the town and has been preserved as it was back then for more than 200 years.
The interesting thing about it is how it is designed with white marble colors and its beautiful yard filled with flowers. Also, the chapel has some excellent frescoes inside depicting biblical scenes, which makes your tour here more enjoyable.
The great thing about the Monastery of Tsambika is that you can find peace and quietness while taking a walk around its beautiful gardens. I found it very relaxing and serene to release all the stress. I could feel myself being calmer just after a few minutes of walking around this monastery.
10. Have Fun at Faliraki Beach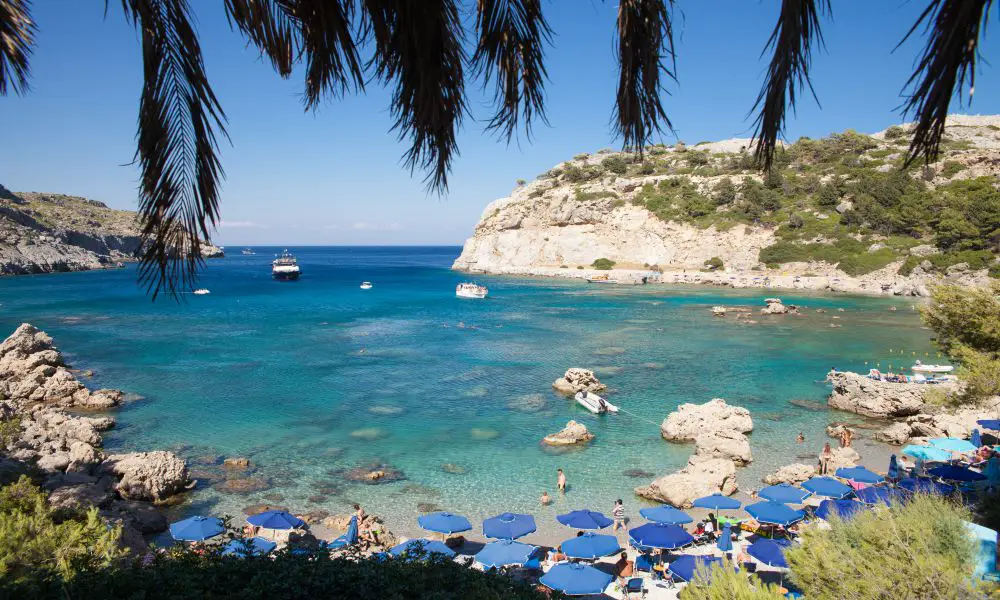 Faliraki Beach is the most popular beach in Rhodes and one of the top attractions for those who visit this amazing island. Its long stretch of fine sand and shallow warm waters makes it a perfect place to relax and have fun at the same time.
What I like about Faliraki Beach is that it's not only very beautiful, but it's also lively and full of life. It is a great place to meet new people and even walk around during the day, considering that there are many cafes, restaurants and bars nearby.
It is also very close to the Medieval Town of Rhodes, which makes it perfect for those who wish to combine history with fun on their trip. Another thing I want to mention is that the beach itself is very clean and has been awarded 12 Blue Flags. I enjoyed this place very much and would recommend it to anybody who wishes to relax while experiencing a true Greek atmosphere. It's definitely one of the best things to do in Rhodes that you won't want to miss.
In summary
These places are some of the top tourist attractions in Rhodes. They have a rich history and provide you with an opportunity not only to learn them but also to relax and enjoy the surroundings. They're not only popular among tourists who come here, but they're famous among locals as well. In other words, you won't regret visiting these attractions if you choose to visit Rhodes town during your vacation in Greece.