Think of the best beaches in the world, and chances are, at least one of them is located on a Greek island. With nearly 8,498 miles of coastline to choose from, there's a beach for everyone on these idyllic Mediterranean islands. But which is the best one for you? In this post, I will highlight the 12 Best Greek Islands for Beaches that should be your top priority. Whether you're looking for an action-packed getaway or a peaceful escape, there's something for you on this list.
Best Greek Islands For Beaches
1. Crete Island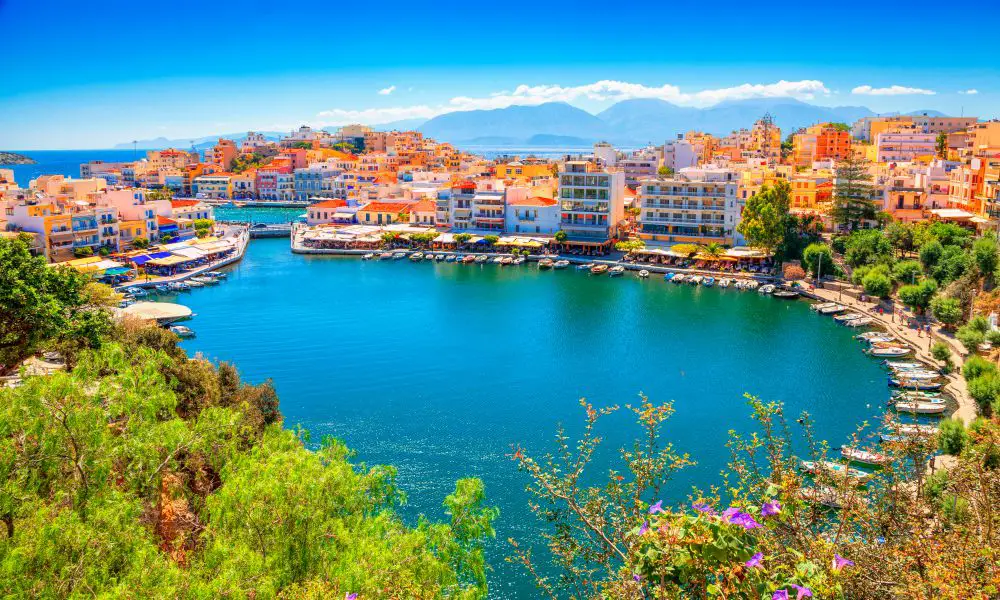 I can't find a Greek island that offers a better combination of beach relaxation and nightlife than Crete Island. It's also one of the most popular islands with international visitors, drawing many to its beautiful and well-equipped beaches.
The island is really big, so there are definitely some isolated spots that can be enjoyed. Elafonissi beach is one of Crete's prettiest beaches. Its picture-perfect pink sand, clear blue waters, and gentle waves make it an ideal destination for relaxation. It's popular with families and couples who can enjoy romantic strolls along the beach.
The best beach for family outings is Matala beach. This is an ideal choice, especially if you have kids who want something more than just "plain" sand and shallow waters. The shallow water extends all the way near the sandy slope, making it quite ideal for families with kids.
On the opposite end of the spectrum, Hersonissos Beach offers one of Crete Island's best nightlife scenes. The long beach is lined with bars and clubs that keep the party going until the early morning hours. An extremely safe beach, it is also known for having the best water sports facilities on the island.
I recommend visiting Crete Island once or twice a year. It's great to unwind and spend time at the beach with friends and family. You can't go wrong with any of the beaches on this island.
Read More: 14 Best Beaches in Crete
2. Rhodes Island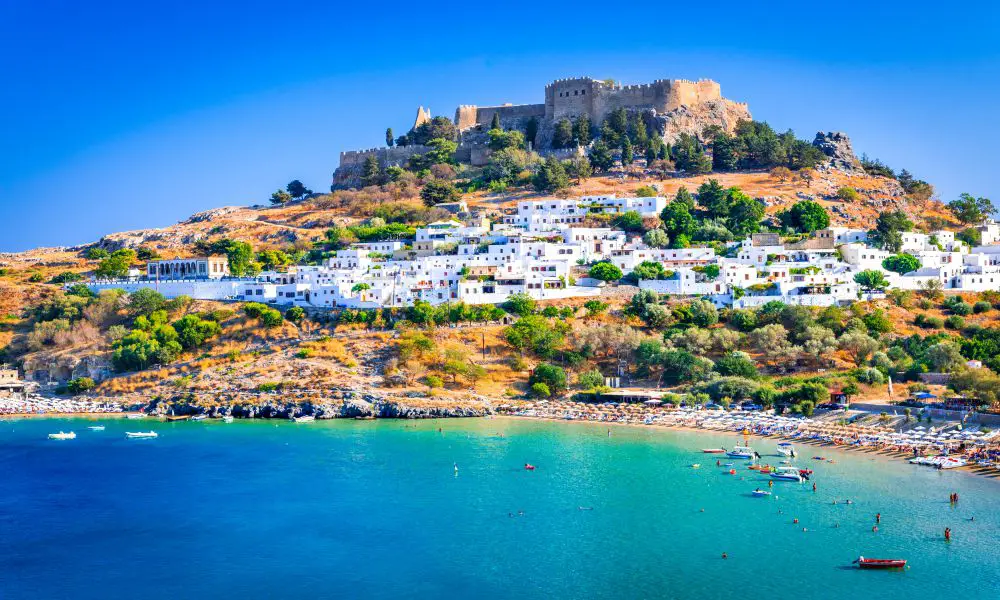 A trip to Greece is never complete without visiting the beautiful island of Rhodes. This is one of the best Greek Islands for Beaches, featuring over 40 stretches of pristine coastline. There are beautiful beaches to suit varying tastes and preferences.
For example, Lindos beach is well-known for its "Golden sand" along with rocky coves and turquoise water. This historical resort town is perched on a cliff overlooking the sea, making it a great setting for an unforgettable holiday.
Another of the most popular beaches in Rhodes is Faliraki, which is located on the southeast coast. The resort town here has lots of entertainment facilities like discos and cabarets to keep you busy before retiring to your hotel room. Although Faliraki does tend to get overcrowded during the high season, the beaches are still clean and safe.
However, I think Rhodes Island's best beach is Prasonisi, located on the south coast of the island. The deep blue waters here are calm and ideal for swimmers with families. It's also a great place to go if you want something more serene than bustling Faliraki.
Overall, this Greek Island is a great place to go if you want to relax and maybe party once in a while. There are lots of activities available here, so you'll never get bored.
3. Corfu Island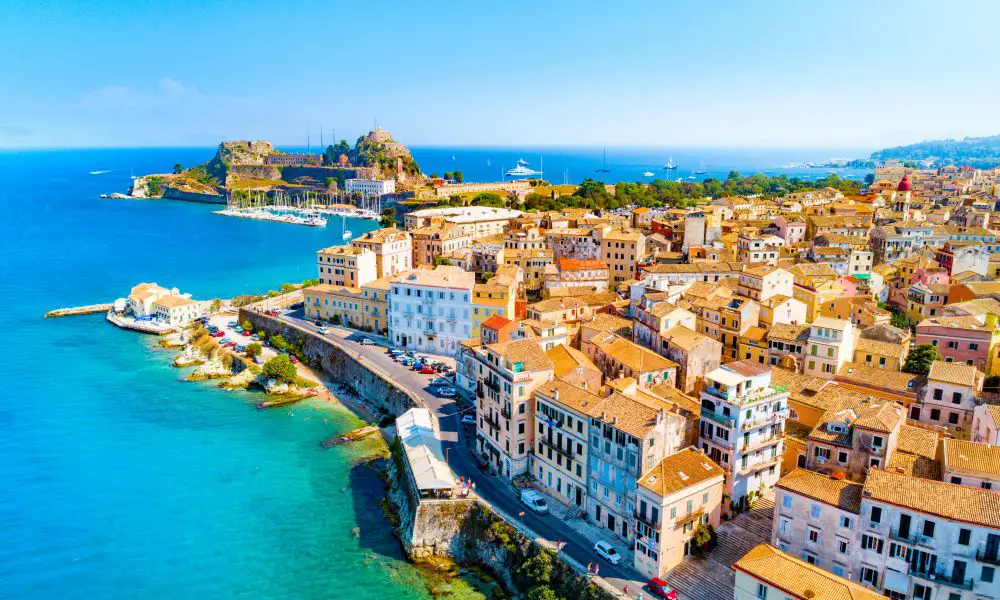 Corfu is another of Greece's best Islands for beaches, featuring a nice combination of beach relaxation and lively nightlife. Many visitors spend most of their vacation on the western side, which has the sandiest beaches. It's also one of the greenest islands in Greece, known for its lush vegetation and mountains that sweep up to the coast, giving it a dramatic coastal landscape.
The six beaches of Paleokastritsa are the most popular. It is one of Corfu Island's best-developed beaches, offering visitors a wide range of amenities such as hotels, restaurants, bars, water sports facilities (like kayaking), and windsurfing. This beautiful stretch of sand with blue waters is also very safe for swimming, making it one of the most popular beaches for families with children.
Glyfada Beach is another popular tourist destination due to its beautiful scenery and organized beachfront, which includes services like sunbeds and umbrellas. The only drawback about this beach is that it's not very child-friendly because waves can unexpectedly sweep even the smallest kids into the sea.
Kontokali is another Blue Flag Beach that you can't miss if you ever set foot on Corfu Island. This long beach has lots of activities, including watersports like pedalos and jetskiing. It's also a prime spot for scuba diving because there are lots of underwater beauties for divers to take photos of.
I recommend spending a long weekend on Corfu Island and visiting all the top beaches. The island has everything you need: beautiful scenery, unspoiled nature, and lots of activities for everyone.
Read More: 16 Best Greek Islands to Visit
4. Mykonos Island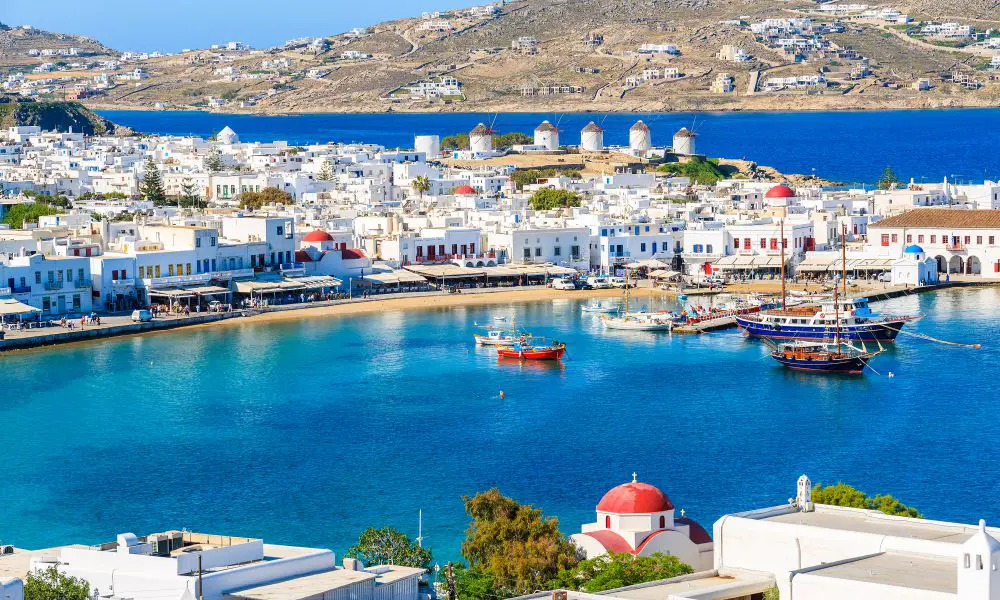 One of the most popular Greek Islands for Beaches is Mykonos Island, an island that offers something to suit everyone's taste. Its beaches are world-famous among tourists because of their secluded views and endless activities to enjoy during your vacation.
The most popular beaches here are Paradise Beach and Super Paradise Beach. These two neighboring beaches have all kinds of entertainment options, from water sports to wild parties that go on until the early morning hours. If you like to hang out with friends and enjoy a good night out, I recommend checking Paradise Beach. This is because it is known as the party capital of Mykonos Island.
Another famous beach in Mykonos is Paraga Beach, an isolated strip of sand that has attracted celebrities for its privacy. I recommend this beach because it's secluded and you can have fun without being surrounded by too many people. Most importantly, the waters are crystal clear, so you'll be able to take fantastic photos here!
Finally, Kalafatis is a Blue Flag Beach that sits on a pristine stretch of the Aegean Sea. Here, you can see soft white sands and crystal clear waters that lap up against a backdrop of green hills. It's one of the best beaches for families with children because there are no hazardous waves here.
Mykonos Island is a unique Greek holiday destination that combines the best of both worlds: a relaxing seaside holiday and an extravagant nightlife experience. Make sure to plan your stay and schedule visits to some of its top beaches for an unforgettable vacation.
Read More: 14 Best Beaches on Mykonos Island
5. Paros Island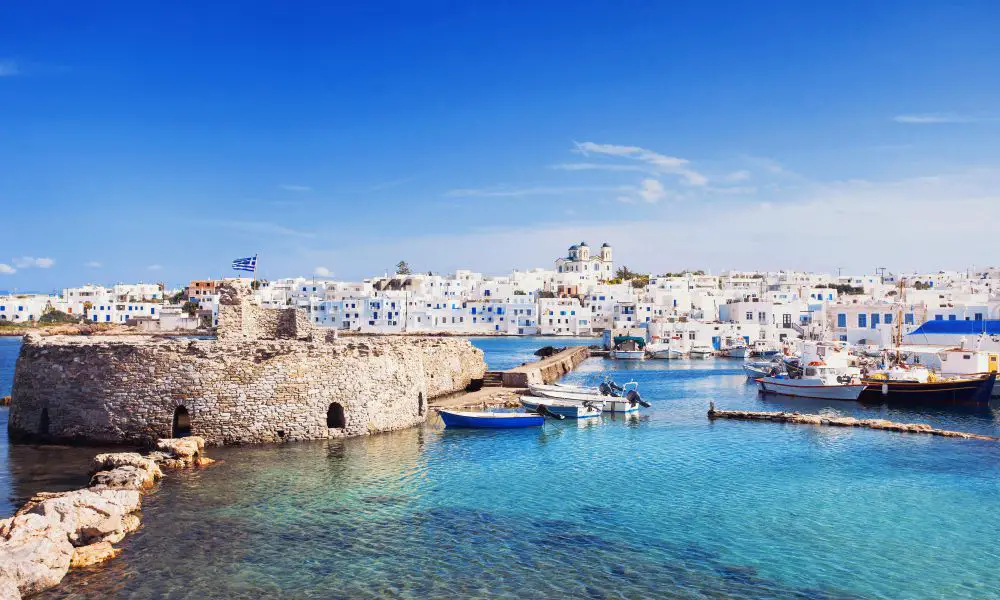 Paros is an Island you can visit if you want to enjoy the beautiful beaches that Greece has to offer. You'll immediately fall in love with the island's picture-perfect beaches, surrounded by crystal clear waters and fine golden sand. Paros has a long coast that you can explore by foot, car, or scooter.
One of the most popular beaches in Paros is Kolymbithres. This beach is known for its granite rock formations, making it a very photogenic spot. Kolymbithres also has a unique underwater landscape, perfect for exploring during snorkeling and scuba diving tours.
Another top beach of Paros is Santa Maria. This beach in Naoussa is known for its relaxing surroundings, including cafes ideal for people who want to watch the sunset. You can also rent a sunbed and an umbrella for the day, making this beach a great place to spend your vacation. Young people mostly visit it, but it is also a family-friendly beach.
I also recommend checking out Golden beach. This beach has a wide stretch of golden sand, known for windsurfing. The beach is also popular because it has organized facilities such as sunbeds and umbrellas that you can rent for a fee. It also has a few restaurants nearby where you can order delicious Greek dishes. Finally, Loyaras Beach is very child-friendly, thanks to its calm waters and shallow depth. The sand is soft, which makes it one of the best beaches in Paros for families with young children.
Paros Island is a very popular destination because of its beautiful scenery and great nightlife, but the island is also one of the top Greek Islands for Beaches. It has wonderful beaches that stand out from the rest, each one with its own unique character.
6. Karpathos Island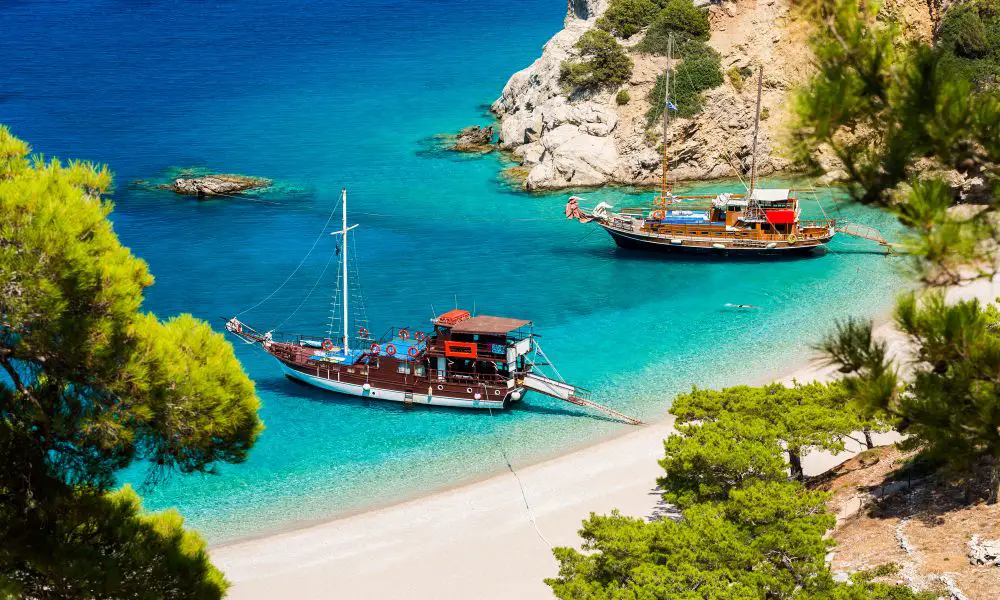 Karpathos is one of Greece's best Islands for Beaches that you need to visit if you ever go on a vacation. It's an undeveloped island with lots of green landscapes, turquoise waters, and picturesque beaches.
Karpathos's most beautiful beaches are located on the northern side of the island, such as Agios Nikolaos in Spoa, where you can spend your days swimming or sunbathing. This beach offers a variety of amenities, from umbrellas and sunbeds to water sports facilities.
The next beach to check out is Mikri Amopi beach, known for its gorgeous views, privacy, and peace & quiet. It's a small beach with a pebble coating and a handful of sunbeds, but it's still a popular destination because of its great location near the island's beautiful towns.
It's also worth checking out Achata and Apella beaches, known for their beautiful views and fine sand. They also have their charm, so you need to visit them more than once in order to experience different feelings every time.
Karpathos Island is a great destination for people who love nature and adventure. There are a lot of things to do on the island, such as snorkeling, scuba diving, water skiing, deep-sea fishing, and even something more extreme like rock climbing. This is why Karpathos gives you a perfect experience for your summer vacation while enjoying activities that you never thought were possible.
7. Zakynthos Island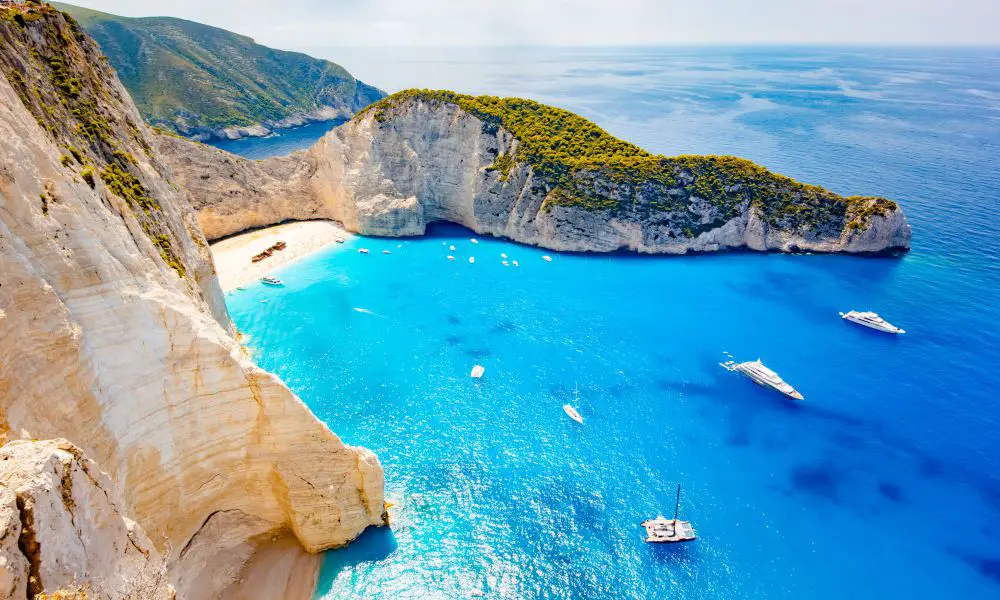 A prime attraction of Zakynthos is its gorgeous coastline, which includes the world-famous stretch of sand that was featured in the film Captain Corelli's Mandolin. This beautiful beach is called Navagio, and it's also known as Shipwreck Beach due to its shipwrecked vessel strewn on the sands. The wild beauty of this place makes for a memorable destination.
Also famous is the Laganas Beach, one of those beaches that make you feel like you're in a movie. The sands here are very fine, and the waters crystal clear, perfect for swimming. Thanks to its impressive selection of activities it's a popular tourist destination for both families and young people. Parasailing, jetskiing, snorkeling, scuba diving are just some of the water sports that can be enjoyed here. Unfortunately, this stretch of sand isn't very child-friendly because of its strong waves.
If you're looking for a quiet getaway from the usual tourist spots, I recommend going to Porto Vromi Beach. It's a small beach almost enclosed within the rocks surrounding it. It's mostly deserted except for a few locals and tourists out for an afternoon stroll or picnic.
Zakynthos Island it's a great beach destination that offers something for everyone–from golden sands and serene waters to the wildest and most dramatic beauty of nature.
Read More: 9 Best Things to Do on Zákynthos
8. Kefalonia Island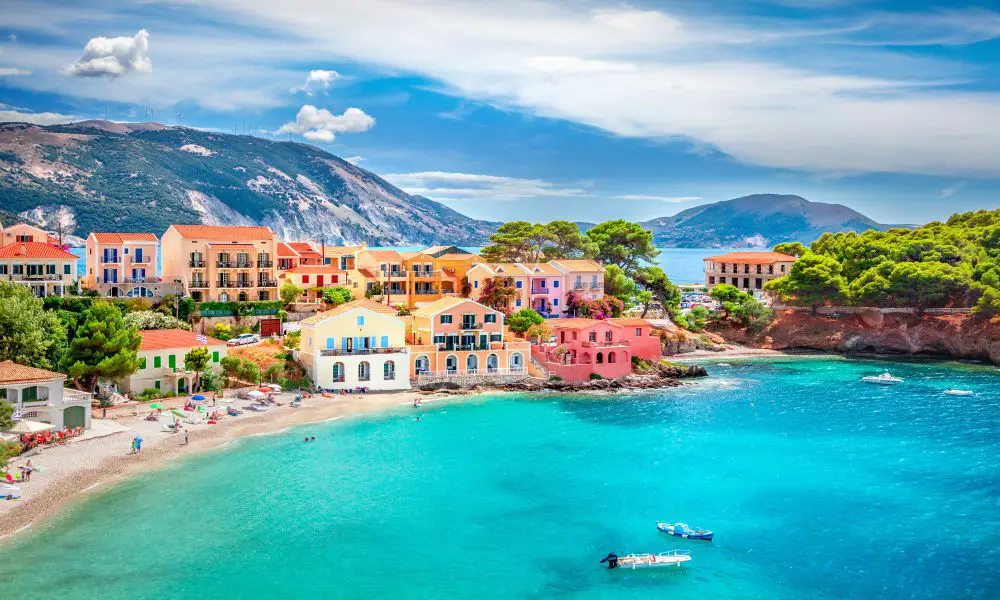 Another one of the best Greek Islands for Beaches is Kefalonia Island, a large island with rugged mountains and stunning beaches. Lush forests of pine, oak, and olive trees ring the coast, adding to the island's natural beauty.
The most famous beaches of Kefalonia are Myrtos Beach and Petanoi Beach, both known for their unspoiled views and crystal clear waters. Myrtos Beach is very popular because it has organized facilities such as sunbeds and umbrellas. It is also known for its delicious restaurants and cafes where you can enjoy Greek specialties while overlooking the water.
Lourdas Beach and Agia Efimia Beach are other most popular beaches in Kefalonia, each with its own set of attractions that make them famous tourist destinations. Lourdas Beach is home to one of Kefalonia's biggest tourist resorts, while the waters surrounding Agia Efimia are ideal for scuba diving.
Kefalonia Island also has a bustling nightlife with bars and restaurants in Argostoli, and lively resorts crowded with young people celebrating their vacations. The southwest coast is a quieter area, perfect for visitors who want to escape from loud bars and head out in the evening for a romantic dinner.
One of the best things about Kefalonia Island is its rich history and exotic scenery. There are also a lot of activities to do, including hiking, snorkeling, scuba diving, kayaking, sailing, you name it! This island has become one of my favorite destinations because it has the perfect balance of relaxation and fun.
9. Samos Island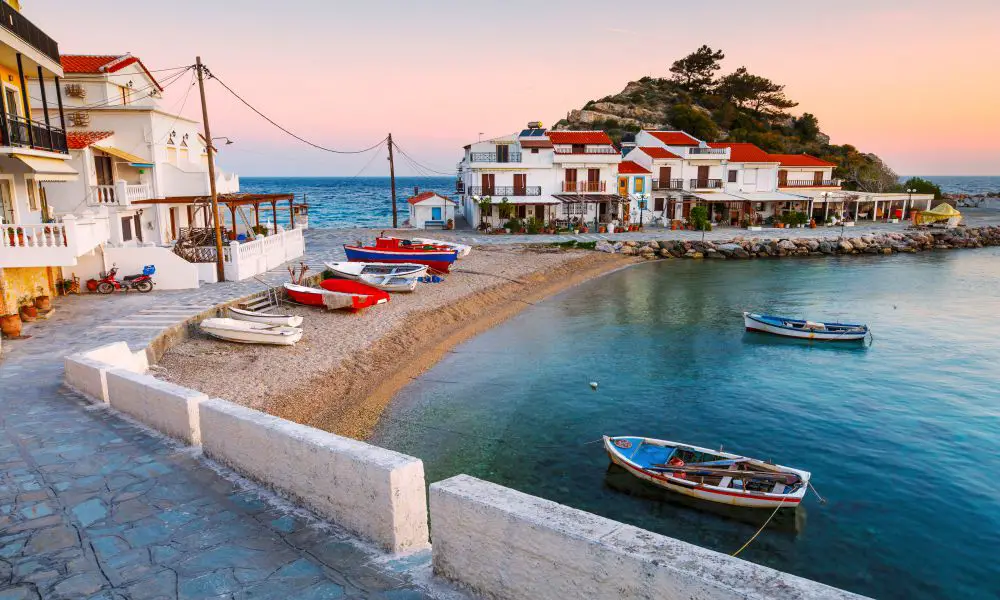 Samos Island is often underrated when it comes to the Greek Islands for beach holidays. However, this island has several beaches that offer all the ideal amenities for a relaxing beach vacation.
Lemonakia beach is positively one of the most beautiful beaches in Greece, featuring white sand and crystal clear waters that will make you feel like you're on another planet. The beach is at the foot of a hill, protecting from strong winds and beautiful views.
 Pythagorion beach is another of Samos Island's Blue Flag Beaches that visitors won't want to miss. This long stretch of beach has plenty of sunbeds and umbrellas for rent, as well as watersports equipment and a few bars and restaurants.
Kokkari Beach is another Samos Island gem that visitors will discover. It's the best beach for families because it has shallow waters, which are less cold than other beaches in Greece, to begin with. Kokkari also has a number of bars and restaurants along the shoreline, making it easy to grab food or drinks while you lounge around. It's also a great beach for those who want to work on their tans because it has a little more sand compared to other Samos beaches.
Overall, you can't go wrong with any of the beaches on Samos Island. They're all surrounded by natural beauty and only a short distance apart, which means you can easily visit multiple beaches in one day.
Read More: 22 Best Beaches in Greece
10. Skiathos Island
Skiathos Island is also one of Greece's best Islands for Beaches, with stunning stretches of sand that are never overcrowded. The island is long and narrow, which means that there are many beaches to visit.
The most famous beach on Skiathos Island is Koukounaries beach. This is because of its white fine sand, turquoise waters, and an organized beachfront offering all kinds of amenities like sunbeds and umbrellas. The beach is also very family-friendly because it's shallow and does not have dangerous waves.
On the west coast, you will find Troulos Beach. This is a small pebbly stretch in front of a pretty fisherman's harbor and tavern, with sandy spots in between where couples can make themselves comfortable. The beach is bordered by low-key taverns and shops. This makes it a great place to relax and enjoy the sun within walking distance from your accommodation.
And for those who want to explore new beaches during their vacation, there are unspoiled beaches like Glyfoneri beach, a remote beach located in the northeastern part of the island. Megas Gialos beach is another beachknown for its crystal clear waters and rocky landscape.
The best beaches on Skiathos Island have a sense of intimacy that other Greek Islands do not offer. I would definitely recommend spending at least five days on this island to visit some of its beaches.
11. Naxos Island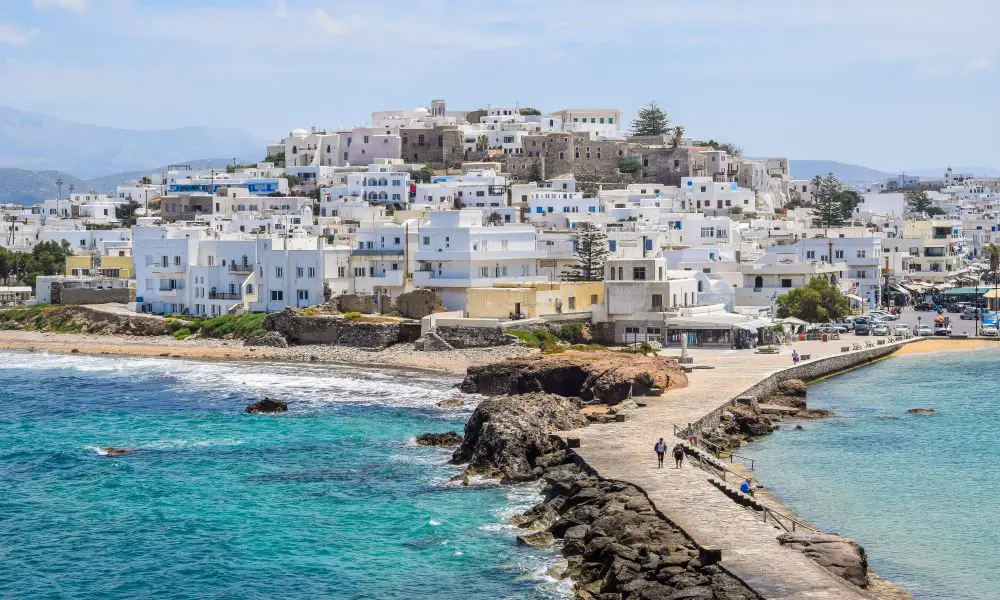 Naxos is another island in Greek for beaches that offers a unique Mediterranean landscape with beautiful scenery and great nightlife. This makes it an ideal vacation spot for young people.
The most well-known beach in Naxos Island is Orkos, a long stretch of sand that lines the smooth waters of the Aegean Sea. It's known for being quite popular among younger visitors thanks to its lively beach clubs where you can have fun under the sun until late in the evening. There are also several bars where you can drink lots of cocktails with your friends.
For those who love to snorkel and do some underwater exploration, I recommend visiting the beach at Agios Prokopis. Here you can swim in clear waters and marvel at anemones and colorful fish species. The water is shallow enough even for small kids to play safely.
I also love the white sand beach at Plaka, a quiet bay that's great for spending time on the shore. Although it's not as developed as Orkos and Agios Prokopis, it offers visitors a relaxing holiday with gorgeous scenery and nice places to eat.
Naxos Island is one of the least crowded islands in Greece, which makes it an ideal vacation spot for people who love to get away from the crowd and enjoy a laid-back atmosphere.
12. Lefkada Island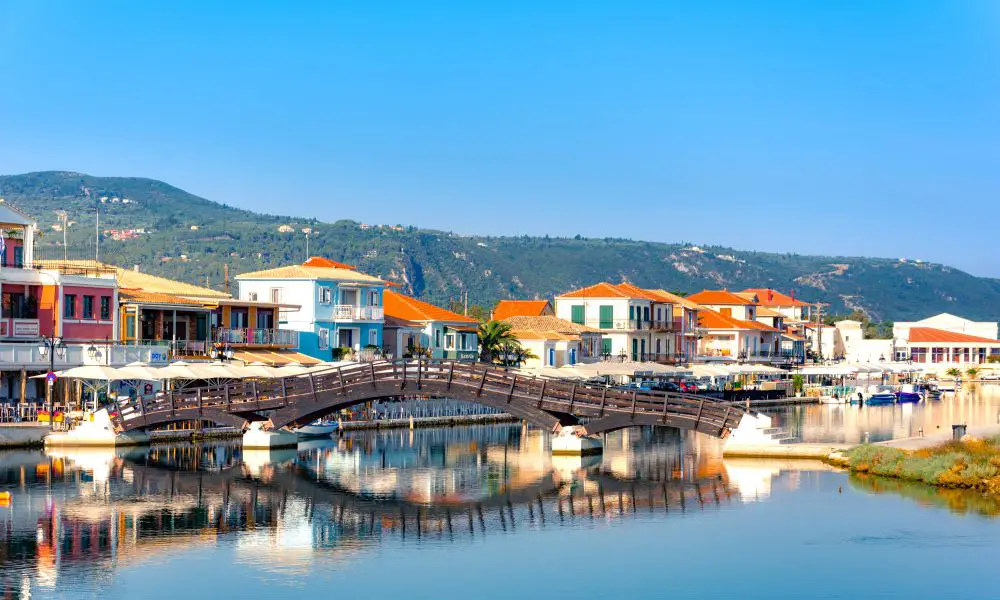 Last on this list of the best Greeks Islands for Beaches is Lefkada Island, home to secluded beaches and many hidden coves. It's best known for the rugged beauty of its coastline, which includes steep cliffs and long stretches of white sand.
The Lefkada coast has a number of sandy beaches with crystal clear waters, making it one of the best summer destinations in Greece. Porto Katsiki is the most famous beach in Lefkada because it's known for its steep cliffs surrounding the shoreline, giving it an almost exotic appearance. You can also see boats visiting the white cliffs, one of Lefkada's most photographed sites.
Another two of the best beaches in Lefkada are Vassiliki beach and Nidri beach. I recommend visiting both because they're all amazing and so different from each other. Vassiliki is a popular sandy beach and among the busiest beach resorts in Lefkada. On the other hand, Nidri is very organized, and there are plenty of services such as sunbeds and umbrellas to rent.
If you ever visit Lefkada Island, don't forget to try its cuisine while enjoying views of beaches. The island has a lot of seafood specialties like octopus, calamari, and lobster. The best thing about Lefkada is that it's not very crowded so you can relax in peace while admiring the view.
Lefkada Island is the perfect escape from loud bars that are more typical of other Greek Islands. The island has a calmer vibe that's more suitable for families with children, although there are still some nightlife attractions if you want to party the night away.
In summary
Greece has a lot to offer for beach lovers, from the popular Greek islands like Mykonos and Corfu Island to lesser-known hidden gems like Skiathos Island. If you are not fond of crowded beaches, I recommend visiting the lesser-known Greek islands because they offer some of the best-unspoiled beaches. I hope that this article has helped you choose the best Islands in Greek that suit your vacation preferences.