If you're looking for a beautiful, vibrant town to explore while on Corfu Island, look no further than Corfu Town. Named as a UNESCO World Heritage Site, it's known for its many churches and well-preserved Venetian architecture, which can be seen throughout the city.
In addition, the town is home to some of the top attractions on the island, including stunning beaches, lovely parks and gardens, and plenty of restaurants and shops to keep you busy. So if you're looking for a fun-filled vacation, I present to you a list of 10 Top-Rated Attractions & Things to Do in Corfu Town not to miss.
Things To Do In Corfu Town
1. Church of St. Spyridon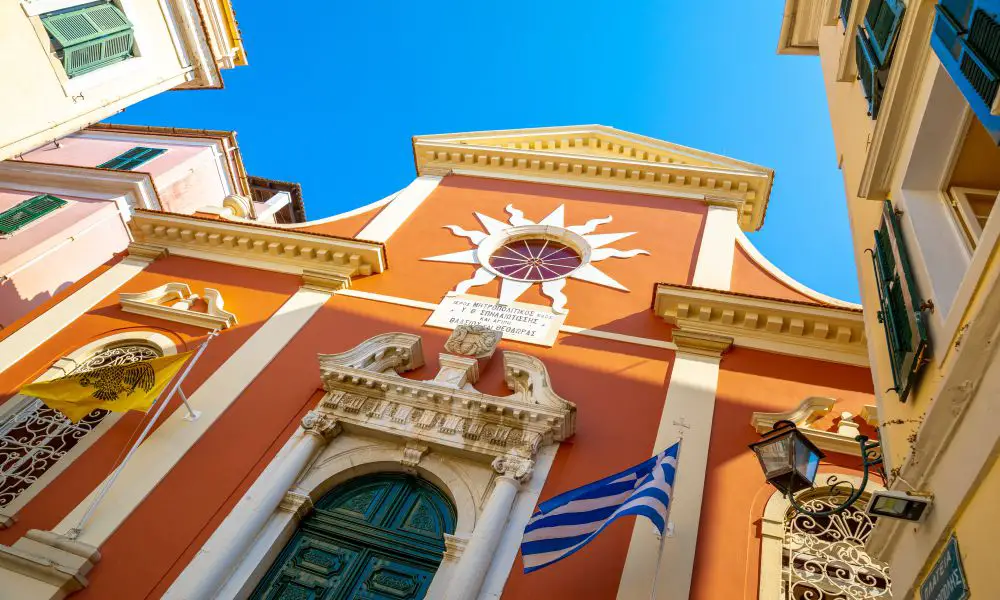 The Church of St. Spyridon is the most important church in Corfu Town, and it certainly deserves a visit from anyone on this Greek island.
This church was built back in 1859, making it one of the oldest churches on the entire island. This beautiful white church with its picturesque bell tower has an amazing history and is very popular among locals and visitors alike. It's dedicated to St. Spyridon, who is believed to have performed many miracles and saved the island from major catastrophes. And today, it houses relics of St. Spyridon.
This impressive place of worship attracts thousands of visitors every year for its charming location as well as its old-world charm. It is decorated with beautiful moody frescos, colorful mosaics, and marble engravings.
I highly recommend visiting the Church of St. Spyridon during your holiday in Corfu, as you can find it just a short walk away from the city center.
Read More: 10 Best Things to Do on Corfu Island
2. The Esplanade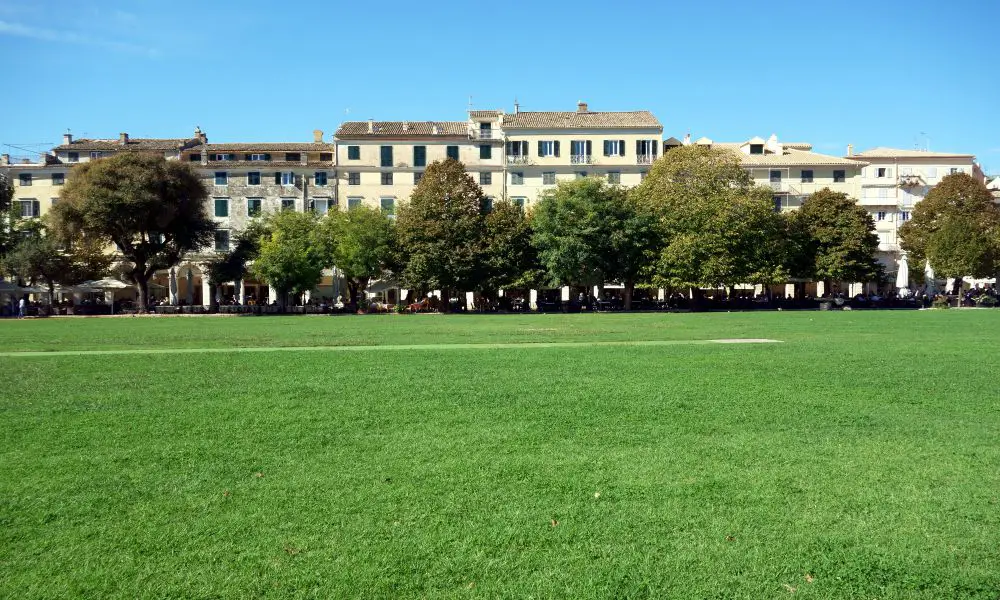 This large open park is one of the most popular places to visit in Corfu Town and a fantastic place for young families. There is an abundance of green spaces, including flowers and grassy areas for picnics or just relaxing under the shade. There are also playgrounds for kids, and it is the perfect place to sit down with a good book.
However, this is also an event space for many cultural happenings, such as music performances or outdoor movie screenings. You can even catch some of these events for free, so keep an eye on the events calendar. In addition, locals play cricket on some of the carefully tended lawns, so watch out for that.
But what is most special about this park is that it is home to pricey cafes and fancy restaurants, so you can enjoy a good meal here. Plus, this is the only place to hang out in Corfu Town, so it is a great place to people-watch. All in all, this is a great place to spend the day chilling out with friends or family.
3. Old Fortress of Corfu Town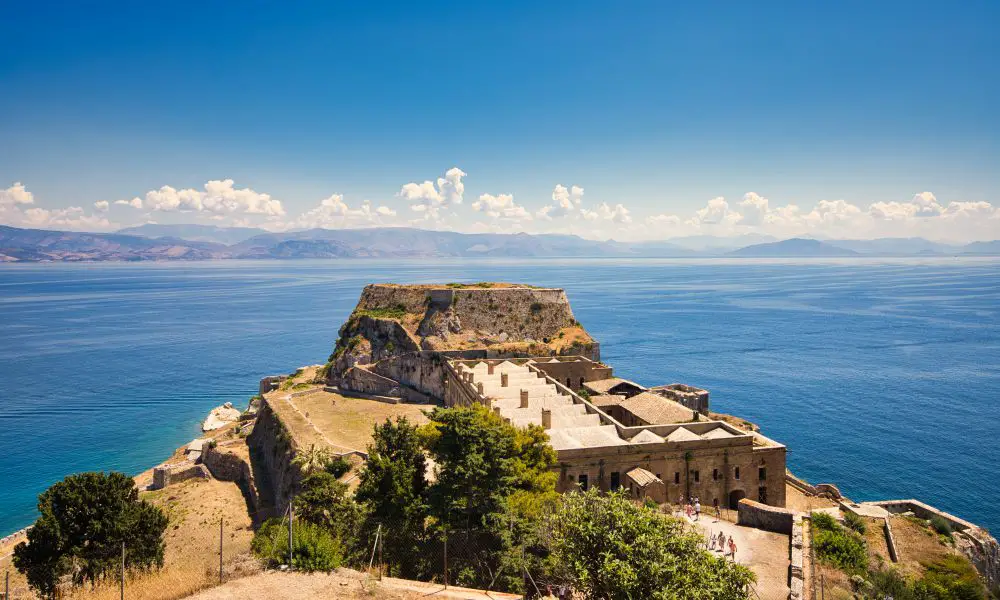 The Old Fortress is one of the top attractions in Corfu Town, built by the Venetians in 1546 during their rule on Corfu. It's a very large and impressive fortress, which is also considered one of the most important fortresses in Greece. Today, it is popular for its walls, stairways, and walkways.
During your tour of this place, you will see an interesting maze of buildings that served as the living quarters for thousands of people. Also, you will see the 19th-century small church built by the British. Many films have been shot inside the fortress, including popular movies from the 1970s and 80s. It's a really great way to get a feel for what life was like back in these times.
It is also quite popular to go up to the lighthouse, located at the highest point of the site. The views from up here are quite spectacular, as you can see all around the area. This is a beautiful place to visit and spend hours exploring its history and views.
Read More: 9 Best Things to Do in Corinth
4. Casa Parlante
The Casa Parlante is an old mansion that takes you through the history of the city. This building dates back to the 19th century and was built by a wealthy nobleman. Inside, there are samples of furniture and paintings that date back to this time. But the main attraction here is the use of robotic technology, even smells and even animated figures to bring the past back to life.
Touring the house will be like a real-life scenario from the past, as items move and sounds are projected. It's a unique way to explore the history, learn about different periods of Corfu Town, and see what people's lives were like.  
The Casa Parlante is a great place to visit if you want an in-depth history of the town and its people. It is a good way to get a real feel for how the city has evolved over time. Overall, this is one of the best things to do in Corfu Town, so make sure you see it if you are in the area.
5. Museum of Asian Art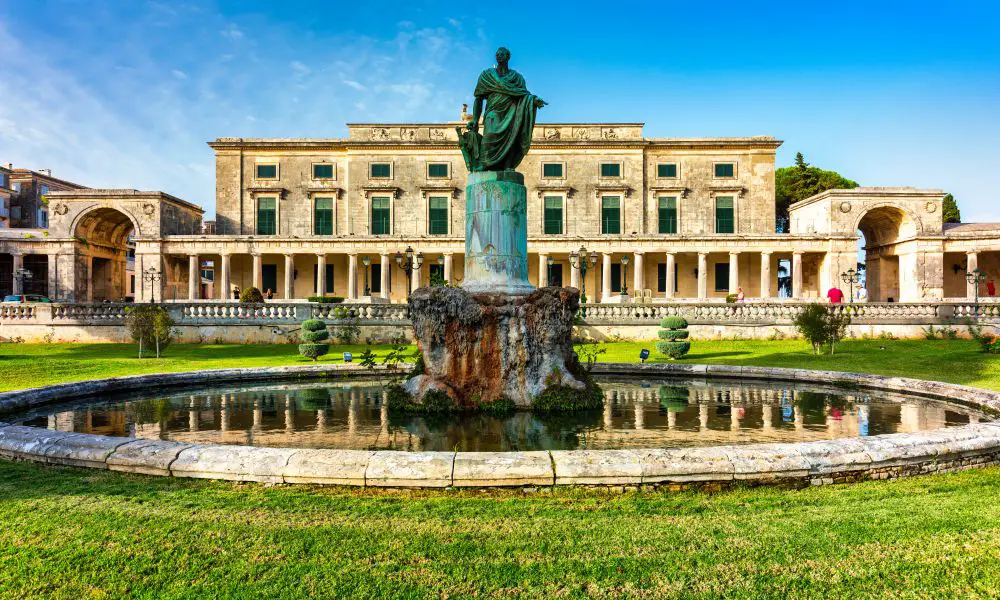 When it comes to museums, the Museum of Asian Art is considered one of the top tourist attractions in Corfu Town and Greece. It opened its doors in 1816, and it is housed in a beautiful 19th-century neoclassical mansion that is well-preserved.
The museum offers an interesting collection of ancient and ethnographical artifacts, traditional Japanese and Chinese art pieces, rare tapestries, porcelain objects, and bronzes that date back to the 16th century, as well as 17th and 18th-century tapestries from China and Japan.
There are over 1,000 objects on display, so you can imagine the museum's sheer size. But if you are short on time, I recommend planning your visit so that you can see some of the most important items on display within 1 hour. Just remember that there is something here for everyone, making it an excellent destination that will be sure not to disappoint.
Read More: 14 Best Things to Do in Greece
6. New Fortress of Corfu Town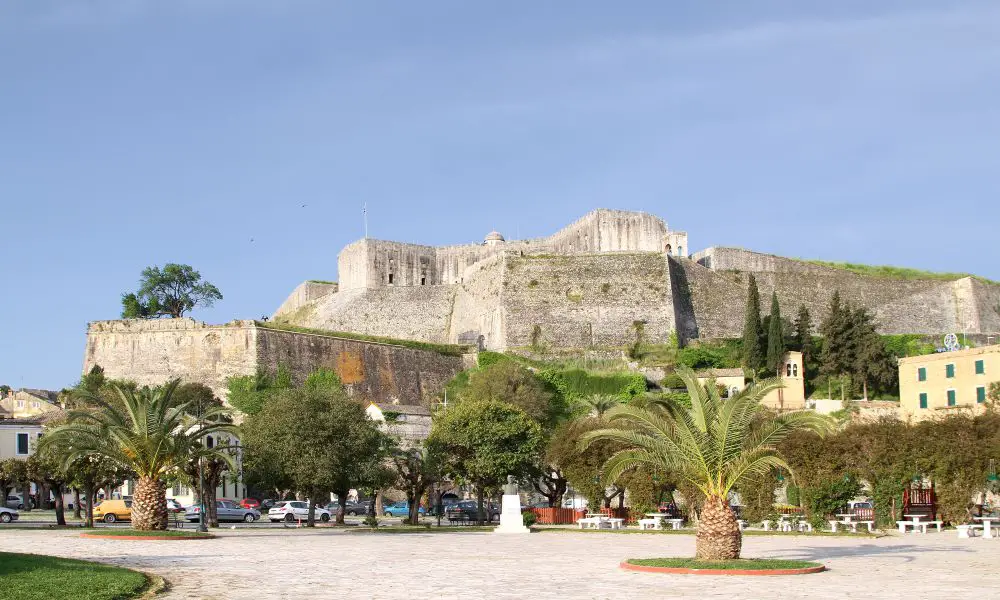 The New Fortress is not only one of the most beautiful places in Corfu Town, but it's also one of many places to enjoy. It was originally built by the Venetians in 1577 on an imposing hill to protect the town from enemies and invaders. It played a significant role during the Turkish siege, as it provided cover to the local inhabitants. And nowadays, it is a popular place for people who want to walk around and admire the amazing views on offer.
Aside from admiring this amazing structure, I would also recommend taking a tour of the place. You can choose between audio tours or guided tours, but either way, makes sure to bring your camera for some great pictures. The New Fortress is the perfect place to sightsee or have a picnic. Thanks to the large garden at the back, it's also great for long walks.
7. Cool off at Paleokastritsa Beaches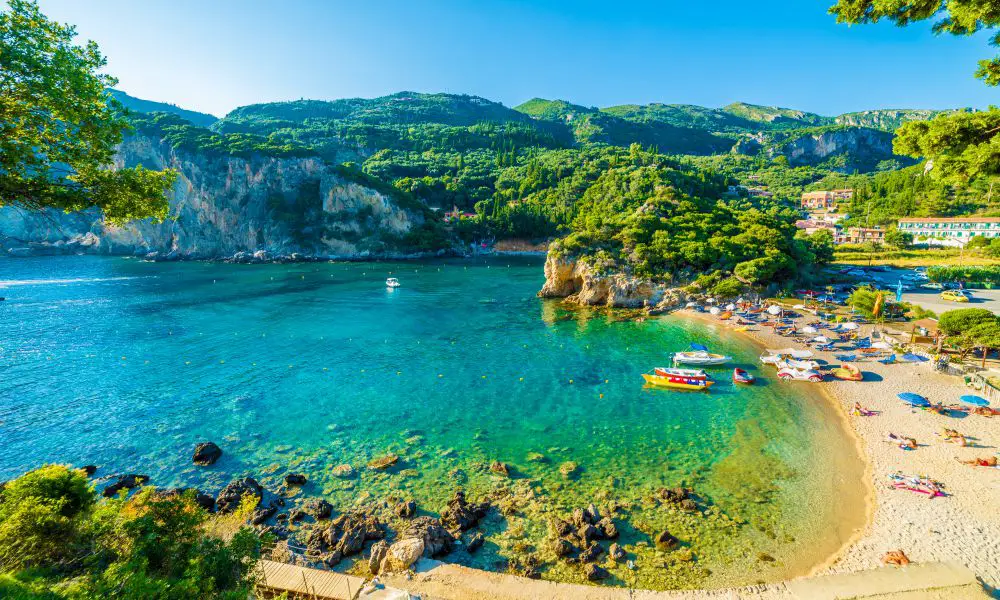 If you love the beach, and enjoy crystal clear waters and stunning blue skies, then a visit to Paleokastritsa should definitely be on your 'to-do list.' You can check out other beaches in Corfu that are also really great, but I felt like this was one of the best because it feels secluded even though it's not.
I guess you could consider it 'pristine,' because the white-washed pebble beaches are untouched by large resorts or busy bars/restaurants cluttering up the beach. The water is clear and great for swimming because it's not too deep, and the sand below your feet is soft and clean. I also noticed that there were a lot of areas to explore along the coastline that weren't necessarily beaches, such as old churches and a small museum.
So if you are looking to get away from the crowds this summer, I definitely recommend visiting Paleokastritsa Beaches. And because it is one of the best things to do in Corfu Town, I highly recommend spending at least half a day here.
8. Vlacherna Monastery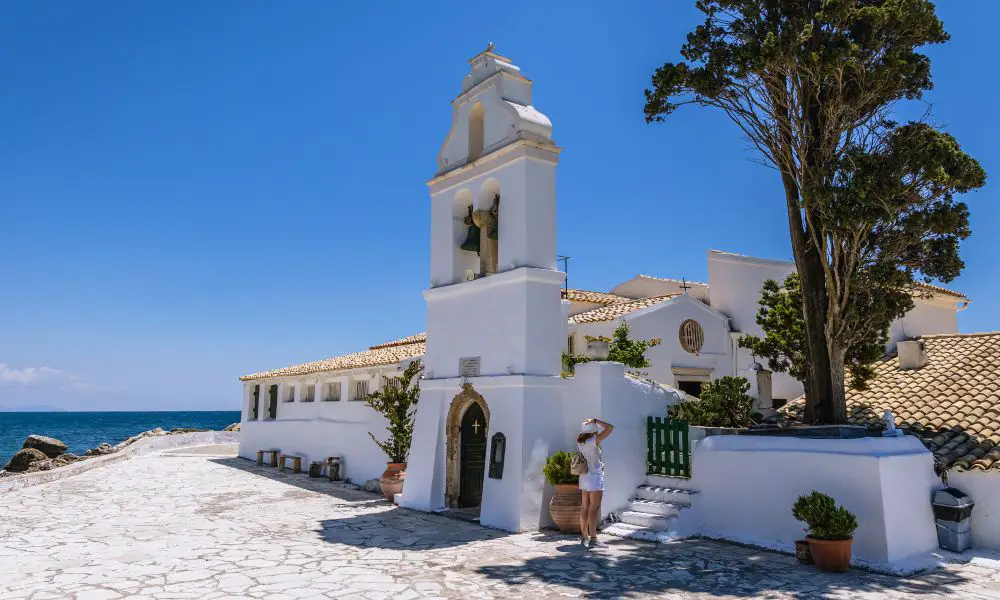 The Vlacherna Monastery is one of Greece's unique and oldest monasteries, making it one of the top attractions in Corfu Town not to be missed. It was built in the 17th century and juts out into the sea. This makes it look like it was built on its own island. Many people say it looks like something straight out of a fairy-tale book or Disney movie, and it can be reached via a causeway or short boat ride. The monastery itself has a long history and is well worth visiting if you wish to learn more about it.
The surrounding area is also beautiful, and I recommend touring Mouse Island (Pontikonisi), which is located near this monastery. It's a cute little island that can be reached by boat or a small causeway. It is home to an old white-washed Byzantine chapel, and is also known for its beautiful scenery.
9. Enjoy local Food in Corfu Town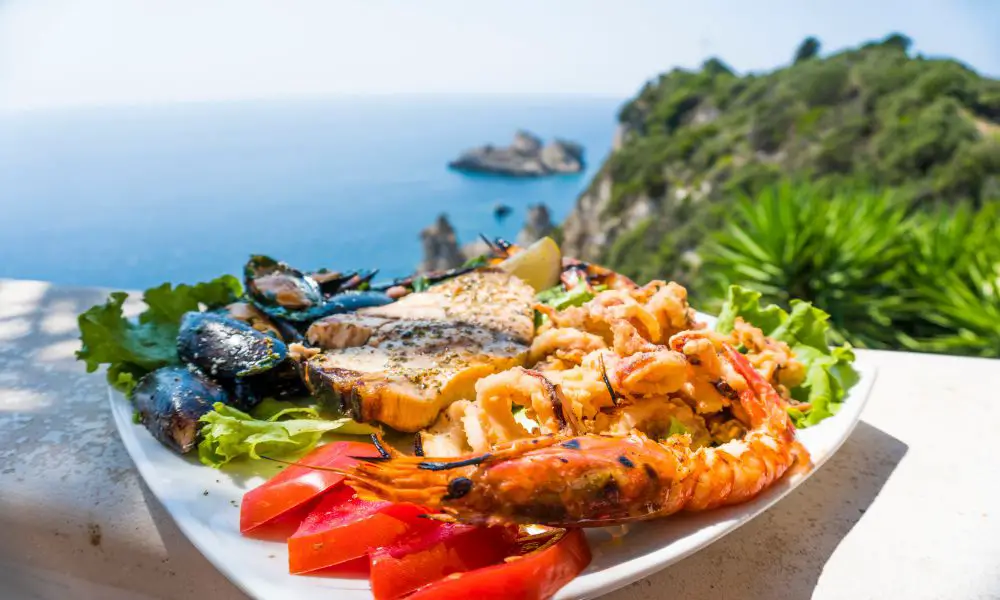 One of the best things to do in Corfu Town is to eat the local food. The island now has a worldwide reputation for being Greece's food basket, and this is something you can enjoy here as well. Most restaurants are authentic, with both traditional Greek and Corfiot specialties on the menu. As well, many of the local taverns serve up delicious and affordable meals.
You can also get delicious seafood here, with many small fish restaurants dotted around the town. I suggest trying the Sykomaitha, which is a fig-based cake. It is a traditional Corfiot desert, and you can have it for breakfast, lunch, or dinner.
As you can see, the food of Corfu is well known worldwide. So if you love good food like me, then definitely don't miss the chance to enjoy the local food here.
10. Mon Repos Palace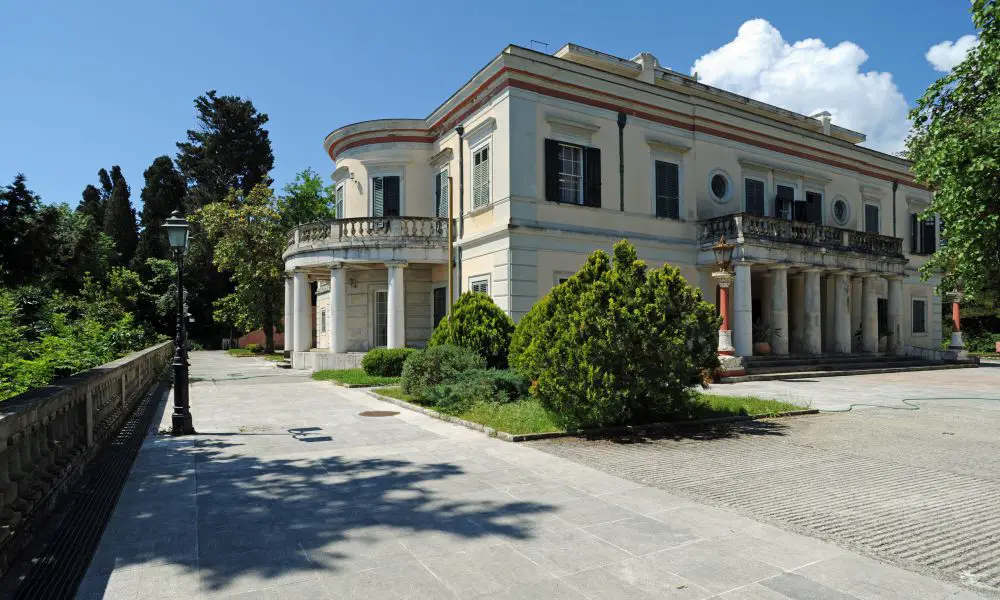 Located up on a hill that gives you a wide panoramic view of Corfu, you can find the summer residence of the Greek Royal Family built in 1831. The palace is one of Corfu's top tourist attractions and a location where HRH Prince Philip was born.
Today, Mon Repos is a museum open to visitors for guided tours. You can stroll through the formal gardens, which have been landscaped in a very English tradition, including lawns, rose beds, and even a croquet field. The external building itself is also worth seeing and contains a wide collection of furniture and paintings from the 19th century when it was built.
Conclusion
As you can see, there are plenty of awesome places to visit and things to do in Corfu Town, including awesome shops and restaurants. But the best thing about this city is its people, who are incredibly friendly and always happy to help. So make sure you check out this town if you are looking for an incredible Greek holiday. It has everything you need to have a fantastic time.