If you're looking for a beautiful and historic city to explore in Greece, Corinth is the place for you. This city is popular not only for its history, but also for its natural sites that tourists can enjoy. So whether you're into history, nature, or just want to explore a new place, I'm sure you'll find something that interests you. In this post, I will give you a list of the 9 Best and Fun Things to Do in Corinth you should check out. So without further ado, let's get started.
Things To Do In Corinth
1. Corinth Canal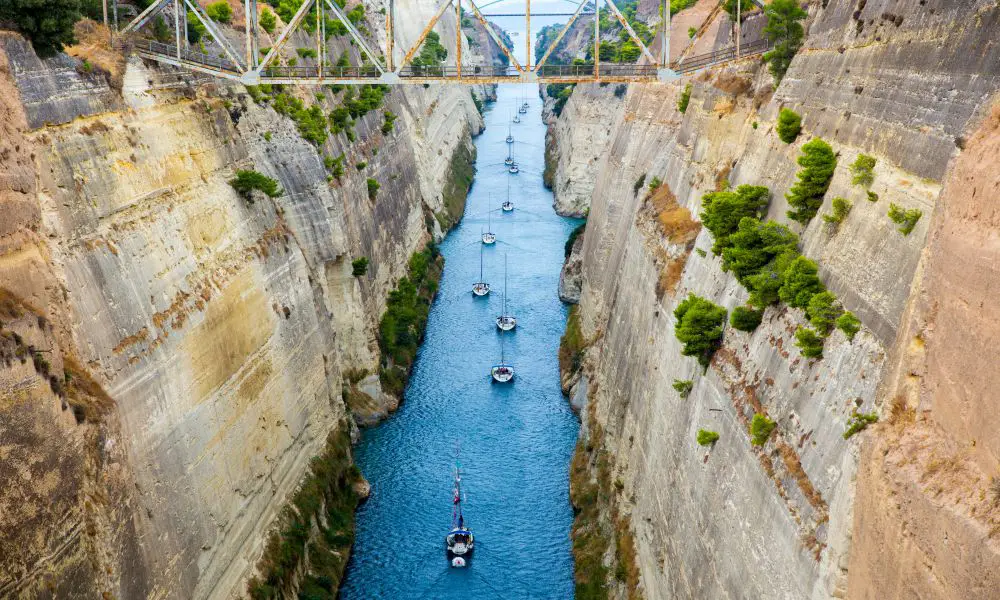 Visiting the Corinth Canal is probably one of the most important things to do in Corinth if you're a history lover. This Canal actually cuts through the Isthmus of Corinth, a small piece of land that connects mainland Greece to the Peloponnesus Peninsula (linking the Aegean Sea with the Ionian Sea). Its construction started in 1882 and was completed in 1893. This man-made waterway was built to save ships from having to pass around the peninsula.
Today, the Corinth Canal is one of the major tourist attractions in Corinth. Visitors come from around the world to experience the beautiful views of the surrounding area. The Canal is 6.4 km long, 21 meters wide, and 8 meters deep with rocky sides. The best view is definitely from the bridge that carries a road over it, where you can see both sides of the Canal.
One of the most interesting things to do here is actually getting out on the water. It's possible to take a boat ride through the Canal, which is definitely one of the highlights of any trip to Corinth. As you pass through this man-made wonder, you will see spectacular views of rocky sides and blue seas.
The area around the Canal is also quite picturesque, with panoramic views of the Isthmus and sardonic Gulf. I recommend taking a short hike to enjoy these amazing sights or just relax on the beach below. It's an excellent place for hiking.
Read More: 10 Best Things to Do in Corfu Town
2. Korinthos Beach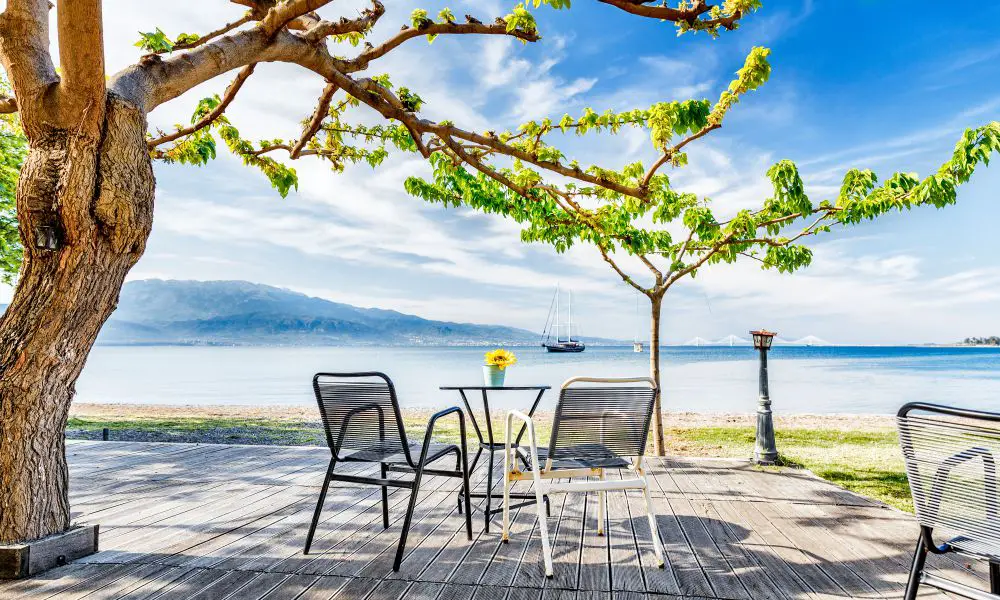 Of course, visiting the Corinth Canal is a great way to spend a few hours. However, one of the best ways to see all that Corinth has to offer is by spending a day at the beach. The city of Korinthos has an amazing beach with calm waters and soft sand. The best part is that it's not far from downtown or some of Corinth's attractions, making it extremely accessible.
The water here is crystal clear, and the sand is soft and white, almost like powdered sugar. You can snorkel here and see some amazing views of the local flora and fauna that live just below the surface of the water. The unique landscape includes a huge number of rocks on the beach as well as animals such as tortoises.
There are also some great facilities, with a restaurant and kiosks where you can rent beach chairs, umbrellas, jet skis, pedal boats, and kayaks. There are also lifeguards on duty to make sure everyone is safe.
There are always lots of people here, but the atmosphere is generally laid back and relaxed. So if you're in Corinth on a hot day, check out Korinthos beach for an unforgettable experience. It is one of the top tourist attractions in Corinth to spend the day basking in the sun or swimming in calm waters.
Read More: 22 Best Beaches in Greece
3. Acrokorinth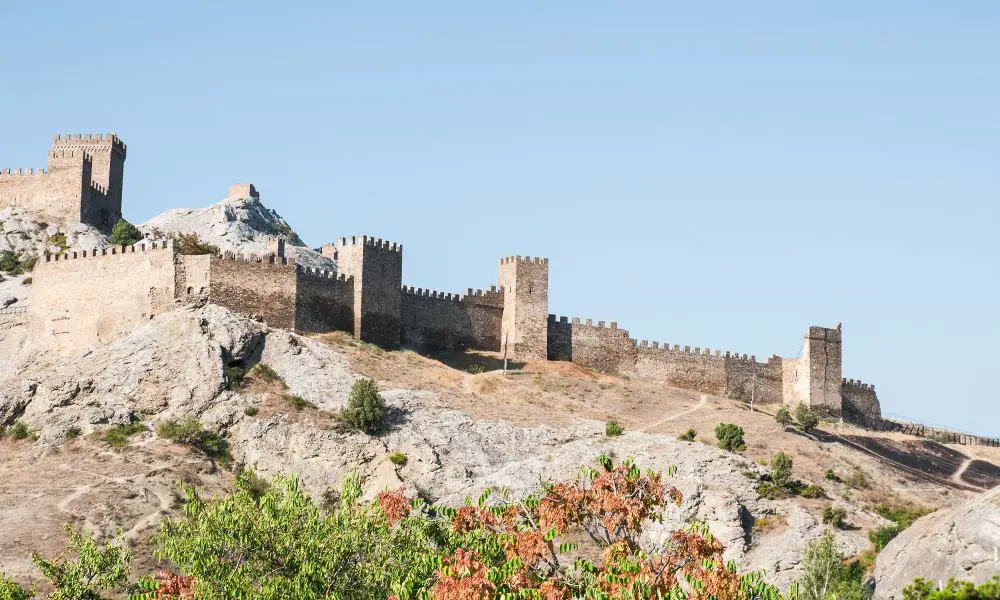 Visiting the ancient fortification of the Acrocorinth is yet another of the best things to do in Corinth. This ancient fortification was built at the highest peak of the Isthmus, which was strategically important. It is located at an elevation of 600 meters above sea level with a commanding view of Corinth and the Gulf of Corinth. It served as the last line of defense for major cities during ancient times. 
Today, you can visit the Acrocorinth and take a tour of the ancient site. You can see several ruins and monuments, including the Temple of Aphrodite, Middle Gate, Upper Gate, and more. The views from the temple are impressive, with photographic opportunities everywhere you look.
During my visit, I learned all about the history of this ancient site. It was fascinating to imagine all the battles and sacrifices made there. I would definitely recommend taking a tour with one of the local guides who will be able to answer all your questions and provide excellent information about this area.
Read More: 14 Best Things to Do in Greece
4. Ancient Corinth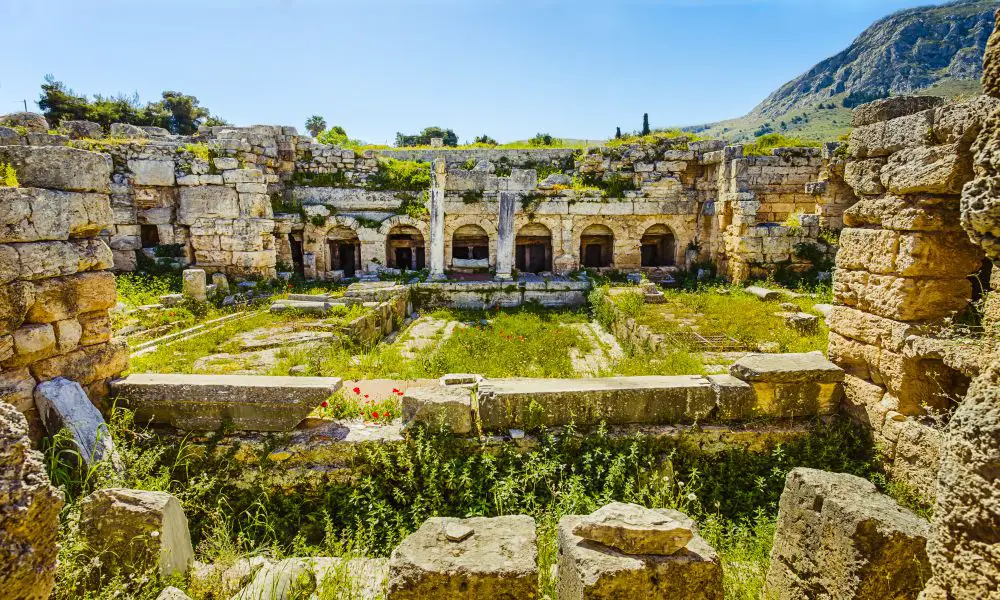 The ancient ruins of Corinth are another one of the top tourist attractions in Corinth you should visit. This city was one of the most important cities in the Roman period, and it's just a short bus ride outside of modern-day Corinth. This city is full of history from countless centuries ago, with ruins scattered throughout. 
Today, many of these amazing stone structures are in ruins, but that just adds to the beauty of the place. It's an excellent destination for history lovers, with many different impressive structures to see. There are remains of a large forum, basilica, baths, many temples dedicated to numerous gods, as well as ancient streets.
I suggest you go with a guide or take an audio tour since many signs are only in Greek. However, this is definitely one place that doesn't need a guide. It's open to the public, and you can wander around on your own, getting a real sense of what Ancient Corinth was like.
5. Environment Museum of Stymphalia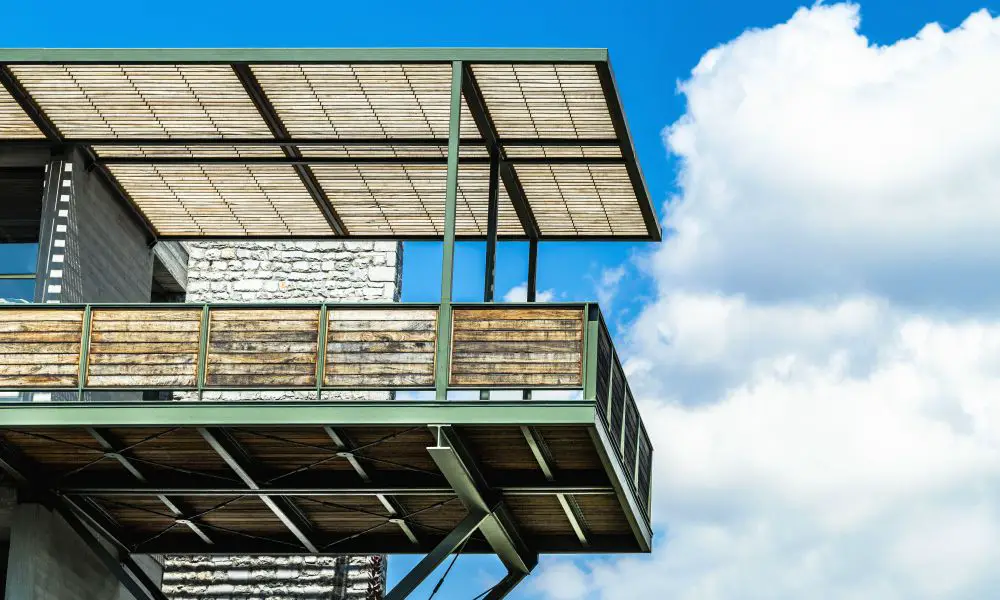 Looking for a fun and educational day out with the family? Why not visit the Environment Museum of Stymphalia. It is one of the top tourist attractions in Corinth, dedicated to the environment and wildlife of the Lake Stymphalia region. It's also one of the most informative places to visit in Corinth.
The museum features two permanent exhibits. The first explains the environmental concerns in the Lake Stymphalia region, while the second shows how the environment has influenced development in that region. There are plenty of interactive displays, educational videos for kids, and lots of information posted around the museum.
Visiting the lake is another great attraction here. You can see many different types of local wildlife in their natural habitats, relaxing spots, and walking paths that take you through the park.
Read More: 14 Best Things to Do in Crete
6. Temple of Apollo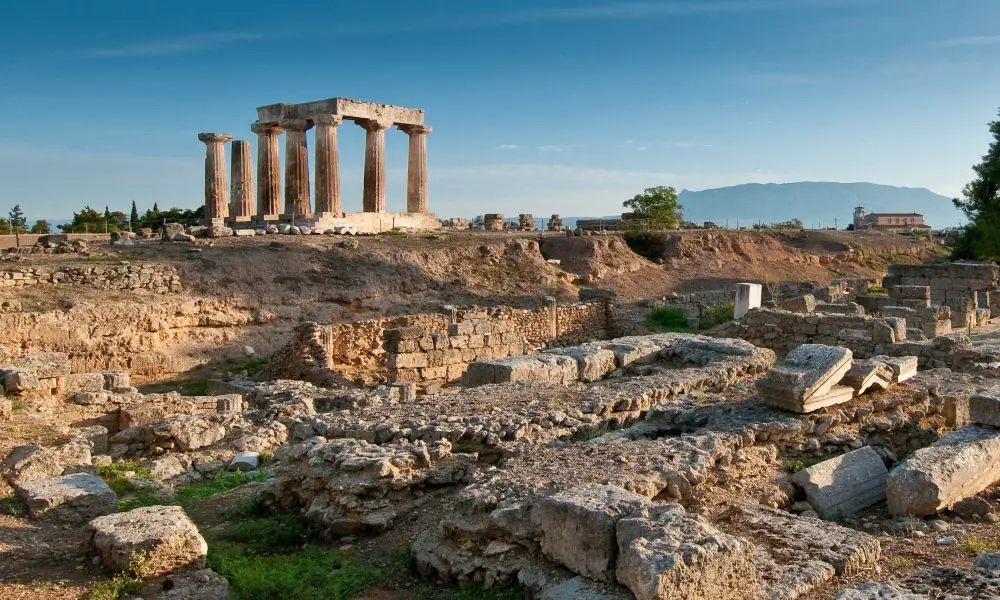 The temple of Apollo is another great place to visit in Corinth, located at Bassae. The temple was built around 540 BC, and it's widely considered one of the best examples of Doric architecture. It was dedicated to Apollo, one of the major Greek gods. Unfortunately, this temple is in ruins, and only seven limestone columns stand today. However, it's really impressive to see the ruins and imagine what it must have been like in ancient times.
Even though the Temple of Apollo is in ruins, it remains an important landmark on the site of ancient Corinth. It's a pretty impressive sight to see the remains of the Doric temple standing in the middle of a busy town. It's also an interesting place to explore and learn more about ancient Greek life.
The Temple of Apollo is only a short drive away from Corinth, so it's definitely worth visiting if you have some extra time in the area. If you decide to come here, I recommend you check out the amazing museum located right next to it. There are a lot of statues and other artifacts on display that were discovered during excavations.
7. Take A Winery Tour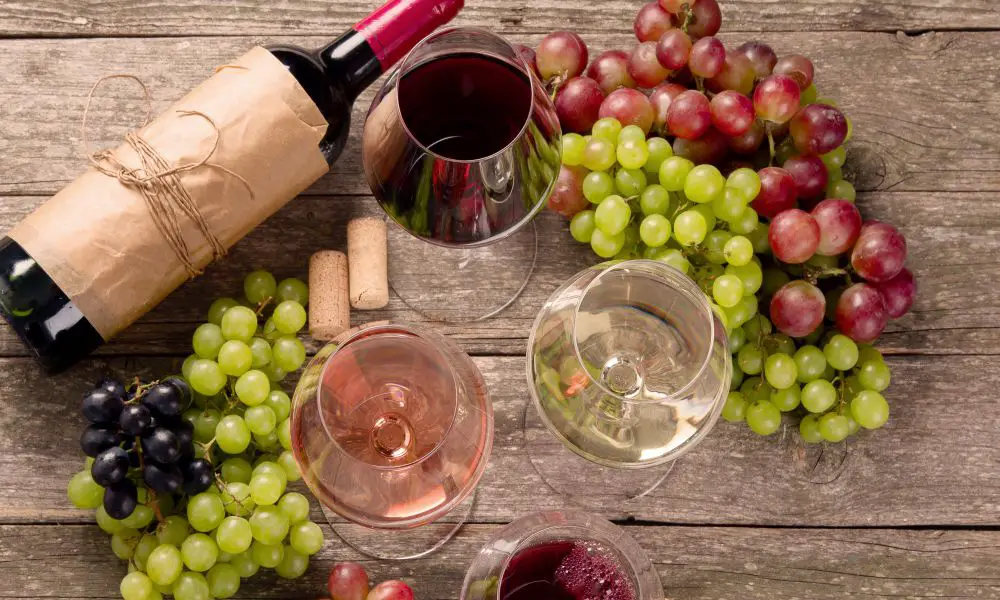 If you're a wine lover, Corinth is one of the best places to visit in Greece. This region, in general, is known for its excellent wines, which makes taking a winery tour even better. The best part is that many different types of tours are available through the numerous wineries. For example, you can take a short wine tour that lasts just two hours or a full-day tour that includes lunch and transportation to and from your hotel.
I had an opportunity to visit the Giannikos Winery, and I can say that it was one of the best winery tours I've ever had. The tour included a visit to their gorgeous vineyard, and of course, getting to taste their famous wines. It was an excellent way to learn about Greek wines while having fun drinking them with new friends.
This is one of the best things to do in Corinth, and it's a great way to discover the region. Many other wineries offer their unique tours. So I definitely recommend trying them also if you get a chance. The more wines you try, the more you'll come to love them.
8. Zulu Bungy Jump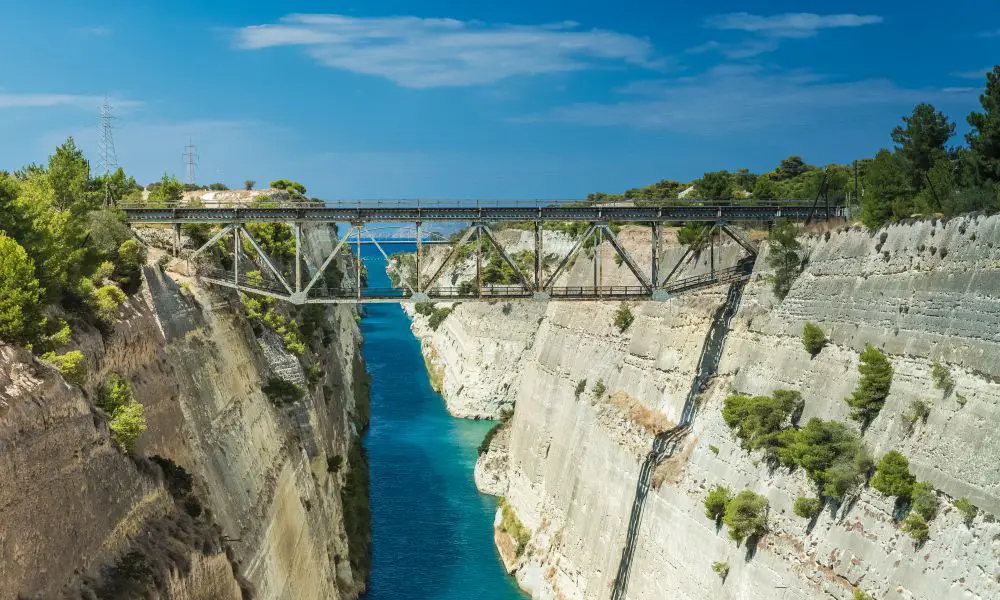 If you're more the adventurous type, then I definitely recommend checking out the Zulu Bungy Jump. This is one of the most daring things to do in Corinth, and it is also one of the popular attractions.
This extreme bungee jump is 70 meters above the Corinth Canal. To try this jump, you will have to put yourself in the hands of the professionals. Full safety equipment, including a harness, a helmet, and a bungee cord, are provided for this experience. There is a small training session before the jump to ensure that you're comfortable and that everything goes off without a hitch.
The jump itself is truly exhilarating. You'll feel like you're flying as you soar through the sky, putting your trust in a bungee cord for safety. You can choose a standard or Zulu package which is two jumps on the same day.  Either way, it's an experience you will never forget.
And if you think this sounds too scary, you're not alone. I'll admit, it can be a little frantic, so people who suffer from fear of heights might not want to partake. But if you are the daring type, then this is something you have to check out. It is definitely one of the top attractions in Corinth you won't want to miss.
9. Loutraki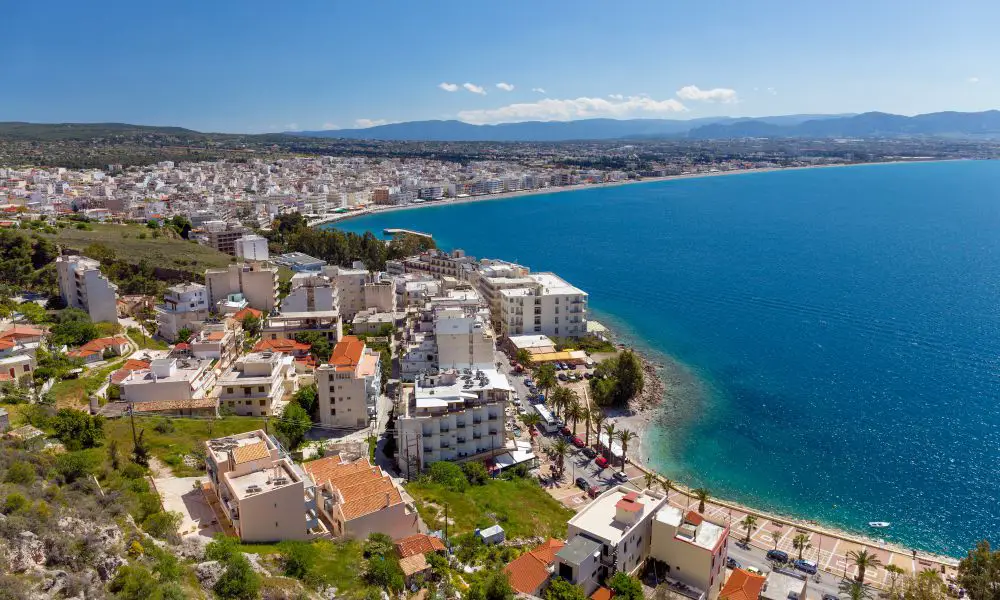 Loutraki is a famous coastal resort town in Corinthia, about six kilometers away from the city of Corinth. It's also one of Greece's most popular seaside resorts, attracting thousands of visitors every year. This town has some great attractions making it a must-see when in Corinth.
The first thing that strikes you about this place is its beautiful natural backdrop. Loutraki borders on the Aegean Sea, which means crystal clear waters and beautiful views. The town itself has some lovely architecture to explore while the pebbled beaches are great for relaxing in the sun or swimming in the sea. There's also plenty of entertainment and things to do here, such as visiting nightclubs and casinos.
You can choose from a variety of hotels, resorts, and apartments to suit your budget. There's everything from luxury resort accommodation to more affordable options if you're traveling on a budget. I stayed at Club Hotel Casino Loutraki, and I loved the location and the view. This is a great place if you want to enjoy some time by the beach as well as some time at the casino.
Conclusion
There is a lot to see in and around this city. It's well worth your time to check out some of these top attractions in Corinth and see why it's such a popular destination. There is always something nearby to suit all kinds of tastes and interests. Overall, Corinth is one of the best places to visit in Greece and offers a great opportunity to learn more about ancient Greek life.