Looking for the best beaches in Malaysia? You have come to the right place! Malaysia is finally getting the attention it deserves as a world-class beach destination. In fact, I had already been told that the coast of Malaysia was super beautiful, and I can confirm this.
Malaysia is made up of 878 islands and archipelagos, so there are exceptional beaches everywhere. While some beaches, such as those in Langkawi and the Perhentian Islands, are well known and frequented by backpackers, others are still insider tips.
It's hard to think of Malaysia and not imagine beautiful tropical beaches. In fact, I think most people planning a trip to this part of the world will want to visit at least one of these Malaysian beaches during their stay in the country. To help you plan your best beach vacation in Malaysia, here is a selection of the 12 Best Beaches in Malaysia that really impressed me during my 20 days visit to this country. Read on!
Best Beaches in Malaysia
1. Langkawi Island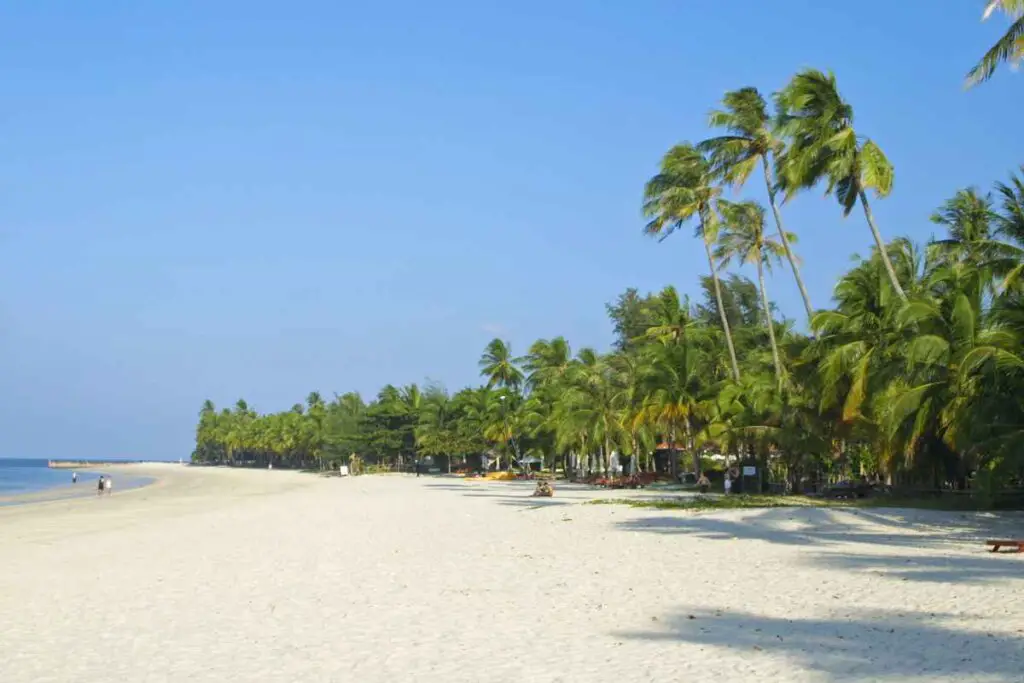 Langkawi is one of the most popular beaches in Malaysia. And there is no lack of reasons to understand it: it is an ideal island to travel on a motorcycle, get lost, and meet again on the road. And there are activities to please anyone.
What I loved most about this Island is that it's a duty-free area, alcohol runs freely through the bars and canteens of this Island, and magnificent infrastructure has made Langkawi one of the preferred destinations in this part of the world.
This beach has attractive prices, and a wide range of activities attract more travelers every year to this Island. And the fact is that a large part of the charm of this Island resides in the ability to satisfy almost all audiences. Excursions to mangroves or uninhabited islets, scuba diving, jungle trekking, wildlife watching, or paragliding flights.
2. Long Beach, Perhentian Kecil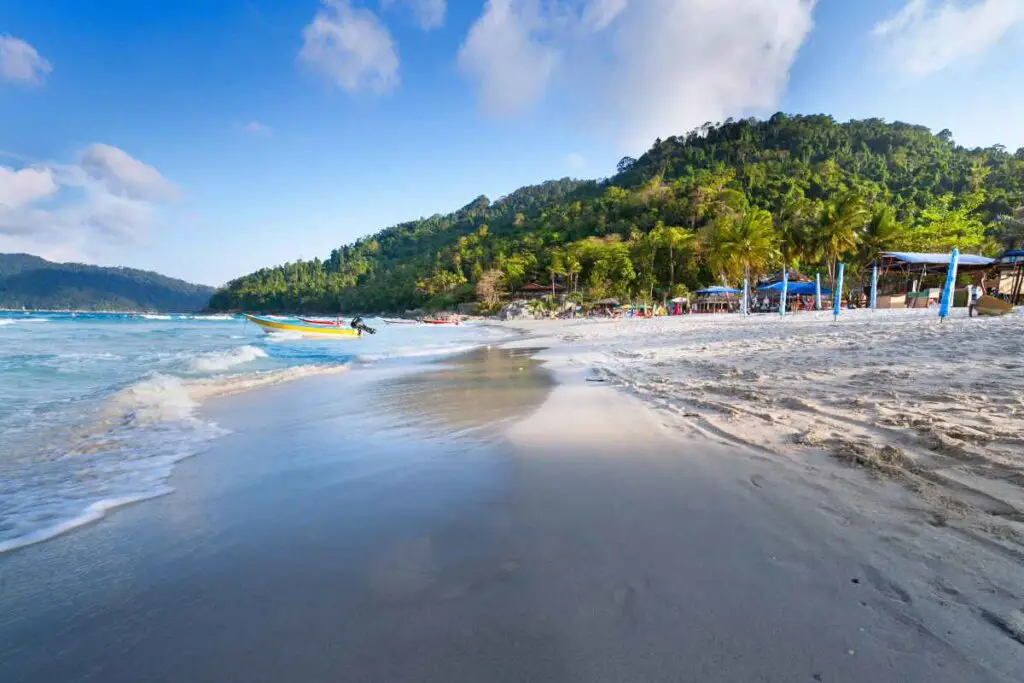 My next suggestion is a long beach. It is incredible, with a transparent blue sea and medium waves that some take advantage of to learn surfing. I stayed here for three nights at the Bubu Resort. It is the beach with the most atmosphere and restaurants on the two islands.
This beach is quite good, although there are usually a few boats on the shore. The beach is very long (the longest of all the Perhentians) and has all kinds of amenities, expensive hotels, backpacking options, cheap restaurants, fire shows at night, nightlife, and a lot of academies for diving.
At one end, I decided to enjoy snorkeling, where I enjoyed the beautiful sight of hundreds of fish swimming near me. This was a unique experience for me during this trip. Later on that day, I also took advantage of the waves of Long Beach to have a good time diving and wallowing in the water.
3. ABC Beach, Tioman Island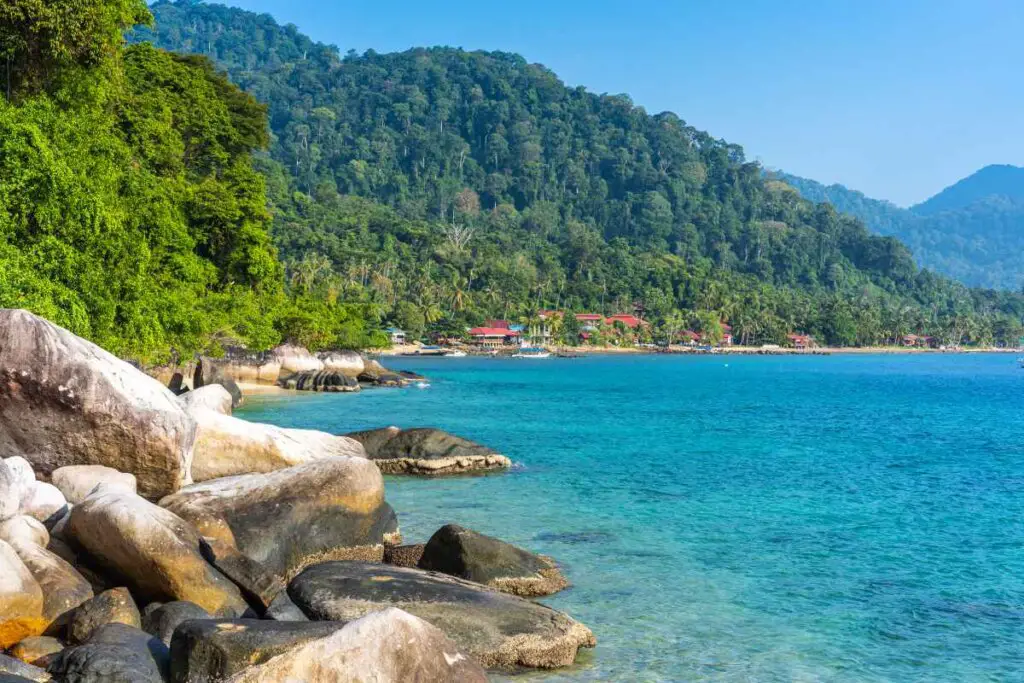 About a 20-minute walk north from Tekek (the main town on the Island), I found ABC Beach. That's where I stayed for four nights in a small bungalow with its own bathroom and fan for $30 per night. To find accommodation I recommend you book in advance if you go on vacation or the weekend because Tioman is quite famous for local tourists and those from Singapore. If not, the only option is to hit the beach in search of the bargain. I was quite lucky.
The ABC beach is among the top beaches in Malaysia because of its crystal clear water and is full of life, like most of the Island. There are also a couple of beach bars that liven up the evening, and I could see monkeys and huge lizards passing by with some regularity.
I spent a couple of days in different places on the beach and threw myself almost all the time in the water where I could see rays or a multitude of colorful fish.
The only problem on this beach is the damn sandflies issue. Smaller than their New Zealand sisters, they are, however, just as annoying as the others. Their bites leave lumps much worse than those of mosquitoes, and they bite twice as much. I scratched myself like crazy, and wounds take time to heal.
4. Kapas Island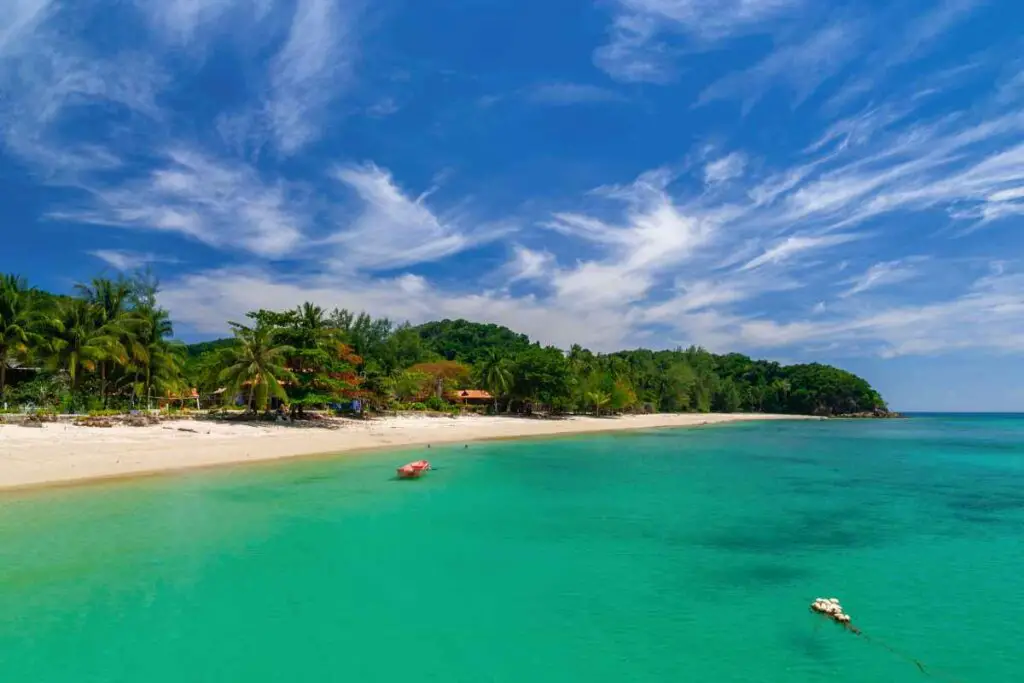 I must admit that it was difficult for me to include Kapas Island in this list of best beaches in Malaysia. Because it is not a mainstream island, it is not for all audiences. If you expect luxury and comfort, I don't recommend this place for you.
This is one of those movie sunset islands that you slowly taste and get hooked little by little. A practically virgin island where there are no cars, no large resorts, no roads, and the best Wi-Fi.
What attracted me here was its backpacker atmosphere, because when I started walking, I ran into, one after another, spectacular beaches. In addition, I had the pleasure of snorkeling surrounded by turtles and sharks.
Kapas Island is, for me, my favorite place in Malaysia, the place I would like to run away to. During the week there is hardly any tourism, at the weekend, the predominant tourists are Malays. The local people are simply lovely. They will be interested in you, in getting to know you, and you will be comfortable on their Island. And in the end, they will make you feel like one of them.
5. Coral Beach, Perhentian Kecil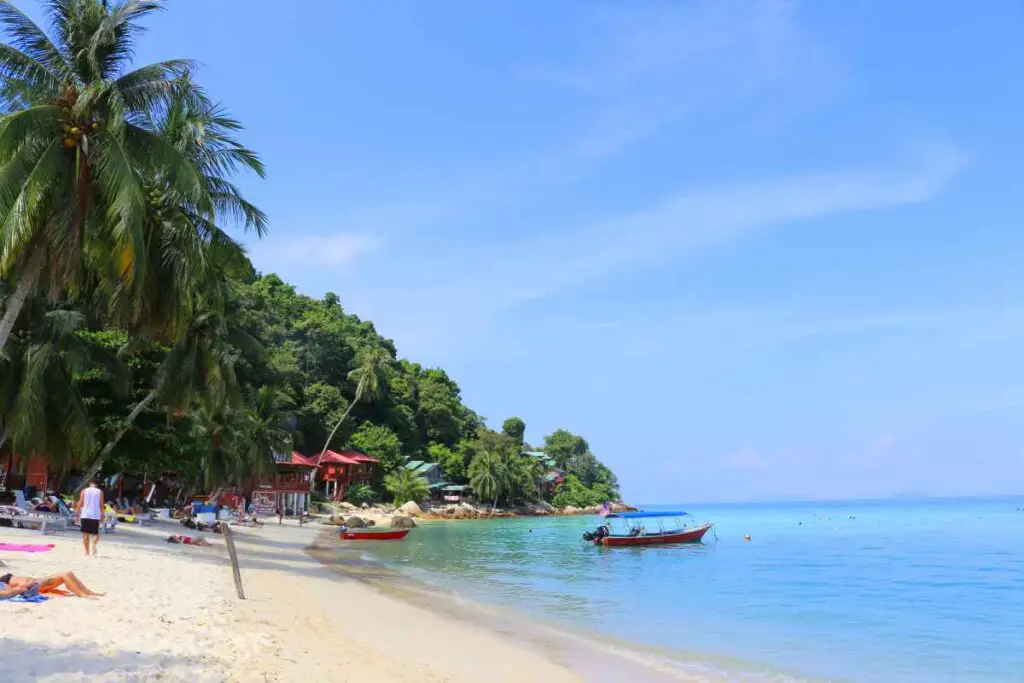 One of the quietest beaches on the Island, Coral Beach, will take your breath away. It is said to be an ideal beach for honeymooners, as there are romantic and almost empty beaches that offer a lot of privacy.
With its tranquility and its corals next to the shore, I decided to use my new snorkel masks, bought a couple of days before in a Chinese store, which is cheaper. I saw a lot of fish of all sizes and colors, even some territorial bastards that attack everything that comes close to their personal algae plantation (my friend had told me this a few days ago, although I was not bitten).
But what I saw most were sea cucumbers, with a disgusting appearance similar to a giant worm, that move with the tide. I remembered the "last survivor" when he ate one like that as is. It looked disgusting!
6. Sipadan Island, Sabah, Borneo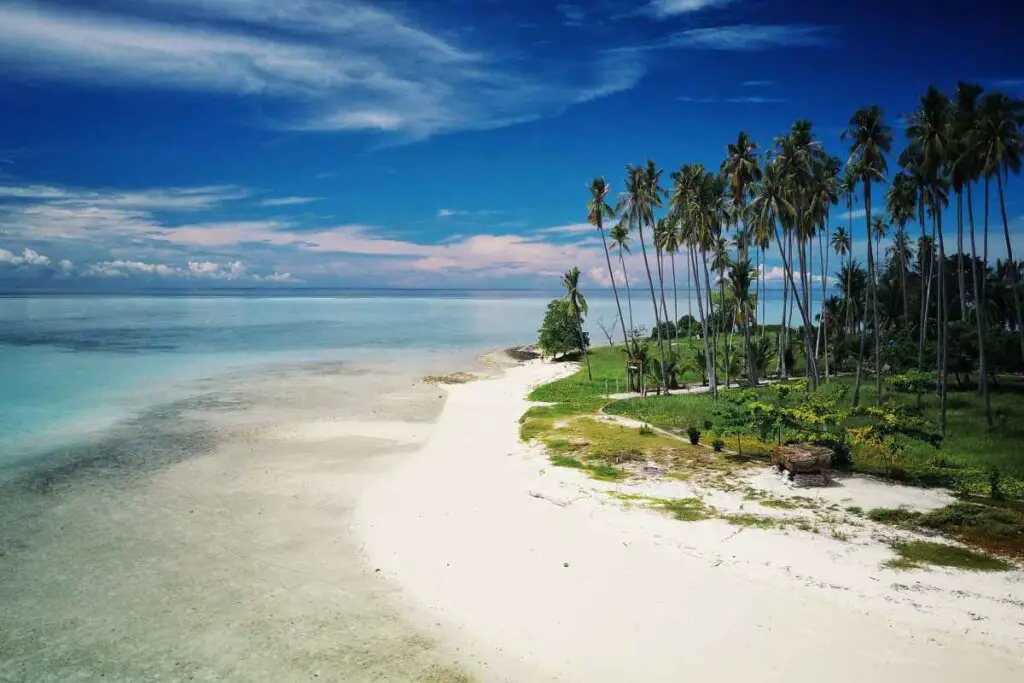 It was not very clear whether to include the Island of Pulau Sipadan in this list of top beaches in Malaysia because it is not a place for everyone. It is not the typical place to go to relax, stay in a spectacular resort (because it doesn't have it, it doesn't even have hotels), and lie under the shade of a palm tree. It is an ideal island to dive and enjoy its seabed. I visited it and fell in love with the first dive, even though I stayed on the Island of Kapalai, which has regular connections with Sidapan.
Sipadan Island is a stunning turquoise gem located deep in Sulawesi. It is a beautiful tourist destination. The Island has an incredibly picturesque tropical reef lagoon and is a popular dive spot where visitors flock for its thriving marine life.
In fact, it was voted 'Top Diving Destination' on Scuba Diving magazine's Gold List, and for a good reason: Hawksbill turtles, mantas, hammerhead sharks, and whale sharks are almost frequent visitors here.
Even the famous underwater explorer Jacques Cousteau called this place a "pristine work of art" in 1989, and thankfully not much has changed since then, for both marine conservationists and hobby divers. Although there are beautiful beaches here, it would be almost foolish not to dive in the waters of Sipadan.
7. Turtle Beach, Palau Besar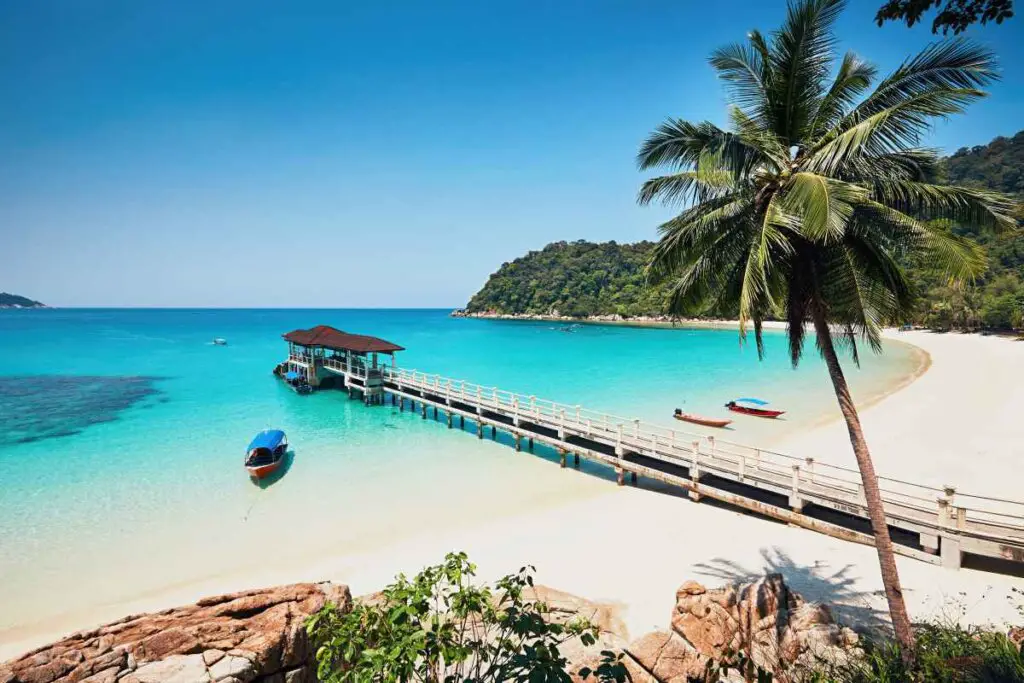 This was my favorite beach of all the Perhentian Islands beaches. The beach is quite long, and the sea looks like a swimming pool. Ah! And on this beach, I was practically alone, with a few couples along the beach. A real luxury.
Right next to this beach, there is another mini beach (mini Turtle Beach) in which there were even fewer people than in Turtle Beach. In addition to how quiet the beach was, I loved it because there were hardly any rocks to bathe on the shore, which, compared to other lonely Perhentian beaches, was appreciated.
Be careful. Although the beach is called Turtle Beach, there are no turtles here. The place from where you can see wild turtles in the Perhentian Islands is Turtle Point.
8. Teluk Nipah Beach, Pangkor Island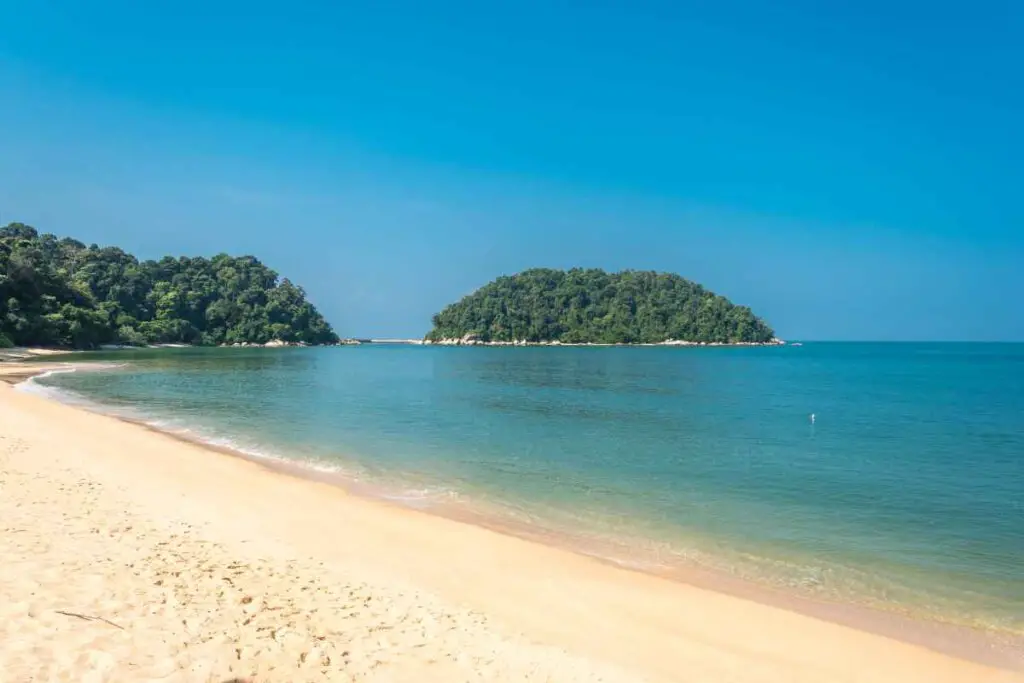 Teluk Nipah Beach is located on the west side of Pangkor Island, which in turn is on the west side of mainland Malaysia.
With soft white sand, palm trees, and warm, clear waters, it is a typical tropical paradise. The beach is lined with seafood restaurants and souvenir shops. From here, you can do any boat or snorkeling excursion.
To avoid the crowds, I recommend heading north around the corner and to a quieter stretch of beach. Here you will find a much more relaxed atmosphere.
Be careful with the marauding monkey troops that steal your food or sunglasses. If there are no monkeys nearby, you can relax. The sea here is generally calm, clear, and warm, and the trees that are home to monkeys and hornbills provide attractive shade.
Getting around Pangkor Island is easy if you know how to drive a motorcycle. There is a main road that surrounds the Island. So if you don't want to rent a scooter, you can take one of the pink minivan-type taxis.
Around this part of the Island, near Teluk Nipah Beach, there is a wide range of hotels and guest houses that can be reached on foot.
Pangkor is often overlooked in favor of east coast beaches, but it is undoubtedly a little paradise and one of the most beautiful beaches in Malaysia.
9. Pentai Cenang, Langkawi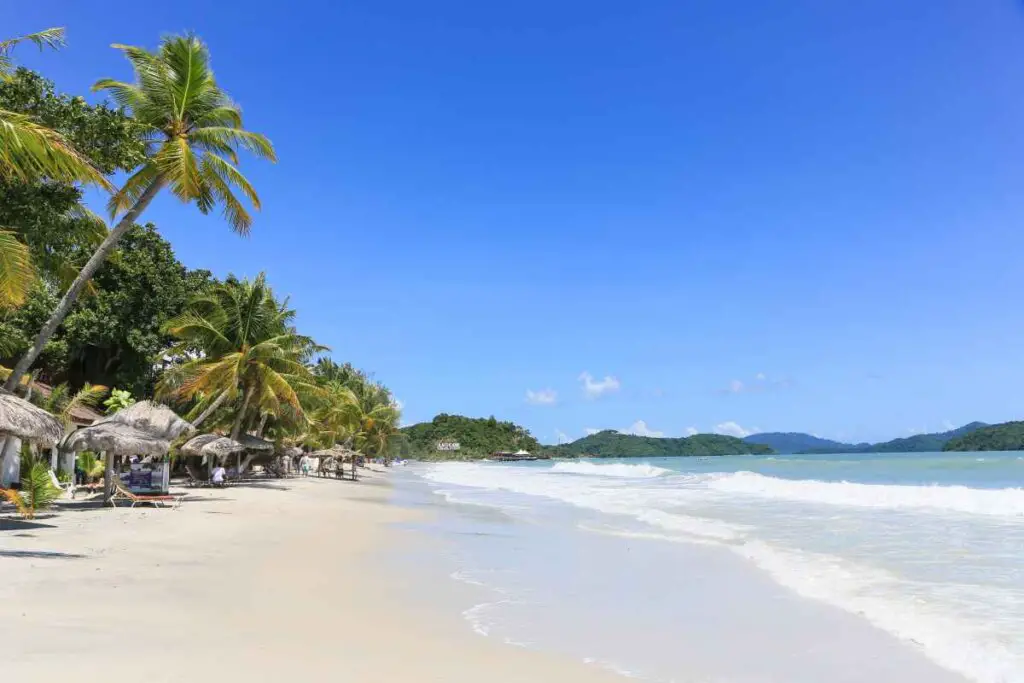 Cenang is located on the west coast of Langkawi, just a 10-15 minute drive from Langkawi Airport. Cenang is one of the most popular beaches in Malaysia and offers many options for accommodation, restaurants, and shops.
Although Cenang is quite a touristy place, it is still a beautiful beach. The beach is long and curved, with white sand over calm emerald blue waters, with several lush islands in the background.
During the day, I saw people enjoying water sports activities, such as banana rides, paragliding, jet skis, and other island excursions that start from here. There are plenty of loungers to rent and vendors selling drinks and snacks.
At night, the beach bars and restaurants are the perfect places to watch the sunset. At dusk, look for the fire dancers who go from bar to bar.
There are many accommodations along Cenang Beach, from budget to luxury. For budget accommodation, I recommend the Malibest Resort where I stayed. It offers great value for money in spacious family rooms, perfect for a family beach holiday in Malaysia. For something more luxurious, I recommend the Meritus Pelangi Beach Resort & Spa.
10. Layang Layang Beach, Sabah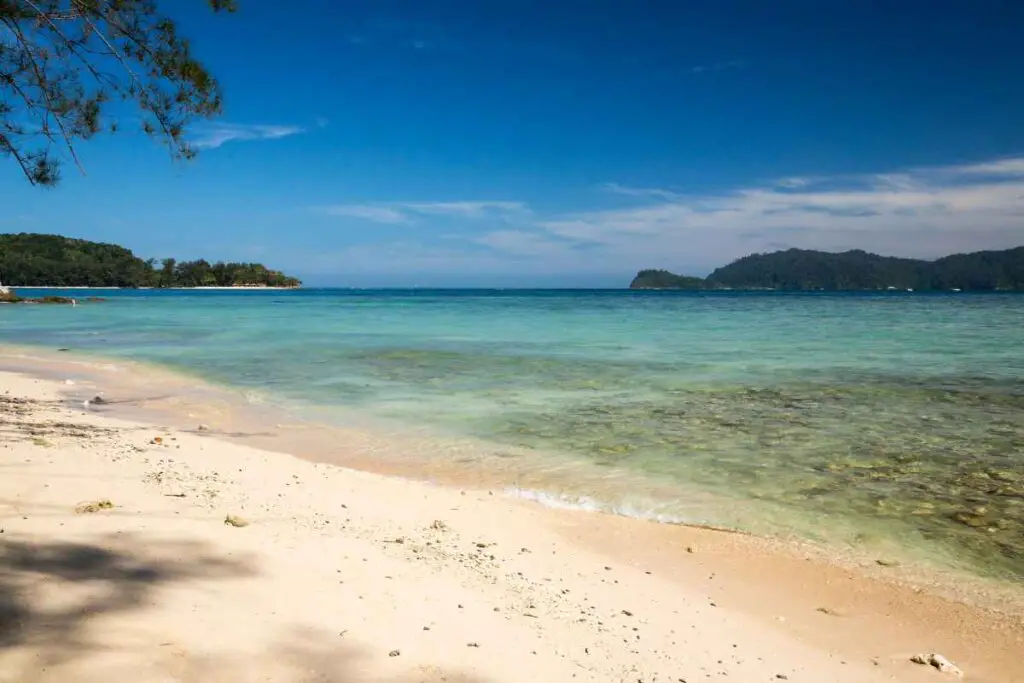 Layang-Layang is another island off the coast of Labuan Federal Territory in East Malaysia, located off the northwestern coast of Kota Kinabalu, Sabah.
On this beach, I felt like I was in the middle of nowhere! Apart from the dive center and the airstrip, there is practically nothing to do on this Island (except diving, snorkeling, or bird watching).
At the other end of the Island, in front of the complex, there is a Malay naval station that serves as an observation and training ground for the Royal Malaysian Navy. Much of the Island is said to have been reclaimed from the sea, so there is no large beach.
You can get to this place on a charter flight from MAS Wings. This Island is in very deep water. The place is practically in the middle of nowhere, and the seawater is very clear and not polluted.
This beach is very similar to the more popular Island of Sipadan, except that this Island is very far away, so there are no fishing boats that pass through here. I found that the aquatic life is very rich, and the corals are in pristine condition.
11. Rawa Island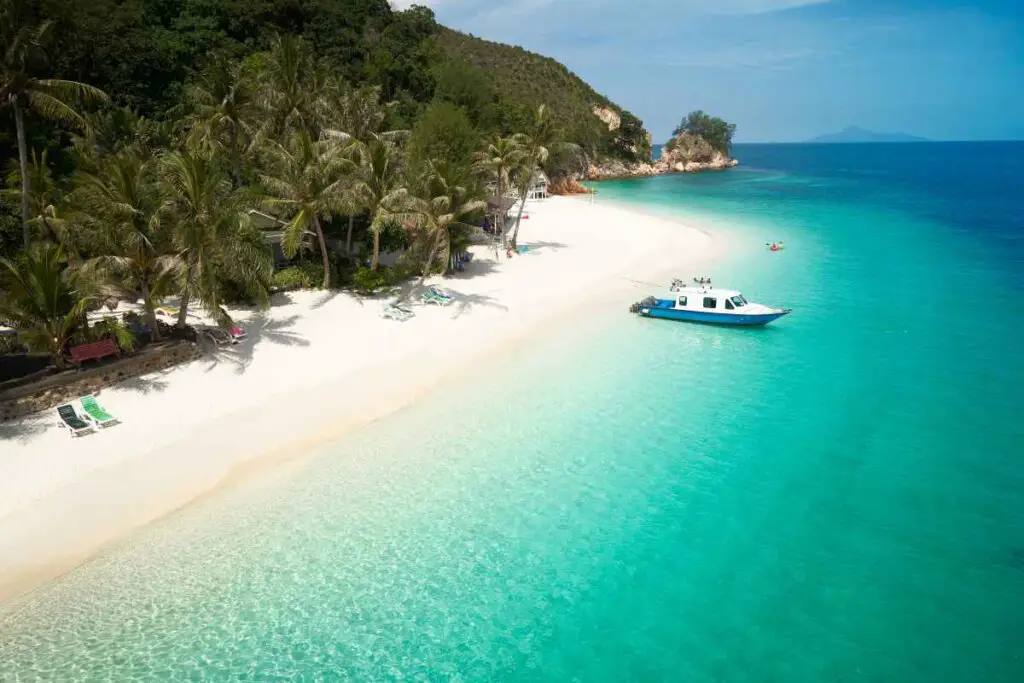 Rawa is known for its incredible coral reefs, which make this place a coveted diving destination. A few years ago, this place was not known. However, due to the strong word of mouth, people from all over the world have started visiting this place for adventure water sports activities.
What impressed me about this beach is its pristine beauty, white sand beaches, vibrant corals, clear waters, and exotic marine life are some of the main features of the Island. White doves (Rawa means dove in the local language), reptiles, sea eagles, jellyfish, octopus, blacktip reef sharks, etc., are some of the species that you can see here.
I reached this Island by ferry from Mersing, which operates daily. Enjoy diving, snorkeling, swimming, beach volleyball, windsurfing, sailing, fishing, canoeing, and sunbathing. It's truly one of the best beaches in Malaysia you should visit.
12. Batu feringhi, Penang Island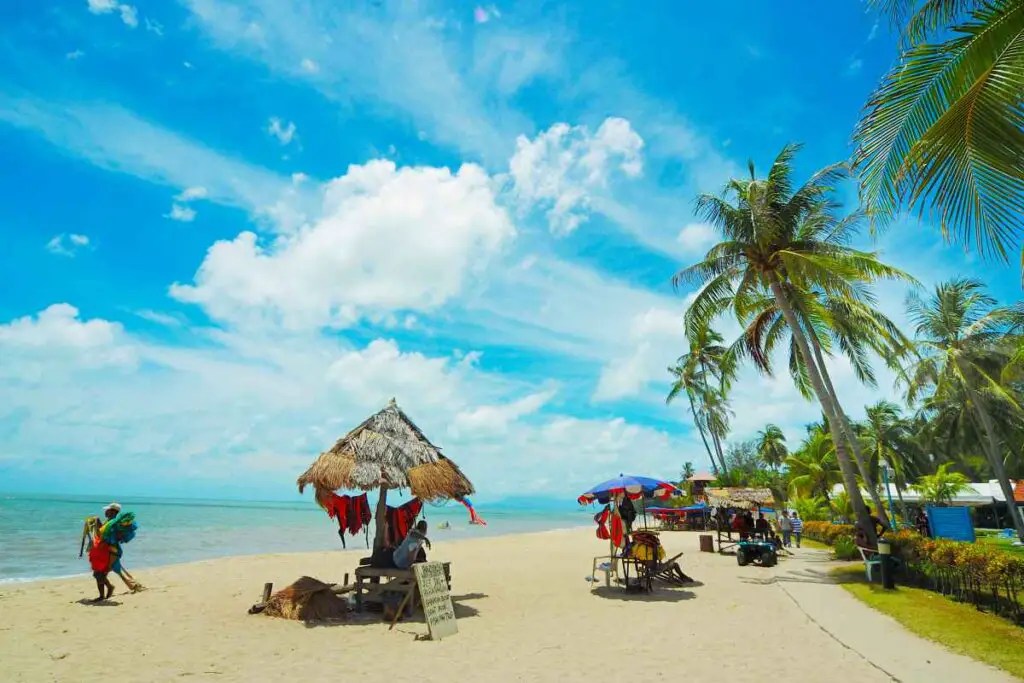 Batu Ferringhi is located on the island of Penang. It is a very popular tourist destination, making it perhaps the most famous beach in Malaysia. There is a great selection of restaurants and shops here, including a great night market.
I found this beach a great place to hang out and enjoy some of the best Malaysian food. I found most of the best hotels in Penang here.
Batu Ferringhi may not have the prettiest beach in Malaysia, but this place has character. Here you can try water sports at a good price, and I recommend that you go parasailing while you are here. I consider this place to be the best beach in Penang, Malaysia.
In summary
I highly recommend getting to know these top beaches in Malaysia, especially if you are a lover of beautiful beaches and love to have contact with nature. If you don't know much about this country yet, it's time to include it in your travel itinerary and get to know everything that I just talked about up close.
Want to explore more beaches in Asia? Check our article 14 Top-Rated Beaches in Asia