France is a travel destination that's always a part of anyone's bucket list. Tourist attractions here date back to the pre-medieval, the medieval, the renaissance, and the contemporary eras. A place where all that you need to see exists – historic temples, old castles, great beaches, A-rated restaurants, star-studded hotels, and top-notch shopping centers.

Previously, I showed you the best ski's in the French Alps. However, after skiing, don't go home yet. Consider touring the entirety of France if you have money to spare. In this article, I'll show you the tourist destination in France that keep tourist coming back for more.
France has a lot of tourist attractions. Nevertheless, you'll find the best in 6 of its major tourist regions – the French Riviera, Corsica, Paris, Provence, and Lorie Valley. Paris is where you go for fine dining and nightlife. The French Riviera and Corsica is the place for French beaches. Loire Valley is for knowing more about French history. And Provence is where the scenic manors or chateau in France dwell.

With that being said, I'll divide this article into headings that will show you the specific attractions that Paris, Corsica, French Riviera, Provence, and Loire Valley have.
• Louvre Museum
• Notre Dame Cathedral
• Sainte-Chappelle
• Eiffel Tower
• Plage De Marenieres in Nice
• Plage De La Mala in Cap-d'Ail
• Plage D'Argent in Porquerolles
• Avignon City
• Gordes Village
• Saint Paul De Vence Village
• Azay Le Rideau
• Chateau de Chinonceau
• Chateau de Cheverny
• Palombaggia
• Porragia Island
• Plage De Saleccia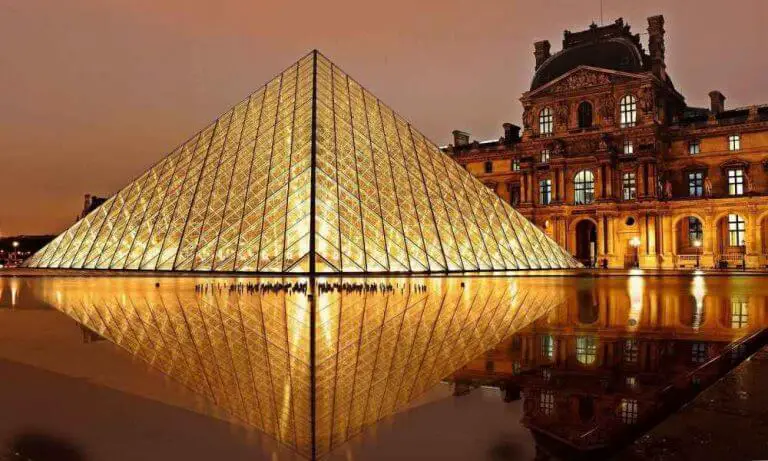 The Louvre Museum is the largest art museum in the world which contains the monumental works of classic painters such as Leonardo Da Vinci, Michel Angelo, Paolo Vero, and Eugene Delacroix. It opened to the public in 1793. However, before becoming a museum, the Louvre served a more significant purpose.

Before the French Revolution, the Louvre served as a palace that became the dwelling place of Philip II, Francis I, and other french kings. Remnants of the Louvre's past as a residence of the nobles are still discernible – renaissance style architectural elements that dominate the floor, the basements, and other locations, which members of the monarchy can afford.

At present, the Louvre Museum now humbly displays a collection of artworks that total 35,000. Due to their sheer number, the museum cannot display all to the public at the same time. Nevertheless, artworks that you should look out for are the Monalisa, Madonna of the Rocks, and the Wedding of Cana.
Notre Dame Cathedral - Paris
The Notre Dame Cathedral holds the record as the most iconic proof of French Gothic architecture excellence. This medieval Catholic cathedral exists to give honor to the Virgin Mary. Builders almost took 2 centuries to finish Notre Dame Cathedral.

The stained glass ceiling, gargoyles, arched windows, and flying buttresses are the architectural features that make Notre Dame Cathedral special. The flying buttresses are notable because their sophistication doesn't seem to match the resources and knowledge of the builders. The gargoyles provide an eery look on the cathedral's topmost facade. The stained glass ceiling and the arch windows make the interior stand out.
The Saint-Chappelle is a 12th-century Gothic chapel that Louis XIV commissioned. The interior of Saint-Chappelle is very iconic, especially the ceiling. The ceiling features a concave construction that has blue and golden hues. These extend to the walls and the foundations, which are visible from the interior, that support the church's entire construction.

Architectural beauty doesn't make Saint-Chapelle highly popular, nonetheless. What makes it a hotspot is its wonderful acoustic that's perfect for holding the violin, piano, and orchestral performances. A lot of professional musicians in Paris have their dreams of performing here, showcasing the music of Mozart, Beethoven, Haydn, Rachmaninoff, and other classical composers.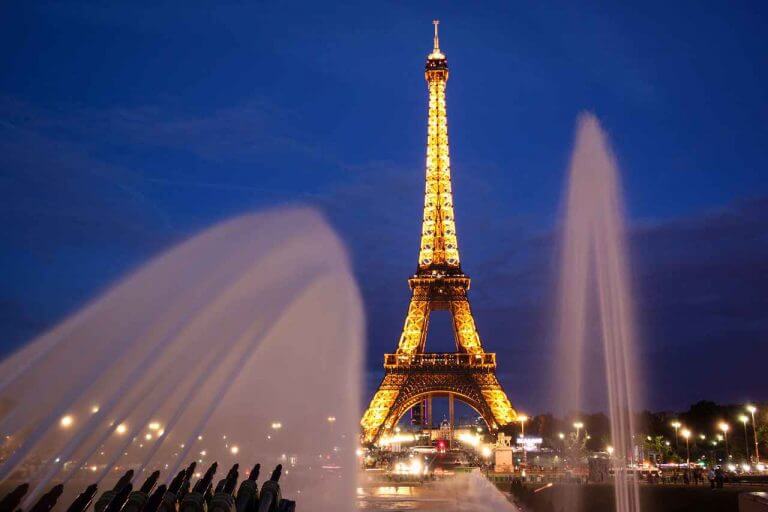 Paris wouldn't be complete without the Eiffel Tower that's on the neighborhood of Champ de Mars. It symbolizes French ingenuity on industrialization; taller than the Statue of Liberty by roughly 700 feet and the Washington monument by roughly 500 feet, the Eiffel Tower is one of the most iconic structures of the contemporary world that 7 million tourists visit.

You can tour the Eiffel Tower with a local guide or with yourself. The first level contains vintage photos of the Eiffel tower that show its construction and development. There's also a restaurant where you can order Parisian classics such as escargot, steak tartare, and onion soup.

The second level is for sightseeing. It provides a panoramic view of Champ De Mars and other nearby neighborhoods, where attractions like the Trocadero Gardens, Arc De Triomph, and Montparnasse Tower situate. The third floor is great for resting. It has a pub that serves rose and white champagne.
Plage De Marinieres - Nice, French Riviera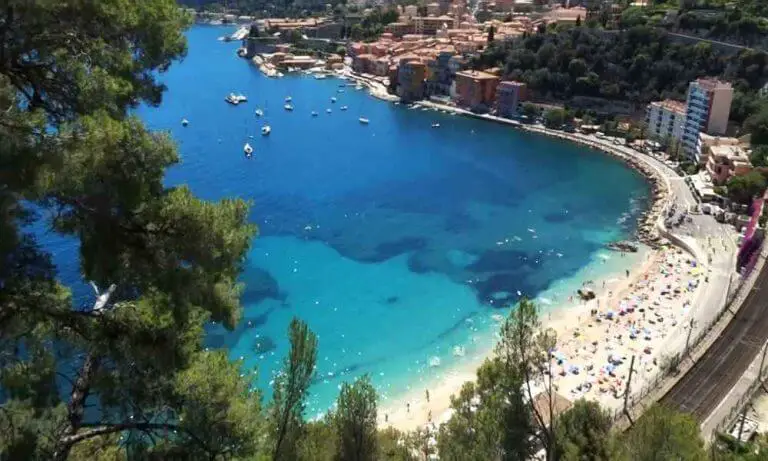 The Plage De Marinieres is a half-kilometer-long beach in front of Nice's Boulevard of Napoleon and south of the bustling town of Villefranche-sur-Mer. Plage de Marinieres is a cheap beach location in Nice accessible by walking from the coast of the Villefranche-sur-Mer or by taking a train. Its signature characteristics are the soft coarse sand and the hilly landscape on its eastern side.

The afternoon is the best time to spend time on Plage De Marinieres if you don't fancy sunbathing, though doing so is good too. Before sundown, the nearby snack bars set up dinner tables on their balconies so that guests can see the sunset while eating.

After spending time here, return to the Villefranche and do a bit of shopping. The town is famous for attractions like Saint Michael's Church, Christ of the Galleys, and an 18th-century organ that's still working at present. Villefranche is also home to numerous hotels that offer cruises filled with fishing and deep-sea diving activities.
Plage de La Mala - Cap-d' Ail, French Riviera
The Plage de La Mala or Plage Mala is a short coarse-sand beach that is part of Cap-d'Ail Bay of Saint Laurette and nestled between two towering building studded rock cliffs. Its secluded setting makes it one of the hidden gems in Cap-d'Ail that all tourists want to visit.

Instead of the usual cerulean hue, the water of Plage Mala has a deep shade of green. Nevertheless, it is quite beautiful. Though not a popular snorkeling spot, Plage Mala serves well for snorkeling due to the calmness of its waters and the presence of wish on the rocky edge of the beach.

A good location for unwinding after sunbathing in Plage Mala is Guitry Park. This is located on the east. To get here, you can call for a taxi or walk your way by traversing the steep steps that lead to the public pathway. Guitry Park provides a panoramic view of Cap-d'Ail's coast. The movement of local boats on the sea is a sight to die for.
Plage D'Argent - Porquerolles Island, French Riviera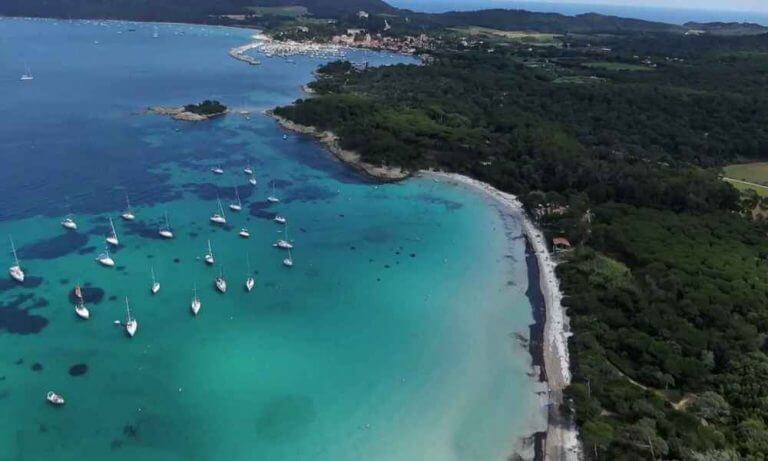 Southeast of Hyena's Fondue ruins is Porquerolles Island that's about 4 kilometers away. Serving as the main harbor and beach of this island is a Plage D'Argent – a famous location for its highly dynamic landscape. Plage D'Argent boasts a verdant field of trees on the back of its shore. And on its shore are terrains of rocks, coarse sand, and white sand.

Plage' D'Argent's water that's near the shore is colorless. It has a glassy look that will let you see the sands underneath. Swimming will be fine. However, you can't head out far because cruise boats fill the deeper parts of the beach. With these cruise boats, you can get a tour to see the scenic views of Hyena's coast and Porquerolles' coast.

Accommodation is limited to simple restaurants and lodges. A restaurant that bears the name of the island is nearby Plage D'Argent. It offers an astounding menu that boasts luscious seafood dishes like stuffed mussels, bourride, matelote, and plateau de fruits de mer.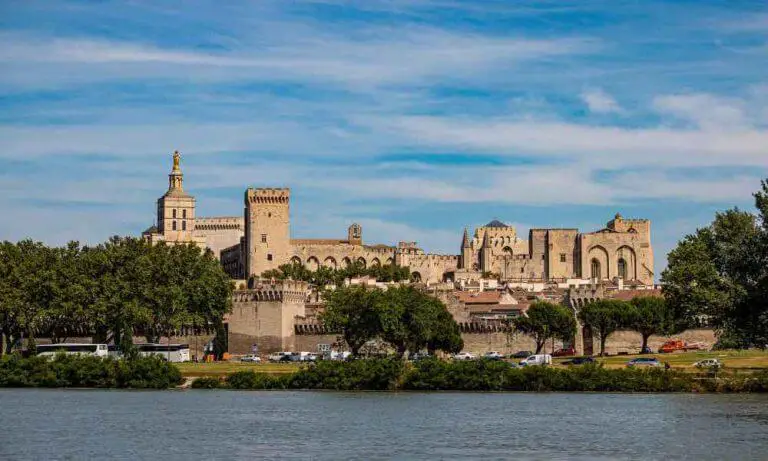 Another city in France aside from Paris is Avignon City – the French City of Popes. Avignon gained this title because it was once a city subject to papal control in the past. Until 1791, 8 popes resided in Avignon. However, the advent of the French revolution diminished papal control in the city and made it part of France.

Avignon is very rich in limestone. Resulting from this is the vast number of limestone structures within the city. These range from historic monuments, hotels and churches. Landmarks that you shouldn't miss are the Romanesque Notre Dame des Domes, the Mausoleum of Pope John XXII, and the 14th century Papal Palace.

The section of the Rhone River that flows through Avignon provides recreation opportunities. You can try the Rhone River cruises. These will let you see the Avignon Bridge, the Papal Palace, and the Pont du Gard. Of course, on its bank are trails for you to traverse with a bike.
Gordes Village - Provence
Gordes Village is France's terrestrial version of the Italian Santorini. Instead of providing a panoramic view of the ocean, it provides a panoramic view of greeneries that stretch far and wide. Gordes Village manages to do this feat because it's atop the foothills of Mount Vaucluse.

Though many people visit, Gordes village chooses to do away with urban developments to preserve what it already has. This isn't a bad decision considering that within it stands buildings that date back to the medieval period and the renaissance period. Historic landmarks here are the Saint Jacques Chaplaincy, White Penitents Chapel, Moullin de Bouillos, and the nearby troglodytes and Bories Village.

Consider going to Gordes Village after Avignon because it's only 2 hours away. Moreover, numerous traditional french restaurants and cafes also operate here. Not to mention, there's also the lodges and inns that provide a wonderful view of the countryside every morning.
Saint Paul De Vence - Provence
Saint Paul De Vence is a village in Provence that greatly uses what it has for tourism. As you stroll around this town, you will see many banners on buildings and locations that explain their important significance. With that being said, if you're looking for an education tour without a tour guide, don't hesitate to enter Saint Paul De Vence's gate.

Significant locations in Saint Paul de Vence are Place De Jeu du Boules, La Porte De Vence, and The Ramparts. The Place De Jeu Du Boules is an old square that legendary painters like Picasso, Martise, and Chagall once visited. The La Porte De Vence is the quickest evidence of Saint Paul De Vence's origin as a fortress. The Ramparts will let you see the olive trees that stud the landscape of the village.

You can arrange tours with Saint Paul De Vence's village office. The tours will take you along historic cafes and shops. Moreover, they will let you explore the surrounding hills.
Azay la Rideau - Loire Valley
Have you ever wondered how a fairy's castle looks like in real life? Try heading to Azay la Rideau, a chateau that extends to England and France at the same time. Azay Le Rideau is famous because at midday, especially when the weather is bright and the environment calm, it looks as if it is standing on the Indre River's surface.

Azay la Rideau is a UNESCO World Heritage site that plays a crucial role as one of France's most monumental buildings. You'll see on the inside is Francis I, Raffin, Vasse, and Biencourt – the previous owners. Objects on the interior range from portraits, antique renaissance desks, knight armors, etc.
Chateau de Chenonceau - Loire Valley
Still dating back to the 16th century, the Chateau de Chenonceau resembles Azay La Ridea, a bit but grander and slimmer in terms of construction. As you head inside, this chateau will be eventually great with its well-trimmed front-yard and a picturesque driveway lined with hedges.

The interior is twice as impressive. Spots that you'll greatly appreciate are the drawing-room, the wine cellar, and the second-floor hall. The wine-cellar has a very ancient vibe, and it drowns all sounds within. The drawing-room once served as the study of Francois I. The second-floor hall has wonderful aesthetics, and its ceiling is shaped in an arch.

Nevertheless, the river that runs under Chateau de Chenonceau's bridge is the primary reason for a wonderful trip. The river is a famous picture-taking spot and a hiking destination for tourists. It's not certain, but some tourists claim that the river also caters to kayak fishing and canoeing.
Chateau De Cheverny - Loire Valley
The Chateau De Cheverny is only two hours away from the city of Paris by train. As a result, those tired of the bustling Parisian scene opt to visit. Its facade's salient feature is the domelike roofing that's aesthetically arranged to go with the exterior walls that bear arched window frames.

Aside from strolling in the magnificent interior where the portraits of Jeanne D' Aragon, Marie Johanne La Saumery, and Maurice Quentin de la Tour hang, you can also opt to stay the night in Chateau de Cheverny. Though not cheap, designated suites of the chateau let you experience the noble lifestyle. Of course, food is included that comes directly from Chateau De Cheverny's classy inside restaurant.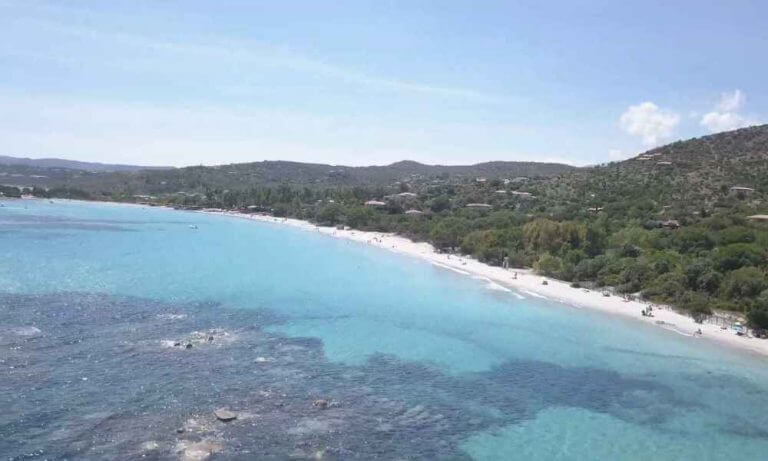 Palombaggia features 1.6 kilometers of fine white sand that doesn't have any amenities like cottages or beachside recliners that destroy the natural view. In here, all that you will see is an infinite strip of white sand that complements the majesty of the calm cerulean sea.

Swimming isn't a problem in Corsica because there's a lot of space to take a dip even if boats are around. Moreover, lifeguards are constantly on the move to keep everyone safe. If you plan to rent a car to access this beach, be sure to come early because the parking space is limited. Specifically, you must arrive before 9:00 or 10:00 a.m.
Poraggia Island - Corsica
The Poraggia Island is a famous holiday spot for the French who live in Corsica. It's famous for its windy environment and highly vibrant seas. Moreover, numerous establishments on it offer cheap rentals of boats and diving equipment. Nevertheless, what makes Poraggia Island very famous is the guided Segway tours that will take you along the beaches of Poraggia and its infamous coastal lighthouse.
Plage de Saleccia - Corsica
The 1 kilometer long Plage de Saleccia is a go-to if you're looking for a rustic beach that doesn't have any nearby establishments. However, most agree that the presence of numerous boats makes Plage de Saleccia special. Instead of swimming or walking along the beach, try fishing because boat rentals and fishing equipment rental are free. Moreover, some local hobbyists are kind enough to take you along with them.