If you're looking for a vacation destination that offers amazing culture and history, Siem Reap is the perfect spot. Home to some of the most iconic tourist attractions in the world, Siem Reap is a must-visit destination for any traveler. From ancient temples to thrilling nightlife, these are the 7 Best Things to Do in Siem Reap that you don't want to miss.
Things to Do in Siem Reap
1. Visit Angkor Wat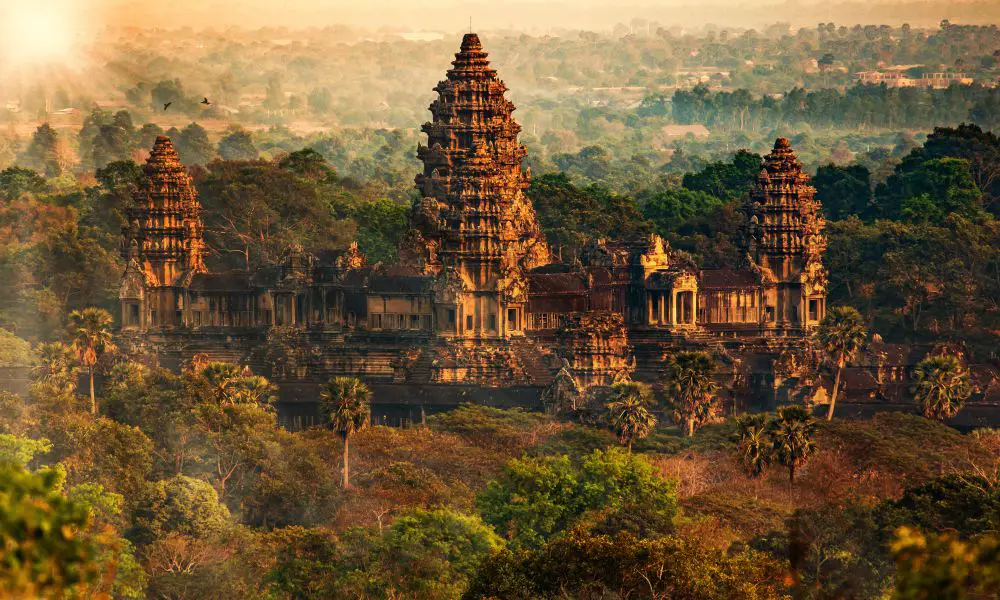 No list of Siem Reap tourist attractions would be complete without mentioning Angkor Wat. This is, without a doubt, the most popular attraction in the city, and for a good reason.
Angkor Wat is one of the largest and most stunning temples in the world, and it's an absolutely must-see for anyone visiting Cambodia. The temple was built by King Suryavarman II in the early 12th century as the state temple of the Khmer Empire, and it's believed that around 30,000 people worked on its construction.
The temple features an impressive five towers, which represent the five peaks of Mount Meru, a sacred mountain in Hindu mythology. The walls and towers are decorated with intricate carvings and bas-reliefs, which depict scenes from Hindu mythology and the history of the Khmer Empire.
Angkor Wat was originally surrounded by a moat, which has since been filled in. There was also a wooden bridge leading to the temple, but this no longer exists either. Visitors can now walk around the entire structure that leads through multiple courtyards.
In 1992, Angkor Wat was named one of the New 7 Wonders of the World, and it's considered by many people to be one of Asia's most famous attractions. So it's well worth spending a few hours exploring its grounds, but make sure to bring plenty of water, though, as it can get quite hot.
2. Visit Ta Prohm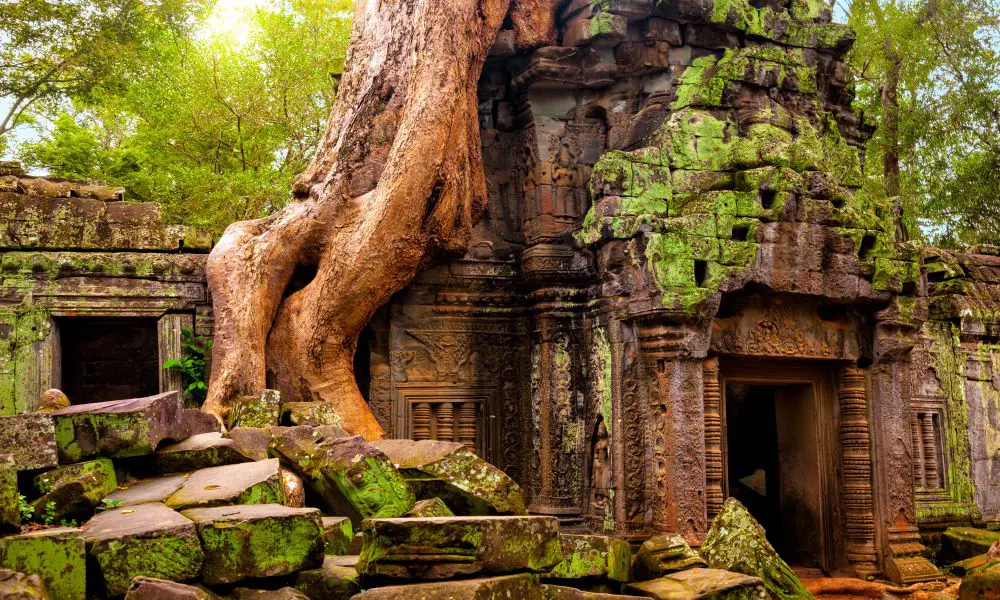 If you want to experience the magic and mystery of Angkor Wat, then you need to visit Ta Prohm. This temple was originally built in the late 12th century as a Buddhist monastery. But today, it's one of the most popular temples in Angkor, thanks to its well-preserved jungle setting.
Ta Prohm has been left largely unrestored since it was discovered by French explorer Henri Mouhot in 1860. This means that the temple is now enveloped by the jungle, with huge vines and trees growing out of the ruins. It's an amazing sight, and it feels like you've stepped back in time.
There are a number of great photo opportunities at Ta Prohm, so make sure you take the time to explore the temple with your camera. You can also climb some of the small structures in order to get a better view of Ta Prohm.
One of my favorite things about this temple is that it's one of the few places where you can really appreciate how beautiful and serene Angkorian temples were. It makes me wish I could transport myself back in time and experience what life was like at Angkor Wat during its heyday!
Most people visit Ta Prohm as part of a day tour of Angkor Wat, but I recommend spending a bit more time here to really appreciate this temple. I think it's one of the best things to do in Siem Reap. And if you have a whole day available to explore Ta Prohm and the other temples nearby, then you won't regret it.
3. Visit Angkor National Museum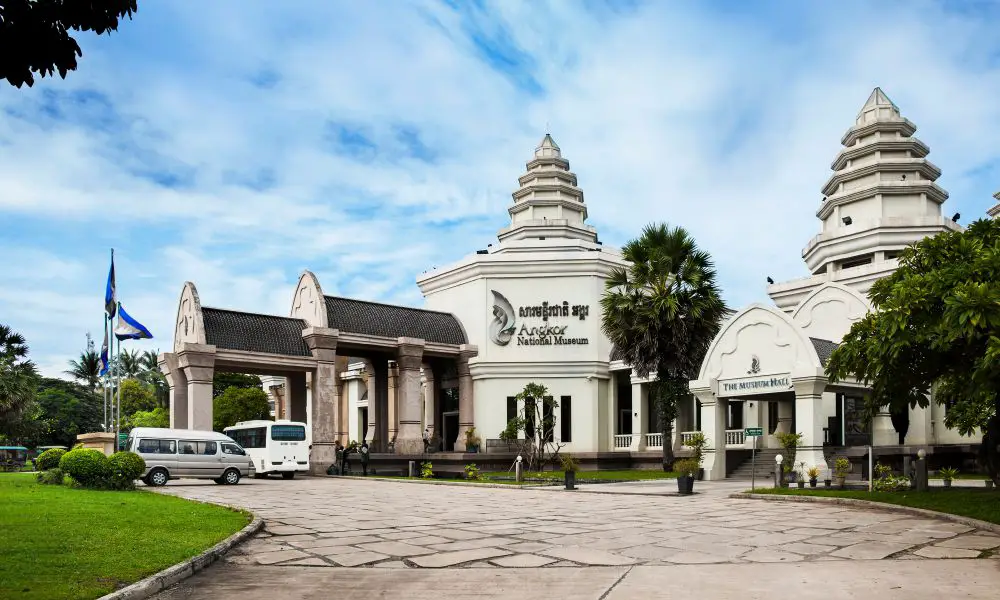 If you want to learn more about the history and culture of Siem Reap and Angkor Wat, then I recommend visiting the Angkor National Museum. This museum is dedicated to the study and preservation of Angkorian artifacts, and it's one of the top tourist attractions in Siem Reap.
Inaugurated on November 12, 2007, by King Norodom Sihamoni, the museum building itself is a work of art, being constructed in the style of a traditional Khmer temple. It also features a traditional Apsara roof and is surrounded by lush gardens.
Inside the museum, you'll find an amazing collection of sculptures, paintings, and other works of art from the Angkor period. These artifacts are some of the most beautiful pieces you'll find anywhere. There are also displays on the history and culture of Cambodia, as well as a section on the civil war that ravaged the country in the 1970s.
One of my favorite things about this museum is that it provides information about how modern Cambodians see themselves in relation to their ancient ancestors. It's a great way to learn more about this fascinating country.
There are also some great interactive displays that allow you to "walk through" an Angkorian temple, plus a 4D movie theater with shows on both Angkor and contemporary Cambodian life. All in all, a visit to this museum is definitely one of the best things to do in Siem Reap!
4. Visit Landmine Museum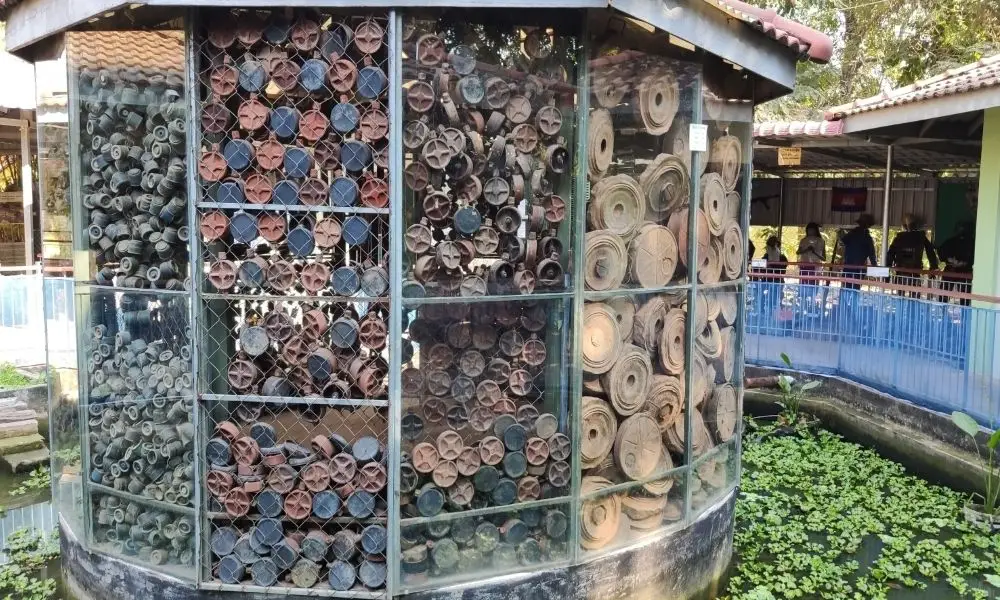 If you're interested in the more dark and tragic side of Cambodian history, then I recommend visiting the Landmine Museum. This museum is dedicated to raising awareness of the dangers posed by landmines, which continue to maim and kill people in Cambodia to this day.
The museum was founded by Aki Ra, a former child soldier who lost his limbs to landmines. Since its opening in 1997, the museum has helped clear over 16,000 mines and educate thousands of people about the dangers of these weapons.
This museum offers you an interactive experience where you can see first-hand what life is like for those who live and work in areas still affected by mines and other Unexploded Ordnance (UXO). There's also a research station that uses advanced technology to locate and deactivate mines. The researchers at this center have helped reduce the number of accidents caused by landmines, but their work is far from over as there are still hundreds if not thousands spotted throughout Cambodia.
It's estimated that there were around 4 million landmines still buried in Cambodia as recently as 2002, which resulted in over 40,000 casualties during the previous two decades. The removal process is slow, arduous, and dangerous, and there's no way to tell how many mines remain in Cambodia today.
These weapons continue to pose a threat, so if you're planning on visiting the countryside outside of Siem Reap town, then please be aware of where you step. I would personally avoid wandering off any trails in rural areas and sticking to the roads whenever possible.
5. Visit Banteay Srey Butterfly Centre
Located in the north of the city, this butterfly park is also one of the best tourist attractions in Siem Reap. It was created to preserve and study various Cambodian butterflies and also aims to raise awareness about the need for conservation.
So what can you expect when you visit? Well, there are two main parts to Banteay Srey Butterfly Centre; the outdoor "forest" area and the indoor exhibition hall. Within these areas, you can find more than 500 different species of butterflies from all around Cambodia. There are even some endangered ones on display here too, so it's a great place if you want to learn more about Cambodian wildlife.
While you walk around, you'll be surrounded by thousands of colorful butterflies flying all around you. It's a very surreal but beautiful experience that will make you feel like you've entered a dream world.
I should also mention that you don't need to be an insect lover to enjoy it here. Actually, I'm not fond of butterflies at all. But still, I thought it was really interesting to learn about them and their life cycle first-hand. It's definitely worth a visit if you want to find out more about Cambodian wildlife and/or see an array of colorful insects up close.
6. Phare, the Cambodian Circus
Attending the Phare Ponleu Selpak show is one of the best things to do in Siem Reap for anybody visiting this part of Cambodia. This unique circus was founded in 1994 to help young people affected by the Khmer Rouge regime. This organization helps young Cambodians develop self-esteem through art and performance. They also provide an important education for many young people who would otherwise be deprived of such opportunities.
The show features a mix of traditional circus skills and modern dance and theater, all performed by talented young artists. The themes of the show are based on the stories and experiences of the performers, and it provides a powerful insight into the culture and history of Cambodia.
What I love about Phare is that it provides an opportunity for young Cambodians to express themselves and share their culture with the world. It's an amazing experience to see these talented artists perform, and I guarantee you won't be disappointed!
In addition to the main show, there are other things you can do here as well. You can try your hand at some traditional Cambodian circus skills yourself, such as a stilt walk or a trapeze, or take part in a workshop where you'll learn more about Cambodian culture through dance and theater. Plus, there are plenty of places where you can sit down for a good meal before or after the show.
7. Kulen Nature Trails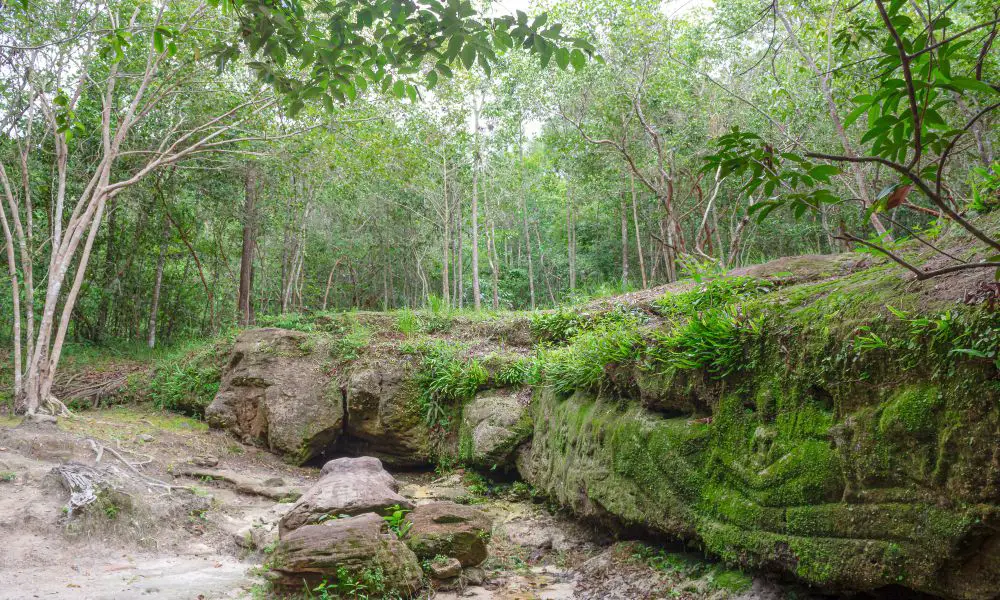 One of the most spectacular natural attractions in Siem Reap is the Kulen Nature Trails. This ecotourism site is located just 45km from Siem Reap and can be easily visited as part of a day trip from your hotel in town.
There are many different types of ecosystems here, including lowland evergreen forests, grasslands, and areas where waterways have formed a mixture of swamps and other habitats. However, the highlight of this place is the Phnom Kulen Waterfall. 
There are several trails leading up to the waterfall, so you can choose the one that best suits your level of fitness and experience. The hike can be quite challenging in some parts, but it's definitely worth it when you reach the end. And once you reach the waterfall, you can enjoy a swim in the cool pools or relax on the rocks overlooking the river below.
Kulen Nature Trails is a great place to spend a day if you want to get away from the hustle and bustle of the city and enjoy some peaceful natural surroundings. It's definitely one of the top tourist attractions in Siem Reap that shouldn't miss on your list of things to do in this town.
In summary
Siem Reap is a popular tourist destination, not just in Cambodia but around the world. The city has so much to offer for travelers of all interests and budgets. With world-class restaurants and some of the best tourist attractions in Cambodia, there's no end to what this city has to offer. I hope that these 7 top tourist attractions in Siem Reap will help make planning a trip easier.