Milan, the fashion and design capital of Italy, is a city that should be on everyone's travel bucket list. This is where you'll find some of the world's most iconic fashion brands, as well as cutting-edge designs.
But Milan is much more than just a fashion mecca. It's also home to world-renowned art and architecture, delicious food, and a vibrant nightlife scene. And while there are many amazing attractions to visit in Milan, I've narrowed it down to 23 of the top ones. So without further ado, here are the best things to see and do in Milan.
Things To Do In Milan
1. Milan Cathedral (II Duomo)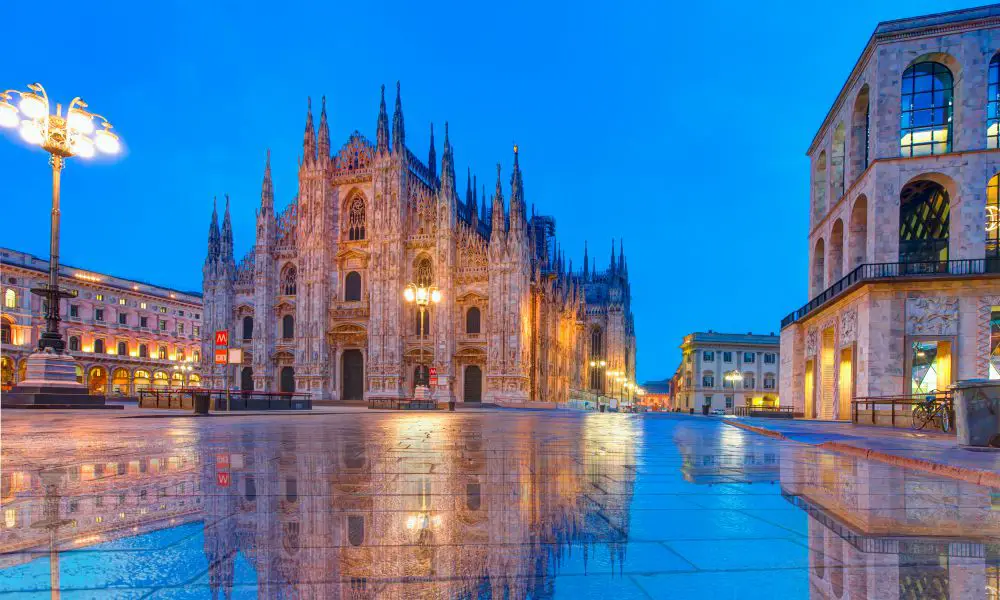 Milan Cathedral, or the Duomo as it's called in Italian, is one of the first things you'll see when you arrive in Milan. It's an imposing Gothic cathedral that took over six centuries to build and is the fifth largest church in the world. Its construction began in 1386 and wasn't completed until 1965.
Today, this cathedral is one of the most iconic symbols of Milan and is a must-visit for any traveler. It's a Gothic masterpiece with over 3,400 statues, 135 spires, and 2,245 stained glass windows. And with all these, it's one of Europe's most intricate and beautiful cathedrals.
The cathedral's interior is just as impressive as the exterior, with its sumptuous naves and columns, marble floors, and magnificent altars. And don't forget to check the tombs of Milan's archbishops located in the crypt.
If you want to get a panoramic view of Milan, you can do so by taking a lift to the top of the cathedral's rooftop. From here, you'll have breathtaking views of Milan's skyline and its surrounding mountains. All in all, this is one of Milan's top attractions and a must-see for any first-time visitor.
2. Santa Maria Presso San Satiro
While Milan Cathedral is the most famous church in Milan, Santa Maria Presso San Satiro is considered by many to be the most beautiful. This church was built in the 15th century on the site of a much older church that dates back to the 9th century.
The highlight is the illusionistic Perspective Chapel, a trick that architect Donato Bramante used. This chapel makes use of an optical illusion to make it appear much larger than it actually is. As you walk in, it seems to get larger and larger until you reach the altar, where it appears to be twice as large as it is in reality. It's a truly amazing feat of engineering and art, and it's definitely one of the unique things to see in Milan.
3. Shop at the Quadrilatero d'Oro
Do you love high-end fashion? Then, you need to include a shopping spree in Milan's Quadrilatero d'Oro, the most prestigious shopping street in Milan, on your things-to-do list. This area is home to the most important fashion brands in the world, including Prada, Gucci, Versace, Armani, Valentino, and many others. But this doesn't mean that it's only for those who can afford designer clothes.
Milan's Quadrilatero d'Oro is also the perfect place for a spot of window shopping. Walking around and admiring the shop windows is an experience in itself, especially during the festive season when they are all decked out in their finery.
Other shopping streets worth visiting are Via della Spiga, Via Sant'Andrea, and Via Montenapoleone. So Plan a day (or half a day) to shop and bring home some fabulous Italian designer clothes, shoes, and accessories. After all, this is one of the most famous things to do in Milan for shopaholics!
4. Sforza Castle (Castello Sforzesco)
Sforza Castle is one of the largest castles in Europe and one of the most popular tourist attractions in Milan. It was built in the 15th century by Francesco Sforza and was originally a fortress but later converted into a luxurious palace.
The castle complex covers an area of 26 hectares and includes several museums and art galleries. The main attractions are the Museum of Ancient Art, the Museum of Musical Instruments, the Armoury, and the Egyptian Museum.
You can also visit the apartments which were once occupied by famous Milanese families such as the Visconti and Sforza. Each apartment is decorated in a different style reflecting the taste of its former occupants.
If you're interested in visiting Sforza Castle, you can purchase tickets on the official website. There are also a number of guided tours available, which include visits to the museums and apartments.
5. Museo Bagatti Valsecchi
This is another one of Milan's tourist places that is often overlooked but that I think is really worth a visit. This 19th-century building was once the home of two Milanese brothers who were art collectors. The Bagatti Valsecchi brothers were fascinated by the Renaissance period and decided to recreate the atmosphere of that time in their own home.
The result is a real jewel: every piece of furniture, every painting, and every detail has been carefully chosen to transport visitors back in time. Highlights include paintings by renaissance masters, furniture, tapestries, books, glassware, children's items, and much more.
Unlike many museums, you can follow the collection chronologically as you move from room to room. This makes it easy to understand the development of art and Milanese culture over time.
6. Pinacoteca di Brera
Milan's main art gallery, Pinacoteca di Brera is one of the most famous things to see in Milan for art lovers. It is considered to be one of the most important art collections in Italy.
The Brera Art Gallery was opened to the public in 1809 and is located in the Palazzo Brera. This beautiful palace was once a Jesuit college and part of a larger complex that also included an astronomical observatory.
The Pinacoteca di Brera houses a large collection of paintings from the 14th to the 20th century. The works are divided into several rooms, each with a specific theme. You can find masterpieces by great artists such as Raphael, Caravaggio, Mantegna, and Canaletto. One of the most famous paintings is The Kiss by Francesco Hayez. This work dates back to 1859 and is considered the symbol of Italian Romanticism.
If you love art, a visit to the Pinacoteca di Brera is one of the best things to do in Milan. Tickets cost about $15 for adults, but there are several discounts for students and seniors. You can buy your tickets online on the official website of Pinacoteca di Brera.
7. Catch a Show at La Scala Opera House
Milan's La Scala is one of the world's most prestigious opera houses. Founded in 1778, it has been the venue for many of the greatest singers and musicians over the last two centuries, including Maria Callas, Giuseppe Verdi, Toscanini, and Arturo Toscanini.
The theatre is located on Piazza della Scala, a large square in Milan's central business district. This neo-classical theatre was designed by Giuseppe Piermarini and can seat over 2,800 people.
Although La Scala is most famous for its operatic performances, it also stages ballets and symphony concerts throughout the year. If you're interested in attending a performance, tickets go on sale about a month in advance and can be purchased online or at the box office.
If you can't get tickets to a performance, you can still visit the theatre, which is open daily to the public. You can take a guided tour which includes a visit to the dressing rooms and stage area, or simply explore the theatre on your own.
8. The Last Supper (Cenacolo Vinciano)
Next on my list of the top tourist attractions in Milan is, without a doubt Leonardo da Vinci's world-famous painting of The Last Supper. Painted between 1495 and 1498, the mural is a masterpiece of Renaissance art, located inside the refectory of the Convent of Santa Maria delle Grazie.
The painting depicts the final moments before Jesus Christ was betrayed by one of his disciples, as told in the Bible's Gospel of John. Da Vinci's work is particularly notable for its use of perspective and light, as well as the artist's innovative technique of painting with oil on a drywall surface.
Although the painting has been restored several times over the centuries, it is still in danger of deteriorating due to the effects of humidity and pollution. As a result, only a limited number of visitors (only 30 people every 15 minutes) are allowed to view the painting each day, and tickets must be reserved well in advance. Also, remember you need to present your ticket to enter the church 15 minutes before your allotted time slot.
If you can't get tickets to see the painting, you can still visit the refectory where it is housed. The building is a masterpiece of gothic architecture and itself worth a visit.
9. Visit the Cimitero Monumentale
For many people, visiting a cemetery might not be the first idea that comes to mind when thinking about what to do in Milan. Of course, it's not everyone's cup of tea. But Milan's Cimitero Monumentale is definitely worth a visit, even if you're not particularly interested in cemeteries. This is because it's more like an open-air museum, with beautiful sculptures and interesting tombs.
This cemetery was established in 1867 and is home to more than 800 graves. Walking around the cemetery, you can see the evolution of Milanese funeral art, from the Neo-Classical style of the early 19th century to the Art Nouveau of the early 20th century. And remember that it's here where most of Milan's influential families are buried. So, it's a great way to get an insight into Milan's history and culture.
10. Poldi-Pezzoli Museum
Founded in 1881 by the Milanese collector Gian Giacomo Poldi-Pezzoli, this museum has the most important art collections in Milan. This museum is located in an elegant old patrician house and houses a collection of paintings, furniture, tapestries, and ceramics.
But the main attraction of this museum is undoubtedly the paintings. The collection includes masterpieces by Botticelli, Caravaggio, Mantegna, Guardi, Piero della Francesca, and many other Italian painters from the 14th to the 18th century. 
Although this museum has an impressive collection of Italian Renaissance paintings, the real highlight is the collection of arms and armor. It's one of the largest and most important private collections in the world, with over 1000 pieces of armor and weapons. So, if you're interested in this kind of stuff, make sure to add a visit here to your list of things to do in Milan.
11. Tour the AC Milan San Siro Stadium
Milan is well known for being the home of two of the most successful football teams in Italy, AC Milan and Inter Milan. And their stadium, the San Siro, is a must-see for any football fan.
Milan's San Siro stadium is one of the largest in Europe, with a capacity of over 80,000 spectators. It's also one of the most iconic, with its distinct Milanese architecture. The stadium has been home to AC Milan since 1926 and to Inter Milan since 1947. It's also been the venue for many international football matches, including the UEFA Champions League final in both 2010 and 2016.
You can take a tour of the stadium to learn about its fascinating history and see behind-the-scenes areas that are usually off-limits to the public. The tour includes a visit to the locker room, the press room, and the VIP area. You'll also get to go on the pitch itself and sit in the stands.
If you want to take a photo with Milan's trophies, you can do so at the on-site museum, which is located inside the stadium. The museum chronicles the history of both AC Milan and Inter Milan, with exhibits on their most iconic players and moments.
The San Siro stadium is one of the most famous attractions in Milan today due to its rich history and stature as a mecca for football fans. And if you find yourself in Milan during a match, don't miss the opportunity to experience the electric atmosphere.
12. Galleria Vittorio Emanuele II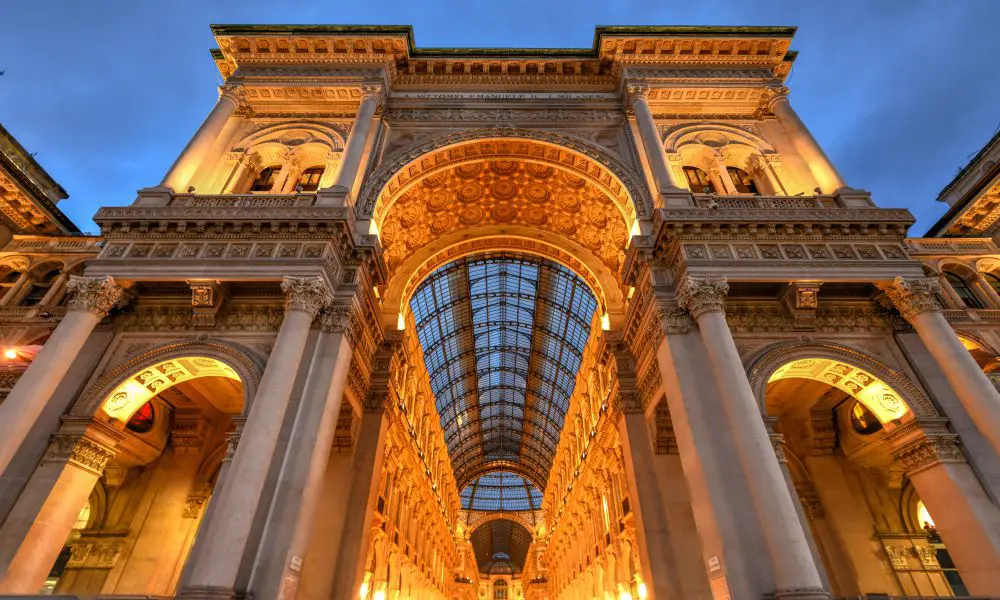 Galleria Vittorio Emanuele II is a glass-roofed shopping gallery located in Milan's central business district. It is one of the world's oldest shopping malls and a popular tourist attraction in Milan.
The gallery was built between 1865 and 1878 to connect the city's two main landmarks, the Piazza del Duomo, to the Teatro alla Scala. It is named after Vittorio Emanuele II, the first king of Italy.
If you're interested in doing some shopping while in Milan, Galleria Vittorio Emanuele II is the perfect place to start. The gallery is home to high-end stores selling luxury brands as well as more affordable shops and cafes. You can also take a break from shopping and enjoy this unique mall's beautiful architecture and atmosphere.
13. Leonardo da Vinci National Museum of Science and Technology
Milan is the city of Da Vinci, one of the most prolific inventors and geniuses of all time. In his lifetime, he was appreciated as an artist, but it was only after his death that his full potential as an inventor and scientist was revealed.
The Leonardo da Vinci National Museum of Science and Technology is one of the best things to see in Milan for anyone interested in Da Vinci's life and works. The museum has an impressive collection of his original machines, sketches, and models.
You can see his inventions for war machines, flying machines, hydraulic pumps, and much more. Many of his ideas were way ahead of their time and only possible to build with modern technology. There are also interactive exhibits where you can see how some of his machines would have worked.
Allocate at least 2 hours for your visit to the museum. You can buy tickets online in advance or at the ticket office on the day.
Naviglio Grande is Milan's most beautiful canal and one of the best places to see in Milan. It used to be an important trade route, and you can still see some of the old warehouses that have been turned into restaurants and bars. The best time to visit is in the evening when the restaurants and bars are open, and the atmosphere is really relaxed. You can just wander around and enjoy the views or stop for a drink or dinner. So if you're looking for things to do in Milan at night, this is definitely one of the best places to go.
15. Sant'Ambrogio Basilica
The Sant'Ambrogio Basilica is one of the oldest churches in Milan. It was built between 379 and 386 A.D. by Saint Ambrose, the patron saint of Milan. But the basilica you see today was built in the 12th century and is the perfect example of Lombard Romanesque architecture.
The first thing that strikes you when you see the exterior of the church is its large portico, a traditional Milanese portico. The interior of the church is also very beautiful, with its pulpit with late Romanesque carving, the casing (paliotto) of the high altar, and the richly carved 4th-century Stilicone sarcophagus.
The basilica is near Quadrilatero Della Moda, Milan's fashion district. This is Milan's most exclusive shopping area, with all the high-end fashion brands. So, if you're looking to do some shopping, this is the perfect place.
16. Explore Brera District
Brera is one of Milan's most atmospheric and charming neighborhoods, perfect for strolling around and doing some shopping. This area is full of narrow streets lined with cafes, bakeries, art galleries, and boutiques.
The best way to explore Brera is to get lost in its narrow streets and just take in the atmosphere. If you want to do some shopping, make sure to check out some of the boutiques selling Milanese fashion and design, as well as the many antique shops.
When you need a break from all the walking, stop for a coffee or a bite to eat at one of the cafes lining the streets. In the evening, Brera comes alive with people heading to its many bars and restaurants. So if you're looking for fun things to do in Milan that will give you a taste of the local lifestyle, make sure to add Brera to your list.
17. Palazzo Reale
Milan has always been a city of art and culture, as well as a major economic center. This is evident in its many splendid palaces, and one of the most beautiful being Palazzo Reale. Also known as the Royal Palace of Milan, this establishment was built in the 17th century and was the seat of the Milanese rulers.
Today, it is home to important art exhibitions and one of the most-visited tourist attractions in Milan. It regularly holds exhibitions of modern and contemporary art, as well as exhibitions of ancient art from all over the world. They do this by collaborating with other museums and cultural institutions. You can check their upcoming exhibitions and buy your tickets on the Palazzo Reale website.
18. Parco Sempione
After a day of Milan sightseeing, you can relax in the green oasis of Parco Sempione. This large city park covers an area of 95 acres and was established in the late 19th century. This is a nice place to stroll, jog, picnic, or take a break from the city.
In the park, you'll find the Arco della Pace (Arch of Peace), a monumental arch built in 1807 to celebrate the French victory at the Battle of Austerlitz. The arch was damaged in WWII but later restored. It's now a popular meeting place for locals. Another Milan attraction in the park is Torre Branco, a 108.6-meter high Milanese Tower built in 1933. You can climb to the top for great views of Milan.
During summer, the park comes alive with open-air concerts and festivals. This is the perfect time to visit if you want to experience the Milanese lifestyle.
19. Enjoy Milan's Nightlife
Milan's nightlife is world-famous and a big part of what makes the city so special. From chic cocktail bars to thumping clubs, there's something to suit every taste, and you can bet that the Milanese know how to party.
If you're looking to start your evening in style, head to one of Milan's many aperitivo bars. Aperitivo is a Milanese culture and basically involves drinking cocktails and eating buffet-style food. This is the perfect way to line your stomach before a big night out.
Once you've had your fill of cocktails, it's time to hit the clubs. Milan is home to some of Italy's best nightclubs, including Bobino Milano, Club Haus 80's Milano, and Gattopardo. No matter what your taste in music is, you'll find a club to suit you. Just be prepared to dance until the early hours of the morning.
20. Milan Chinatown
I never knew Milan had a Chinatown until my last visit. This was one of the coolest and most unexpected Milan attractions. This area is located in the bustling Paolo-Sabi area of Milan and is a great place to go for cheap eateries and fun shopping. The streets are lined with Chinese grocery stores, bakeries, and eateries. You can find all sorts of delicious things to eat, from dumplings to noodles to sweet treats.
I noticed that most people who came to shop here were looking for jewelry. This is one of the best places in Milan to get them as the prices are very competitive. I bought myself a beautiful jade bracelet as a souvenir.
21. Take a Food Tour
Although Milan is not really considered the food capital of Italy, it has its own food specialties that are worth trying. And the best way to get to know them is by adding a food tour to your list of fun things to do in Milan.
You will walk around the city with a local guide and visit different food markets, bakeries, and cafes. You'll get to try traditional Milanese dishes such as cassoeula (a winter dish made with pork meat and sausage), ossobuco (veal shank braised with vegetables), and risotto alla Milanese (a creamy rice dish flavored with saffron). You will also try the famous Milanese panettone (a type of sweet bread). And of course, you'll get to drink a lot of wine!
22. Leonardo's Vineyard 
Did you know that Leonardo da Vinci, the great inventor, and painter, was also a vineyard owner in Milan? Sforza Family gifted him this piece of land after he painted the Last Supper in Milan. The vineyard is located just outside Milan, tucked within the lush gardens of the Casa degli Atellani.
This vineyard was destroyed during the WWII bombings but was replanted according to the original vineyard layout. What's special about this vineyard is that the vines are replanted to produce the same type of grapes that Leonardo himself loved. It is called malvasia di candia aromatica. This is a very rare type of white grape that was popular during the Renaissance.
You can visit Leonardo's vineyard and also sample some of their wine. The vineyard is open every day. However, you'll need to make a reservation if you're planning to visit on Saturday or Sunday.
23. Galleria D'Arte Moderna di Milano (GAM)
Last on my list of famous places to visit in Milan is the Galleria d'Arte Moderna, one of the most important museums in Italy for contemporary art. The museum is located in Via Palestro, a strategic position to visit other Milan attractions such as Parco Sempione.
GAM Milan displays a rich collection of paintings, sculptures, and photographs from the nineteenth and twentieth centuries. You can admire the works of artists such as Pablo Picasso, Dufy, Renoir, Modigliani, Rouault, Matisse, and many others.
The museum also hosts excellent temporary exhibitions, often dedicated to contemporary artists. When I visited Milan, the exhibition was about Boris Mikhailov, a Ukrainian artist known for his portraits of people living in the post-Soviet era.
After you visit the museum, take a walk in the beautiful garden outside. It's the perfect place to relax after admiring all those artworks.
In Summary
Milan is a city full of art, culture, fashion, and good food. I hope this list of the top 23 things to do in Milan was helpful in planning your trip. Pick a few attractions that interest you the most and enjoy your stay in this beautiful city. And if you have any other suggestions for Milan attractions, please share them with me.