Andorra, a small principality nestled between France and Spain in the Pyrenees mountains, offers travelers an exciting opportunity to explore its unique culture.
With its stunning mountain peaks, ski resorts, and picturesque villages, it is no wonder why Andorra has become one of Europe's most popular tourist destinations.
This article will provide readers with an overview of the 15 best and most fun things to do in Andora while visiting this fascinating country.
From skiing on the world-class slopes in Grandvalira to exploring the historic streets of Andorra La Vella, there are plenty of experiences that can be enjoyed during any visit here.
Visitors may also find themselves enchanted by the breathtaking beauty of Lake Engolasters or drawn into adventure activities such as hiking and biking around trails along valleys and rivers.
For those looking for something more cultural, there are various museums featuring art collections from ancient times to modern day exhibits.
No matter what type of traveler you are, Andorra has something for everyone! Read on to discover some of the best things to do when visiting this beautiful country.
From sightseeing in charming towns like Canillo or Ordino to discovering thermal springs at Caldea Spa & Wellness Center, your stay in Andorra will surely be an unforgettable experience!
Things To Do In Andorra
1. La Casa De La Vall: Exploring The Historic Parliament Building Of Andorra
La Casa de la Vall stands as one of the oldest parliament buildings in Europe and is an archetypal example of its historic heritage.
This awe-inspiring building transports visitors to another world; each step into this magnificent structure reveals hundreds of years' worth of secrets and stories.
The majestic castle has been home to various rulers since it was built centuries ago and now serves as a museum dedicated to studying the ancient history of Andorra.
The walls are adorned with paintings that tell tales from long ago, while statues line the gardens outside depicting past leaders and their accomplishments.
Every corner offers something new for guests to explore and admire—it's no wonder that many consider La Casa de la Vall one of the most remarkable sites in all of Andorra!
While touring this stunning piece of history, travelers can take solace in knowing they're partaking in an adventure that few have ever experienced before them.
2. Vallnord: Ski And Snowboard In A Winter Wonderland
Vallnord is a destination for winter sports enthusiasts from all over the world. With its extensive slopes and breathtaking views, it provides an unforgettable experience for everyone.
From cozy cabins to luxurious chalets, there's something here for every taste and budget. Whether you're looking for a family-friendly getaway or an adrenaline rush, Vallnord has it all!
With high-speed lifts taking you up the mountain and plenty of trails to choose from, this resort offers some of the best skiing and snowboarding in Andorra.
There are also countless activities to enjoy off the slopes—from exploring old villages to enjoying après ski events at local bars and clubs. No matter what your interests may be, Vallnord promises an incredible time that will stay with you forever!
Thanks to its convenient location near other popular attractions such as La Casa de la Vall, visitors can make the most out of their vacation by combining different experiences into one memorable trip.
By day they can take advantage of the slopes before heading back down afterwards to explore more of Andorra's rich culture and history.
The combination of fun on the slopes during the day with cultural exploration in nearby areas makes Vallnord an ideal place for travelers seeking adventure and relaxation in equal measure.
With so much potential awaiting them just around the corner, explorers should not miss out on visiting this unique winter wonderland!
3. Sant Joan De Caselles Church: Discovering A Medieval Gem In Andorra
Suted in the heart of Andorra is the ancient parish church of Sant Joan de Caselles. Built during the 12th century and still standing today, this medieval gem offers travelers a glimpse into Andorran life from centuries ago.
Its white stone walls, soaring bell tower, and Romanesque arches have withstood time and history to become an iconic landmark that has captivated many visitors over the years.
 It feels like you stepped back in time when you entered through those doors! You can only imagine what secrets are hidden within those walls waiting to be discovered.
The historic charm of Sant Joan de Caselles reinforces Andorra's unique culture and traditions—an experience that cannot be replicated elsewhere.
Whether you're looking for something off-the-beaten path or simply want to admire its stunning architecture, exploring this timeless monument guarantees a memorable journey.
4. Caldea: Unwinding At Europe's Largest Thermal Spa
For those looking to relax and unwind, Caldea is the perfect destination. With its natural thermal waters sourced from deep beneath the mountains of Andorra, Europe's largest thermal spa provides a tranquil experience unlike any other.
Visitors can soak in warm mineral-rich pools surrounded by lush green vegetation, letting their worries melt away as they take in stunning mountain views.
Additionally, an array of treatments such as massages and facials are available for visitors to choose from, allowing them to customize their own personal wellness journey.
Caldea stands out amongst other spas thanks to its unique setting—a paradise nestled within a picturesque landscape of rugged peaks and breathtaking valleys.
Whether you're taking a break from your travels or simply want to indulge yourself with some pampering, this luxurious haven offers something special for everyone.
5. Ordino And Casa D'areny-Plandolit: Immerse Yourself In Andorran Culture
A visit to Ordino and Casa d'Areny-Plandolit is an ideal way to immerse oneself in the culture of Andorra. This small town, located at the foot of the Vallnord ski resort, boasts a rich history dating back centuries.
Here travelers can explore ancient churches, castles, and manors that offer insight into the country's past. Additionally, many museums are available for those interested in learning more about Andorran traditions and customs.
One particularly interesting site is Casa d'Areny-Plandolit—an 18th century stone house that has been converted into a museum.
Inside its walls lies a treasure trove of artifacts from local craftsmen such as pottery, weaving tools, and traditional clothing items from various regions around Andorra.
Guests can also browse through collections of coins and medals from different eras in the nation's history as they get an intimate look into how life was lived throughout time here.
With so much to discover within this fascinating place, it's no wonder why it remains one of the most popular spots in all of Andorra.
6. Postal Museum, Ordino: A Peek Into Andorra's Postal History
Continuing the exploration of Andorra's unique culture, a visit to Postal Museum in Ordino is an ideal way to delve into its postal history.
Located right next to Casa d'Areny-Plandolit, this small museum houses a collection that spans centuries and showcases how mail has been delivered throughout the country's long past.
From ancient scrolls with wax seals to modern postcards from around the world, it offers a fascinating look at the evolution of communication over time.
Visitors can also learn about different customs related to postage stamps such as their production process, design elements, and even what various symbols mean.
The museum's interactive displays make it easy for guests of all ages to gain insight into Andorran postal practices while admiring some truly remarkable pieces of art.
With so much interesting content here—from antique tools used by postmen years ago to fun activities like creating spoof stamps—the Postal Museum provides an entertaining yet educational experience for anyone interested in learning more about the nation's rich heritage.
7. La Cortinada And The Church Of Sant Martí: Visiting A Serene Village
Nestled in a stunning valley just outside of Andorra's capital city, La Cortinada, and its church Sant Martí provide an idyllic respite from the hustle and bustle of everyday life.
As one of the oldest settlements in this small nation—dating back to the 12th century—this tranquil village is home to cobblestone streets lined with traditional stone homes, quaint cafes, and plenty of lush greenery that create a peaceful atmosphere perfect for exploration.
The highlight here is certainly the Church of Sant Martí, build originally 11th-12th century, on top of Roman temple ruins, and was rebuilt during the 17th century.
Its elegant exterior combined with its historic interior makes it easy to see why this site has become such an important part of Andorran culture over time.
After visiting the church, visitors can take some time to explore other attractions nearby like Casa de la Vall or Parc Central d'Ordino before stopping off at one of the many restaurants in town for a bite to eat.
TIP: For those looking for something truly special, consider staying overnight in La Cortinada as there are several charming inns and hotels located throughout the area that offer cozy accommodations and unparalleled views perfect for unwinding after a long day exploring.
8. The Town Of Les Escaldes: Exploring Andorra's Spa Town
For travelers in search of a truly unique destination, look no further than the town of Les Escaldes.
This spa town located just outside Andorra's capital is full of natural beauty and tantalizing experiences that are sure to make your vacation an unforgettable one.
From its hot springs to its breathtaking landscapes, there's something here for everyone— whether you're looking for some rest and relaxation or an adventure-filled getaway.
Begin your exploration with a visit to Caldea Spa, which features six different thermal pools fed by water from two nearby rivers.
The warm waters offer plenty of therapeutic benefits while providing stunning views of the surrounding mountainside.
After soaking up some sun, take advantage of all the outdoor activities available such as hiking, mountain biking, horseback riding, rafting, and more.
For those feeling particularly daring, consider skydiving over the beautiful Valira d'Orient Valley—the experience will be like nothing else!
No matter how you choose to spend your time in Les Escaldes, it's certain that this small town has much to offer visitors seeking out new thrills and adventures.
With so many things to do in such close proximity to each other, it's easy to see why Les Escaldes continues to attract tourists from near and far year after year. Ready for the next great adventure? Then start planning your trip today!
9. Touring The Valira D'orient Valley: Outdoor Adventures Await
The Valira d'Orient Valley is a stunning natural area located in the east of Andorra. With its picturesque landscapes, this unique destination offers visitors plenty of outdoor activities and breathtaking views.
From hiking the trails to rafting down the river, there are an array of adventures that await those looking for something truly special.
For travelers who enjoy nature walks and wildlife spotting, there's no better place than the Valira d'Orient Valley.
As you explore, keep your eyes peeled for rare species such as golden eagles, marmots, and chamois—all of which can be found here in abundance.
For adrenaline seekers, one-of-a-kind experiences like skydiving over the valley provide an unforgettable experience unlike any other.
Not only does it offer fantastic opportunities for adventure sports enthusiasts but also serves as a great way to get acquainted with Andorra's rich culture and history.
Take some time to visit local towns or even take a guided tour of nearby castles while taking in all of the beautiful scenery around you.
There is always something new and exciting waiting to be discovered in this incredible valley!
10. Encamp And The National Automobile Museum: Learning About Automotive History
The town of Encamp is home to a special National Automobile Museum, where visitors can explore the history and evolution of automobiles.
Step inside this museum for an in-depth look at some of the world's most iconic cars from different eras. From classic models like the Ford Model T to modern sports cars, it's a fascinating journey through automotive history. The museum also offers insight into how these vehicles have shaped society over the years.
At the same time, there's something quite remarkable about being surrounded by so many amazing machines.
It's easy to imagine yourself behind the wheel of one of these beauties as you take in all their impressive details and features.
And with knowledgeable staff on hand to answer any questions, it's a great way to gain a deeper appreciation for both old and new car designs alike.
11. The Church Of Santa Coloma: Admiring The Oldest Church In Andorra
The town of Santa Coloma is home to the oldest church in Andorra, the Church of Santa Coloma.
A stunning example of Romanesque architecture, this 9th century building stands out amongst surrounding buildings with its striped stone facade and detailed stonework.
Inside, visitors are greeted by a beautiful nave lined with ancient frescoes that tell stories from centuries ago.
The central apse contains an altar adorned with colorful paintings depicting biblical scenes while further down on either side two chapels offer additional artworks.
Not only does the Church of Santa Coloma provide insight into Andorran history and culture but it also serves as a reminder of how far the country has come since its inception.
From humble beginnings to becoming one of Europe's most popular tourist destinations, this majestic structure is testament to how much progress can be made when people come together to create something special.
As such it should not be missed during your time in Andorra.
12. Madriu-Perafita-Claror Valley: Visiting A Unesco World Heritage Site
The Madriu-Perafita-Claror Valley is a unique and stunning area of Andorra that has been declared a UNESCO World Heritage Site.
Spanning over 6,500 hectares across the eastern region of the country, it's an incredible example of nature untouched by modern development and full of diverse flora and fauna.
In fact, among its many attractions are more than 400 species of plants, along with wild animals such as chamois and ibex.
Not only does this valley offer visitors the chance to explore some truly breathtaking landscapes but also provides insight into how humans have coexisted with nature for centuries in this part of Europe.
It's estimated that people have lived here since before Roman times and today evidence of their presence can be found everywhere from ancient pathways to old shepherd huts still standing in remote parts of the valley.
Together they provide an interesting glimpse into life hundreds or even thousands years ago when people were much closer to nature than we are now. This makes Madriu-Perafita-Claror Valley an essential stop during any visit to Andorra.
13. Our Lady Of Meritxell – Paying Homage To Andorra's Patron Saint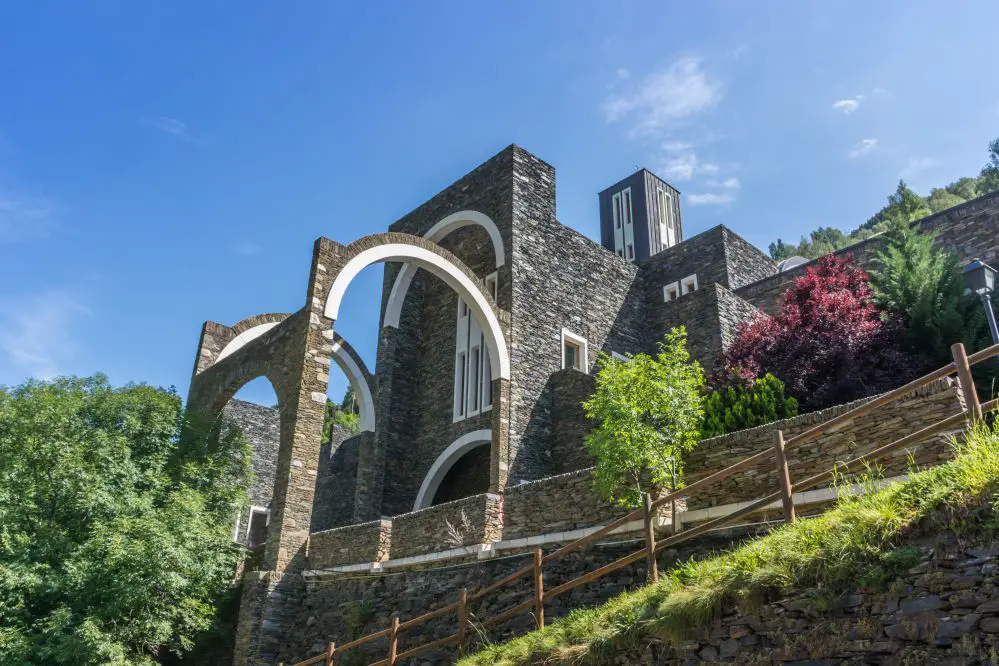 The Our Lady of Meritxell is a beloved symbol in Andorra and the country's patron saint. This religious figure dates back to the 12th century when she was said to have appeared as an apparition on a mountain.
For this reason, it has become one of the most important churches in the principality and holds special significance for locals and visitors alike. Here are some ways to pay homage to Our Lady of Meritxell:
1) Visit the church – Located at Sant Julià de Lòria, it's home to a stunning wooden statue crafted by Enric Casanovas that depicts Our Lady of Meritxell with two sheep nearby. It's also worth noting that this spot is considered especially sacred since it marks where the original apparition occurred.
2) Attend mass – Every day from Monday through Saturday there's mass held here so people can come together and give thanks for all their blessings. Although attendance isn't compulsory, many people choose to attend services during holidays or other special occasions like weddings or baptisms.
3) Take part in processions – During certain festivals such as Corpus Christi, locals will gather around the church carrying banners depicting scenes from bible stories while singing hymns honoring Our Lady of Meritxell. These events are always lively affairs filled with joyous celebration and even tourists often join in on these celebrations!
4) Pray before her image – Even if you don't belong to any particular faith, taking time out of your day to appreciate this religious icon can be quite meaningful and humbling experience –– allowing yourself moments of reflection between all the sightseeing activities you'll likely be doing in Andorra.
Regardless how you decide to mark your visit here, spending time at Our Lady of Meritxell is sure to leave lasting memories that long outlast your stay in this small but beautiful nation nestled high up in mountainside valleys of Europe.
With its deep-rooted history steeped equally parts spiritual reverence and cultural pride, it's no wonder why so many flock here seeking peace, inspiration, or simply just wishing upon stars they may never seen again once leaving behind what feels like a little slice heaven right here earth.
Transitioning now into another popular attraction found throughout Andorra –– The Museum Of Miniatures –– visitors will find themselves immersed within still more marvels yet found nowhere else along their travels across globe.
14. The Museum Of Miniatures – Marvelling At Tiny Treasures
For those looking to explore some of the more unique attractions in Andorra, a trip to The Museum of Miniatures is an absolute must.
Here visitors will find themselves astounded by the sheer amount of detail present in each and every exhibit –– from tiny recreations of classic Disney characters to intricate replicas of ancient monuments found all around Europe.
This museum also houses many amazing dioramas depicting everyday life in Andorra during different eras, as well as sections dedicated entirely to national heroes like Francesc Cambó and Josep Viladomat who have made their country proud throughout history.
It's not just about admiring these miniatures however; visitors are encouraged to pick up tools and materials provided by the staff at this museum and make their own creations using everything they've seen!
It's really quite remarkable how much creativity can be unleashed here due to the abundance of resources available for public use.
Plus, it doesn't hurt that prices here are incredibly reasonable with entry costing only €2 per adult so there's no excuse not to come out and join in on all the fun!
TIP: For a truly unforgettable experience, try visiting The Museum Of Miniatures after dark when most other museums have closed down – you'll get to enjoy its treasures while having the place virtually all yourself!
15. Shopping In Andorra – Finding Unique Bargains
For those looking for a shopping experience with a twist, Andorra offers no shortage of unique and exciting opportunities.
From the bustling markets of Escaldes-Engordany to the quaint boutiques of La Massana, there is something here sure to appeal to every taste and budget!
You can find everything from traditional souvenirs like cheese and wine, to luxury items such as designer clothing or jewellery.
Plus, due to its advantageous tax system, shoppers in Andorra are often able to achieve great bargains that simply cannot be found anywhere else in Europe.
When it comes to finding these special deals however, some insider knowledge helps immensely –– luckily many local shops offer discounts when visitors present their passport at checkout so make sure you bring yours along if possible!
Here's a quick overview of five must-see places during any shopping trip in Andorra:
• Caldea Thermal Spa Centre: A fantastic spot for beauty products and cosmetics at discounted prices;
• El Tarter Ski Resort: An excellent source for ski gear;
• Santa Coloma Shopping Mall: Home to several international brands;
• Encamp Handicraft Market: Perfect place for picking up handmade gifts and trinkets;
• The Tobacco Shop & Newsstands: Offers an extensive selection of cigarettes, cigars and other tobacco products.
No matter what kind of goods one may be after – whether they be practical or frivolous – heading out on a retail adventure through Andorran streets is always sure to provide fascinating finds!