Vicksburg is a historic city along the Mississippi River in Warren County, Mississippi. It serves as the county seat and is known for its rich history, which dates back to the Civil War. This makes it a popular destination for history buffs and adventurers alike. In addition to its historical significance, this city also offers a number of great things to do and places to visit. To help you plan your trip, here are the 21 best things to do in Vicksburg, Mississippi.
Things To Do In Vicksburg, Mississippi
1. Tour the Vicksburg National Cemetery
Not many things are more humbling than standing among the graves of those who lost their lives for their nation. The Vicksburg National Cemetery is a solemn reminder of the human cost of war.
The cemetery was established in 1865 by the U.S. Congress as a burial ground for those who died in the Civil War and later in WWI. It encompasses over 116 acres and has over 17,000 graves, making it one of the largest military cemeteries in the country. Of those, 13,000 are "unknowns," those whose identity was lost in battle or time. The graves are marked with white marble headstones and surrounded by trees.
Take your time to visit and pay respects to those who sacrificed so much for their country. I know this might not sound like a typical touristy thing to do, but it is one of the points of interest in Vicksburg that will leave a strong emotional impression.
Address: 3201 Clay St, Vicksburg, MS 39183, United States.
2. Explore Vicksburg National Military Park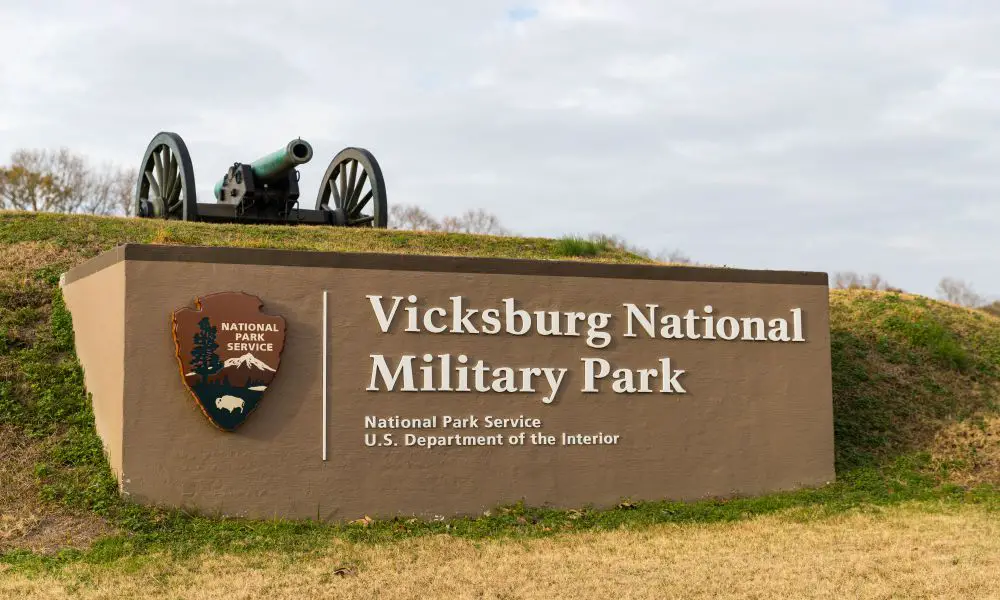 Vicksburg is known as the "Gibraltar of the Confederacy" due to its importance in the American Civil War. The Vicksburg National Military Park is a great way to explore the history of this conflict and appreciate its significance.
The Vicksburg National Military Park is home to over 1,400 recorded monuments, plaques, markers, and tablets dedicated to the men and women who fought in the battle of Vicksburg. You can also find multiple historic sites, including forts and trenches. In short, there are a lot of things to do and see in Vicksburg National Military Park, and you can easily spend a day exploring the park and taking in its rich history.
Guided tours are available, or you can opt for an audio tour that gives you greater freedom when exploring the park. The park's visitor center also offers interactive exhibits and artifacts from the Civil War era that provide more insight into what life was like during this time.
Address: 3201 Clay St, Vicksburg, MS 39183, United States.
3. Take a Tour of the Old Depot Museum
Want to learn the history of Vicksburg and its people in a unique and fun way? Then the Old Depot Museum is a must-visit spot. This museum offers 3-D viewing of Vicksburg history as well as interactive displays.
Exhibits include numerous scale models of Viking-era gunboats, ships, and other watercraft. You'll also get to see a diorama depicting the Siege of Vicksburg, models of railroad lines, and Herb Mott's original paintings.
The museum also offers educational programs to groups of all sizes and ages. This is a great way to get a more hands-on experience with Vicksburg's history. I suggest taking a guided tour to get the best out of your experience.
Address: 1010 Levee St, Vicksburg, MS 39183, United States
4. Visit the Lower Mississippi River Museum and Interpretive Center
The Lower Mississippi River Museum and Interpretive Center allow you to explore the river's history, the region's ecology, and its impact on its people.
Established on August 24, 2012, the museum features interactive displays that cover topics like steam boating, navigation, riverine wildlife, and the history of Vicksburg. There's also a 1,515-gallon aquarium with various species of aquatic life native to the Lower Mississippi River.
The centerpiece of the museum is the outdoor scaled model of the Lower Mississippi River, which provides a visual representation of how the river's many channels and locks interact to form the river system as it is today. You'll also learn how several factors, such as geography, weather, and human development, have impacted the river over time.
Another important thing you'll learn at the museum is how a family in the city survived a flood in 1927 that was so powerful that it destroyed most of the city and forced people to flee.
You can spend almost half a day exploring the museum and learning about the many things about the river. So it's definitely worth a visit if you're looking for cool things to do in Vicksburg.
Address: 910 Washington St, Vicksburg, MS 39183-2562
5. Stroll Through Downtown Vicksburg
To get a real feel of Vicksburg's culture and history, take a leisurely stroll downtown. It's the perfect place to get some souvenirs, sample local food and drinks, and check out the adorable boutiques. Take a moment to appreciate Victorian-era architecture and all of the unique sculptures and murals that decorate Vicksburg's streets. 
One of the best things about the downtown area is its proximity to some of the top attractions in Vicksburg. The Biedenharn Coca-Cola Museum, Vicksburg National Military Park, and the Old Court House Museum are all just a short walk away. Plus, if you're looking for some delicious eats and drinks, downtown Vicksburg is home to some of the city's most popular restaurants. 
So plan a day to explore the awesomeness of Vicksburg's downtown, and you won't be disappointed. 
6. Go Hiking at Al Scheller Trail
For outdoor enthusiasts, Al Scheller Trail is a perfect spot for hiking. This 12.5-mile winds through the Vicksburg National Military Park and offers you a glimpse into the unique geography of Mississippi.
The trail is quite scenic, with wooded forests and open fields that provide a variety of scenery. The trail is relatively easy, making it a great choice for hikers of all skill levels. And since it's within the military park, you'll get some insight into the history of Vicksburg and the Civil War. Several rest areas along the trail also provide great opportunities for bird watching and relaxation. 
Just remember to bring plenty of water and wear appropriate shoes. Also, bring a map and compass to make sure you don't get lost. And don't forget to carry a first-aid kit in case of an emergency.
7. Admire the Vicksburg Riverfront Murals
The Vicksburg Riverfront Murals are a series of 32-life-like pictorial murals depicting Vicksburg's rich history and culture. The murals adorn the Mississippi River flood walls and give visitors a unique opportunity to experience Vicksburg's history in a new way. Each mural tells a story, some of which may surprise you. 
Majorly the murals recognize three important arteries that feed Vicksburg's diversity: the highway, the river, and the railroad. Through the murals, you'll learn how Vicksburg became a river town and the things Vicksburg's people have done to protect it.
Seeing these works of art is a great way to appreciate the complexity of Vicksburg's history. In fact, they add to the ambiance and beauty of the downtown area. So be sure to include it on your list of things to see in Vicksburg.
8. Enjoy the Mississippi River Cruise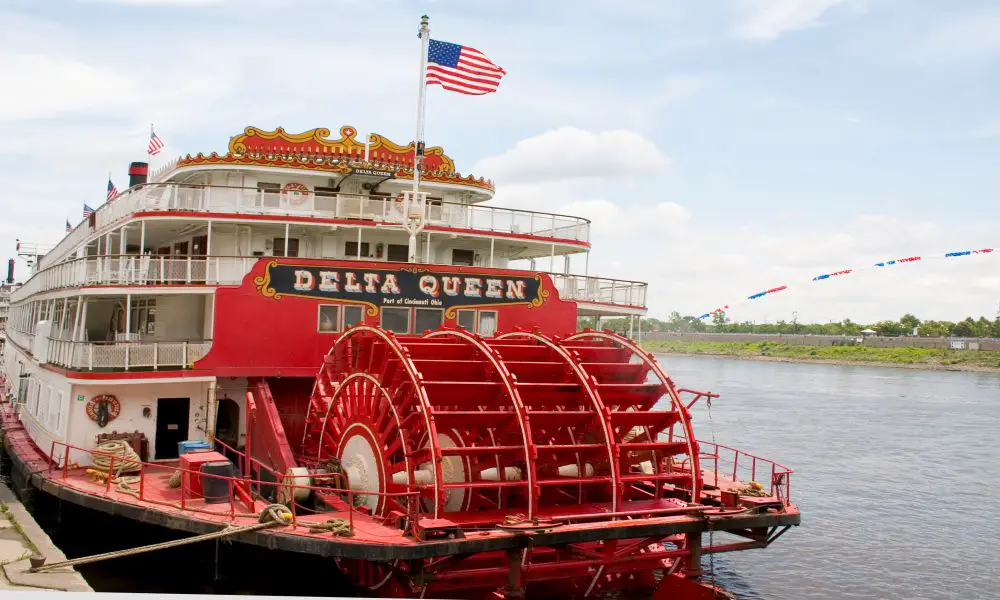 There's no excuse for boredom in Vicksburg. The Mississippi River is the lifeline of the town, as it was a key defense point during the Civil War. A relaxing Mississippi River Cruise is an excellent way to explore Vicksburg's history and beautiful sights.
It will cost you between $1,300 and $5,000 per person for an 8 to 12-day cruise, depending on the season and the amenities. The cruise will take you past scenic river bluffs, dams, roaring waterfalls, and you even have a chance to explore historical towns. This is a great way to appreciate the area, its history, and its culture.
There are several companies that offer Mississippi River Cruises, so make sure to shop around for the best deal. However, some of the recommendations I can personally share are the American Queen Voyages and American Cruise Lines.
If you're not looking to commit to a full-length cruise, shorter cruises are also available. Several cruises can take you for a day, so you can still experience the beauty of the Mississippi without committing to a long cruise. 
For a day cruise, I recommend Blue Cat Guide Service for an incredible experience. You'll learn about the history and ecology of the area, as well as have a feel of the Mississippi. 
All in all, a cruise is an unforgettable way to experience the Mississippi River. So why not include it on your list of the best things to do in Vicksburg? After all, it would be a shame to miss out on such an opportunity.
9. Tour the USS Cairo Museum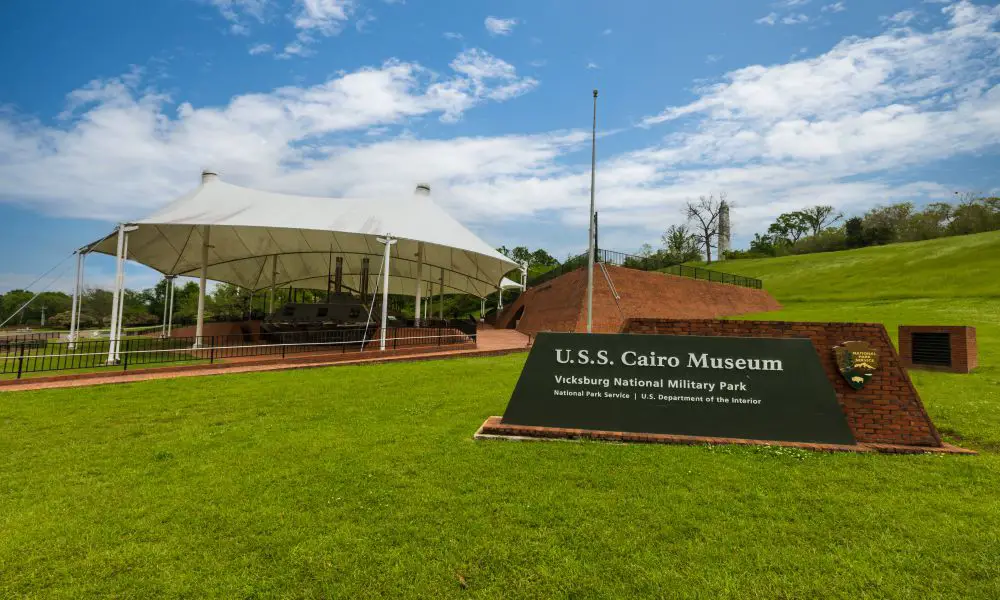 The USS Cairo was an ironclad warship built during the civil war. It sank in December 1862 after a Confederate mine exploded beneath it. It was later recovered from the bottom of the Yazoo River in 1964. And today, it's on display in Vicksburg as part of the USS Cairo Museum.
The museum showcases some of the original artifacts from the ship, including items used on the boat, such as a fire hose nozzle, a safety lamp, and much more. There are also medical equipment, Blacksmithing tools and pulleys, utensils, and a variety of weaponry, including pistols from the 19th century.
This is a great way to learn about the history of the civil war and get a glimpse into what life was like for those who served on board.
Address: 3201 Clay St, Vicksburg, MS 39183, United States.
10. Go Shopping at Levee Street Market Place
You don't have to miss out on shopping when you're in Vicksburg. The Levee Street Market Place is the perfect place to find souvenirs and things to take home. The market features an array of things, from antiques, refurbished items, home decor, vintage, clothing, jewelry, homemade treasures, collegiate, and much more.
This makes for the perfect place to spend an afternoon browsing and finding things you'll remember in the years to come. Plus, it's a great way to support the local economy and help small businesses in Vicksburg. The best part is that the prices are very reasonable and you can often find things at great discounts. However, be prepared to haggle if you want the best deals.
All in all, Levee Street Market Place is a great place to find things that are unique to Vicksburg and things that you can't find anywhere else. Be sure to add it to your list of things to do in Vicksburg.
The market is open Mon to Sat from 9:30 am to 5:30 pm.
Address: 1001 Levee St, Vicksburg, MS 39183-2568, United States.
11. Tour the Attic Gallery
Are you an art lover and wondering what to do in Vicksburg? Look no further than the Attic Gallery. This local gem is an independent gallery showcasing contemporary fine art, handmade pottery, jewelry, glass, and southern folk arts.
Therefore, this is the perfect place to browse and purchase items, such as paintings, drawings, photographs, prints, and more. You can also buy handmade things like jewelry, scarves, hats, pottery, and glass pieces.
With this gallery, the goal is to create an environment that makes art accessible and inspires visitors to want to learn more about the things they can find there. In fact, this is one of the oldest and most famous art galleries in Mississippi. It celebrated its 50th anniversary on October 2, 2021. This shows the establishment's dedication to remaining a place that encourages creativity.
Address: 1101 Washington St, Vicksburg, MS 39183, United States.
12. Attend a Performance at the Vicksburg Theatre Guild
Vicksburg Theatre Guild is one of Mississippi's oldest chartered community theatres that has served the Vicksburg community since 1936. It offers quality community theatre entertainment, plays, and musicals ranging from comedies to dramas and so much more.
Therefore, if you are looking for entertaining things to do in Vicksburg, attending one of the theatre guild's performances is a must. Take advantage of the highly talented local actors and enjoy a night out filled with laughter and plenty of creativity.
And did you know this theatre is the holder of the Guinness Record of the longest-running play, Gold in the Hills? So don't miss out on this great entertainment while visiting Vicksburg.
Their prices are very reasonable and offer great discounts for groups, senior citizens and students. Just check their website for further information and buy your tickets in advance.
Address: 101 Iowa Ave, Vicksburg, MS 39180, United States
13. Relax and Rejuvenate at Riverwalk Casino
It's time to take a break from all the history and things to do in Vicksburg and have some fun at Riverwalk Casino. At least, that's what I always recommend. You don't have to spend all your days exploring what Vicksburg offers. Sometimes, you can just sit back, relax and enjoy some cool moments when you want to.
One of those places is Riverwalk Casino. This casino boasts over 600 latest slots, the best table games, and over 80 comfortable hotel rooms for you to choose from. There are also two dining venues for you to enjoy delicious meals and snacks. 
If it's excitement and entertainment you're looking for, Riverwalk Casino is the place for you. You can enjoy some of the best gaming experiences in Vicksburg or just take it easy and relax. 
Another casino you can check out is the Ameristar Casino Hotel. This casino offers some of the most exciting slots and table games, as well as great dining options. There are other hotels and spas around Vicksburg, so you should have no problem finding something that fits your needs. 
14. Vicksburg Battlefield Museum
As you're aware, Vicksburg was the stage for a major battle during the Civil War, and several museums throughout the city commemorate that event. One such place is the Vicksburg National Battlefield Museum. It's an incredible museum that focuses on the history of the Battle of Vicksburg.
The museum is filled with artifacts related to the battle, as well as several interactive exhibits. In fact, it's one of the museums with the most extensive collections of Civil War artifacts in the entire United States. It has original paintings by Herb Mott, a miniature layout of the Vicksburg Battlefield with 2300 soldiers, over 200 ship models, and much more. This makes it one of Vicksburg's attractions that should be on the top of your list.
In addition, you can watch a 30-minute documentary, "Vanishing Glory," which explains the area's history. It's a great way to learn about the past and put things into perspective.
15. Buy Local Produce at the Farmers' Market
There's nothing like fresh produce straight from the farm. If you're looking to sample some local products while in Vicksburg, then head on down to the Farmers' Market. Every Saturday, local farmers and artisans gather in the heart of Vicksburg to sell their wares.
The market is open from June to September between 8 am to 11 am, and you can expect to find things like fruits, vegetables, farm-raised meats, honey, jams, cheese, and much more. If you don't get a chance to visit on Saturday, the market also opens on Wednesday from 4 pm to 6 pm.
A visit to this market will give you a chance to sample some of Vicksburg's best ingredients and meet some of the city's wonderful people. Ask around for cooking tips and recipes, as well as share stories with the locals and get a real feel for Vicksburg.
The farmers' market is located at the intersection of Levee and Grove Streets and is a must-visit for anyone looking to experience the flavor of Vicksburg.
Address: 1010 Levee St, Vicksburg, MS 39183, United States.
16. Take your Kids to Yesterday's Children
If you're traveling with kids, it's good to know that there are fun things to do in Vicksburg for them too. This is especially true at Yesterday's Children, a museum dedicated to collecting dolls, toys, and other childhood artifacts. This museum has been around since 1986 and is home to a huge collection that dates back to 1843, as well as toys from the civil war era to modern times.
This is definitely a great place for kids to explore and learn about things from the past. It's a great way to keep them entertained while also giving them some educational value. And for parents, it's a great chance to take them back in time and explore things that you may have played with growing up. Plus, this is also an opportunity to bond with your little ones and let them know what things were like before they were born.
Address: 1104 Washington St, Vicksburg, MS 39180, United States.
17. Take a Tour of the Biedenharn Coca-Cola Museum
Cocacola is a staple beverage worldwide, and Vicksburg has a museum dedicated to the history of the iconic drink. The Biedenharn Coca-Cola Museum is located in its first bottling plant, which began operations in 1894.
The museum is filled with memorabilia and vintage artifacts that tell the story of Coca-Cola's evolution from a local favorite to a global phenomenon. You can also see the original bottling machines, complete with labels and logos from the past.
You'll also learn about the museum's founder, Joseph Biedenharn. He was known to be an early fan of Coca-Cola and is credited with being the first to bottle the drink.
The museum is open every day from 9 am – 5 pm, except Sunday, when it's open from 1:30 – 4:30 pm. Therefore, make sure to plan your visit around and learn more about the fascinating history of Coca-Cola.
Address: 1107 Washington St, Vicksburg, MS 39183, United States
18. Enjoy the Exotic Painting Exhibition at H.C. Porter Gallery
The H.C. Porter Gallery is an exceptional place for art lovers to visit. It houses a stunning collection of paintings and prints by visual artist H.C. Porter. Porter is from Vicksburg, and her work draws heavily on the local scenery, culture, and people.
You'll see limited editions of original paintings and exquisitely crafted prints. Porter is a master of his craft, and you can see the passion in her work. You can also purchase prints, fine art books, serigraphs, photography, original artworks, and sculptures from the gallery.
A number of temporary painting exhibits are also held at the gallery. So this is a great place to explore new and different art forms, as well as get a better understanding of the culture and history of the city. And being in the downtown area, it's highly accessible, which makes it one of the famous attractions in Vicksburg you shouldn't miss out on.
Address: 1216 Washington St, Vicksburg, MS 39183-2962.
19. Step Back in Time as You Enter the Old Court House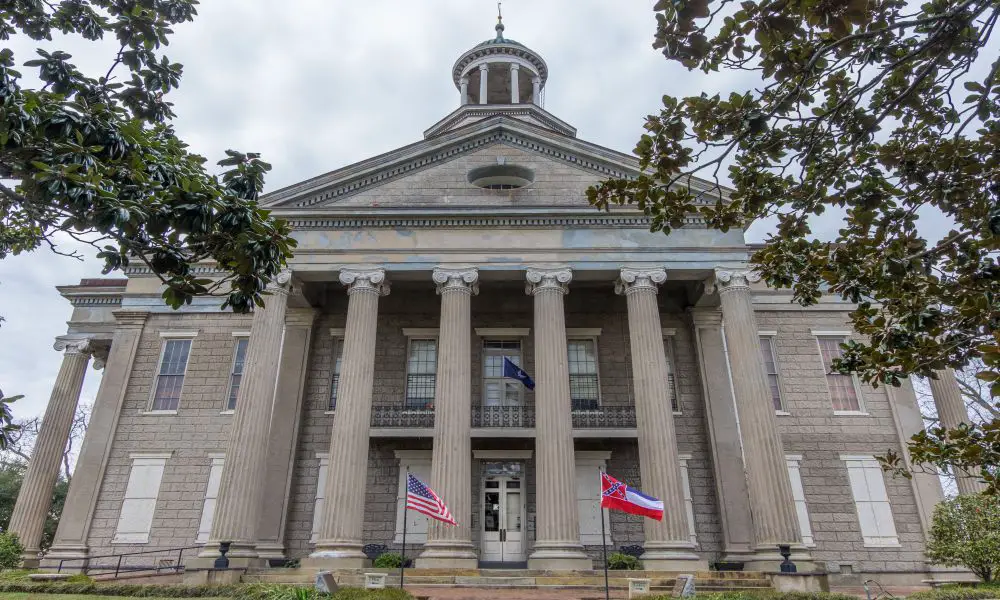 The Old Court House Museum is a Vicksburg landmark and the perfect place to step back in time. Built in the 19th century, this is where the first two trials of the pivotal Dred Scott case in 1847 and 1850 happened, as well as other important cases.
This judicial building was a major historical site of the civil rights movement, and the museum offers a look at history through its collection of artifacts, documents, and photographs. You'll find more than 1,400 volumes of local history, manuscripts from the American Civil War, census data, biographies of Warren County families, maps, and more.
The best way to experience the Old Court House Museum is to take a guided tour. The knowledgeable guides will teach you about the history of Vicksburg and Warren County, as well as the importance of this site to the civil rights movement. You'll be able to explore old courtrooms and learn about legal cases.
Address: 1008 Cherry St, Vicksburg, MS 39183, United States.
20. Have Fun With Your Kids at Catfish Row Children's Art Park
The best things to do in Vicksburg are not just for adults. Not far from the Mississippi River is Catfish Row Children's Art Park, designed to inspire, educate and entertain young kids.
The park is full of things to do, including a playful area, splash fountain, murals, unique exhibits, eye-catching artwork, and a garden. You and your family can enjoy the park's various activities that are fun for all ages. Take a walk through the park and explore its many interactive displays that are both educational and entertaining.
The park also hosts special events throughout the year, such as art shows, concerts, and movies. So make sure to check out their website for updates on upcoming events!
Address: 1200 Levee St, Vicksburg, MS 39183-2950.
21. Enjoy Vicksburg Nightlife
You can't come to Vicksburg and not experience the nightlife. The town is home to several bars, pubs, and clubs that will give you a great evening.
Start off your night at the historic Ameristar Casino. This casino offers a variety of gaming tables, plus slots, video poker, and more. The Ameristar also offers live music and entertainment, as well as drinks and appetizers.
If you're looking for something a bit more low-key, head to Key City Brewery & Eatery. Here you'll find great beer brewed right in town, as well as live music and events. The Key City is great for relaxing and catching up with friends. And for an unforgettable night, head to one of the many dance clubs in Vicksburg. Most of them are located in downtown Vicksburg and offer great music, drinks, and atmosphere.
So after a day of exploring Vicksburg attractions, include a night out on the town in your to-do list.