Larnaca is the third-largest city in Cyprus and one of its most popular tourist destinations. The city has a lot to offer, from its beautiful beaches and medieval castles to its vibrant nightlife and rich history. No matter what your interests are, you'll find plenty of things to do in this vibrant city. To help you plan your trip, here are 14 Best and Fun Things to Do in Larnaca that are sure to make your visit a memorable one.
Things To Do In Larnaca
1. Agios Lazaros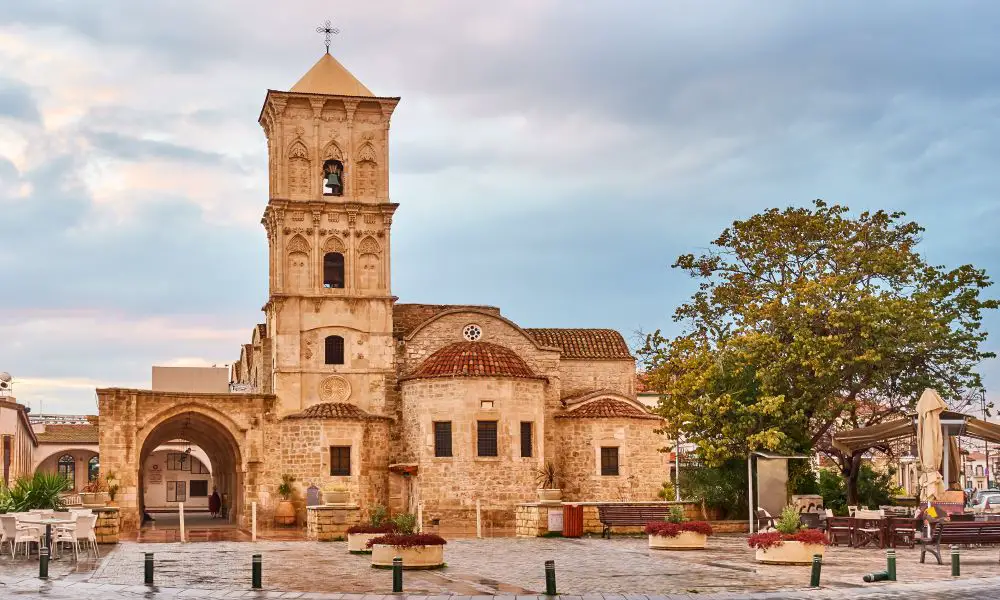 The church of Agios Lazaros is one of Larnaca's top tourist attractions, not only because it's an important religious site, but also because it's incredibly beautiful. This spectacular house of worship was first built in the 9th century to mark the spot where, according to tradition, Lazarus (of Bethany) was raised from the dead by Jesus Christ.
The church was rebuilt and expanded several times over the centuries, most recently in the 17th century. The result is a fascinating mix of architectural styles, from Byzantine to Gothic to Baroque.
Inside, the church is equally diverse, with icons and frescoes adorning every wall and ceiling. Highlights include the 18th-century wooden iconostasis, the Byzantine frescoes in the nave, and the Gothic tomb of Lazarus himself (behind the main altar).
Agios Lazaros is still an active place of worship, and you'll often see locals coming in to light candles and say a prayer. The churchyard outside is also worth exploring, and you can visit the small on-site byzantine museum to learn more about its history and see some religious icons and relics.
If you're interested in Orthodox Christianity or Byzantine history, then a visit to Agios Lazaros is a must. Even if you're not particularly religious, the church is still worth a look for its architectural and historical significance.
Read More: 15 Best Things to Do in Limassol
2. Hala Sultan Tekke
One of the best places to visit in Larnaca if you're interested in religious history is Hala Sultan Tekke. This mosque is one of the most important pilgrimage sites for Muslims in Cyprus and is located just outside of Larnaca.
The mosque was built in honor of Umm Haram, the Prophet Muhammad's wet nurse. According to legend, she fell from her donkey and died while passing through Larnaca. The mosque complex includes a mausoleum, a minaret, and a courtyard. The mausoleum is the most important part of the complex and is where Umm Haram is buried. The minaret is used for the call to prayer. The courtyard is a beautiful space surrounded by a beautiful garden with cypress and palm trees.
Non-Muslims are welcome to visit the mosque, but you must dress modestly. I also recommend using your own means of transportation to get here as the public transportation is very chaotic.
Overall, Hala Sultan Tekke is one of the most important Islamic sites in Cyprus and is definitely worth a visit if you're interested in learning more about the history of Islam.
3. Kamares Aqueduct
Visiting the Kamares Aqueduct is definitely one of the best things to do in Larnaca for history buffs. It was built by the Ottomans in the 18th century to provide water to the city from a spring on the outskirts of the town.
The aqueduct is made up of a series of arches and is one of the best-preserved Ottoman monuments in Cyprus. It's a pretty impressive feat of engineering, especially considering it was built without the use of modern technology.
The aqueduct was in use until the early 20th century when it was replaced by a new system. It's now a protected archaeological site and one of the most popular places to visit in Larnaca. I recommend coming here in the evening when the arches are illuminated and make for a really beautiful sight.
Guided tours of the aqueduct are available, which is a great way to learn more about its history and how it was built. Take your time walking around and admiring the view from different angles. It's a really interesting place, and you're bound to learn something new.
Read More: 15 Best Things to Do in Cyprus
4. Larnaca Beaches
No list of the top tourist attractions in Larnaca would be complete without mentioning its beaches! The island's coastline is dotted with pristine beaches, many of which are within easy reach of the city center.
Mackenzie Beach is the most popular beach and one of the busiest on the island. It's a great place to swim, sunbathe, and people watch. There are plenty of beach bars and restaurants to keep you refreshed, and the promenade is perfect for an evening stroll.
Finikoudes Beach is another top spot for swimming and sunbathing. This beach is located in the heart of Larnaca's tourist district and is flanked by restaurants, cafes, and bars. It's also a great place to take a walk, as the promenade here is one of the most popular in town.
If you're looking for a more secluded spot to relax, head to Cape Kiti Beach. This beach is located 15 kilometers south of Larnaca and is usually much quieter than the other two. It's a great place to escape the hustle and bustle of the city and relax in the sun.
These are just a few of the top beaches in Larnaca. So whether you're looking to relax or enjoy some water sports, you'll be sure to find the perfect spot here.
5. Turkish Quarter
Larnaca's Turkish Quarter is one of the most atmospheric and photogenic parts of town. It's a warren of narrow streets lined with colorfully painted Ottoman-era houses. Many of the houses have been restored and are now businesses or private homes, but some are still in a state of disrepair.
The Quarter was built by Turkish settlers who arrived on the island after the Ottoman conquest. They were given land here to build their houses and establish businesses. The Quarter flourished until the early 20th century when the population began to decline as people left to find work elsewhere.
Today, the Turkish Quarter is a popular tourist destination. Its narrow streets are full of shops, cafes, and restaurants, and it's a great place to wander around and soak up the atmosphere. If you're looking for a souvenir, this is the place to find it. There are plenty of shops selling Turkish carpets, copperware, and other traditional handicrafts.
6. Kyriazis Medical Museum
If you're interested in learning about the history of medicine, Kyriazis Medical Museum is one of the best places to visit in Larnaca. The museum is housed in a traditional Cypriot house that dates back to the 18th century, and it contains a wealth of information on the development of medicine through the ages.
The museum was founded by Dr. Marios Kyriazis, a retired doctor and medical historian. He wanted to create a space where the history of medicine could be preserved and shared with the public. The museum contains a wide range of exhibits, from ancient medical instruments to modern-day medical technology.
One of the most interesting things I saw at the museum was an old x-ray machine, which was used to diagnose broken bones. I also enjoyed learning about traditional Cypriot medicine and how plants and herbs have been used to treat illnesses for centuries.
I found the museum to be extremely well-organized and informative, and I was impressed by the amount of history contained within its walls. So if you're interested in learning about the development of medicine, this is one of the Larnaca attractions you shouldn't miss.
7. Zenobia Shipwreck
The Zenobia shipwreck is another one of the top tourist attractions in Larnaca for scuba divers. The ship sank in 1980 after hitting a reef just off the coast of Larnaca. It's now a protected archaeological site and one of Cyprus's most popular dive sites.
The Zenobia was a Swedish Roll-on/Roll-off ferry carrying vehicles and passengers. It was overloaded at the time of its sinking and went down relatively quickly, killing most of the people on board.
The ship now lies on its side at a depth of 42 meters (138 feet). It's an impressive sight, and there's a lot to explore. The top deck is at a depth of about 30 meters (98 feet), so it's possible to reach it without going too deep.
The Zenobia is a popular dive site because of its depth, size, and the fact that it's relatively intact. It's also home to a huge variety of marine life, including barracuda, grouper, and wrasse.
If you're a certified diver, I definitely recommend checking out the Zenobia shipwreck. It's an amazing place and one of the top things to do in Larnaca.
Read More: 14 Best Beaches in Cyprus
8. Camel Park
Just outside of Larnaca is Camel Park, a great place to visit if you're traveling with kids or just looking for a fun day out. The park has a playground, a petting zoo, and, of course, plenty of camels. You can take a camel ride around the park or even go on a camel safari.
Camel rides are great fun for kids and adults alike, and Camel Park is a great place to do it. The park is also home to a number of other animals, including lamas, ostriches, goats, ponies, deer, kangaroos, fish, turtles, a variety of birds, and much more. You can feed them, pet them, and even ride some.
In addition to the animals, Camel Park also includes a playground with a number of slides, swings, and other fun things to keep the kids entertained. There's also a cafe on-site where you can get something to eat or drink.
Camel Park is a great place to spend a day if you're looking for fun things to do in Larnaca. It's especially popular with families, but I think anyone would enjoy a day here. There's plenty to do here, and it's a great place if you're looking for something fun and different to do.
9. Protaras
Protaras is a top seaside resort town on the east coast of Cyprus that has become increasingly popular in recent years, especially with families. The main reason to come to Protaras is, of course, to enjoy the wonderful beaches. The most popular spot is Fig Tree Bay, which is well-known for its clear turquoise waters and lovely sandy beach. There are plenty of sun loungers and parasols for hire, as well as a selection of beach bars and restaurants.
Other beaches in Protaras worth checking out include Kalamies Beach (a great spot for windsurfing), Sunrise Beach, and Vrissiana beach.
If you're looking for things to do in Protaras away from the beach, then you could visit the Chapel of Profitis Ilias. This small whitewashed chapel, which is situated atop a hill, offers stunning panoramic views over the resort and coastline. Or you could take a boat trip from Protaras harbor to the nearby island of Ayia Napa. Ayia Napa is well-known for its lively nightlife scene, so if you're looking for a party, then this is definitely the place to come.
Protaras is a great place to stay if you're looking for a lively yet relaxing beach holiday. With its selection of excellent beaches, restaurants, and bars, there's something here to suit everyone.
10. Agia Napa Monastery
Next on my list of top tourist attractions in Larnaca is the Agia Napa Monastery. This beautiful monastery was built in the early 16th century and is one of the most important historical sites on the island.
The monastery was founded by a Venetian nobleman's daughter who fled to Cyprus to escape an arranged marriage. She became a nun and built the monastery on top of a cave where an icon of the Virgin Mary was stored during the iconoclastic period. Over the centuries, the monastery has been damaged and rebuilt several times, most recently in the 18th century.
Today, it's a popular spot for tourists who come to admire the beautiful Venetian architecture and learn about the monastery's fascinating history. Inside the monastery, you can see the Venetian Gothic cloisters, beautiful frescos, and the well-preserved iconostasis.
I spent a lot of time wandering around the monastery, admiring its beautiful architecture and imagining what life must have been like here centuries ago. It's one of the best places to visit in Larnaca if you're interested in religious history or architecture.
11. Lefkara Village
Just a short drive southwest of Larnaca is the village of Lefkara, famous for its lace-making tradition and silver jewelry. The village is built on the side of a hill, with winding streets and traditional Cypriot houses.
These days, it's a popular tourist destination, and it's easy to see why. The village is very pretty, with narrow streets lined with whitewashed houses and wrought-iron balconies. Be sure to stop by one of the many lace-making shops to see the women working on their delicate creations. And if you're looking for a souvenir, there are plenty of silver shops to choose from. You can find anything from handmade lace to traditional Cypriot pottery in the shops here.
There are also a few churches worth visiting in Lefkara, including the Church of Archangelos Michael. This church contains some of the finest examples of 12th-century icon paintings in Cyprus. The village is also home to the Lefkara Local Museum, which contains a collection of dioramas depicting traditional life in the village.
So if you're looking for fun things to do in Larnaca, Lefkara is the perfect spot. Take a stroll through the streets, do some shopping, and enjoy a delicious meal in one of the traditional restaurants.
12. Cape Greco
One of the best things to do in Larnaca is to take a drive out to Cape Greco, located at the island's southeastern tip. It's known for its dramatic cliffs, crystal-clear waters, and lovely hiking trails. There are also a few small beaches here that are perfect for swimming, sunbathing, and snorkeling.
The best way to explore Cape Greco is on foot. There are a number of marked hiking trails that wind their way through the area. I suggest following the coastline as much as possible so you can enjoy the views of the sea. The hiking here is easy to moderate in difficulty.
The park is also home to the Sea Caves, which can be reached by swimming or taking a boat tour. They are the most popular attractions in Cape Greco and were formed over millions of years by the waves crashing against the cliffs.
Swimming in the crystal-clear waters around Cape Greco is an unforgettable experience. The water is so clear that you can see the fish swimming around you. There are also several secluded beaches where you can relax and soak up the sun.
If you're looking for an adventurous day trip from Larnaca, Cape Greco is the perfect place to explore. There's so much to see and do, and the scenery is absolutely stunning.
13. Larnaca's Archaeological Museum
The Archaeological Museum is another of the top tourist attractions in Larnaca, where you can learn about the history and culture of Cyprus. The museum has an extensive collection of artifacts from all periods of Cyprus' history, including some Roman mosaics unearthed during excavations in the city. There are also exhibits on the island's prehistoric and Neolithic periods, as well as its Bronze Age, Iron Age, and Byzantine eras.
The museum is made up of two exhibition rooms. The first contains a collection of sculptures, while the second room contains pottery, stone tools, and other artifacts from the Neolithic period. The highlight of the museum for me was the sculptures found in room one. These mainly included female torsos and terracotta figures.
The only downside to the museum is that some of its collections are not well-labeled, and it can be difficult to figure out what you're looking at. However, the staffs are very friendly and helpful, so don't hesitate to ask if you need help understanding something.
All in all, the Archaeological Museum is a great place to learn about the history and culture of Cyprus. It's one of the best places to visit in Larnaca and definitely worth a visit if you're interested in history or archaeology. 
14. Pierides Archaeological Foundation Museum
No visit to Larnaca attractions would be complete without a stop at the Pierides Archaeological Foundation Museum. This museum houses an impressive collection of artifacts that were unearthed during excavations conducted by Demetrios Pierides, a Cypriot scholar, and archaeologist.
The museum is divided into four rooms which contain artifacts from the Neolithic to the medieval period. The first room contains Neolithic artifacts, including tools and pottery. The second room contains figurines used in religious rites, as well as pottery and pictures of birds and fish. The third room contains alabaster vases, masks, and jugs from the site at Marion. The fourth room contains pottery from the medieval period, jewelry, and glassware.
Take your time to explore the museum and learn about the fascinating history of Cyprus. And be sure to take a look at the beautiful garden, which is a great place to relax after your visit.
In summary
Larnaca is a beautiful city with a lot to offer visitors. Whether you're interested in exploring the city's ancient monuments or soaking up the sun on one of its many beaches, you'll find plenty of places here. To conclude, I hope that this list of the top tourist attractions in Larnaca has given you some ideas for things to do and see during your visit. So start planning your vacation today.