If your standards for a "majestic beach" are hard to satisfy, visit the Maldives. About 1.5 million tourists visit it year after year. The turquoise seawater and the white sand landscape aren't what attracts tourists. Other nearer locations also have this. Therefore, it's only proper to ask. " what are the things in the Maldives that other beaches have?"
Small islands compose Maldive's geography. As a result, the beaches here are separate from each other. Moreover, each has beautiful white coastlines that you can probe in only a few hours.
The short sand walk of Maldive beaches pushed the resorts to innovate. Resorts that operate in the Maldives are nothing that you've ever seen before. They feature slides, fun pools, themed interiors, and cottages that are arranged in beautiful formations.
Enough introductions! Let's ride the boat and see what the Maldives has to offer in detail
Here, I will not talk about booking a flight or which airport you should go to. Talking about these is a "duh" sort of thing. Instead, I'll be updating you on the entry requirements that Maldives immigration imposes.
All persons who wish to go to the Maldives for leisure or recreation need a tourist visa. The tourist visa allows the tourist(s) to stay within a period of 30 days.
This 30 day period is at the discretion of the Maldives immigration. The Maldives immigration has the capacity to extend or shorten the tourists' stay so to speak.
Here are the updated requirements for getting a tourist visa in the Maldives:
A 6-month valid document that is machine-readable
Proof of booking/accommodation in a specific area in the Maldives
Negative Covid-19 Negative PCR
Travel Health Declaration (very important)
Plane ticket bound to home country confirming the intention to exit upon visitation in the Maldives ends
3 Things That You Shouldn't Do in The Maldives as A Tourist
Asking for Pork Dishes in the Restaurants
If ever you find yourself hanging around in the cities of Maldives, never expect or ask for pork dishes. About 98.4% of the Maldives' population are Muslims. And as you know, eating pork is a sacrilege for them.
That being said, expect that there will be no bacon, ham, sausage, or any other pork delicacies while you're staying in the cities of Male, Fuhvamulah, Hithadoo, and others.
Only bring essential stuff with you. As I said earlier, beaches in the Maldives are sequestered from each other. This means that you have to do a lot of island hopping for visiting various beach resorts.
As much as island hopping is concerned, I'm certain you know that carrying heavy luggage as you transfer from place to place goes away from the idea of a fun and convenient travel.
Forgetting the Underwater Camera
What the beaches of Maldives have above can't compare to what's down below the surface of the sea. In the Maldives, are numerous aquatic animals such as clownfish, butterflyfish, angelfish, spotfin lionfish, oriental sweetlips, etc.
The visibility is very good. Therefore, your scuba diving escapade will be a shame if you can't take pictures of these fishes because you left the camera in the hotel room.
Top Places to Visit in the Maldives
Dusit Thani – Mudhdhoo Island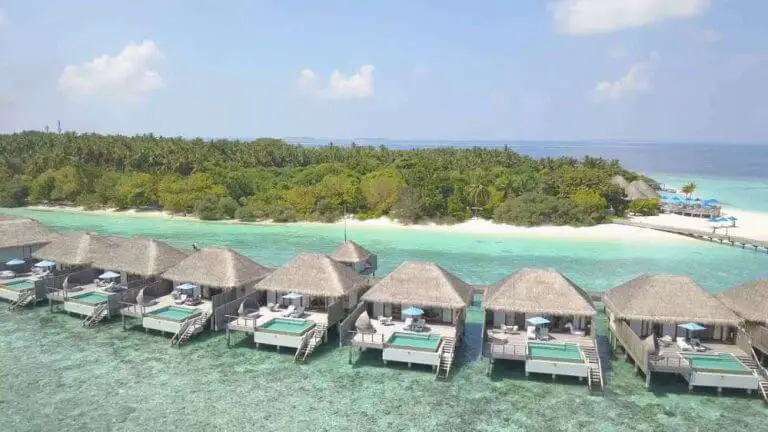 Dust Thani is a luxury beach resort that oversees the development of Mudhdhoo Island. If you ride by seaplane, you'll see this island's spectacular shape. From above, this island looks like a large brown egg that's encased by a bluish outline.
As a luxury resort, Dusit Thani doesn't fail your expectations. About 95 villas are in its vicinity. Their varieties range from ocean villas, beach villas, water villas, ocean villas, and family villas.
Dusit Thani provides a relaxing stay. The villas provide an expansive view of the ocean that's not hindered by vegetation.
If you grow tired of swimming, sunbathing, or walking on the beach, you can follow the pathways leading to the center of Dusit Thani. In here, you'll be traversing pathways lined with coconuts, shrubs, bushes, and other greeneries.
You may also explore the entirety of Dusit Thani with a golf buggy.
Finally, nighttime is where the magic in Dusit Thani happens. If you're lucky, you might see the beach glow as bio luminous planktons get washed on the shore.
Angsana Ihuru – North Maldives
Angsana Ihuru is a beach resort in the Maldives that features beachside pacific style cottages. At night, these cottages provide a romantic atmosphere. Their brown lightings reveal the soft rolling of the waves on the shore that hums while you and your companion talk about life.
Viewing sunset and sunrise in Angsana Ihuru is a must. The is very soft and even. As a result, you can lay a mattress and lie comfortably as the sun appears or disappears on the horizon that divides the sky and the sea.
Scuba diving is excellent. In the waters of Angsana Ihuro and coral reefs that feature varying coloration and shapes. Corals that you'll find here are brown, white or pink, and may come in circular, jagged, or wavy shapes. Fishes that spend their time on these are clownfish, angelfish, and turtles.
If you swim toward the blue deeps, sharks and dolphins are waiting if fortune permits.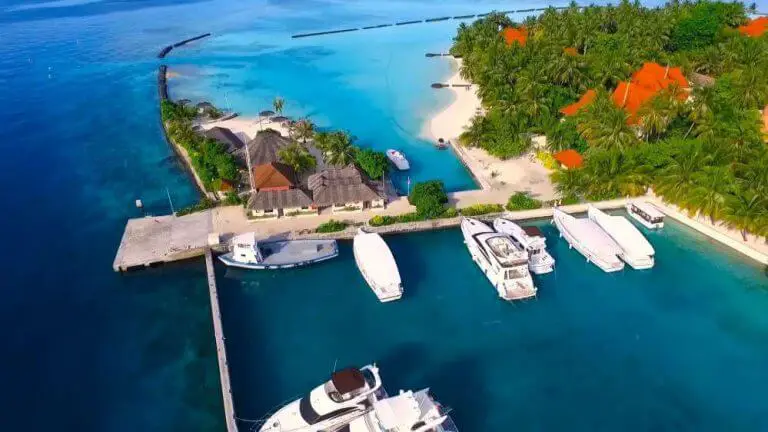 Kurumba is a very lively beach resort in Vihamamaafushi. It's one of the busiest beaches in the Maldives during peak seasons. If you come here during busy days, you'll see lots of tourists and locals drinking, putting their hearts and souls into singing, and doing recreational activities on the beach.
On the entire area of this resort are coconut trees. These coconut trees provide excellent shade for a chillin' walk and talk with your companion.
Cottages or villas here follow a western design. They feature simple building styles consisting of glass doors, colored roofing, and small balconies furnished with wooden chairs and tables. These only apply to budget ones though.
For expensive stays, Kurumba come has rooms that overlook the beach, has quick access to tennis and basketball courts, and private swimming pools.
Kurumba has numerous yachts, boats, and jet skis for rent. These allow you to head toward the ocean to escape the bustling environment of Kurumba at peak season.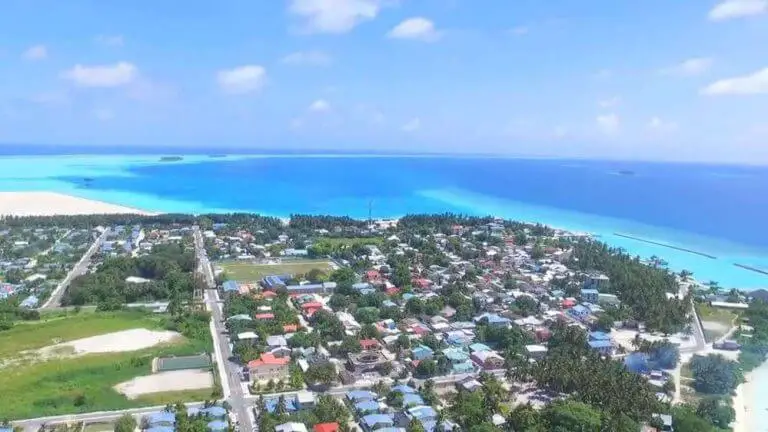 Kudahuvadoo is an island in the Maldives with a very expansive shore However, tourists come here not for the baywalk. Instead, what they're coming for is the moderate waves of Kudahuvadoo that serves well for learning the basics of surfing.
Before I forgot, Kudahuvadoo has an airport that faces the ocean directly. As you land, you'll see the joyous foaming of the waves that signal they're coming to Kudahuvadoo's shoreline.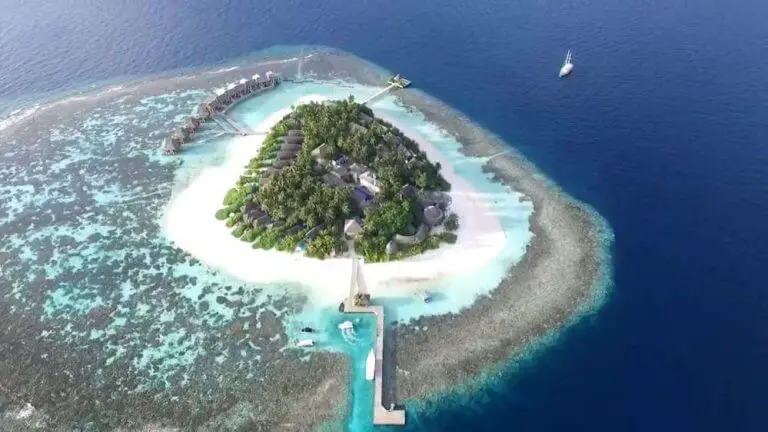 Honeymoon in the Maldives? Kandolhu is where you need to go. This resort comes with all the amenities that spark a romantic night. On the shore are numerous cottages that are inspired by classic Maldivian architecture. There's also a ramp that leads to construction that stands far away from the shore.
This construction has a long-roofed cottage. Numerous coconut trees accompany this. In this cottage, you can take a very memorable photo of your partner with the vast ocean as a background.
If the beachside cottages aren't up to your taste, then you and your partner should spend time on the cottages that are built at the sea. In here, you can swim or spend time talking about important matters while watching the vastness of the blue ocean up ahead.
Where to Find the Best Eats in Maldives?
If the cooking of the beach resorts or hotels is making your tongue squirm, try visiting these places:
Ithaa Undersea Restaurant – Ithaa is a restaurant and a tunnel aquarium at the same time. While eating, you'll see sharks, rays, and colorful fishes swimming above and on the sides of Ithaas interior.
Palace Sichuan – this is a restaurant with a very oriental feel. the interior is lined with browned lighting and the walls follow flat and bending geometrical patterns. inside are various Chinese porcelains that are handcrafted and etched with flowers, trees, and other Chinese art elements. don't hesitate to come here if you're a fan of Chinese cuisine.
Muraka – this is a restaurant in the Maldives that sits atop the sea. while eating here, you can listen to the gushing of waves and the flight of sea birds. seafood is more than excellent because they're sourced from local fishers nearby.
Top Activities in the Maldives
As I end, I want to recommend these activities during your stay in Maldives:
Dive with Sharks, Dolphins, and Manta Rays – the seawater of Maldives has the right conditions for dolphins, sharks, and rays. that's why you should exhaust all means to scuba dive with these. sharks and dolphins are used to tourists and you can always take a snapshot for a souvenir.
Spend A Romantic Evening – beaches in the Maldives has the air of romance. that's why you shouldn't stay inside your room all the time. at night, you should hook up with other tourists who came alone and talk with them. it's hard to believe, but a simple conversation by the beach might spark a special meeting between two hearts.
Parasailing and Windsurfing – a few beaches in Maldives excellent wind quality. examples are Cocoon beach, Rethi beach, and Finolhu beach
Ride Jetskis – beaches in the Maldives have calm moderate waves.in effect, they allow for jetski riding that's not too easy or dangerous. simply put, riding the jetski here is more like polishing your skills.
Yach Parties – beaches in the Maldives have yachts. you can rent them for the night and head toward the ocean for doing yacht parties with friends.