Sintra is a magical place that will leave you speechless. It's one of the most beautiful towns in Portugal, and home to some of the best tourist attractions.
To begin, this small city is known for its picturesque castles and palaces that date back hundreds of years. It has been named a UNESCO World Heritage Site because it contains so many historical and cultural attractions. Locals say it was once a Roman settlement, but little evidence exists to support this claim. Regardless, it's an enchanting place with plenty for sightseers to enjoy during their stay.
Since there are plenty of things to do and see, I've narrowed it down to the 10 Best Things to Do in Sintra. Whether you want to get away from the hustle and bustle of Lisbon or just need a break after visiting all those museums in Porto, this list should help you find your next vacation spot!
Things To Do In Sintra
1. Palácio Da Pena (Pena National Palace)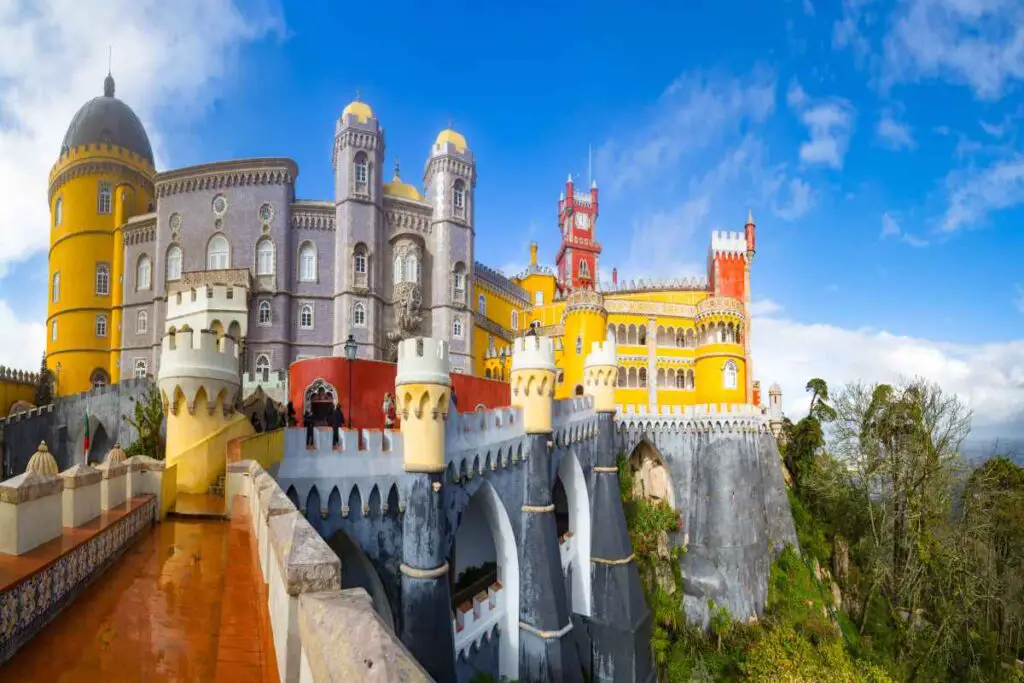 Always amongst the top tourist attractions in Sintra, nothing prepares you for your first sight of the fabulous 19th century Pena National Palace. In many ways, this is the quintessential Portuguese castle and seems to have been plucked from the pages of a fairytale book.
The palace was built in the Romantic architectural style by King Ferdinand II, with construction beginning in 1842 and completed in 1854. The palace was originally designed as a summer retreat for Dom Fernando II and his royal family.
Today operating as a tourist attraction, there are plenty of rooms open to the public, including the Queen's chamber complete with colossal four-poster bed, the recently refurbished Ballroom, Arab room, cavernous dining hall, fairy tale chapel decorated with intricate tiles, and curious collections of archaeological curiosities housed within the palace walls.
In addition to the beautiful architecture, there are magnificent views from Palacio da Pena across almost all of Sintra. On clear days you can see Lisbon some 18km away, something I was able to enjoy at the top of the main tower of the palace.
Pena Palace is also home to some wonderful gardens which boast rare plant species from around the world. With twisting paths snaking their way through flowers and fountains, I suggest taking your time just wandering along them to enjoy it all properly. You might also get lucky and see some peacocks roaming about. They're just one of many royal animals kept at Pena Palace.
I recommend spending some hours exploring and taking in all the amazing architecture and art. The Moorish influence and vivid colors make it one of Portugal's most unusual castles. I enjoyed my visit here and would recommend it to anybody coming to Sintra.
Read More: 22 Best Things to Do in Portugal
2. Day Trip To The Historic Center Of Sintra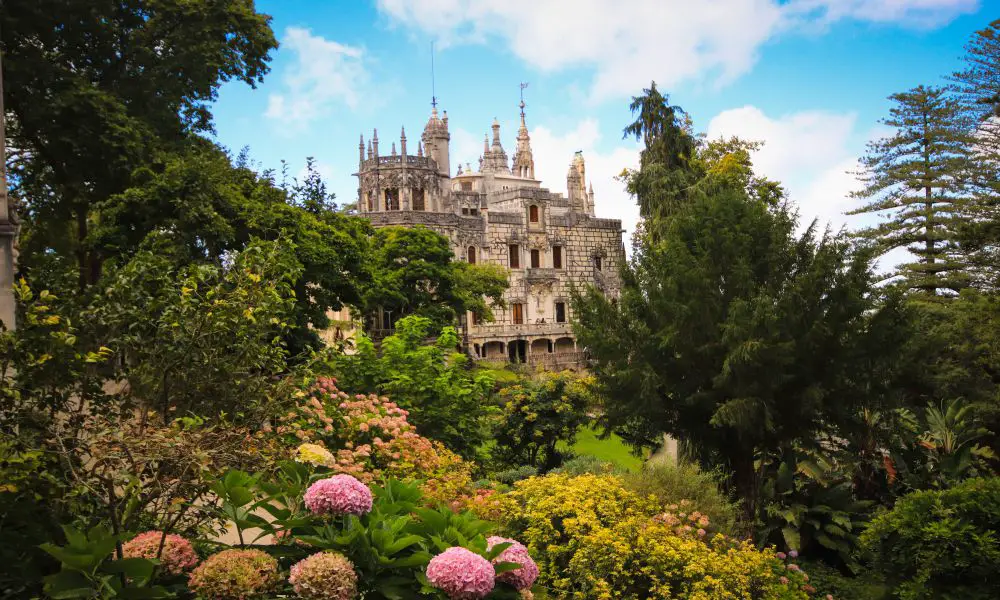 The historic center of Sintra is one of the most distinctive and enchanting areas in Portugal. It was listed as a UNESCO World Heritage site in 1995. This is because there are many historical monuments found within the area, making it one of Portugal's most important cultural areas.
As it is such an old town, you will also see many examples of Portuguese architecture as well as influences from other cultures such as Moorish and English styles. Such diversity helped to consolidate the city as a fascinating example of the many different nationalities that shaped Portugal's history.
Touring this town, you'll find yourself surrounded by cobbled streets lined with pastel-colored houses and tiny winding alleys. The area is full of history, dating back to Roman times when it was used as a summer retreat by wealthy Romans who would escape here from the heat of Lisbon!
Today the town remains a popular tourist attraction and sees an influx of visitors coming each year to admire its beautiful architecture. The best way I found to see this part of Sintra was on foot. Starting at the train station, I slowly made my way up the hill to the main entrance of the Moorish Castle. This route took me through pretty little parks and alongside fountains adorned with statues and ornate street lamps.
The highlight was walking along Rua das Padarias which is a very pretty pedestrian-only cobbled road decorated with flowers out front. There are also plenty of cafes and restaurants here for any weary travelers looking for refreshments.
The historical center is another one of my favorite tourist attractions in Sintra. So I would definitely recommend spending some time wandering around this picturesque little part of town!
3. Sintra National Palace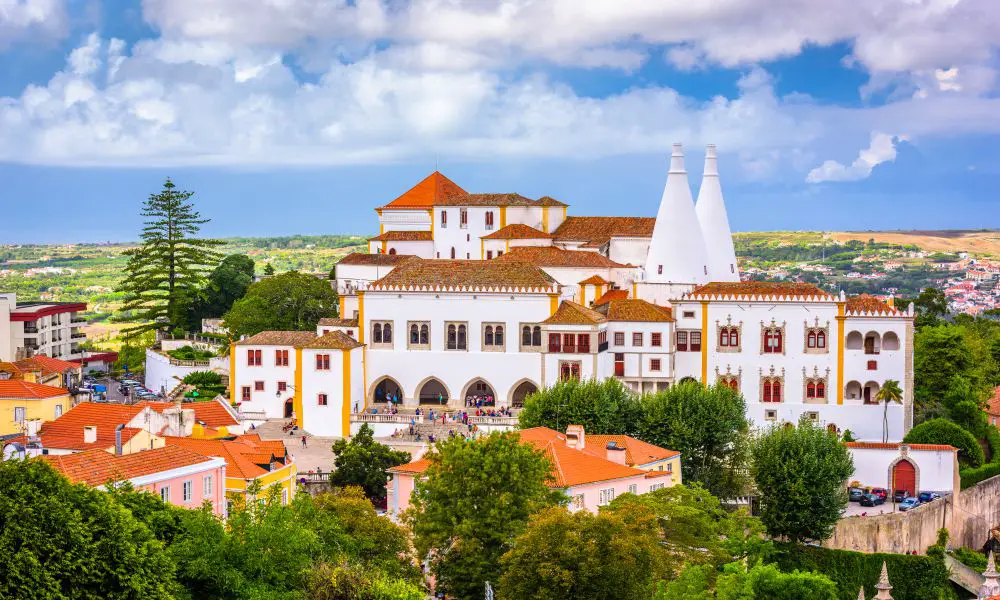 If there's one thing I like in a palace, is it's grandeur. And Sintra National Palace has that. This vast fortress dominates the hillside of Sintra and will take your breath away when you first lay eyes on it.
Construction of the National Palace began in the 14th century, and it has been expanded several times since then. It was first owned by the Royal family before being passed on to the Crown and later on to the State.
Today it is recognized as an official national monument. Inside there are art exhibitions, many examples of medieval architecture, and artifacts from local archaeological sites. The most striking thing about this attraction is its unique interior design which retains some original Medieval and Arab influences, including stunning carved pillars and intricate tile patterns on vaulted ceilings.
Visitors can wander around many of the staterooms, which are filled with lavish furniture, ornate wall hangings, and painted ceilings. Perhaps the most impressive is the Sala dos Brasoes. Banded by superb azulejo tile work. This is where the king hosted lavish banquets for his courtiers.
I enjoyed wandering around here for a few hours, appreciating the greenery, fountains, and interesting structures around here. This is definitely one of my top tourist attractions in Sintra!
Read More: 14 Best Things to Do in the Algarve
4. Convento dos Capuchos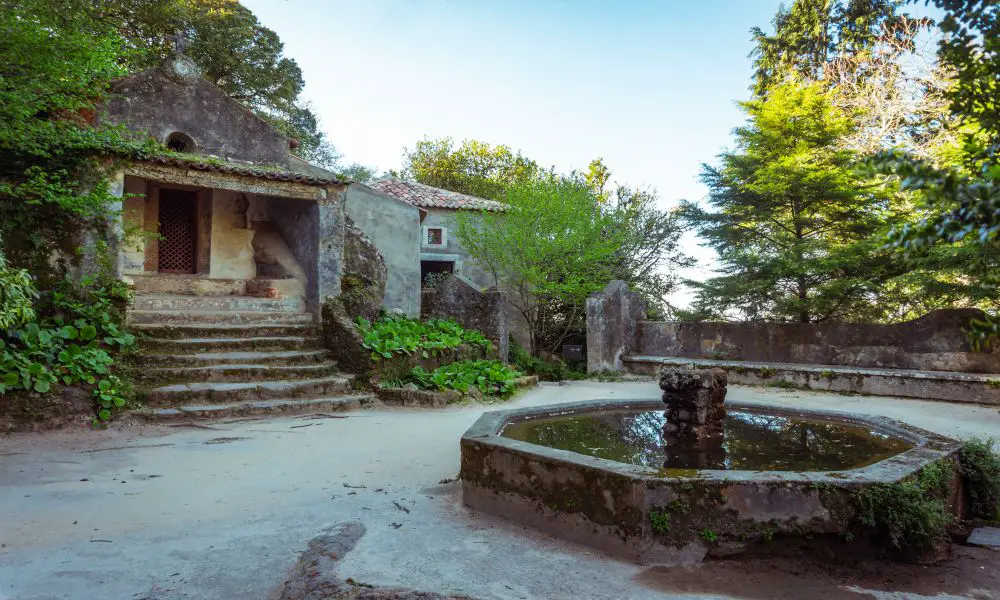 One of the best things to do in Sintra is to visit the Convento dos Capuchos, a UNESCO World Heritage Site. This secluded monastery is incredibly tranquil and deserves an afternoon of your time just to soak up the atmosphere and take some photos.
Founded in 1560 and occupied for 300 years before being abandoned in 1834, the retreat consists of a number of tiny cells carved into rocks. You can see beautiful tiled frescos and murals on nearly every wall.
Most of them are religious, but some contain historical portrayals of local events during the 16th century. The whole complex is absolutely stunning and rivals any other Portuguese art galleries I have visited. I found it both fascinating and perplexing at the same time.
At present, these tours are only given in Portuguese, but they do have English information available upon request. In addition to being a wonderful example of architecture and art, Convento dos Capuchos offers some wonderful views over Sintra and the surrounding area.
The monastery has a tranquil air that must have been appreciated by monks living there over the centuries. It is well worth spending 20-30 minutes or so here exploring and taking in the sites before heading back down to Sintra town center.
5. Castelo dos Mouros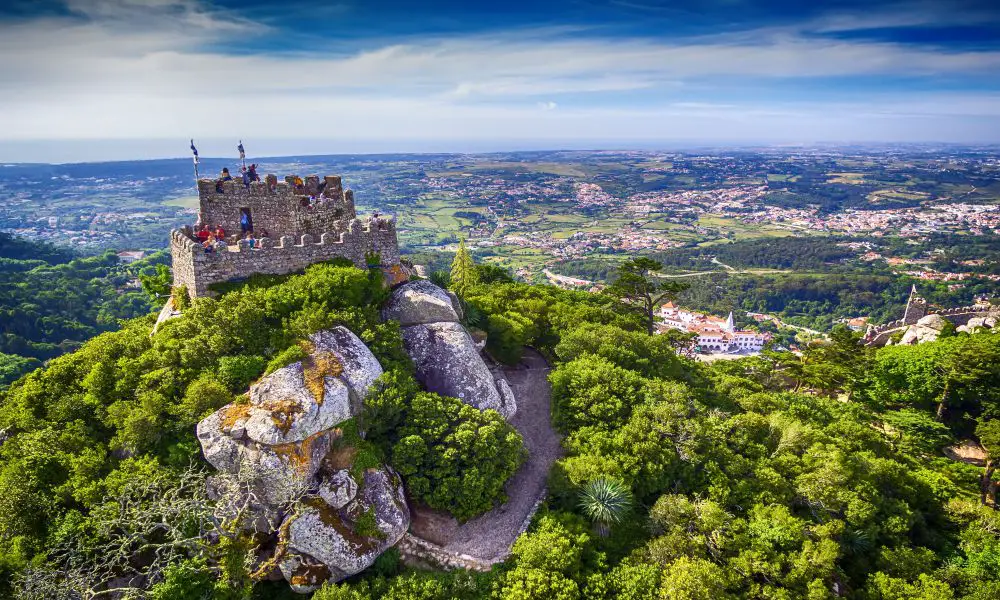 One of the most impressive tourist attractions in Sintra is the Castle of the Moors. A visit to the castle of Sintra is a must for any tourist in Lisbon and an especially popular destination with hikers.
This Sintra castle was built by Muslim forces back in the 8th century after they had taken control of most of modern-day Portugal. The castle has been part of many battles and was enlarged over time to become much more than just a defensive fortress.
Looking at its current State today, you wouldn't realize what a complex structure it once was. Although very little remains from Moorish rule, there are still remnants around the site which hint at its original grandeur. You can explore much of what remains of this once mighty fortification, including ruins, cisterns, arched passages, and lookout towers.
There are also great views across fertile lands below, as well as a truly romantic chapel. The views from the castle are amongst the best to be found in Sintra, and it is here that you can see for yourself why this tourist attraction should not be missed when visiting Portugal!
The climb up to the watchtowers is long but not arduous: there are plenty of things along the way that allows you to stop and take stock. There are also fabulous views over the town, castle, and surrounding forests from those vantage points. Do make time for a quick visit inside the small but friendly tourist information center at the base of the hill, as it provides all sorts of great details about this Sintra attraction.
Today, it is one of Portugal's biggest tourist attractions and regularly features on lists of recommended things to do in Sintra.
6. Cabo da Roca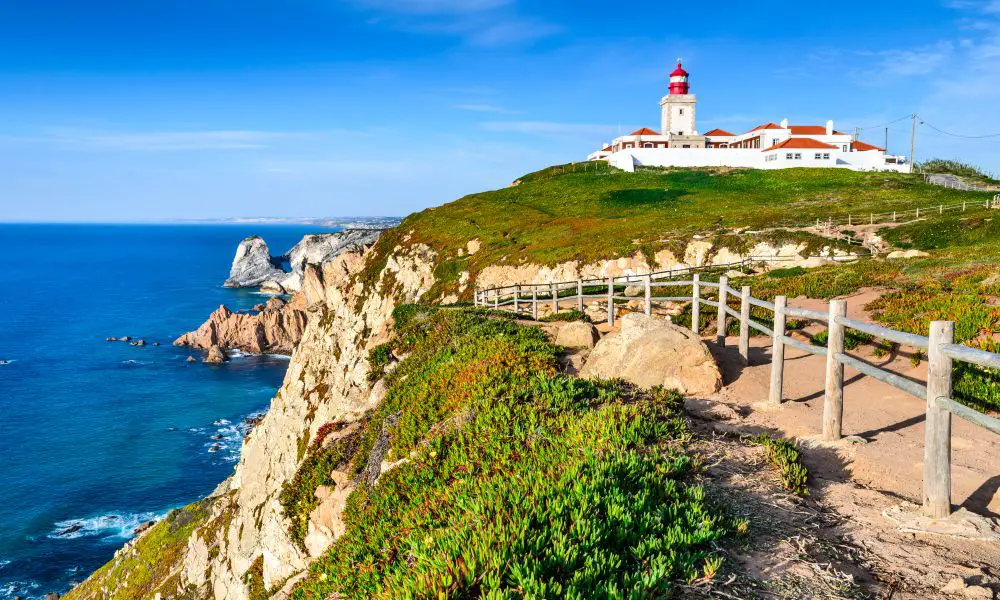 Located on the coast near Sintra, this is the westernmost point of mainland Europe and where you can find some truly stunning views out across the Atlantic Ocean.
The coast here is incredibly rugged, with enormous rocks jutting out of the sea and crashing waves which can make for some dramatic photos. Rising up from this rocky shoreline sits the lighthouse marking the end of Europe (or beginning depending on your perspective).
There are several ways you can reach Cabo da Roca with various tour companies departing every day. I went on a self-guided walking tour, which worked well for me. The walk actually takes you along some historical sites relating to early Portuguese explorers, including Henry the Navigator.
The hike does not take too long, but you will need to be reasonably fit. Thankfully there is plenty of places en route where you can take a breather and admire the views. Make sure you bring lots of water along, though, as it can get very hot, especially during the summer months. In addition, be aware that it can be very windy at this headland, so make sure you dress appropriately for your visit, especially if you plan to explore the rock formations here.
I can confidently say that Cabo da Roca was one of my all-time favorite places in Portugal, and I highly recommend it to anyone coming to Sintra. However, if you have any kind of vertigo at all, I would not recommend going close to the edge as it does give quite an overwhelming impression of being on top of the world, or rather on top of Portugal!
Read More: 12 Best Beaches in Algarve
7. Quinta de Regaleira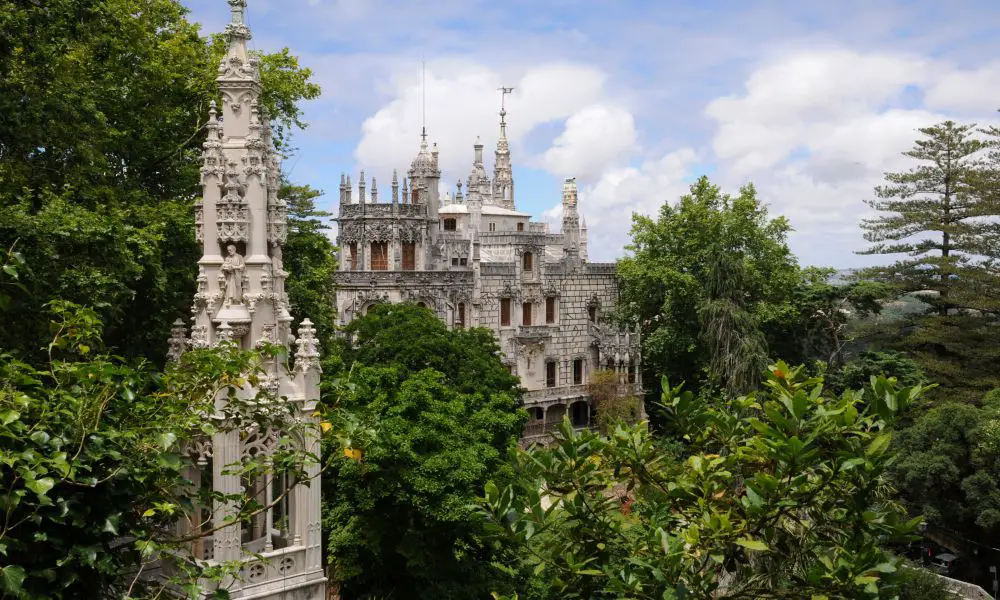 The Quinta da Regaleira is one of Portugal's most popular and impressive Sintra attractions designated a UNESCO world heritage site.
The building was originally constructed for Antonio Augusto Carvalho Monteiro, who was a wealthy landowner and prominent politician. And following an ambitious construction project between 1900 and 1910, the estate was finished off using some peculiar design elements that relate to alchemy and Freemasonry.
The estate is set out in a series of underground tunnels and chambers connected by secret staircases, something I found quite fun! This design was inspired by an earlier book called 'A Journey through Secret Rooms,' which tells the story of a couple who go on a quest for treasure in their own house.
In homage to that tale, it seems this estate was built more or less as a theme park for secret rooms where things could happen behind closed doors unseen by others. In addition, the castle also has strange shapes carved into rocks which are believed to be ancient Druid symbols.
The highlight of the visit for me was climbing up to the castle's highest tower, where you can enjoy wonderful views over lush forested hills in every direction.
The Quinta da Regaleira is quite an unusual tourist attraction but nonetheless fascinating. I enjoyed my visit here, exploring all the gardens and secret rooms, and admiring the lush views across Sintra. This is a place that will certainly give you plenty to think about!
8. Monserrate Palace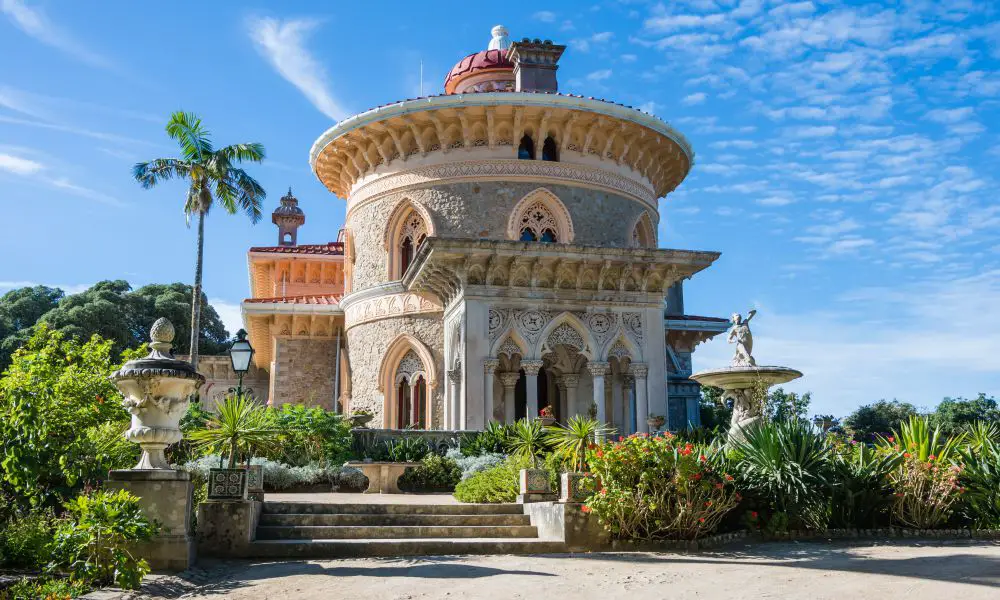 Monserrate is a stunning Neo-Gothic palace standing sentinel on the hillside overlooking the historic town of Sintra. One of the most decorative structures in Portugal, Monserrate achieved notoriety as one of Europe's most extravagant royal retreats and still stands as a testament to the need for grandiose living.
This 19th-century palace was constructed by Sir Francis Cook, who was an English aristocrat. And while it's open to the public via guided tour only (which I recommend), its interior provides some snapshots into the lives of Portugal's former elite.
The decor here shows influence from both Islamic and Moorish cultures, giving guests a peek at how these influences permeated European design during earlier eras. Once again, each room seems like an art installation of sorts: with intricate furniture and painstakingly-placed ornaments that were likely placed there centuries ago and never moved thereafter.
The exterior features a lush garden with swaying palms and other exotic trees, which blend perfectly to present a natural paradise out of this world.
I think that this is one of the most beautiful Sintra attractions, where history has been preserved in perfect condition, meaning that it is worth visiting again and again!
9. Praia da Adraga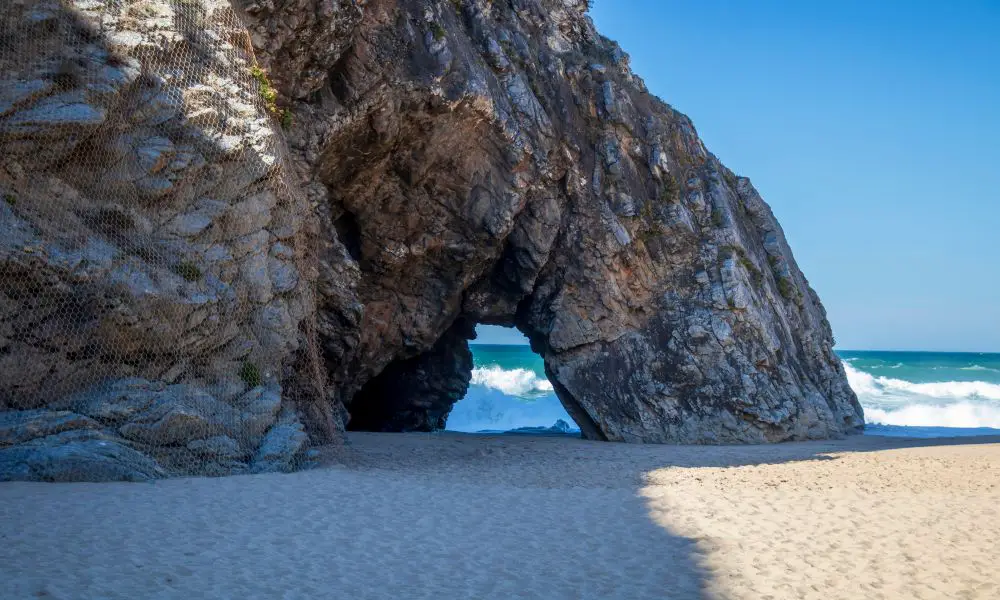 If you want to take a break from the castles and palaces that dominate Sintra, why not visit its beaches? Praia da Adraga lies in a small bay just off the coast of Sintra and is one of the beaches to spend time in this region.
Praia da Adraga has all the things you would expect from an Atlantic beach, such as strong waves crashing onshore. However, it also has smoother areas more suitable for sunbathing. In addition, it doesn't get too crowded here despite being close to some of the major tourist attractions in Sintra.
If you wish to stay longer than just a quick dip into the ocean, there is a restaurant located right at the car park. It is here where you can sample some of the delicious traditional Portuguese cuisines, with locally caught fish usually taking center stage.
If all this wasn't enough to make Praia da Adraga one of your top things to do in Sintra, it is also home to some amazing sunsets over the ocean. That was another thing I really enjoyed about this place. For me, it's that combination of natural beauty along with good food and drink which makes Praia da Adraga my favorite tourist attraction in Sintra.
10. Museu do Ar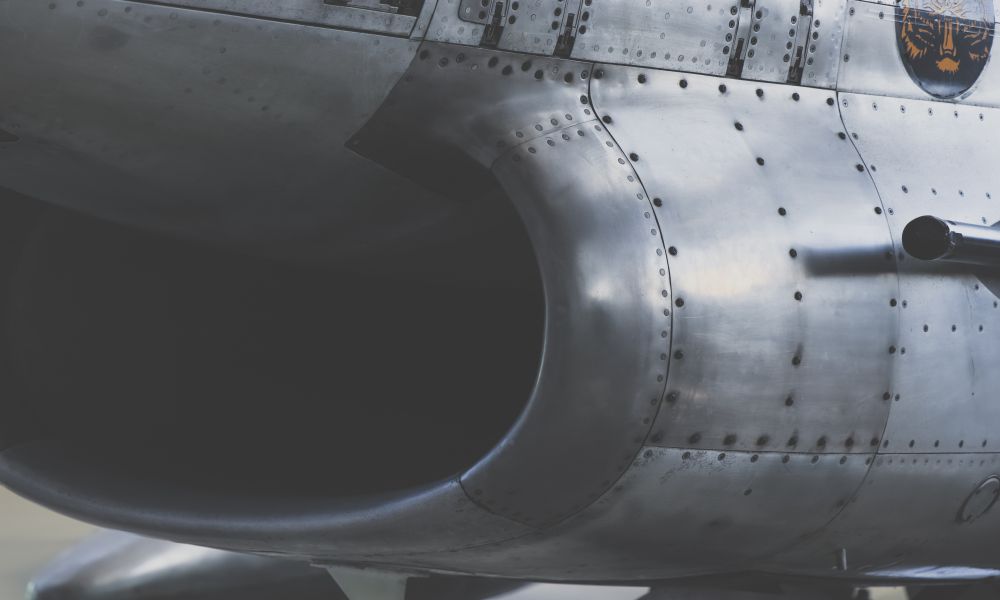 The Museum of the Air or Museu do Ar, as it's known in Portuguese, is one of the most unusual museums I've ever visited. Set up inside a decommissioned aircraft hangar at Sintra Air Base, it contains around 40 aircraft dating back to World War II.
The most impressive aspect of Museu do Ar is that it presents Portuguese aviation history through a number of old aircraft. Highlights include early versions of the helicopter and different planes used by Portugal for both civilian and military purposes throughout history.
It's not just the planes that are of interest here though, one of the Museum's highlights is getting to climb into the cockpit of a plane. It's fascinating just getting up close to these historic machines, which have now been transformed into a museum.
I found this Museum fascinating. It's quite unlike other museums I've visited before. So, if you are looking for things to do in Sintra, don't forget to add Museu do Ar to your list. It's a great alternative option if you get tired of other attractions in Sintra.
In summary
Sintra is an amazing destination for any traveler interested in exploring medieval history or who wants to escape the crowds of Lisbon. I hope you've enjoyed this list of the top tourist attractions in Sintra. So, if you're planning your next vacation or weekend getaway, then these are some great places for your Sintra itinerary!