Punta Cana is a treasure to those looking for an unforgettable vacation in the Dominican Republic. It's the location where you'll see a concentration of cerulean beaches meeting a smooth white sand shore that spans a total of 32 kilometers and enjoins Bavaro to form the Coconut Coast, where some of the best resorts in the Dominican Republic operate.

I'll be totally honest with you. The Dominican Republic isn't a tourist destination where you can stroll around like floating on air. It's a place where you have to be on your toes all the time.

And with that said, a safe vacation starts with a well-made travel plan. I'll help you do that. Let's start with the most essential task of all – getting a tourist visa and how to get to Punta Cana.
The Dominican Republic has a unique way of issuing passports. When other states issue the tourist visa as a separate document, the tourist visa that the Dominican republic issues are made part of the passport, on the other hand, makes it easier to understand, think of the Dominican Republic Tourist Visa as an inserted page on your valid passport.

Authorities from the Dominican Republic will require you to send your actual valid passport. They'll require you to do this because they'll have to stamp your approved tourist visa on the blank page.

As for the requirements, they're the same as the tourist visa requirements of other states. Aside from the actual passport, you also have to send via mail a 2×2 photo (white background and shoulder-length only), FBI clearance, health insurance, letter of intent that's written in Spanish, a copy of the visa application form, and a medical certificate.
You don't have to experience interconnecting flights for going to Punta Cana. Punta Cana has its own international airport, and you can book a flight directly headed to it. The majority of the staff can speak English. Therefore, you don't have to worry about who to ask for directions if you're confused about where to go next.

If you've ever been to the Philippines' airports, Punta Cana will remind you of them. Upon going outside, a swarm of taxi drivers will flock around and will persuade you to ride. Be very careful of your belongings because a smart thief might join in with the commotion.

It's best to pick the first taxi driver to approach you. If you don't like being the center of attention, you can always refuse politely and wait for the public buses to arrive. However, their arrival is unpredictable. You might wait for 30 minutes or more before boarding one.

With that being said, the best option is the taxis. Be very cautious because drivers tend to overcharge. They'll do this by taking you along the city in circles. Others are more crafty and ask for a fixed payment instead of relying on the meter or fail to give change.
Assuming That You Arrived Tired In Punta Cana International Airport...
Supposing that you want to get a good rest before proceeding to the beach resorts, or let's say that you arrived in the evening. Where do you stay for the night? I recommend that you stay in the inns of Punta Cana Village that's only 3 minutes away.

Why would I recommend you to stay in Punta Cana Village inns instead of hotels? Punta Cana Village is a nearby public amenities that tourists badly need. For example, on the east is the Punta Hospital and on the north is Wendy's Restaurant that has a nearby bus stop.
Assuming That You Want To Get To The Beach Upon Arriving
Punta Cana International Airport is only 30 minutes away from the beaches. That being said, it's not a bad choice to skip resting and just find a good beach after arriving. In Punta Cana, these are the best-rated beaches that tourists can't get enough of.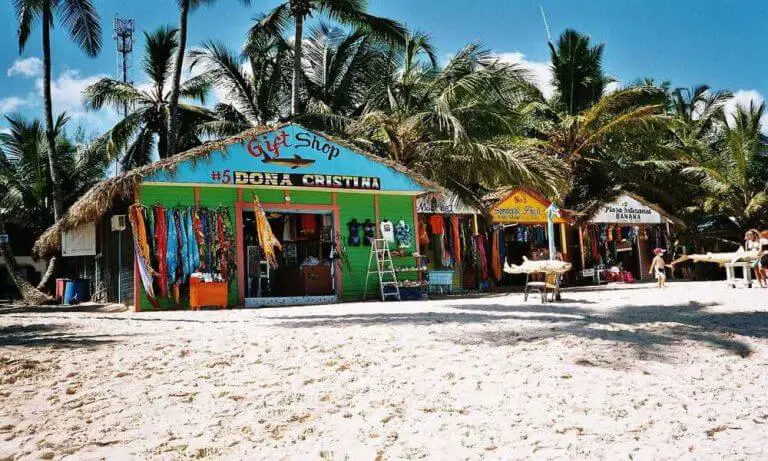 Bavaro beach is where you'll see the best of Punta Cana. Dancing coconut trees crowd on the coastline of Bavaro beach and look very lively during March and July. Nearby resorts don't put a lot of amenities on the shore to preserve its look. The water is very clear and warm, and you'll find this great for snorkeling and scuba diving.

Options for accommodation in Bavaro Beach are numerous. Nevertheless, most have excellent amenities, so be prepared because choosing will be hard. As for me, these are the ones that I find the best.

• Bahia Principe Hotel – I like this due to the landscaping that allows for the installation of one lake size pool and 3 miniature pools without destroying the beach's natural beauty that's only a walk away.
• Presidential Suites Punta Cana – Has a more minimalistic appearance. Nevertheless, the modern style buildings and the long center pool sitting in the middle provides wonderful aesthetics
• Majestic Colonial Punta Cana – Instead of maximizing the number of amenities to attract guests. This hotel's ace is the green landscaping that surrounds its front pool, suites, and cottages.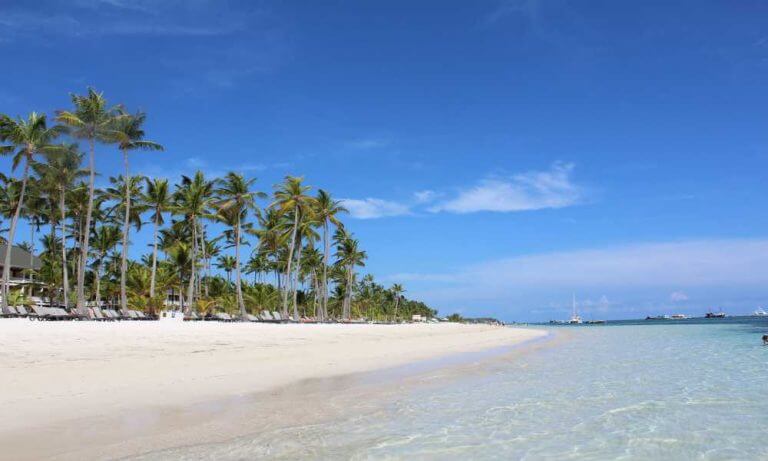 Playa Blanca isn't as great as Bavaro because it has some rocky parts. Nevertheless, tourists love it here due to the endless array of available water activities. For as low as $20, you can enjoy banana boat riding, paddle boarding, snorkeling, scuba diving, etc.
Hotels in Playa Blanca aren't that big. Nevertheless, they allow for a very relaxing stay. If you're thinking of staying in Playa Blanca, try these hotels:
Gran Castillo Hotel – The surroundings of this hotel are lined with flowers and trees. Furthermore, the environment is kid-friendly. Near to it is a harbor where you can rent a yacht or pay for a short cruise. The interior of the suites and rooms follow a simple yet eye-catching colonial style.
La Casona De Yaiza – A great hotel to stay in because it's near to La Bodega Santiago Restaurant and La Era Restaurant, which are considered the best foodie locations in Playa Blanca Beach
How Is Nightlife in Punta Cana?
Punta Cana isn't what you would call an ideal place to spend the night alone as a stranger in a foreign land. Isay that it's best to go with the parties that the resorts sponsor if there are any. But if you're with friends, going outside to a party is always an option.
Don't miss the Punta Cana party bus. This will pick you at the bus stops near the hotels. To get in, you and your friends will need to book a slot. The party bus might or might not have its own DJ, depending on the ticket price you bought.
Coco Bongo isn't where you and your friends go for parties. Instead, it's what you visit to watch the best circus shows in Punta Cana for an entertaining night. The shows range from trapeze, fire ring stunts, sword swallowing stunts, etc. Kids will love to see this, so consider going if you're with them.
Last is Vivaldi cigars. This is an established cigar bar in Punta Cana's Bavaro area. Here, you'll learn the fine art of cigar making. Listen carefully because the owner teaches useful things like how to make the best cigar filling, do's and don'ts of wrapping a cigar, and proper cigar storage.