Welcome to part 4 of my Best Places to Visit in Europe series. Today, I'll be taking you to Italy's swiss alps, Italian coastal villages that could've only existed in fairy tales, Denmark's seventh heaven for bird watchers, and a valley in Switzerland that the heavens gifted with an out of this world streams.

Europe has a lot of places for you to visit. However, what I am featuring here are great locations that you might not have heard of before. That's why this content is perfect if you're searching for tourist destinations that are only available to true travelers.
In this article, I'll take your mind to the meadows of Secena and Alpe De Siusi, the colorful coastal villages of Positano and Cinque Terre, the strange-looking river of Valle Verzasca, and the mountains and hills of the Faroe Islands where different species dwell.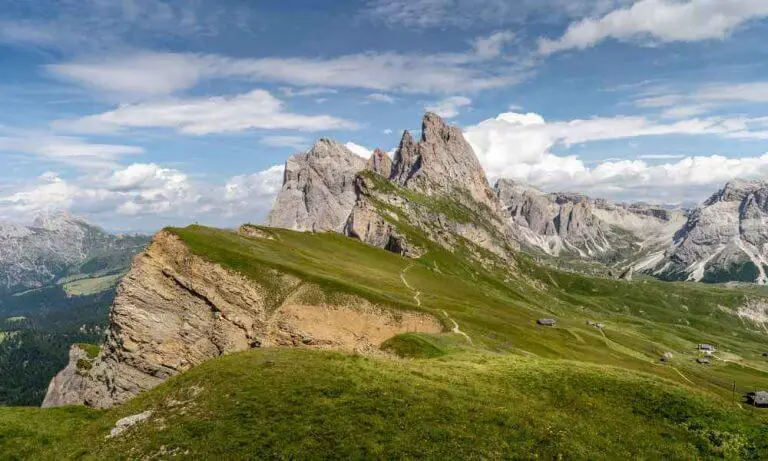 Italian's don't have to go far if they want to experience how it's like to be in the Swiss Alps. They already have Seceda and Alpe De Siusi that don't lose to the Swiss Alps in terms of majesty and beauty.

Hikers never fail to include these places on this bucket. Seceda and Alpe De Siusi have all the things for a relaxing hike – picturesque summits, green calming meadow, fresh atmosphere, a sea of clouds, and a serene environment.

Seceda is on the foot of a nature reserve in Val Gardena – a valley in Italy's Dolomite mountain range.

In the winter, Val Gardena steals the limelight from Seceda since it has a lot of slopes where tourists can ski. Seceda gets all the glory during summer. Visit the sunny months, and Seceda will show you lush flower fields, panoramic mountainsides, and green meadows. Before I forget, Seceda also has cable cars for you to scan the best spots.

Mountain biking is a popular activity in Seceda aside from mountain biking. Biking starts on Secedas summit and ends at its foot. Cable cars will take of the job of getting you to the top. The trails consist of elevated steep and spacious rocky trails. Prepare yourself because biking in Seceda isn't for the faint-hearted.

The Alpe De Siusi is where you should go for experiencing a relaxing walk on a verdant meadow. Alpe de Siusi is the largest meadow in the world that sits atop a mountain.

Festivities happen in summer and winter. During the sunny days, the trails are waiting for your to traverse by walking or mountain biking. During the cold days, snow covers Alpe de Siusi's gentle slopes and invites you to use the ski or the snowboard.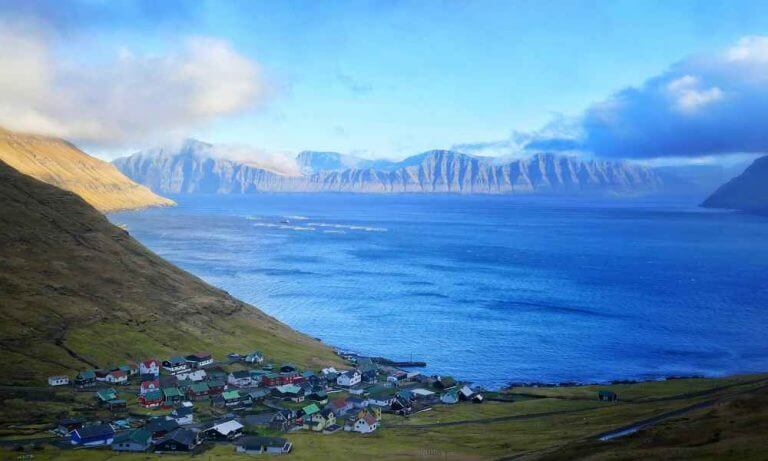 The Faroe Islands is an archipelago that's part of Denmark's territory. It's accessible via Scotland, Iceland, Norway, and Demark, with the first of the places mentioned serves as the nearest point.

The Faroe Islands is a famous location for its birds. More than 80,000 tourists visit the Faroe Islands, comprising mostly of bird watchers who want to see the 305 bird species thriving in it.

The first place that I recommend you to visit in the Faroe Islands is the Mykines. Mykines is an island that sits on the westernmost side of the Faroe Islands. The puffin population makes this island famous. As per estimates, about 500,000 thousand puffins thrive on Mykines, and they're more than ready to receive tidbits of crackers and other food.

After visiting Mykines, consider visiting the Dranganir Islet. Dragonair is an islet that looks like a high-heeled sandal – perfectly shaped and positioned. The journey toward this place will let you see the islands of Tindohlmur and Vagar – two islands that also look stunningly beautiful.

Before going home, take a look at the Molafossur and the Bolafossur waterfalls. These are cliffside picturesque waterfalls that empty to the sea. You might like Bolafossur better between the two because hiding behind it is a scenic lake that a joyous meadow surrounds.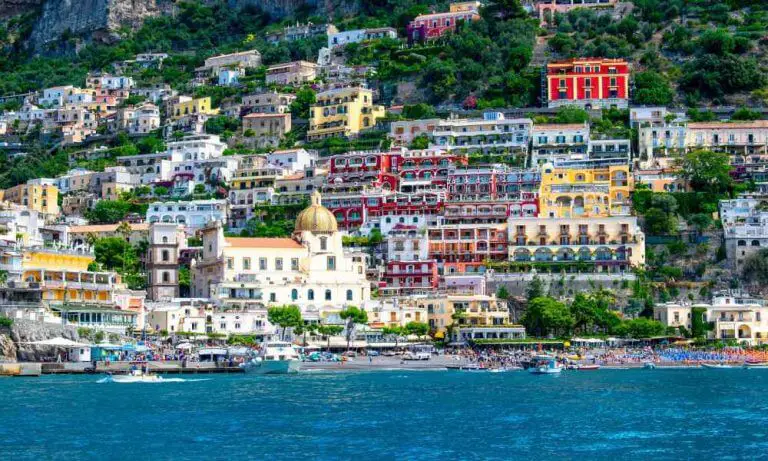 Let's leave the Faroe Islands and head back to Italy. This time we are visiting the hidden coastal regions of this country that many seem to miss. One of these is Positano. Positano is as stunning as Santorini but more natural and lively in its own curious way.

Positano never fails to amaze tourists with its seaside views. No matter where you are – may it be a bar, restaurant, or boutique – the lively scene of ships and boats moving to and fro on the sea is always visible. Also, showing the sea's joy in their presence are its cobalt hue and balmy waves.

The Spiaggia Grande is where most go during their first time in Positano. This is the beach that's directly in front of the town. The Spiaggia Grande is where you can try boat excursions and snorkeling.

Renting a boat is important for spending a good time in Spiaggia Grande. The shore doesn't have a lot of space, and tourists quickly crowd it. Therefore, swimming or sunbathing isn't enjoyable unless you rent a boat to distance yourself from others.

East of Spiaggia Grande – about 30 minutes by walking and 15 minutes by riding the SITA bus – is the Fornillo Beach. Fornillo beach is a thin strip of beach in front of Puppetto Hotel and Restaurant. Fornillo beach is where you go sunbathing, which is impossible to do on Spiaggia Grande's shore during peak season.

The Laurito Beach is a secret that only regulars in Positano can enjoy. This is because it's a short rocky beach that can only host no more than 30 people at once.

Here's a quick way for you to find this place – get a local tour guide. In contrast, asking tourists who know Laurito beach won't work because most treat the beach as their private space.

Exploring Positano with a bike is a popular attraction aside from the beaches. Biking is enjoyable because you'll see the picturesque views that come from the colorful houses of the locals, the dangling flowers on their balconies, and the steep winding roads that overlook the beaches.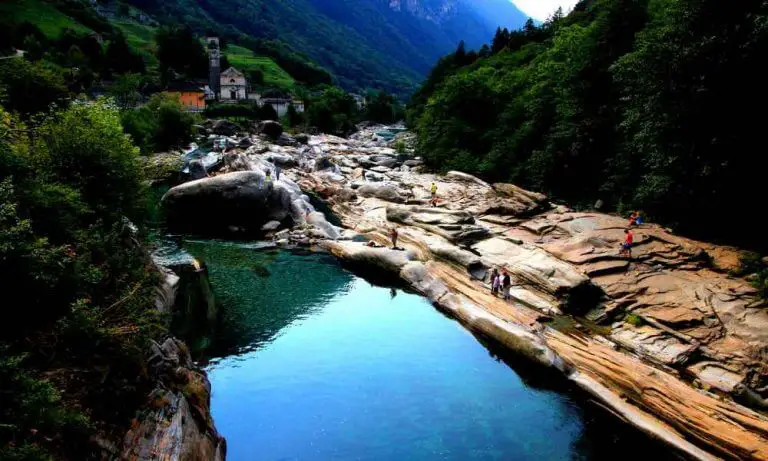 The Valle Verzasca is a famous valley in Switzerland that many call the Ticino Canton's green heart. As Ticino's green heart, Valle Verzaca amazes tourists with its emerald streams that have strange rock formations and verdant banks. Their water flowing clear, tranquil, and clean.

Valle Verzasca's streams interconnect and flow through the municipalities that it comprises. The municipalities feature traditional swiss houses, where the most beautiful ones are near the streams. Hotels aren't many. However, the lodges and inns with warm beds and neat interiors are more than enough for an excellent stay.

Setting the steams and their rock formations, Valle Verzasca is actually a rich spot for seeing medieval culture remnants in Switzerland. In Bellinzona, the capital of Ticino, are the Castles of Bellinzona. The Castles of Bellinzona are three castles that provided fortification for Bellinzona. Each of the castles is in pristine condition and available for day tours.

Next to exploring the Bellinzona Castles is taking photos of Ponti Di Salti. The Ponti Di Salti is an old bridge that has existed since the medieval era. It's famous because flowing under it is one of Valle Verzasca's clear steams. It's a great spot for taking wonderful souvenir photos. Using it as a diving platform for a fun swim on the stream underneath is also an option.

After Ponti d Salti go to the Versazca Dam. This is a huge arch dam that taps the power of the Verzasca River. This dam has a height of 720 feet, and you can try bungee jumping. If you're afraid to do this heart-shaking activity, then there's the bank of Verzasca River for you to explore.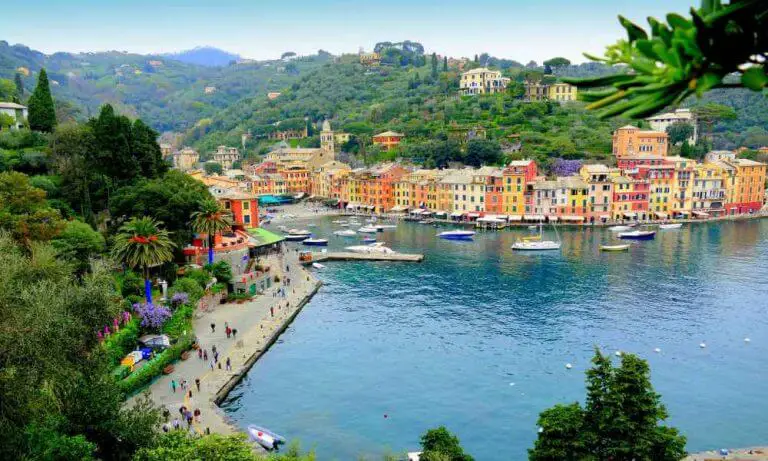 The Cinque Terre is a small region on the coastline of the Italian Riviera. Comprising Cinque Terre are the mesmerizing polychromatic towns of Monterosso, Vernazza, Corniglia, Manarola, and Riomaggiore. Footpaths interconnect this town and allow quick travel without vehicle transport.
Just like Positano, Cinque Terre provides a wonderful seaside view. However, you might like it better because it has more areas that you can claim for yourself. Moreover, the buildings in Cinque Terre feature more vibrant shades. Hence, making biking and walking more scenic.
Cinque Terre also takes pride in the number of its cheap restaurants. Visit any of these, and you'll discover that all dishes are delicious no matter how simple. Moreover, the restaurants are always aiming to provide guests with the dining spots that offer the sea's most spectacular view.
The beaches of Monterosso, Manarola, and Vernazza are where you should go to experience the best that Cinque Terre has to offer. Soft white sands characterize these beaches. Moreover, hotels and inns don't spoil the view that they offer. Of course, swimming is great.
Sometimes, local musicians perform on the beaches of Monterosso, Manarola, and Vernazza at night. They intensify the ambiance that comes from the lightings of the distant hotels, restaurants, houses, and cafes.