Restaurants with Michelin stars, fashion boutiques, the leaning tower of Pisa, the Eifel Tower, and the romantic city of Paris are things that bombard the mind upon hearing the word France. Most go to France to visit French cities and experience the nightlife, shopping, and culinary adventures. Nevertheless, people are overlooking another great location – the French Alps.
The French Alps is on France's southeastern corner and runs along the divide between Italy and Switzerland. Here, the kings of the game are high altitude ski resorts with numerous ski trails, bowling lounges, magnificent hotels, chalets, and camps. With that being said, if you're ready to challenge steep slopes that run along with forests, get your ski and go to the French Alps.

Which ski resorts are the best in France? These are what counts as the top locations for skiing, according to World Ski Awards.
• Val Thorens
• Avoriaz
• Chamonix Mont-Blanc
• Courchevel
• La Plagne
• Les Arcs
• Les Deux Alpes
• Megeve
• Meribel
• Serre Chevalier
• Tignes
How is skiing in the ski resorts above? Each doesn't offer a plain skiing experience where you'll only traverse steep slopes. French ski resorts are competing with their unique perks. Proceed reading to the next section to know what the resorts above offer.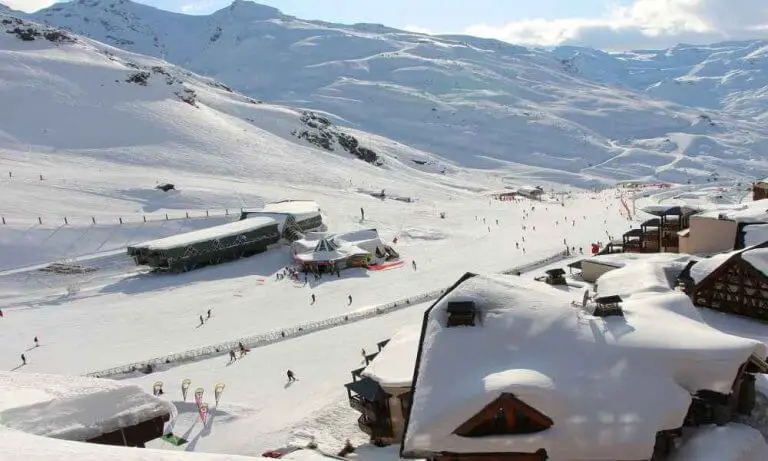 Val Thorens is a ski resort and a town on the Terrantaise Valley of the French Alps. To get here, just head to the Savoie region of France. Savoie's center is Chambery. from Chambery international airport, Val Thorens is 1 hour and 35 minutes away with a tourist bus.

With an elevation of 2300 meters, Val Thorens is the highest ski resort in France and the entire European continent. The suits where you'll be staying are already on the slopes. Therefore, all you have to do is grab your ski and head out.

The Val Thorens area divides into two skiing sections – Val Thorens- Orelle and Three Valleys. The pistes of Val Thorens-Orelle totals 150 kilometers. On the other hand, the pistes of the Three valleys totals 600 kilometers. Pistes of both sections let you see the majesty of the Glacier de Peclet and the summits of the French Alps.

Besides skiing, other fun activities you can do drive the snowmobile, ice climbing, paragliding, and ice driving. There are also dedicated trails for riding dog sleds. If you want to do something more laid back, go skating on Val Thoren's 400 square-meter skating rink – the La Patinoire.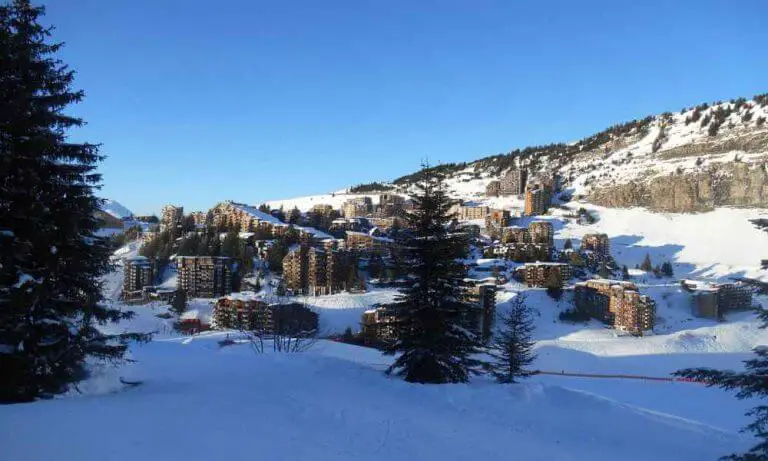 Avoriaz is a ski resort right at the center of Portes du Soleil – a skiing district that comprises Switzerland and France's ski resorts. To get here, head to Morzine first after arriving in Chambery. The trip will take 1 hour and 40 minutes. Upon finishing the trip, head to Avoriaz from Morzine via bus. The trip is short and takes no more than 20 minutes.

Slopes in Avoriaz aren't very steep and more suitable for laid-back skiing. For this reason, the ski resort is popularizing ski touring. Ski-touring is a slow-paced type of skiing that puts more emphasis on sightseeing rather than speedy maneuvers. Dedicated ski touring trails are the Cross Slope, Bleu du Lac Slope, Cretes de Lindarets Slope, Stash Slope, etc.

You can also go snowshoeing in Avoriaz. It has 8 trails for this activity. Of course, Avoriaz built huts on the specific points of the trails, where you can take a rest. All in all, Avoriaz is a ski resort with scenic slopes that beginners and professionals will love.
Chamonix Mont-Blanc Resort
The Chamonix Mont-Blanc resort is where you should go if you're looking for a ski resort that never runs out of space, no matter how many tourists. In reality, Chamonix isn't one single resort but is an aggregation of different resorts – Grand Montets, Brevent, La Flegere, Les Houches, Les Tour, Les Vormain, and Le Planards.

Cable cars link all of the resorts that comprise Chamonix. Therefore, it won't be hard to transfer if you don't like where you're currently staying. As for the slopes, they consist of intermediate to professional trails. That's why get a ski instructor if you're an absolute beginner.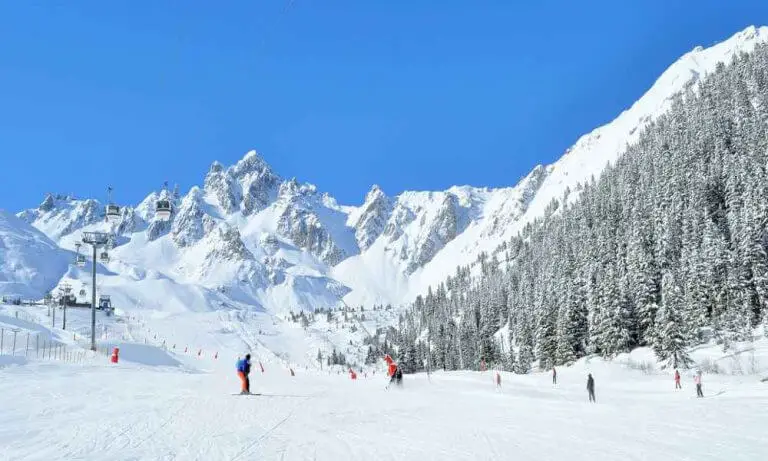 Courchevel is a ski resort that's part of the Les Trois Vallees, a ski area that France boasts as the widest in the world. This ski resort is basically a package deal – hotels, chalets, restaurants, slopes of different heights, and winter recreational activities are all in Courchevel.
If you're great at skiing, there's no reason why you shouldn't visit. Courchevel has 6 legendary ski areas that are only for hardcore skiing fanatics – L'Eclipse, La Jean Blanc, La Saulire, La Vizelle, Le Grand Couloir, Courchevel La Tana, and The Freeride Lab.
Aside from the legendary ski areas, Courchevel also offers enjoyable gimmicks for guests. You can go for a relaxing winter walk on the 87-kilometer dedicated groomed footpath. You can also arrange for an aerial tour and see the caps of the Le Trois Vallees from above. Of course, a visit to the Courchevel for a cup of hot chocolate is great before skiing again.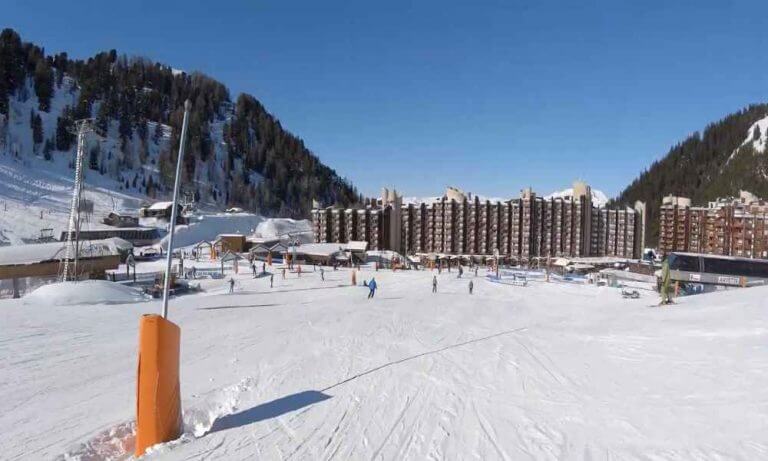 Two million five hundred thousand tourists visit this resort Tarentaise Valley. You have three options for going to La Plagne – train, bus, and car. Riding the train or bus to La Plagne usually takes 3 hours. On the other hand, renting a car and driving your way to this resort only takes 1 hour and 28 minutes.

Seventy percent of La Plagne's 425-kilometer runs are slopes that have an elevation exceeding 2000 meters. Moreover, these categorize into beginner, immediate, and professional zones that have markers for you to know which is which. Aside from the slopes and their runs, La Plagne also has 186-kilometer cross-country skiing trails and 40-kilometer ski touring trails.

Besides offering skiing activities, you can also enjoy a bit of a cultural trip in La Plagne if you're willing to do it. Spend a bit of money and arrange a tour that will take you to the Pierre Borrione Museum, St.Martin's Basilica, Joanne's House, and Montagne Mines.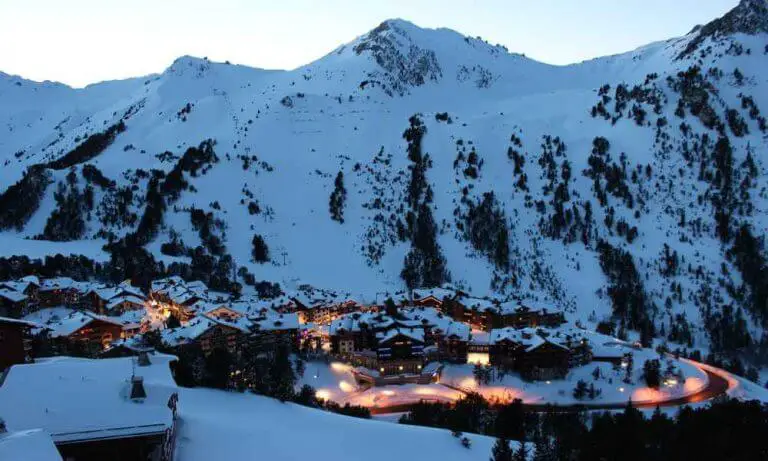 Les Arcs is another popular resort that's found in the same region in the French Alps as La Plagne. This ski resort offers a magnificent view of the mountains that comprise the Tarentaise Valley as well as the town of Bourg-St. Maurice on their foot.

The runs of Les Arcs total 425 kilometers. And just like La Plagne, most of the slopes stand higher than 200o meters. The most challenging are the runs on the slopes of Col De La Chal, Grand Col, and Aiguille Rouge. Col De La Chal elevates 2600 meters, Grand Col – 2800 meters, and Aiguille Rouge – 3000 meters.

Aiguille Rouge is the highest point in Les Arcs, where you can try paragliding. The view of the entire Les Arcs landscape is also very spectacular from Aguille Rouge. If you're afraid of heights but want to do something equally fun, riding the electric winter scooter on the trails will be worthwhile.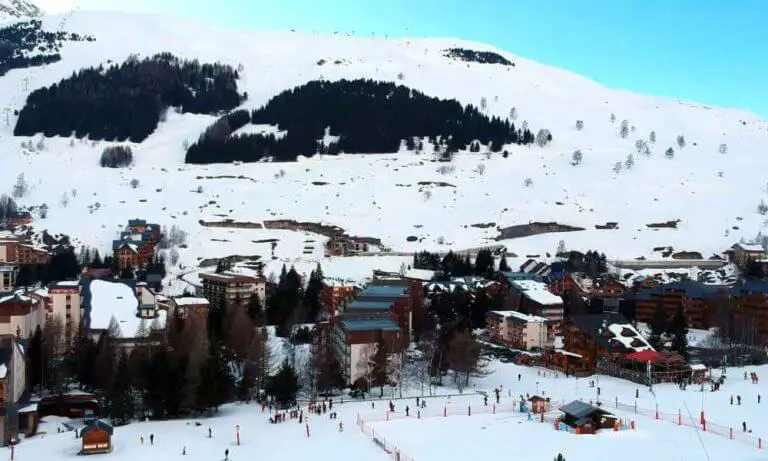 The Le Deux Alpes is a resort village in the Isere-Auvegerne-Rhone-Alpes district of the French Alps. It's famous due to the inverted characteristic of its slopes – the slopes are steeper on the resort's lower locations and get friendlier as the elevation gets higher.

With that being said, the runs of this resort are what you're looking for if you're not fond of riding the cable car for long. Challenging runs aren't fair, and you can get to them in a minute or so. Moreover, the fact that the easy slopes have higher elevation means you can do a relaxing ski and watch the overlooking views.

Les Deux Alpes also entices tourists to come with its Avenue de La Muzelle. In Avenue de la Muzelle, you can find great deals on skiing equipment and traditional food. You can also purchase rare clothing, perfume, and jewelry. With that being said, Les Deux Alpes isn't only about skiing but also about shopping too.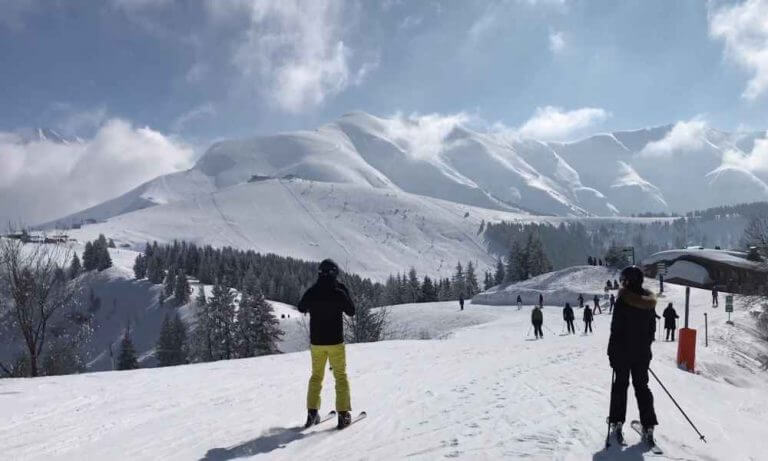 Megeve is a laid-back ski resort that features numerous mountain-top cafes and restaurants. It's near the main road that connects Chamonix and Geneva. Three areas comprise Megeve's landscape; Mont D'arbois, Rochebrune, Le Jaillet – all having low profile slopes that make up for an easy practice for those who can't keep up with the difficult runs of other ski resorts.

This resort is actually a part of the bigger Evasion Mont Blanc ski resort and serves as its main area. Aside from skiing, the most popular activity is the nighttime dinners on the mountaintop restaurants and cafes. The cafes and restaurants offer a spectacular view of the rugged snow-covered caps of Mont Blanc. Popular dishes on the table are French and Italian cuisines.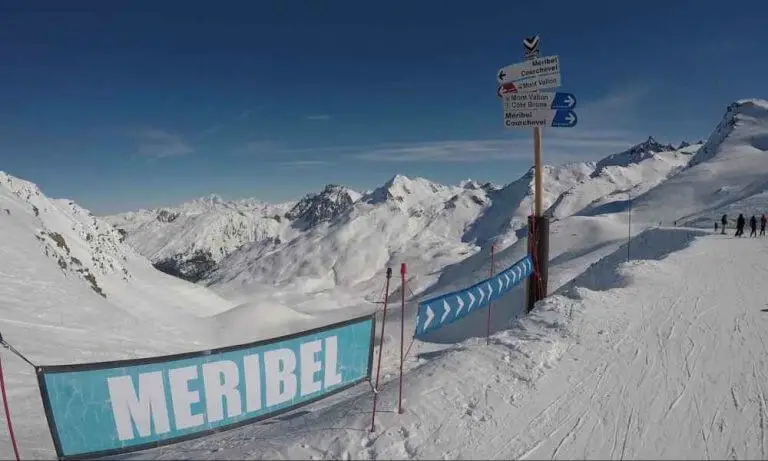 Meribel is a ski resort village that's part of the Les Trois Vallees of the French Alps. Though it has numerous good slopes for practice and for polishing skiing techniques, Merivel is more famous for the fun wintertime activities that it offers. The skiing landscape of Meribel consists of easy and difficult through the woods, intermediate level drops, and the humble houses of the villagers that peek from a distance.

Fun activities that you'll love in Merivel, apart from skiing, are the horseback riding tour, ice sculpture family workshop, private horse riding lessons, and moon day yoga.

The horseback riding tour lasts for two hours and will let you explore the peaks that surround Meribel. On the other hand, the ice sculpture family workshop is where you'll learn how to make ice figures such as ice houses, ice animals, and ice figurines. The moon day yoga is a full-hour session that will loosen your stiff muscles and nerves.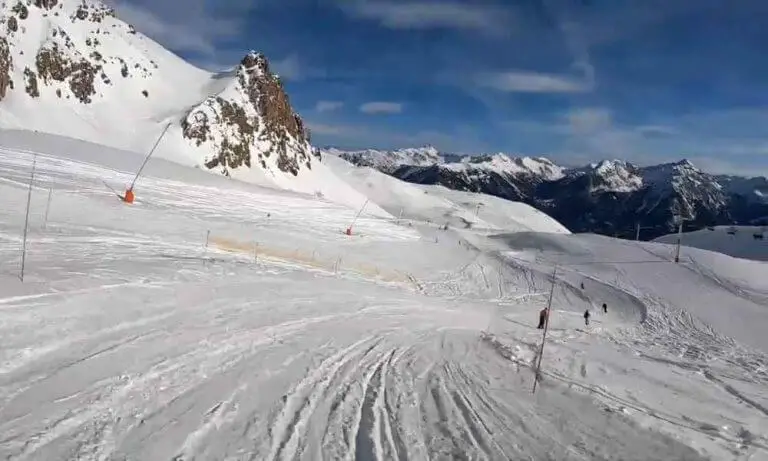 In southeastern France, on Provence Cote de Azure, is Serre Chevalier. For you, what this ski resort offers is a skiing experience that good weather always accompanies with the sunshine overhead and thick snow underneath your feet. The snow cannons ensure the integrity of the snow on the slopes even if sunshine is present.

Serre Chevalier is one of the ski resorts in France with the most expansive skating rinks. As a result, professional figure skaters never fail to visit. The presence of the figure skaters makes the skating rink an enticing place to visit. Head to it and watch the grace twist, turns, and flips of the figure skaters. If you want to, you can even ask to skate with them.

Furthermore, Serre Chevalier also offers cultural activities. The guided tours will take you to the nearby Brancon and its Old Town, Vauban Fortifications, and historic college. If you don't like Brancon, then the guided tours will take you to Salle instead to see its Vauban Fortifications and Salle Painted Churches.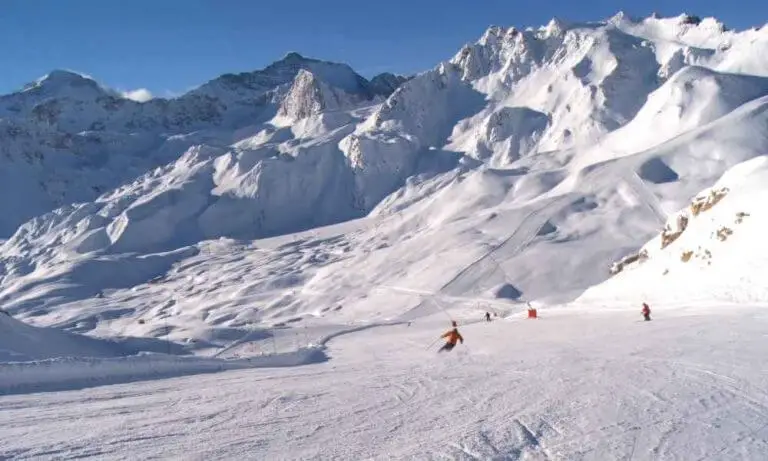 Tignes is a high-altitude ski resort on the portion of the French Alpes that touches the Italian border. Though it packs a lot of difficult slopes that make up for great skiing practice, Tignes is putting more emphasis on catering to other aspects of tourism aside from skiing.

Mountaineering is an activity that's picking up in Tignes, especially due to the guided tours of mountaineering extraordinaire Adelle Millz. Her mountaineering sessions will let you experience the rigid footpaths of the mountains surrounding Tignes as lessons on the tips and tricks on how to get your bearing while walking on locations with high elevation.

If you're a foodie, a visit to Tignes won't spoil your mood. On this resort is the restaurant of the Michelin star-rated chef Jean-Michel Bouvier. His restaurant is a very cozy space featuring a simple construction of wood that emulates the look of traditional French Alps abodes. He serves food for you in an open kitchen while hanging all the raw ingredients like sausages, ham, pork, and beef on the kitchen ceiling and wall.