Wintertime is when most places become very gloomy. But for Finland, the fun is just starting. It is a paradise for those looking for the best ski resorts. Finland is home to 75 ski resorts with various snow conditions for snowboarders and skiers. Read this article to know which are the best for skiing and snowboarding, the cost, and the equipment you need.

The best ski resorts in Finland are the Iso-Syö te ski resort, Ruka ski resort, and Levi ski resort. These stand out according to factual reviews in terms of snow reliability, safety, equipment, and maintenance. And for this reason, don't think twice about visiting any of these.

If the above-mentioned ski resorts' general presentation did not convince you, read the list below, which provides clear details about each of them's special features.
This is the nearest popular ski resort in Finland if you're in Helsinki City of Oulu. Being Finland's pride, Iso-Syö te garnered that world ski awards from 2017 until 2019. Furthermore, this resort also receives the most snowfall in Finland, wherein snow may accumulate up to 62 centimeters.

The most popular spot in Iso-Syö te is the freestyle snow park, which spans 2 kilometers. This is where most beginners and families spend their time. Nevertheless, other spots are available for seasoned skiers and snowboarders. Comprising this ski resort are 17 other slopes having difficulties ranging from class 1 – 8.

As for getting to the top of the slopes, 10 lifts are within the vicinity. These will take you safely along the different spots without trouble. Also, in Iso-Syote are log cabins where you can rest and escape the cold.
You'll find Ruka ski resort close to the peaceful town of Kusaamo, where country music-loving locals live. Other nearby areas but further than Kusaamo are Tavailkoski and Rovaniemi. So if you're in these areas right now, don't forget to go to Ruka because it's only a few hours' drives away.

For skiing and snowboarding, the Ruka ski resort has 34 slopes having a thick accumulation of snow that doesn't expose you to any kind of danger. You may also reach the top of each slope via the 21 ski lifts. The longest groomed slope reaches 1300 meters, and the widest vertical groomed slope spans for 201 meters.

Ruka is one of Finland's best. It was the recipient of world ski awards for four consecutive years, specifically the years of 2016,2015, 2014, and 2013. Of course, such an achievement isn't only due to Ruka's wonderful skiing and snowboarding environment. The rivers, lakes, and trees that make the landscape also contribute to Ruka's success.

And because of them, there other fun activities that you can do at Ruka aside from snowboarding or skiing. Yoga sauna sessions will help you warm up before heading out into the cold. You can also try ice-karting to test your driving skills on the slippery racetrack. The reindeer are also waiting if you're willing to spend time with them. If you're not afraid of biting cold, you can go to the nearby river and wear heat-insulating floats.
So what toppled the Ruka ski resort and Iso Syota ski resort as 2020's best ski resort? Beating the two, only a year ago, is the Levi Ski Resort, which is on Finland's Kittila municipality and near the Sirkka village that's very lively during the summer months.

The maximum thickness of the snow in Levi is 48-50 centimeters. It has 43 slopes wherein all are machine-groomed. There are 27 lifts in total, but some may be out of commission at specific times. Nevertheless, this resort's most striking feature is the 88-kilometer skiing tracks, 175-kilometer snowmobile tracks, and 22-kilometer walking trails.

The previous two ski resorts don't fall short of what Levi has. Nevertheless, Levi ski resort has an edge over them because it prioritizes optimal safety for all guests. All over the area of Levi are 10 cameras that ensure the immediate rescue of guests if accidents happen.
Best Ski Resorts in Finland For Snowboarding?
Snowboarders go to Levi, Ruka, and Iso-Site to test their skills. However, those who are familiar with Finland know that these aren't the best spots due to the huge number of other snowboarders during the peak season. With numerous snowboarders around, you're bound to run over someone. Furthermore, the slopes wouldn't be that good.

So where do you go if you want the slopes for yourself? Here are my top picks.
Pyha specializes in providing snowboarding tracks that you can enjoy for yourself. While people flock around other famous ski resorts and making snowboarding hard, Pyha retains its peaceful surroundings during the peak season. Whether you're visiting in November or December, when slopes get crowded, your time in Pyha will always be great.
Another great location for snowboarding is Yllas ski resort. Many compare this one to Levi. I think it has a better snowboarding environment because the difficulty of the 35 slopes range from bumps, sharp turns, falls, etc. Furthermore, there are also snowboarding classes that you can attend to further your knowledge.
Where Is Best For Beginners Skiing In Finland?
The resorts that I presented above serve well for beginners. But if you're looking for other places that provide the easiest and the friendliest landscape for leaning skiing, consider visiting these:
Tahko is a ski resort within the municipality Nilsia that belongs to Finland's northern Savonia region. Tako has 24 slopes in total, each higher than the other by about 200 meters. Half of the slopes cater to kids and adult beginners. On the other hand, the rest serve as training grounds for intermediate to advanced skiing.

What makes the easy slopes special is that each spans 10 kilometers. Meaning that you won't run out of space to practice turns and runs.
Serena is a ski resort in Finland's Espoo city. It has 5 beginner slopes that are accessible until nighttime. Administrators made it possible to practice till sundown by installing frost resistant exterior lighting. Serena isn't that big. However, it has a very beginner-friendly environment, which kids and adults might find welcoming.
Best Ski Resort For Seeing The Northern Lights
All ski resorts within Finland's Lapland region provide a wonderful view of the northern lights. It's because they're in the northernmost location of the country. Here's a complete list of all the resorts in Lapland in no particular order or ranking.

• Levi Ski Resort
• Pyha Ski Resort
• Yllas Ski Resort
• Ruka Ski Resort
• Salla Ski Resort

What makes Lapland ski resorts great for viewing the northern lights are coherent, clear skies, and highly elevated slopes. Furthermore, viewing locations come with accommodations for guests, such as log cabins and suites. Topping all is the serving of treats to guests as the northern lights dance in the sky.
Biggest Ski Resort In Finland For Families?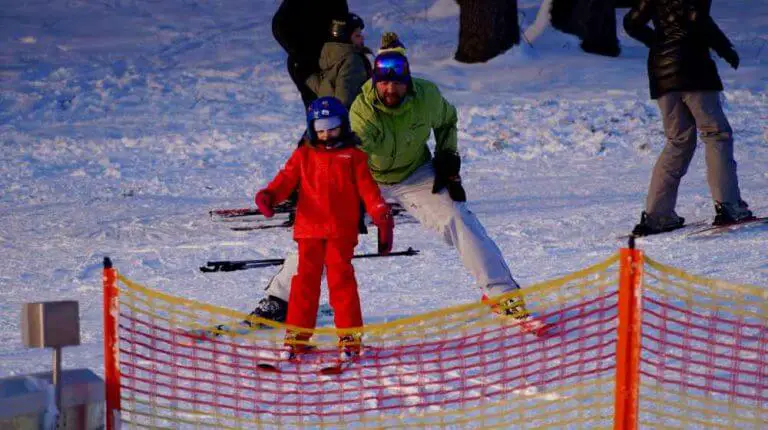 Ruka is the best resort in Finland for families. I won't say that it's the biggest, but it certainly is the most enjoyable for adults and kids. Ruka ski resort has a reindeer safari and husky safari, and These will take your family to the most picturesque spots of the Ruka landscape.

As for an activity that the kids will find enjoyable, there's the kids' snowmobile private tour. Rent snowmobiles and allow the personnel to teach them. After the kids get the hang of it, they'll then cruise on a short snowmobile trail that only kids can use.

By the way, there's also a snowmobile tour for adults. It's the same as the kids' snowmobile tour. However, the trail is longer and wider to accommodate a speedy cruising experience. You can ride the snowmobile until nighttime to reach the remote elevated spots in Ruka to view Northern Lights.

The kids might also want to try going to Santa's Cottage. On it, kids will have a fun time doing elven chores with a Santa mascot. Activities include riding a sled, playing games in the cottage, etc.

Finally, there's the real estate waiting for you. Away from Ruka is an estate where your family can spend quality time living the Finnish lifestyle. Learn how to bake bread traditionally, learn how to make Finnish kiddie treats, and learn how to care for reindeers.
How Much Cost Skiing Finland?
The entrance for Finland ski resorts is between 10 euros to 48 euros. Ski resorts in Lapland are more expensive and might require an entrance fee of 5o euros to 55 euros. Note that you might have to spend for traveling too if you're bringing your own skiing or snowboarding equipment. The average car rental in Finland is around 44 euros.
How much will you spend on renting skiing or snowboarding equipment? Prepare 100 euros – 300 euros. This amount will already cover all of the safety gears and a pro-grade snowboard or ski.
The resorts already have cabins or suits where you can stay for the night. Accommodation fees range from 100 euros to 200 euros. Of course, these amounts will have already covered your breakfast.
As for the additional recreational activities, consider prioritizing 500 euros to experience all. However, if you only want to do 1 to 3 specific activities, 200 euros will do.
What Clothes Do You Need For Skiing?
What you need for skiing are two-layered skiing jackets and skiing pants. There must be two layers because the first one will prevent the wind and moisture from penetrating while the second one will provide you with warmth. Consider getting skiing jackets and skiing pants that use fleece, cotton, and leather as materials.
• A balaclava for keeping the head warm
• Leather gloves or polyethylene gloves for hand protection and comfort
• Thick and comfortable skiing boots
• Skiing goggles that are fog-resistant
• A downhill ski
• Neckwarmer
Don't wear rings, earrings, or any other bodily ornaments made out of metal during your skiing. These can deal you with frostbite. And in case of frostbite happens, go to the ski resort clinic immediately to get treatment. If there aren't any, go to the staff and inform them of your situation.
Is It Always Snowy In Finland?
The world sees Finland as a winter wonderland. However, this doesn't mean that Finland doesn't get its fair share of sunshine. Finland can be sunny too. Snow starts falling on Finland in November and stops in May. However, other areas don't experience snowfall until the start of December.
Finland gets a hefty amount of sunlight from May to August. During these months, the sun doesn't set, and Finland is sunny all the time. During the sunny months, the ski resorts in Finland convert into recreational parks and provide summer activities that are as fun as the winter activities. So to end this article.
Finland is a fun place, whether it's winter or summer!