If you are traveling to Indonesia, one of the things you need to know is which are the most beautiful beaches in Bali, the most popular island in the country!
Bali's beaches are famous for their beauty, white sand, picturesque landscapes, high cliffs, and an amazingly beautiful ocean, the color of the water which is striking in the number of shades. Many of the island's beaches are known for surfing due to the high waves.
There are also beautiful shores where the sea is relatively calm and comfortable for swimming and snorkeling.
So, in this article, I will give you a list of The 14 best beaches in Bali so you can choose which ones you want to visit. However, if you have time, I recommend you visit as many as you can since each one has its own particular charm.
Best Beaches in Bali
1. Kuta Beach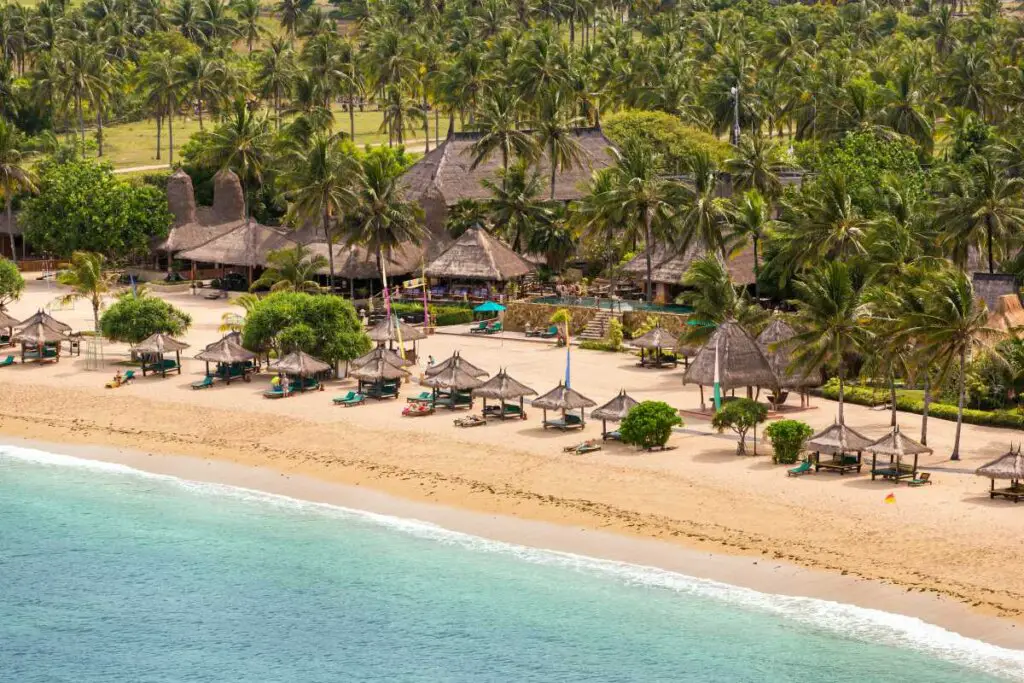 I start my list with Kuta, one of the best beaches in Bali, where tourists come in search of surfing and the best wave. It is an immense beach, both in width and in length, where you can enjoy breathtaking sunsets and splendid walks. The sand is fine and yellow/brown in color, the water is quite warm, and the sea is often rough.
Kuta Beach stretches along the coast for 8 km. Its strip is wide enough to accommodate many sun loungers with umbrellas, which are arranged in several rows. Excellent infrastructure attracts not only foreign vacationists in Kuta, but also its residents.
Surfing is possible on the beach. Experienced instructors teach the art of boarding the waves. For a small fee, you can go to the massage parlor, of which there are several dozen on the beach or order drinks in the bars. In addition, since it is crowded with visitors, you can easily find shopping places, places to eat, hotels, and gift shops.
2. Thomas Beach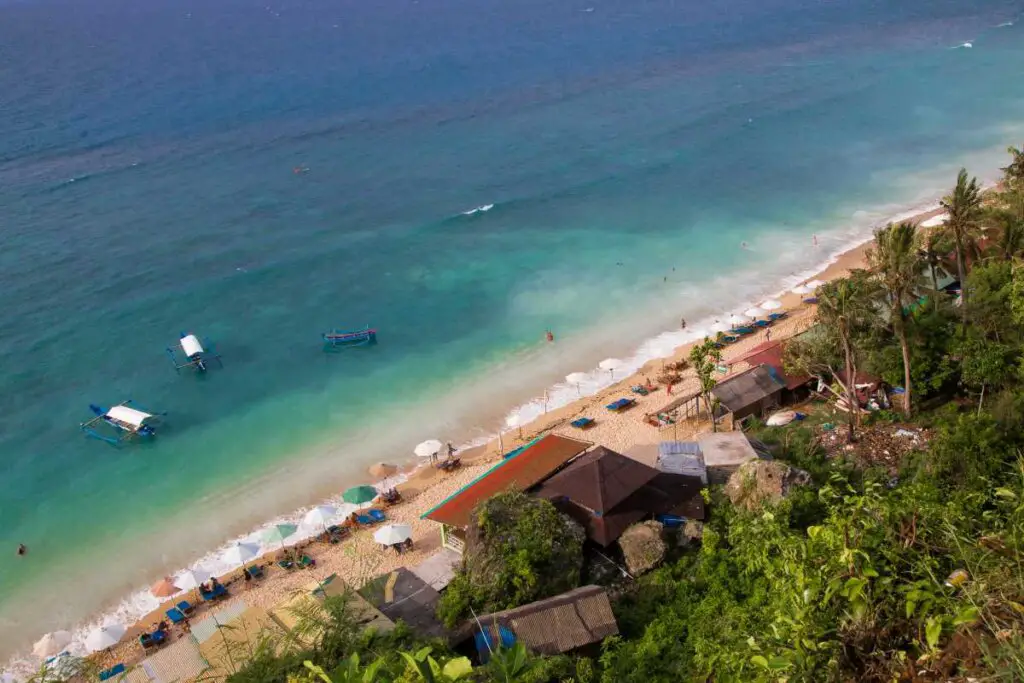 One of my best beaches in Bali was Thomas Beach. It was the second one I visited, and although lesser-known, it is stunningly beautiful. From up there, I could see the beautiful blue water changing its tone in some spots with algae.
It offers a 200-meter stretch of soft white sand, undulating turquoise waves, and the possibility of renting an umbrella to enjoy a perfect day of relaxation and beach. Accessible only via a gravel path and a winding set of somewhat crumbling stairs, this secluded white sand beach is well worth the effort.
Apart from its turquoise waters, at Thomas beach, you can see spectacular rocks that protrude from the sand, a landscape like something out of a postcard. Of course, be sure to bring a drink to stay hydrated because there are not many restaurants or sun loungers in this area.
Sometimes good waves are generated at Thomas Beach, at which point it becomes a great place to surf a few waves without being surrounded by crowds of surfers.
3. Amed Beach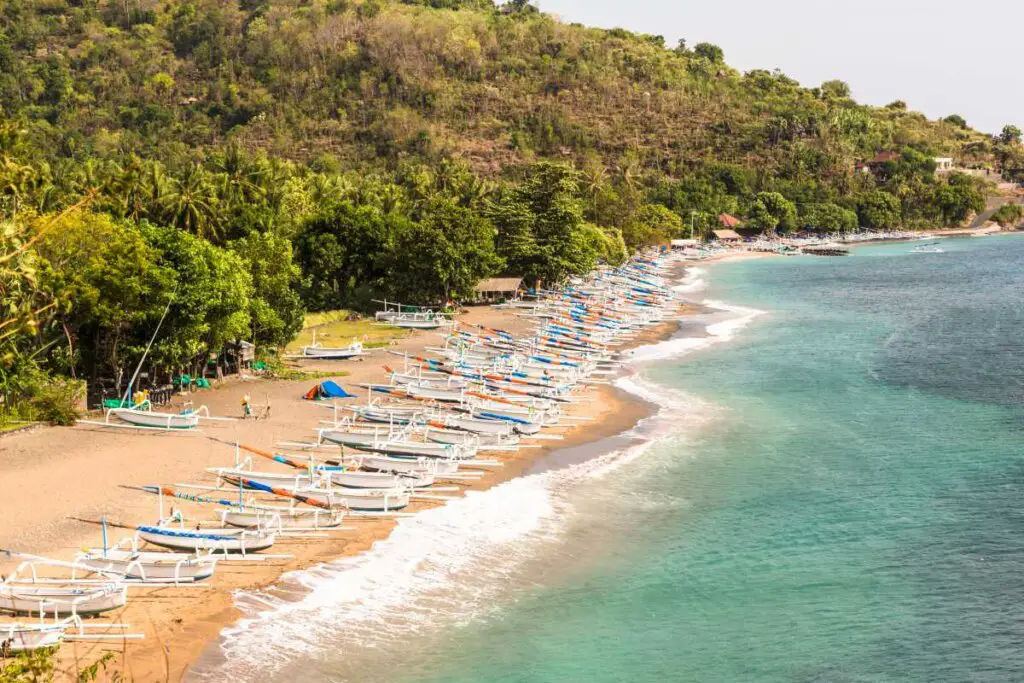 Amed Beach is undoubtedly, another of my favorite beach and one of the most beautiful beaches in Bali. It is classified as a black sandy Bali beach. And because of the black sand, this beach actually has its own charm for tourists who come here.
Many people love this beach because it was formed from a volcanic process. But that's not the only thing that makes this beach in northeastern Bali dubbed an exotic paradise. With calm waters, flat lagoons, and beautiful coral reefs not far from the mainland, Amed Beach is highly recommended as an ideal spot to learn to snorkel or dive.
An adventure under the waves at this beach often also means traveling to nearby Tulamben to explore the US ship USAT Liberty, sunk on January 11, 1942, where life and aquatic beauty converge. I recommend that you bring an underwater camera for this adventure because you will want to record everything.
4. Suluban Beach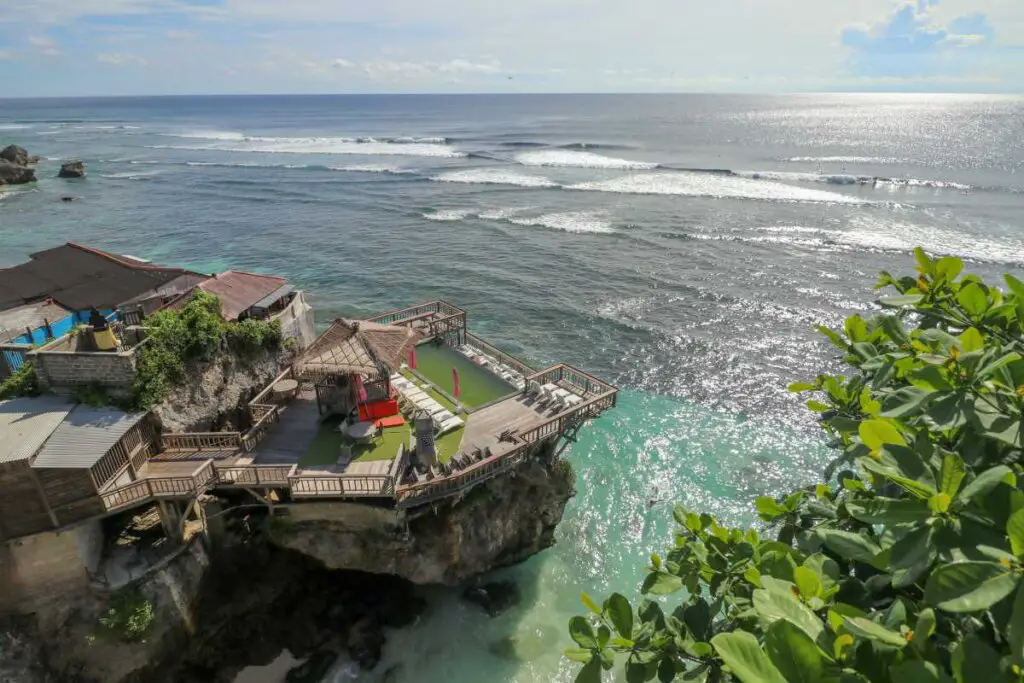 The highlight of my trip was getting to know Suluban Beach, also known as Blue Point, one of the most popular spots for surfers. Upon arrival, when descending the wall that gives access to the beach, the view is impressive. Overlooking the sea are several bars, both with a privileged view of surfing competitions.
This beach is characterized by its large cliffs and good size waves. Although small, this quite hidden cove gives the feeling of being an almost private beach. It's like a little hideaway, but if you look up, you'll see cliff-top bars, hotels, and restaurants looking out onto the beach and incredibly blue waves crashing against the rocks. This makes it fall under the category of nicest beaches in Bali that is worth visiting.
It is important to know that when there is high tide, this place becomes inaccessible for swimming. So if you plan to go swimming, find out the state of the tide first.
5. Sanur Beach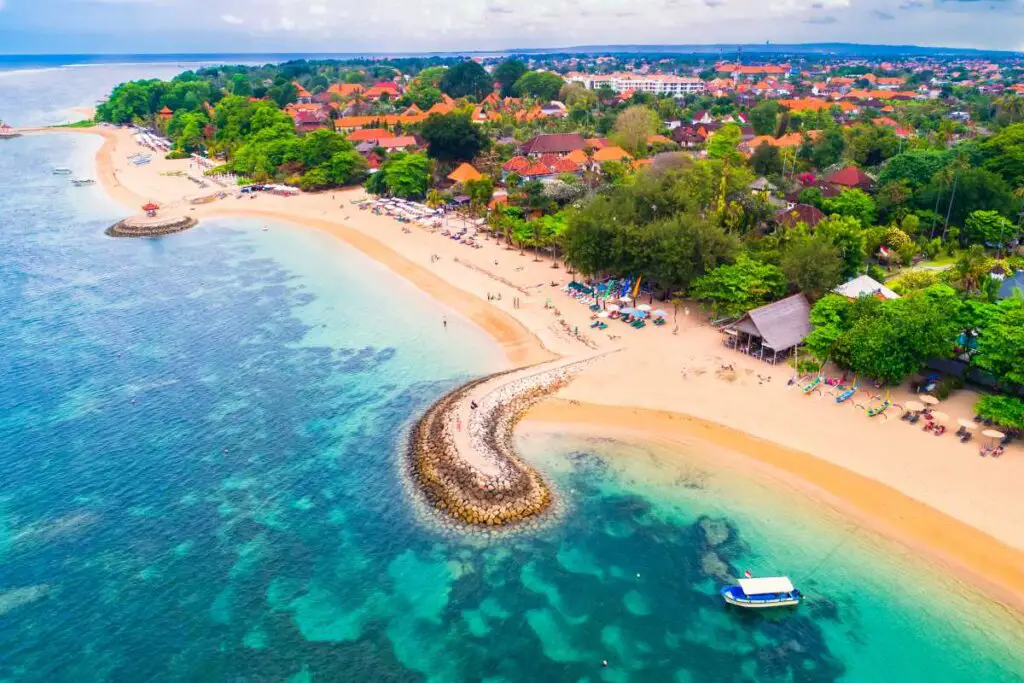 For lovers of snorkeling or diving, without a doubt, Sanur beach is one of the best to discover the bottom of the sea in Bali.
Located in the south of the island, Sanur beach is characterized by being a long family beach covered with palm trees. In addition, the shore is protected by a large number of reefs full of marine animals. If you intend to travel to Bali with children, Sanur beach is a fantastic option, as it has calm waters and a silence that reigns 24 hours a day.
This area has a large number of hotels that blend into the landscape. And if you want to do some activity with the little ones, I recommend getting a boat with a glass bottom so that you can see the depths of the ocean while you ride with the boat quietly.
6. Karma Beach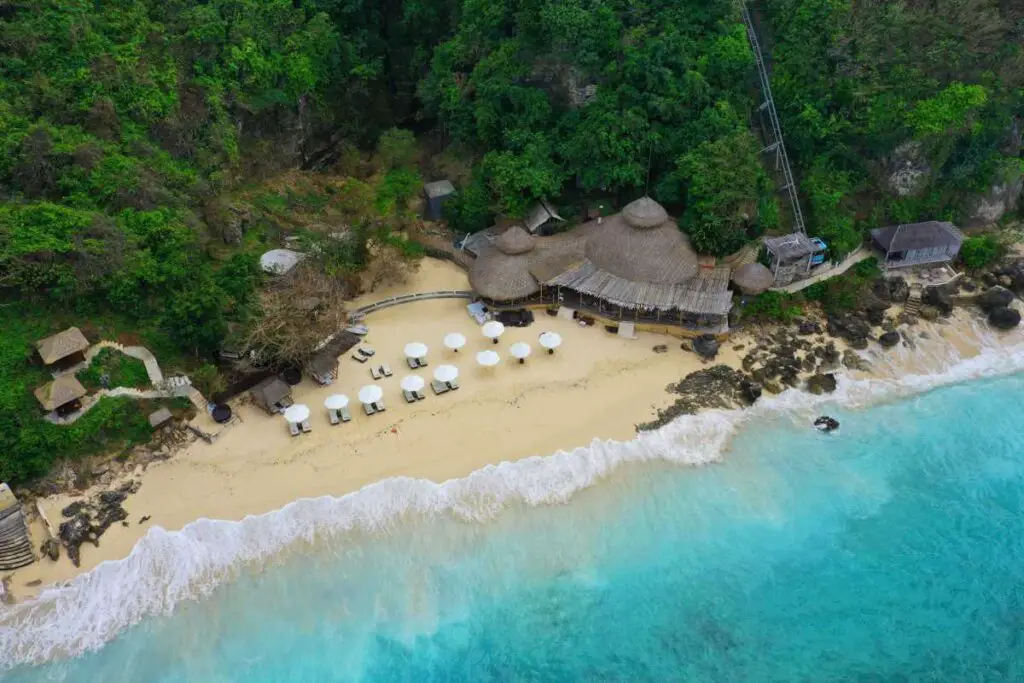 I have to tell you that if you're looking for beautiful and crystalline beaches with white sand, Bali is not exactly the right place, as it has beaches that are not so attractive despite being good. But I have to tell you a secret, the beach at Karma is heaven indeed. It is an hour from Denpasar, about 50 minutes from Seminyak by taxi.
A lot of people do not pay attention because it is a beach with difficult access. And because they think that the beaches of Bali are similar, they end up opting for more accessible beaches, as this one requires you to go down a cliff with a funicular. This makes it to be one of the best beaches in Bali to chat, relax, or seclude yourself.
Well, Karma Beach is a private beach. Therefore, to enter, you must be registered as a guest or pay a fee to enjoy premium restaurant facilities and the beauty of the beach. Here you can also enjoy a variety of delicious Mediterranean dishes and fresh cold beer. And with the sunset in the background, you can also watch movies on the big screen by the beach. The place is fantastic and super quiet, with a beautiful view of the cliff and the green that surrounds everything.
7. Pandawa Beach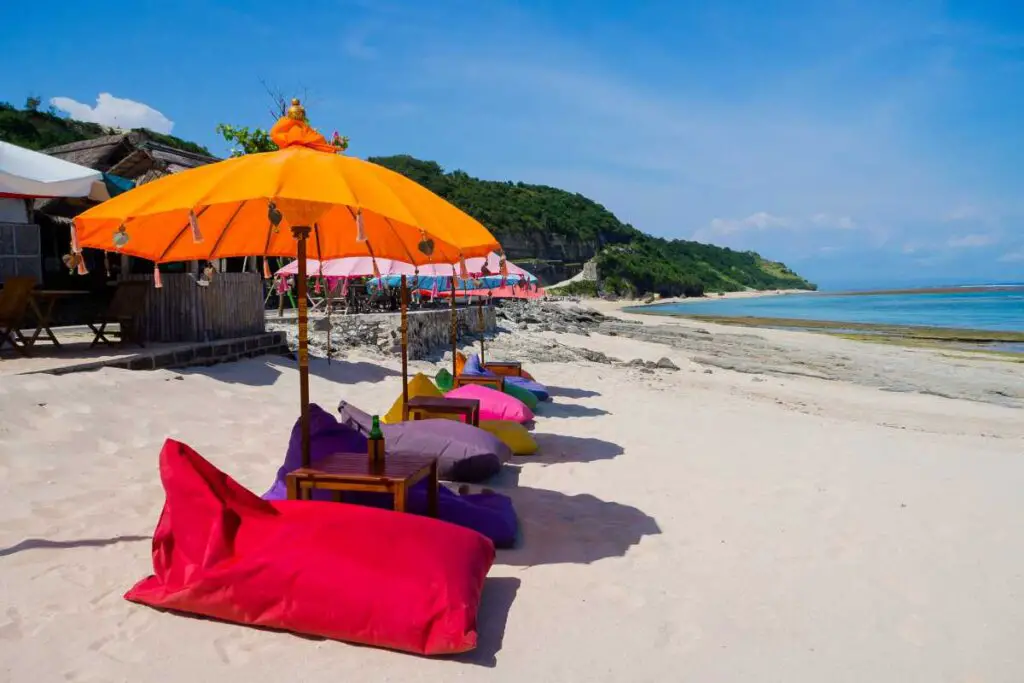 Pandawa Beach is one of the most beautiful beaches in Bali, which has recently become popular among domestic and foreign tourists.
This beach has an amazing panorama with a calm atmosphere. When entering the beach area, you will be amazed by the beautiful panorama from the high cliffs. Not only that, but you will also be greeted with five Pandava statues that stand firmly and gracefully. The sand is white, smooth, and clean. The seawater is very calm and blue in color, so it is suitable for those of you who want to swim.
This beach is a happy and lively place, always full of people. There are a number of water activities that you can practice as well as food stalls serving delicious Balinese dishes that are located around the beach.
8. Padang Padang Beach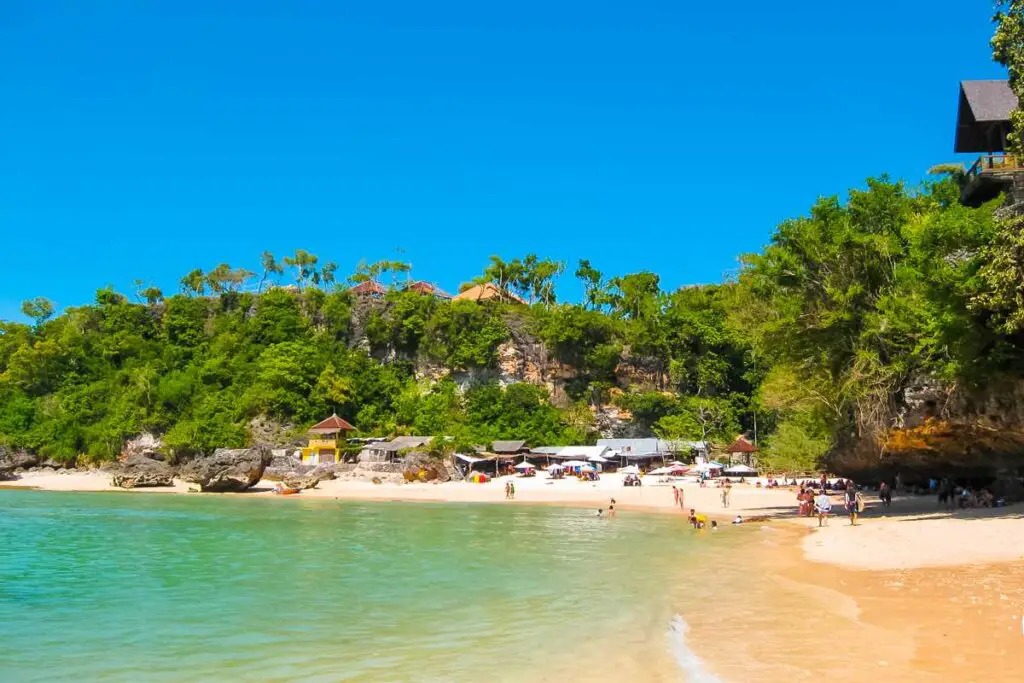 In addition to being a world-famous surf spot, the beach owes part of its fame to the filming of a scene from the film "Eat, Pray, Love" starring Julia Roberts.
It is, in fact, a splendid beach with fine white sand and clear water where various activities take place throughout the year. It is considered to be one of the best beaches in Bali, where it is pleasant to relax and spend time. In addition, it is a popular surf spot for both experienced surfers and beginners alike, and this is where the famous Rip Curl Cup contest takes place. It is also possible to go on boat excursions, diving, sunbathing, or having fun with one of the various festivals that take place on this beach.
There are some street vendors and beach huts, but the structure is pretty bad. I didn't have the courage to buy anything there. I only consumed what I took and used the shadow created by some stones to rest.
9. Nusa Dua Beach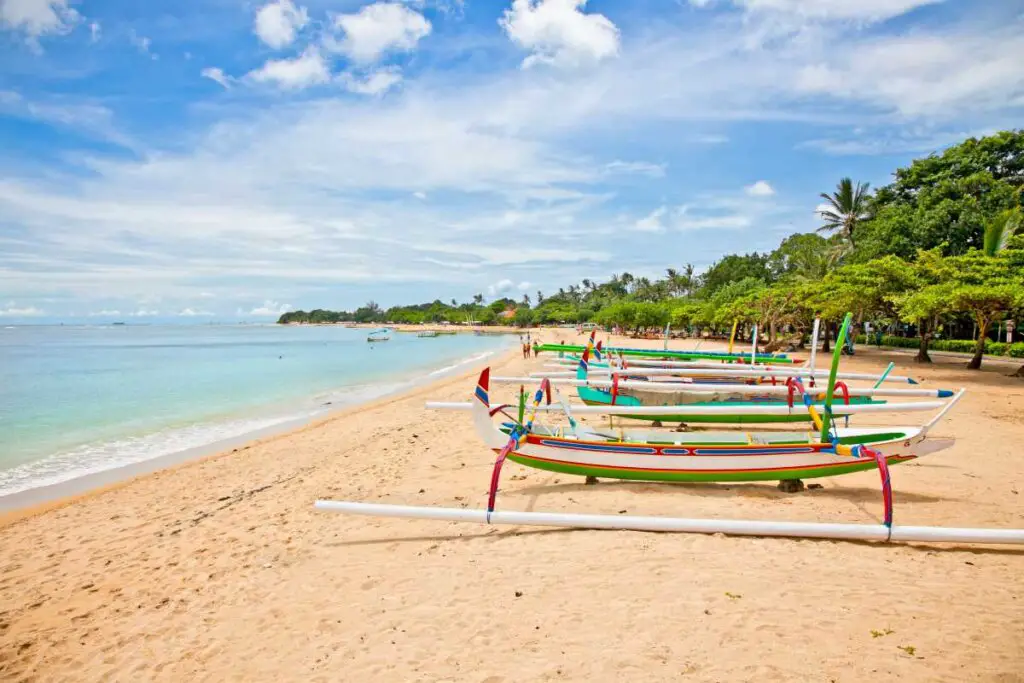 Nusa Dua Beach is a beautiful tourist destination and among the best beaches in Bali. There are various market shopping complexes with well-maintained facilities, a luxurious 18-hole golf course, white-gold sandy beaches, and more.
You can walk for miles along the pristine white sand, admiring the beautiful blue sea and mega-hotels along your path. And if you are an early riser, you can also enjoy a magical sunrise with the sunlight reflected in the beautiful waters of this beach.
This beach is a beautiful place for honeymoon couples and for those of you who bring the whole family. In addition, you can visit various temples, museums, and many other attractions.
10. Green Bowl Beach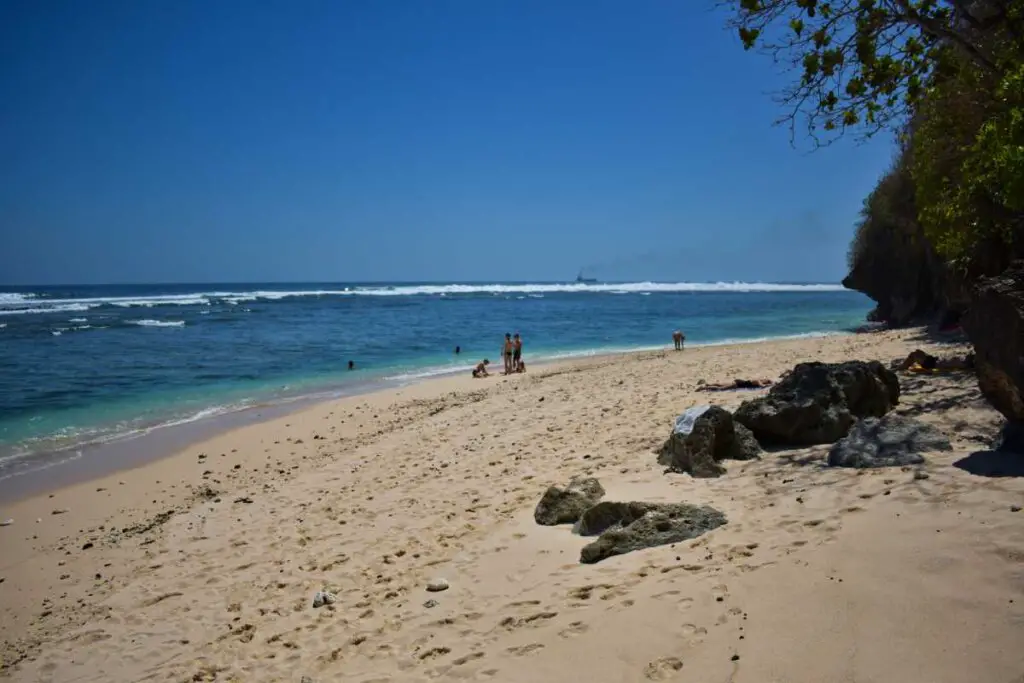 Located south of Bali, Green Bowl Beach is another one of the most beautiful beaches in Bali. Although access is from a descent of 300 steps, it's worth it!
From the stairs, you will have a beautiful view, but when you arrive at the beach, get ready to discover paradise! Its clear water with a turquoise color will welcome your presence. Take a walk on its clean white sand to enjoy the beautiful scenery on this beach. Moreover, the beach is hidden behind a hill with a giant cave that can not only be used as a shelter, but also very good for taking beautiful pictures.
This beach earned its name because when the seawater is receding, the coral clusters will confine the remaining water along with moss and form a natural green pool.
11. Bingin Beach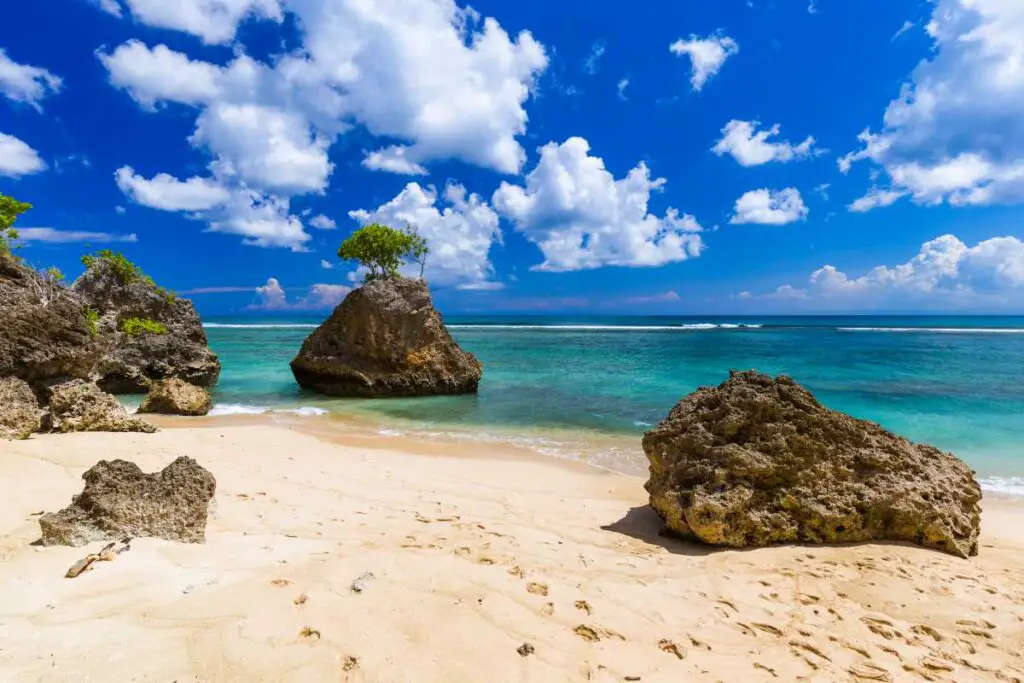 Finding this beach was a real challenge! My driver knew where the beach was, but he didn't know where the spot I wanted to go to was, and even the GPS didn't help much. But we made it. The problem is that the car park is about 300 meters from the entrance to the beach and the signage is very bad. Also, there is no seaside promenade. With that, we took a long time to locate ourselves.
People consider Bingin to be one of the best beaches in Bali because of its landscape of cliffs, white sand, and turquoise blue water that dazzles even the least beach lovers. I understand this beach is one of the newest, and people are getting to know it. The cliffs around this beach are overgrown with green plants, which make them look beautiful from a distance.
When the seawater is receding, tourists can enjoy a small pool with calm currents on the outskirts of the beach formed by coral. At high tide, you will be able to see large waves roll up to a height of 5-8 meters. Of course, this is what surfers are looking for. But unfortunately, of all the beaches I've visited, it's the one I least recommend.
12. Jimbaran Beach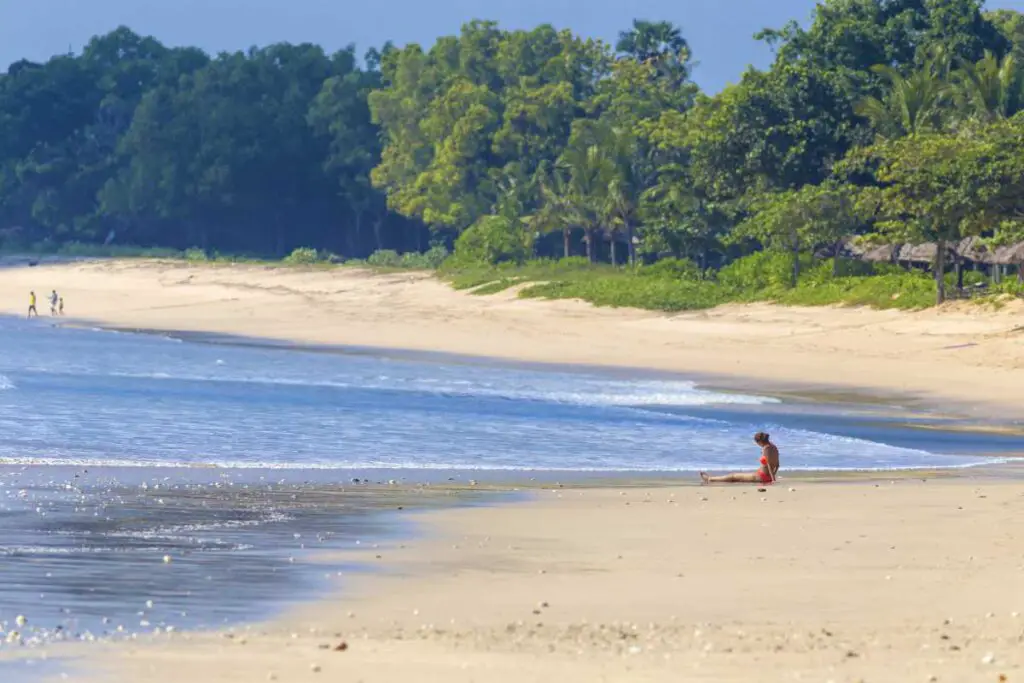 Located in the southern part of Bali, very close to the airport, you will find another of the best beaches in Bali: Jimbaran Beach.
Very fashionable in recent times, with a somewhat unusual mix of resorts and windsurfers. This is the perfect area if you are looking for a large white sand beach, as it has more than 4 kilometers of coastline. You can swim, snorkel, or sunbathe. It is the ideal place if you are looking for a calm atmosphere.
I recommend visiting Jimbaran at sunset. You can sit in one of the dozens of restaurants that have their tables directly on the sand and enjoy a delicious dinner of fresh fish by candlelight and enjoying one of the most beautiful sunsets.
13. Echo Beach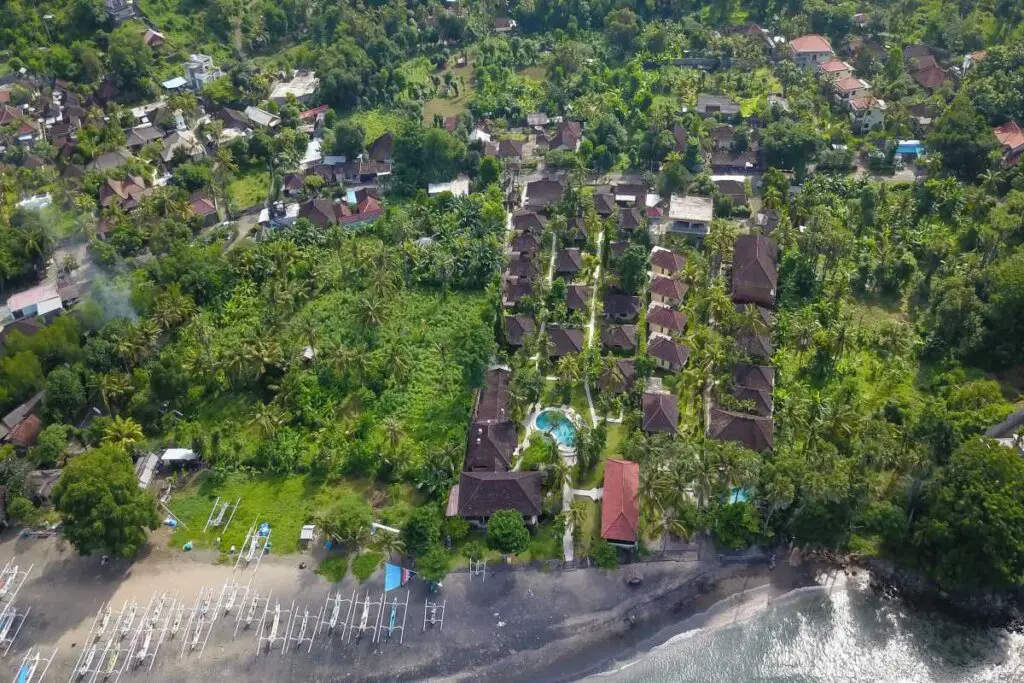 Echo Beach in Bali is among the best surf beaches in Bali. Whether for beginners or experienced surfers, it is an ideal beach for lovers of this sport.
The peculiarity of this beach is that the sand is particularly dark, and in some places, approaches an almost black color. You'll also find loungers scattered throughout Echo Beach, with tourists hanging out and sunbathing. In addition, it is popular for its beautiful corals, 180-degree ocean views, and a variety of delicious seafood cafes.
One of the best things that this beach offers is being able to enjoy some of the best sunsets that can be seen in Bali and also that it is in a privileged location. Plus, when dusk comes, the Echo Beach Club is quite a popular hangout spot.
14. Dreamland Beach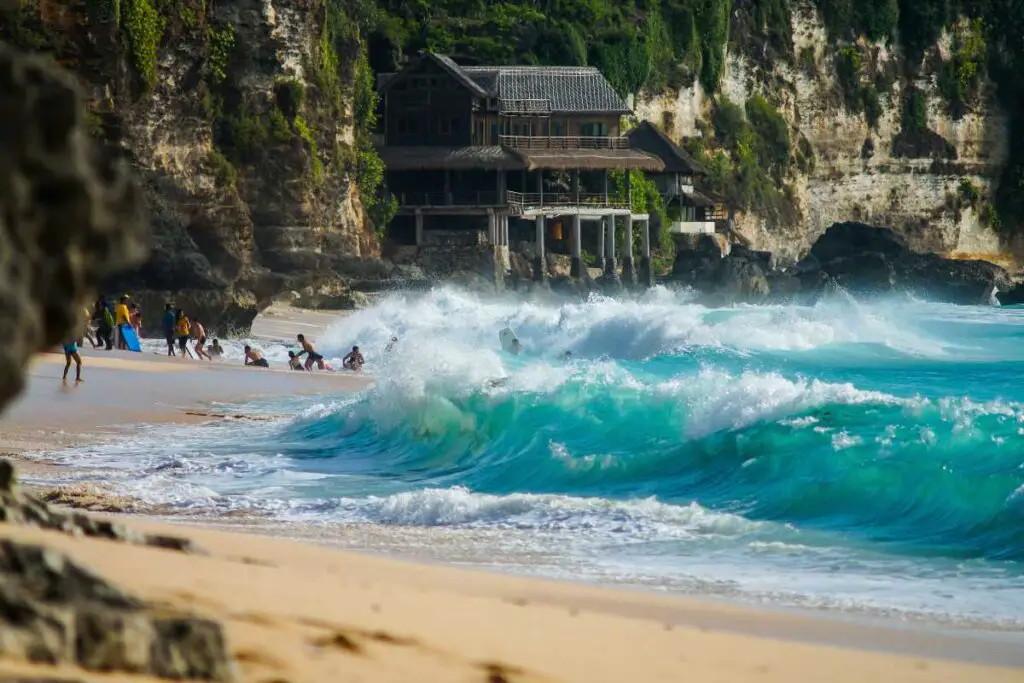 Known for being one of the best beaches in Bali, as well as one of the most frequented, this beach is also known for being the one right next to the well-known El Kabron restaurant, one of the best restaurants in Bali.
If something must be taken into account, it is that if you come by car, the access road, as much as you think it is accessible, is NOT. I tell you from experience, since in the end, it narrows so much that it is practically impossible to maneuver, having to go back out again or spending a few minutes turning around.
Most of the visitors to this beach are surfers. In fact, it is quite likely that you will meet a pro when you get in the water. And if surfing is not your thing, you can stroll, read, or sunbathe while enjoying the beautiful views.
However, most of this beach is within a complex of resorts. Therefore, I suggest staying in one to enjoy Dreamland Beach better.