Hospitality is one thing that sets Filipinos apart from other cultures. Whether it's a modernized house or a simple Bahay Kubo, Pinoys are always happy to serve food and drinks to welcome guests. Fo them being hospitable is a crucial part of Filipino tradition, and it's one of the factors that make the Philippines the Philippines.

So if you're looking for beach resorts with great accommodation, the Philippines is the place to go. In the Philippines are numerous beach resorts that provide wonderful services to guests. Swimming pools, beaches, food, and drinks – just name what you need and Filipino beach resorts got you covered.

This article will help if you're making a travel plan in the Philippines. At this time, I'll show you the best Philippine beach resorts that have a hospitable Filipino spirit.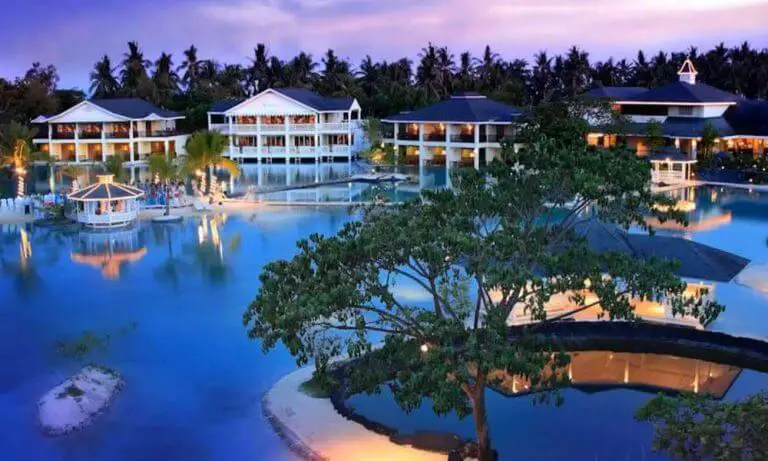 Our first stop is the Plantation Bay Resort and Spa, an 11-hectare resort that sits on Lapu-Lapu city's coastline, which is 34 minutes away from Mactan International Airport. Riding a MyBus or taxi is the most comfortable way to get here. Beware of non-air-conditioned public transit. The traffic and the stench of Cebu's highways is one that you'll not bear while heading to Plantation Bay Resort.

Traffic might make the originally short trip long, but Plantation Bay Resort will reward your patience. Upon arriving, the green swaying coconut trees welcomes you. And the colonial architecture of the buildings standing within the premises of plantation bay features traditional Filipino building elements such as open balconies and verandas, nipa roofing, mixed wood, and concrete walls, etc.

Accommodation in Plantation bay range from 2-4 bedroom private two-floor cottages. Some even have their own swimming pools. Nevertheless, don't worry if you can't make a reservation for those that have these. On the premises of Plantation Bay Resort are numerous public swimming pools that are perfect for kids and adults.

The budgetary requirement for Plantation Bay Resort never exceeds 1500 dollars if you're staying for a week. On the other hand, you might have to spend more if you're planning to stay for a few months.
Beach Club Resort - Bohol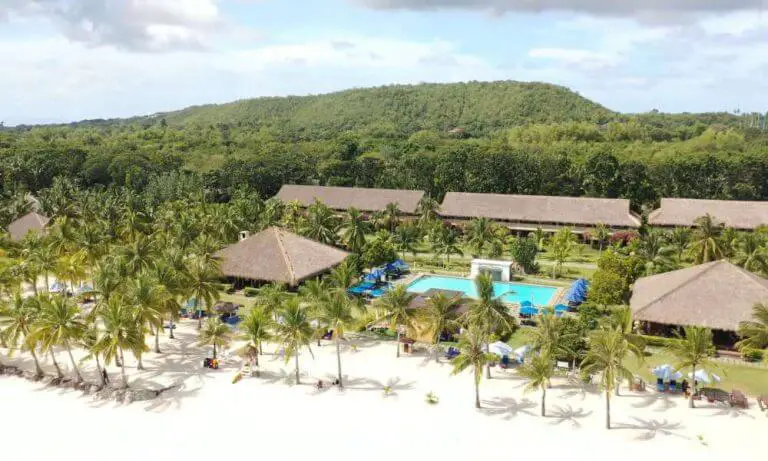 A few miles away from Cebu is the humble island of Bohol. Here, people are making a living by growing rice. Boholanos are famous for their sumptuous dishes that will make eating hard to stop. The beaches are great too. And if you're looking for a place that serves good food, provides great reservation, and has a wonderful view of the ocean, Beach Club Resort is the place to go.

Beach Club Operates in Panglao, an Island in Bohol's northern region that's 20 kilometers away from the capital – Tagbilaran. Going to this beach is easy. Upon arriving at any of the Philippine International Airport's, hurry and book a flight to Panglao. After you arrive in Panglao, find a local van or jeepney that's headed to Beach Club Resort.

The trip will take about half an hour or 1 hour. But you'll enjoy it because the roads of Bohol are very scenic.

Beach Club Resort will quench your longing for a scenic beach. It has grass-lined pavements that lead straight to open tables near the sea. The private cottages and other buildings, where you can stay for the night, look very classy with their brown roofing, spacious balconies, and very breathy construction.

The food here is never a problem. Within Beach Club Resort is a restaurant that serves Filipino dishes, which tourists will love, like the adobo, crispy pata (deep fried pork), Pinoy style barbecue, and roasted fish.
Shangri-La Resort - Boracay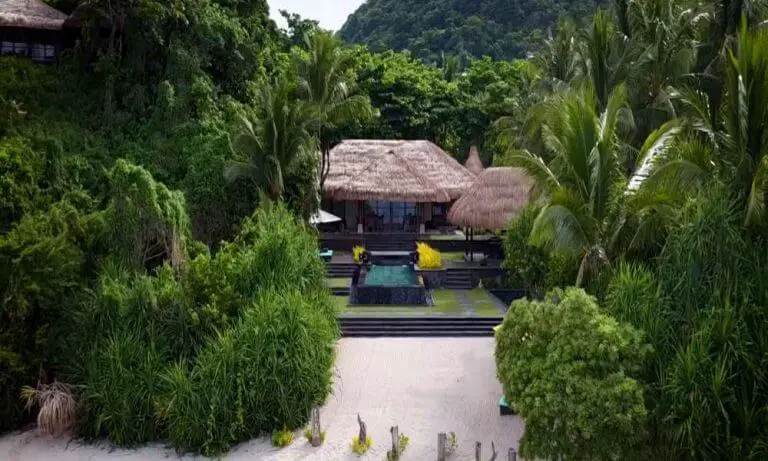 The typical beaches in Boracay are spots for extravagant late-night parties, jamming sessions with bands, and graceful performance of fire dancers. You'll always see these wherever you go in Boracay. And as a result, many come not to relax but to find the fun that their hometowns don't have.

Shangri-La is a beach resort in Boracay that operates differently from its peers. Compared to other resorts in Boracay, which focused on putting new establishments year after year, Shangri-La put importance on preserving the greeneries in its surroundings. In effect, buildings that plants subdivided into different groups characterize Shangri-La's geography.

This beach resort has what you need for a pristine moment in Boracay. It has a cliffside view of the sea, a long coastline that's lined with traditional Filipino huts, a swimming pool overlooking the beach, and a guided tour that allows you to take a glimpse of Boracay from the sea. Accommodation here ranges from suites, villas, and rooms that feature varying scenic views of the vegetation and the sea.
Miniloc Islant Resort - El Nido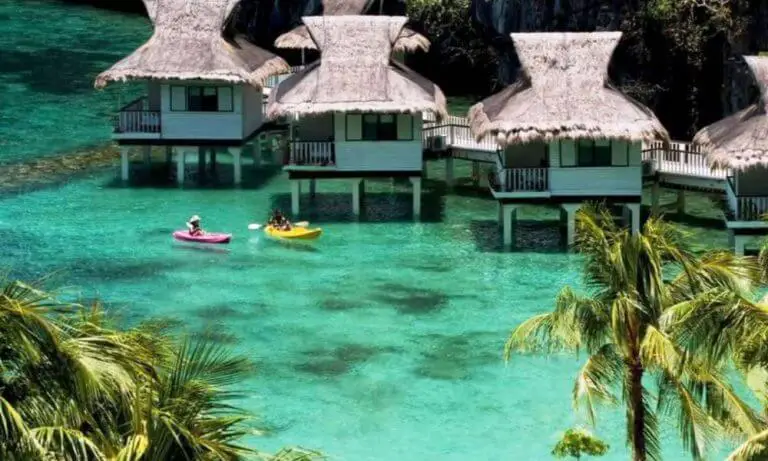 Looking toward a vacation that feels like you're in the center of remote Pacific islands' jungles? Head to Palawan and find the beaches that El Nido Resorts develop. El Nido resorts is a beach resort that owns several beaches in Miniloc, Apulit, Lagen, and Pangulasian. Out of all these, the most famous is Miniloc Island development.

El Nido Resorts' Miniloc Island development features cottages, villas, and rooms that don't bear any influence on modern construction. Natural construction materials such as wood and leaf roofing comprise most of the buildings. Furthermore, they're built near the white coastline and bluish sea.

This beach resort also features towering cliffs that are available for rock climbing. And because El Nido is famous as a scuba diving hotspot, El Nido Resorts' Miniloc Island development allows diving gear rentals, and guided scuba diving sessions.

Seafood is superb. Cooks serve commendable dishes composed of fresh fishes from the local fishermen. Seafood in Minilo El Nido Resort doesn't betray your payment because they come straight from the sea.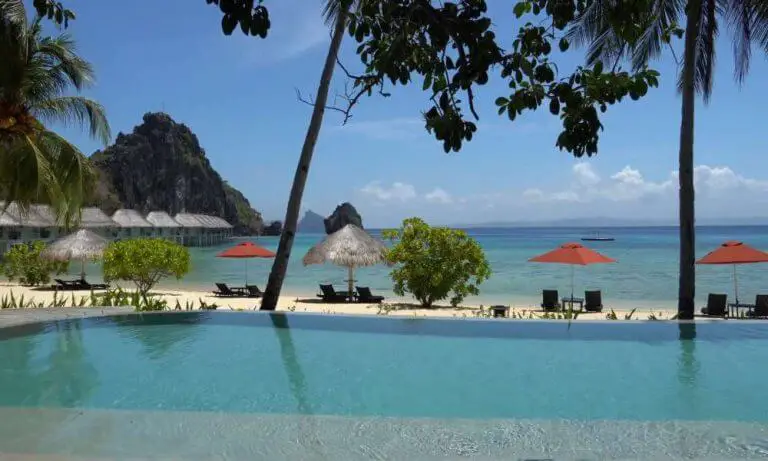 This is another beach resort in Palawan that El Nido resorts own. Here on Apulit Island, you'll spend a more private time because it's far away from civilization. There are no pubs and bars. All that you have for music is your phone and, if you have it with you, the guitar. Just like Miniloc, buildings here display traditional Filipino interior designs – rattan or wooden chairs, wooden tables, simple flower vases, large windows, and roofing of nipa leaves.

Tourists don't crowd so much in Apulit, even at peak season. Therefore, this is a location that's great for family pictures. Apulit Island is also ideal for staycation plans because there's always something new to explore and discover. The locals are very friendly to tourists and might even tell you of the interesting legends about Apulit(most might have difficulties conveying what they mean, but Filipinos are good storytellers).
Dedon Island Resort / Nay Palad Hideaway - Siargao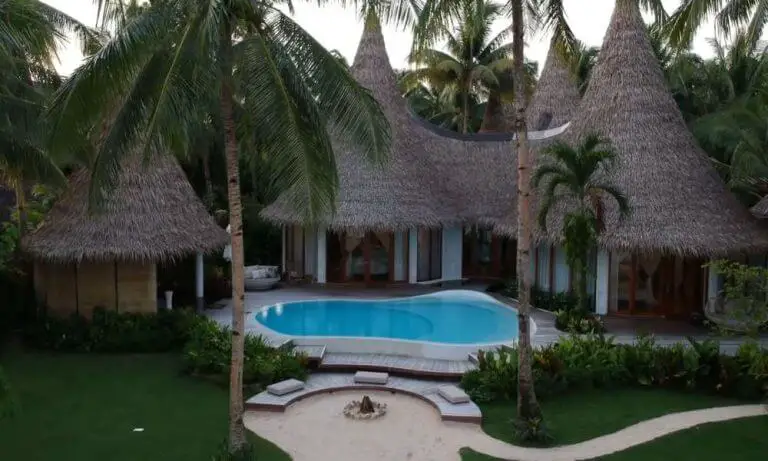 Siargao is very famous for its Cloud 9 barreling waves. However, I'm sure that you won't visit Siargao just to see that. The Cloud 9 barrelling waves are exceptional, but only if you know how to surf.

So where do you go in Siargao to do pleasurable things aside from riding the surfboard under the barrels of the Cloud 9? In Siargao, A beach resort with it all is the Dedon Island Resort or the Nay Palad Hideaway.

Nay Palad is about 110 kilometers away from Butuan Airport – the airport that offers the quickest access to Siargao. Upon arriving in Butuan, look for vans that are bound to Surigao City. There are many this on the premises of Butuan Airport, so it won't be difficult to find a ride.

Travel from Butuan to Surigao might take 1 – 2 hours. It really depends on how fast the driver is. You'll have ample time to sleep. But I suggest that you keep your eyes open because you'll pass by other good beaches near the highway as the trip goes on.

The van will take you to the Surigao terminal. From here, find a tricycle (there are lots of these around) and instruct the driver to take you to Surigao port. After arriving in Surigao port, take the ferry going to Siargao. And when you're in Siargao, hire a transit vehicle (van, jeepney, or multicab) and instruct the driver to get you to Nay Palad Hideaway.

Nay Palad has cottages, suites, rooms, and villas for 1-6 persons. Mindanao architecture inspires with their exterior and interior design. On the outside, they're made with a mix of wooden and concrete materials. And on the inside, they are lined with wooden tables, chairs, beds, etc.

A single payment will take care of all your needs while you're in Nay Palad. You won't have to spend more for using jet skis, scuba diving gears, and other recreational devices.
Misibis Bay Resort - Albay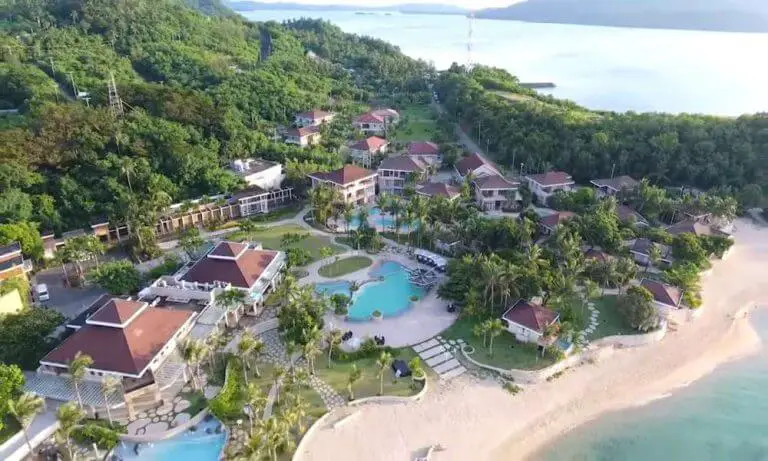 Beach resorts in Pattaya are good. However, they're pretty chaotic during peak seasons. That's why I understand perfectly if you're missing it but hesitating to visit again.

The Philippines has numerous beaches that resemble the beach resorts in Pattaya. One of the best is on Albay – the Misibis Bay Resort. Misibis Bay Resort is on Cagraray Island. You'll have to ride for 1 hour from Legazpi City via public bus or private van to come here.

A mix of Asian modern and traditional Filipino architecture inspires the landscaping and buildings of Misibis Bay resort. Grass and rock-lined pavement with flowers on the sides, coconut trees, non-flowering plants, and stone pathways make up most of Misibis' landscape. On the other hand, the buildings have bent scaffolding, color metal roofing, and glass-paneled balconies that characterize the buildings.

Misibis Resort has a beach and numerous pools. There's even an essence spa that specializes in the traditional Filpino massage or hilot. In connection, the beach is perfect for sunbathing. The white sand is very soft on the back, and a wide blanket is enough for you to lie down.

This beach resort also allows camping on the beach. But this is only available if you pick the tents that Misibis Beach Resort offer as rentals to clients. By the way, Cagraray Eco-park is near Misibis beach resort. And renting the ATV's and bikes that Misibis Beach Resort have is great for exploring it. Also, Cagraray offers a great view of the cone-shaped Mt. Mayon, so don't let it pass.
Eskaya Beach Resort and Spa - Bohol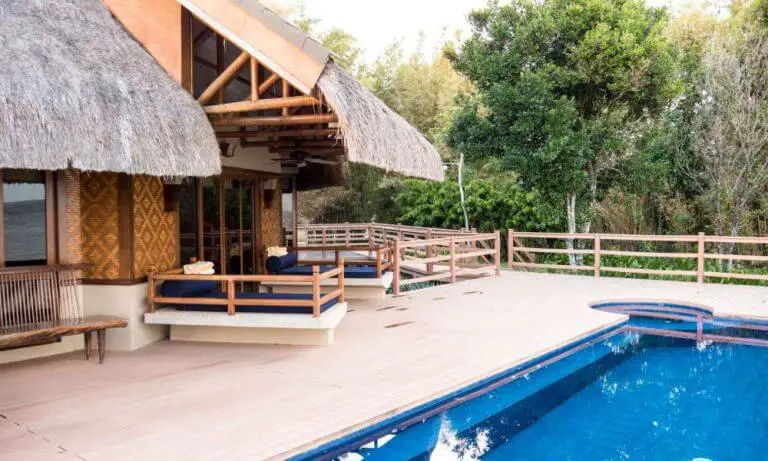 Staycations are better if you're in villas. Compared to other accommodations, villas offer the best privacy if you're fond of spending your vacation like a recluse. Most beaches in the Philippines emphasize making suites and rooms for tourists since these are what most avail.

Try Bohol if you're looking for a beach resort that specializes in providing quality villas to clients. A recommendation is Eskaya Beach Resort and Spa. In Eskaya 2 bedroom villas up to 6 bedroom villas. Their design varies. Some follow the traditional Filipino construction, while others look more western. One that I love is the villa that follows a classic-country interior design; consisting of orange lighting, varnished wooden furniture, and wooden pillars.

This beach resort isn't as expansive as others on this list. However, you'll love the solitude of its surroundings. Around Eskaya are numerous flowering and non-flowering plants that gardeners planted in front of villas and on the sidings of the pools.
Amanpulo Resort - Palawan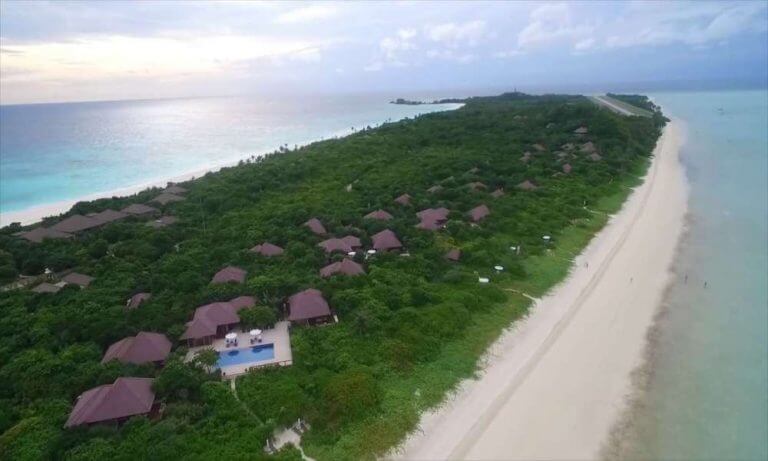 Have you ever tried spending your vacation in a casita? The casita is a type of house in the Philippines that Spanish architecture inspired. During the Spanish colonization, wealthy Spanish families made casitas aside from their mansions. These served as vacation houses where they can spend a leisurely time despite the sun's heat.

Amanpulo Resort in Palawan follows the original design of the casitas. Wooden construction and expansive terrace that's staff installed with wooden recliners with sofas on top.

Most casitas in Amanpulo provide a cliffside view of the sea. If you can't avail of these, some show the sea's turquoise color in combination with the green pigmentation of plants that grow near the bay.

But aside from the casitas, the romantic cruise is another reason why you should go to Amanpulo Resort. The romantic cruise will take you and your loved ones on a seaside tour complete with music, food, and local musicians' performance singing kundimans (Filipino love song) and popular songs from the west.
Daluyon Beach and Mountain Resort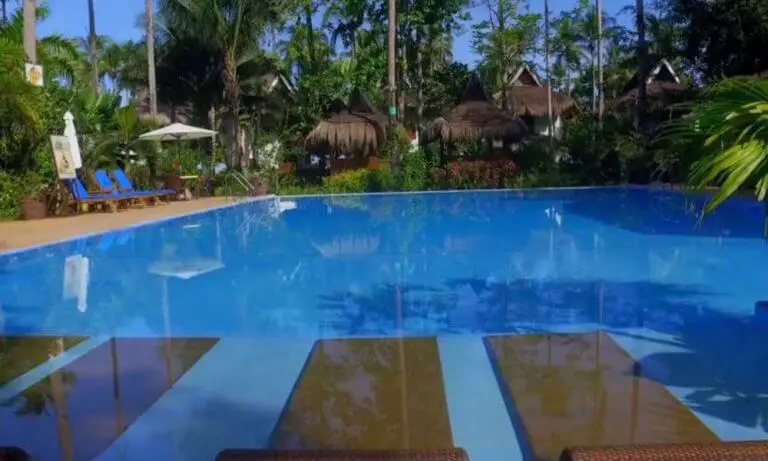 The Philippines has many underwater rivers. However, none can compare to the one in Puerto Princessa. The Puerto Princessa Subterranean river stretcher for 8.2 kilometers under a vast cave. By following this river via a small boat, you'll see stalactites, stalagmites, and other cave formations that you've never seen before.
So after here, where do you stay to plan your next trip? Daluyon Beach and Mountain Resort are where most tourists go. Daluyon Beach Resorts' landscape consists of a wide flatland that carabao grasses cover and numerous coconut trees. Numerous elevated spots will also give you a panoramic view of the pools, trees, and villas.
Villas here are very spacious. Their interior follows a traditional minimalist Filipino design. Comprising their insides are large beds, moderately sized bamboo chairs and tables, wide wooden balcony sliding doors with glass panels, and varnished wooden flooring.
You should try hiking here. All areas of Daluyon are free for exploration. But to do it in the day-time so that you won't get lost. Don't worry about the sun because the coconut trees provide excellent shade. Daluyon is windy too, and you won't have to worry about feeling hot while walking.